Can you buy US stocks from the Philippines? How do you sell and buy US stocks in the Philippines? These are the questions that ring in the minds of many stock trading Philippines.
A lot of stock traders in the Philippines want to diversify their investment by trading in US stocks. In this article, I have compiled the knowledge that newbies need to know to start investing in US stocks, including how to buy U.S. stocks, how to choose brokers, and when trading U.S. stocks.
Let's learn the benefits of US stocks and how to buy US stocks in the Philippines.
How to Invest in US Stocks (even if you're in the Philippines)
1. Research on the US Stocks
It would be best to always do your due diligence before settling on the stock to invest in. Information on how to buy stocks in the Philippines and where to buy stocks is easy to find, especially online. A lot of online tools will assist investors in deciding where to buy stocks.
The best way is to have a watch list of your most preferred stocks. A watch list basically is a list of stocks that you would like to invest in. Investors can monitor the stocks closely and understand their trends.
The following U.S. stocks are the stocks I shared with you, not investment advice
Nestle/ NSRGY
Popularity: ⭐⭐⭐⭐⭐
Intrinsic value of the company: ⭐⭐⭐⭐⭐
PepsiCo Inc/ PEP
Popularity: ⭐⭐⭐⭐⭐
Intrinsic value of the company: ⭐⭐⭐⭐⭐
Unilever /UL, UN
Popularity: ⭐⭐⭐⭐⭐
Intrinsic value of the company: ⭐⭐⭐⭐⭐
Lululemon Athletica Inc/ LULU
Popularity: ⭐⭐⭐
Intrinsic value of the company: ⭐⭐⭐⭐⭐
Philip Morris International Inc/ PM
Popularity: ⭐⭐⭐⭐⭐
Intrinsic value of the company: ⭐⭐⭐⭐
You can also find the US stocks from Mitrade app:
Gainers & Losers
Forex
Commodities
Indices
Crypto
2. Identify a Legit Stock Broker
Identify a firm that is safe and credible. There are a lot of firms and online brokers offering huge discounts. Here is a list of the brokers you can invest the US stocks.
3. Check All the Requirements
You don't have to be a US citizen or be in the US to buy and sell US stocks. Opening a US stockbroker account is simple and can be done online.
● Visit your preferred stock broker website and register.
Identify an online trading account that offers US stocks and sign up. Ensure that you complete your profile by providing your accurate details.
● Deposit cash into your trading account.
There are many ways of depositing cash into the account. However, go for that method that is compatible with your account.
● Open an Order
You can either open a buy or sell order depending on the action you want to take. If you believe that a stock will be profitable in the future, open a buy order. Alternatively, open a sell order if you think that the price will drop.
Stock brokers for US Stock Market
Some online accounts are available for residents and citizens of the Philippines. However, other online trading accounts are available only for US citizens and residents. Here are stock brokers that the Philippines can use to trade US stocks:

1. Interactive Brokers

Interactive Brokers charge low commissions for US stocks. As a result, investors can trade their stocks, bonds, funds, currencies, futures, and options from a single account at very low rates.
Interactive Brokers Pro is for active traders and sophisticated investors. Traders have access to the IB SmartRouting System that provides 0.47 US Dollars per 100 shares price movement.
Interactive Brokers is available in 135 markets across 33 countries. Interactive Brokers is among the best platforms for stock trading Philippines.
2. TD Ameritrade
TD Ameritrade offers commission-free trades. Investors also get access to a platform and products with no hidden fees, deposit minimums, or trading minimums.
TD Ameritrade is suitable for both the long-term investor and the active trader. The platform has innovative features and tools that provide the investor with the information needed to make smart and well-informed decisions.
The platform enables you to research stocks, manage your portfolio, and place trade orders. Information is backed up by experienced specialists, live streaming CNBC, and real-time quotes.
3. Mitrade
Mitrade is a stock CFD broker, offers a simple and intuitive platform that meets the needs of both active traders and short-term investors. The main (CFD) products cover basic global financial markets such as forex, US stocks, indices, commodities (including gold, energy, etc.), and cryptocurrencies.
They provide 0 commissions, transparent low spreads, and low overnight interest, allowing you to enjoy low-cost investments.
Deposit method

Visa/Mastercard, Skrill, wire transfer

Leverage:

Forex 1: 200, Index 1:200, Commodity 1: 200

Gold 1: 100

Stock 1:5 - 1:20

Cryptocurrency 1: 2

Regulation

Australian Securities and Investments Commission (ASIC) 398528

Cayman Islands Monetary Authority (CIMA) 1612446.
Buy and Sell the US stocks from Mitrade app
Trading US Stocks in the Philippines (Step-by-Step with Pictures)
If you want to trade in US Stocks, you will need to:
1. Open a brokerage account and fill-up the form.
2. Set a US stock trading budget
3. Practice with a demo account
4. Build up your watchlist
5. Fund your account with US Dollars from the Philippines.
6. Open a trade order
Are you asking yourself where to do stock CFD trading in the Philippines? Mitrade trading platform is one of the best options since it's super easy to use and fast. It is best for short-term trading and day trading.
Use the following steps to trade US stocks on Mitrade:
( Note: Mitrade provides US stocks CFD, the leverage range from 1:5 to 1: 20. Please know the risks of leverage, 76% of people lose money trading stock CFDs)
1. Log in to the Mitrade trading platform
On the Mitrade dashboard, you can view the stocks on the left column, their buying price, selling price, and change percentage. The main window show a graph of the stock's price movement. You will also have a sell and buy button on the graph. You can select your preferred stock by clicking on it.
2. Open an Order
it is time to open an order. If you believe that a stock will be profitable in the future, open a buy order. Alternatively, open a sell order if you think that the price will drop.
3. Fill in the number of stock you want to buy
The value and estimated initial margin will calculate automatically.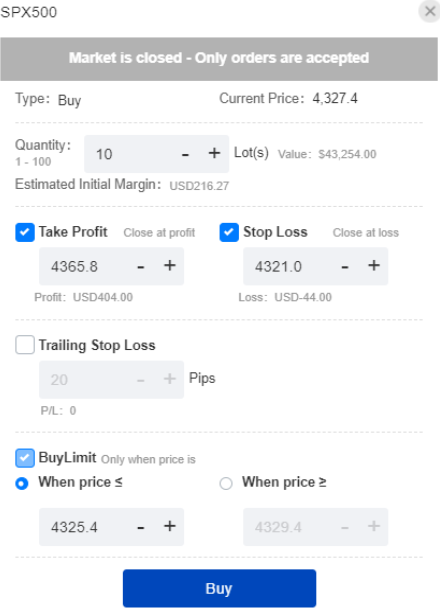 4. Fill the take profit
The stock will automatically close when this value is reached.
5. Set a stop loss
To prevent a loss, click on stop loss and enter a figure that you don't want the stock to go below. The stock will automatically close when the price is reached to prevent further loss.
You can also use the Buy Limit option. This option allows you to set a price above or below which you can only buy the stock.
For example, if you want to buy US500(SPX500) at below $4325, a price alert will notify you when the price drops below $4325.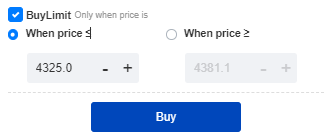 6. Place the order
After you set up the condition, you can click the buy button to place this order.
If you'd like to edit your order, click on the positions button on the left button and click on order. Then, click edit to change or cancel the order.

Mitrade is one of the best platforms for trading US stocks in the Philippines. It is quite easy to compare and trade stocks on the platform.
Start to Deposit & Trade US Stocks Derivatives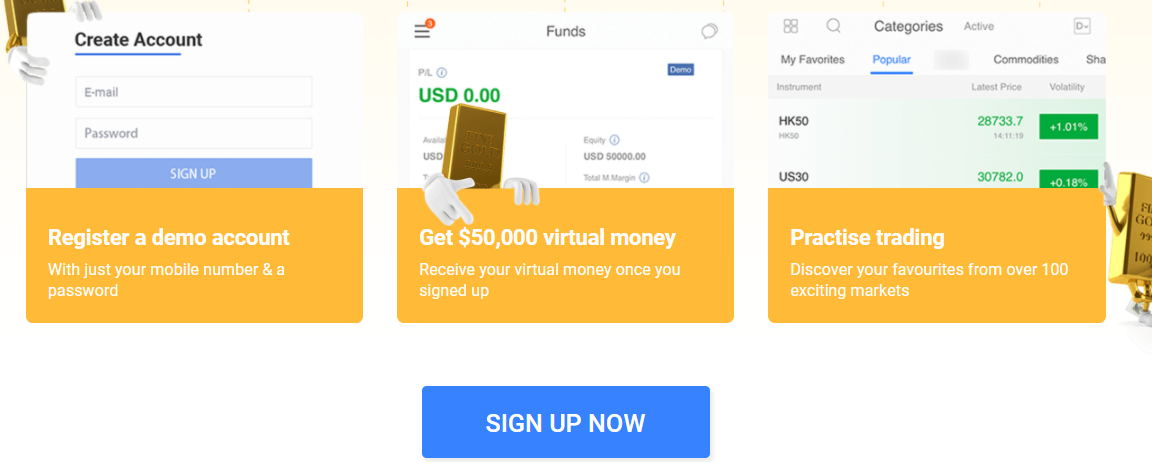 Gainers & Losers
Forex
Commodities
Indices
Crypto
Time Differences Between the US and Philippines Stock Market
US stock markets are open between 9.30 am and 4.00 pm Eastern Time. This time is equivalent to 9.30 pm, and 4 am in the Philippines. Therefore, investors can trade on Philippine stocks during the day and US stocks during the night.
Why invest in US Stocks? Is it better than Philippines Stocks?
US stock exchanges are highly regulated and closely monitored. As a result, US stocks give investors a sense of security that their assets are safe.
US stocks are on a bull run for the last five years. Most US stocks are pricey, but there is still room for growth, and most US stocks are on an upward trend.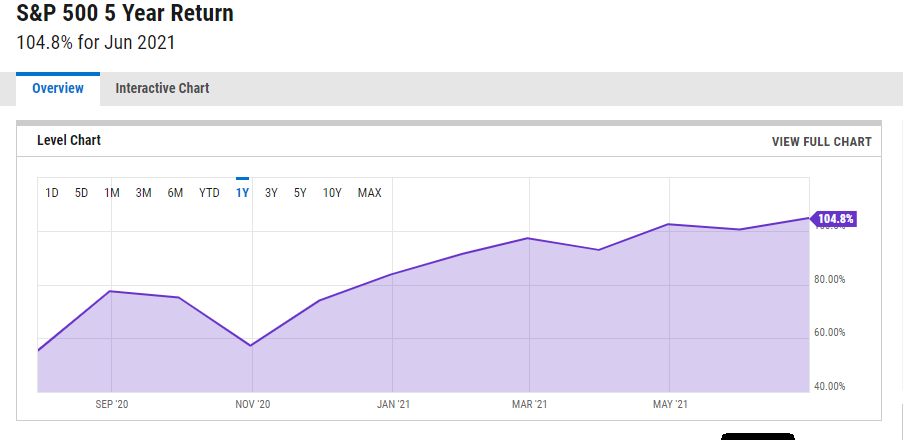 The S&P 500 Index level chart shows how the US stock generated returns of 104.8% for June 2021.
Many Philippine investors find the US market quite attractive. The only challenge is where and how to buy stocks in the Philippines. However, the benefits of investing in US stocks far outweigh the challenges.
Benefits of Investing in US Stocks in the Philippines
Access to a Wider Variety of Stocks.
The US stock exchange offers a wider range of companies to invest in. These companies spread over all the industries and investors can diversify their portfolio by investing in different companies in different industries in the US stock exchange.
Access to Robust Economy
The US economy has a Gross Domestic Product equal to a quarter of the world's economy. So the size alone makes the US economy have a very big impact on the rest of the world.
Whatever happens in the US stock exchange affects the Philippine stocks and the entire world. Therefore, you can benefit from a more robust economy by buying stocks in the US.
Higher Trade Volumes
The majority of US stocks are traded on different exchanges all over the world. As a result, the global market enables US stocks have larger volumes than Philippine stocks. The large volumes traded in US stocks lead to more liquidity. Investors can therefore buy and sell their stocks easily
More Profitable Companies
Philippines who buy and sell US stocks have access to more profitable companies. US stocks are also the biggest in terms of turnover. This is why every stock trader in the Philippines should know how to buy US stocks in the Philippines.
Access to the Biggest Stock Market in the World
Since the US has the biggest stock exchanges in the world, its market capitalization is massive. Both the NASDAQ and NYSE are located in the US. These are the largest stock exchanges in the world, trading trillions of dollars in a day. So access to a big market gives stock trading a lot of opportunities.
Stability
US stocks are more stable as compared to stocks in other countries. Therefore, investors can spread their risk over various segments by learning how to buy US stocks in the Philippines.
The Fees and Taxes Involved In Investing In US Stocks
It is crucial that every investor understands the tax implications of investing in US stocks.
Most Stock trading accounts will classify you as a non-resident alien if you are not a US citizen, don't have a green card, or don't live in the US. However, some of your income from your stock trading account may still be subject to taxes by the US's Internal Revenue Service (IRS).
If you have a US stockbroker account, then you may receive the following incomes:
Capital gains – gains from the sale of stocks/ETFs and Options at a profit.
Dividend – distributions from EFTs and Companies.
Interest – income from fixed income instruments & un-invested cash
Capital gains are not taxed if you were in the US for less than 183 days during the tax year. All the other taxes are taxed at 30% or as per the Tax Treaty Agreement.
The US and the Philippines have a Tax Treaty Agreement, and the following rates will therefore apply:
Your stock broker withholds taxes on dividends and interest. These are final taxes and cannot be availed for graduated tax rates.
Conclusion
The US stock market is a very attractive destination for investors all over the world. The massive market offers numerous benefits to investors. Many Philippine investors are now looking at ways of buying and selling US stocks.

I hope this article will help you who want to invest in and buy U.S. stocks. If you don't know how to get started after reading, just open an account with Mitrade.
Mitrade will provide 30+ popular top US stocks for the Philippines with leverage trading. The beginner can start from a free Demo Account. Start Today!
GO RISK-FREE WITH MITRADE!
Open a demo account and access over 100 financial
instruments on our proprietary platform with $50,000 virtual money.
---
The content presented above, whether from a third party or not, is considered as general advice only. This article does not contain and should not be construed as containing investment advice, investment recommendations, an offer of or solicitation for any transactions in financial instruments. Mitrade does not represent that the information provided here is accurate, current or complete. For any information related to leverage or promotions, certain details may outdated so please refer to our trading platform for the latest details. Mitrade is not a financial advisor and all services are provided on an execution only basis. Before making any investment decisions, you should seek advice from independent financial advisors to ensure you understand the risks. *CFD trading carries a high level of risk and is not suitable for all investors. Please read the PDS before choosing to start trading.