Places that Provide Cheapest Ways to Buy Bitcoin In 2023
0 Minutes
Updated September 14, 2023 07:19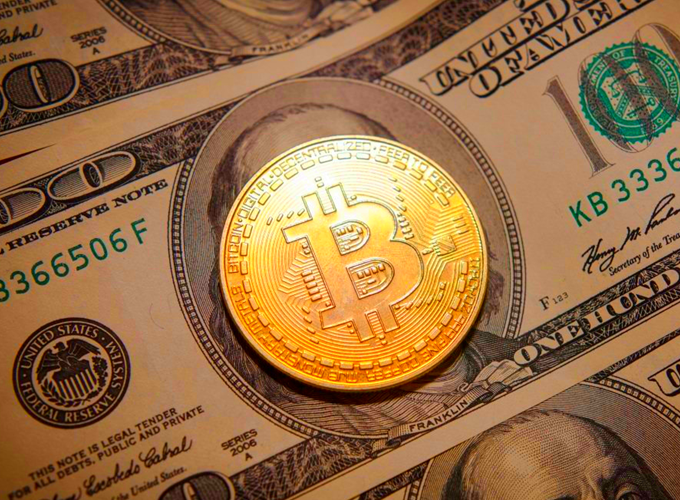 Owning Bitcoin is the in-thing, with many people hoping to profit by selling it at a higher price in the future. To minimize costs, it's important to use platforms that offer low-cost methods of acquiring Bitcoin. This article discusses free ways to obtain Bitcoin and affordable options for buying or selling it.
There are costs associated with acquiring Bitcoin. One of the cheapest methods is using Bitcoin faucets. However, crypto exchanges are considered safer for obtaining BTC. They allow you to buy virtual currencies using various payment methods like credit cards, debit cards, and PayPal. Transaction fees may vary among different cryptocurrency exchanges.
Alternatively, you can trade Bitcoin online without necessarily owning cryptocurrency. You can go long (buy) to increase your Bitcoin holdings or go short (sell) to sell off digital assets. Bitcoin's price volatility makes it attractive for short-term traders and speculators. Read more: How to Day Trade Crypto Like a Pro?
What Are the Options for Purchasing Bitcoin With Minimal fees?


1. Get Bitcoin for Free
There are several ways to get Bitcoin for free. For example:
Faucets: Bitcoin faucets are platforms that offer small amounts of Bitcoin as rewards for completing tasks, like solving captchas or playing games. These rewards are usually given in Satoshis, the smallest unit of Bitcoin.
Airdrops: New cryptocurrencies distribute free tokens to holders of existing ones, like Bitcoin, in a process called airdrops. By participating and claiming these tokens, you can accumulate Bitcoin at no cost.
Mining: Bitcoin mining uses specialized hardware to solve complex math problems, validate transactions, and earn new Bitcoins. It's no longer profitable for individuals to mine Bitcoin with regular computers, but other cryptocurrencies can be mined and exchanged for Bitcoin.
Staking: Some cryptocurrencies allow users to stake their coins as collateral and earn rewards for securing the network. These rewards can be converted into Bitcoin
Earn through services: There are websites that offer ways to earn Bitcoin by completing tasks like surveys, app testing, or freelancing. Users are paid in Bitcoin for their services.
Affiliate Marketing: Some companies or platforms offer affiliate programs, You can write articles or market on social media, so you can earn free Bitcoins as a reward.
2. Buy Bitcoin With cheap exchanges
There is a long list of platforms that allow you to buy and sell Bitcoin, with and without fees. We will look at some in detail later in this article. These platforms include crypto exchanges such as Coinbase, Kraken, and Binance.
3. Trade Crypto with brokers
Most trading platforms offer numerous ways of crypto investments such as bitcoin derivatives, crypto CFD, futures, and options. For example, trading Bitcoin CFDs differs from purchasing Bitcoin directly on an exchange. Instead of buying actual Bitcoin assets, you engage in going long or short based on the underlying asset.
By going long or short, you can profit from price movements. Going long means buying Bitcoin (BTC/USD) when you expect its price to rise, while going short involves selling Bitcoin when you anticipate a decline. But derivatives involve leverage, allowing you to open larger positions with a smaller margin. To mitigate risks, investors should employ risk management tools such as stop-loss orders, while also choosing licensed brokers.
The Cheap Exchanges To Buy and Sell Bitcoin
1. Coinbase
Coinbase is one of the top cryptocurrency exchanges in the world and the biggest in the United States. Its "Pro" version has exciting features and tools like charts, and graphs for more advanced traders. The platform supports several forms of payment: wire transfers, credit cards, and debit cards. It also accepts PayPal withdrawals.
Pros:
Multiple deposit and withdrawal options

Insured BTC deposit

Incredible online and mobile wallet-associated services

Excellent security features and two-factor authentication

Easy to use
Cons:
Users are not entirely anonymous

Support and help are not among the fastest

Deposits and withdrawals can be delayed for up to 72 hours
2.

Binance
According to Coinmarketcap, Binance is the biggest crypto exchange in the world. It handles $8.8 billion daily trading volume, about six times more than Coinbase which follows at a distant second. With low fees, 408 coins, and support for multiple languages, Binance is one of the best and cheapest ways to buy Bitcoin online. What's more, the crypto exchange supports several payment methods, including bank transfers, credit cards, or debit cards.
Pros:
Significantly low fees

Offers over 400 virtual coins for trading

Excellent mobile app
Cons:
Binance US has limited functionalities

Does not support crypto-fiat trading
3. Localbitcoins
LocalBitcoins accepts dozens of payment methods depending on your location. You can buy and sell Bitcoin using debit, credit cards, and skrill. It also accepts local payment methods like M-PESA
Pros:
It upholds privacy when buying Bitcoins

Supports numerous payment methods

It doesn't have buying and selling limits

Transactions between LocalBitcoins users are instantaneous (10-60 minutes when sending Bitcoins to your Localbitcoin wallets)
Cons:
High fees for cash transactions

Does not support altcoins

Large amounts may require ID verification

Delivery speeds depend entirely on the seller confirming the payment
4. Gemini
Gemini is a famous Bitcoin exchange founded by the Winklevoss twins. It is a regulated platform that offers a simple and secure way to buy Bitcoin and other cryptocurrencies. However, it does not accept common payment methods such as debit cards for deposits and withdrawals. To buy Bitcoin on Gemini, you need to link your bank account and initiate an ACH deposit or wire transfer.
Pros:
Good Reputation

Licensed in 42 US states and over 60 countries around the world

Instant Deposit for ACH Transfers

It offers dollar-to-crypto and crypto-to-crypto trading
Cons:
It severely lacks in payment methods

Doesn't guarantee absolute privacy
5. Kraken
Kraken is a San Francisco-based crypto exchange founded in 2011. It serves customers across the globe and is available in 176 countries. Besides Bitcoin, the company supports 90 digital tokens and seven fiat currencies. It is currently considered the world's largest bitcoin exchange in euro volume and liquidity. It allows traders to make deposits and payouts using bank transfer and SEPA credit transfer payment methods.
Pros:
It comes with an integrated wallet

It offers regular and business accounts

It has two-factor authentication for added security

Deposits are secured in offline cold storage

Multisig wallets to reduce possibility of theft
Cons:
It has experienced technical issues and downtimes in the past

The user interface looks outdated



Cheap Bitcoin Trading Broker - Trade Bitcoin CFD
Mitrade
Mitrade is a user-friendly trading platform, that offers access to over 40 cryptocurrencies and various other assets.
Mitrade prioritizes compliance and holds regulations from esteemed global authorities such as the Australian Securities and Investments Commission (ASIC). When purchasing Bitcoin on Mitrade, users can find it along with other cryptocurrencies. Payment options include credit cards, bank deposits, or Skrill.
Deposits on Mitrade are free but require a minimum amount of $50 withdrawals are free for 4 times a month. Account denominations are in USD, so deposits in fiat currencies like GBP may be subject to conversion fees based on bank transfer rates.
Pros:
Regulated by ASIC

Easy-to-use trading platform

High level of online support

Competitive transaction costs
Cons:
Only one trading platform, no MT4

No US traders
How to Trade Bitcoin with low fees on Mitrade?
Please note: The cryptocurrency market's high volatility offers endless trading opportunities. You can trade cryptocurrency online directly on the Mitrade platform.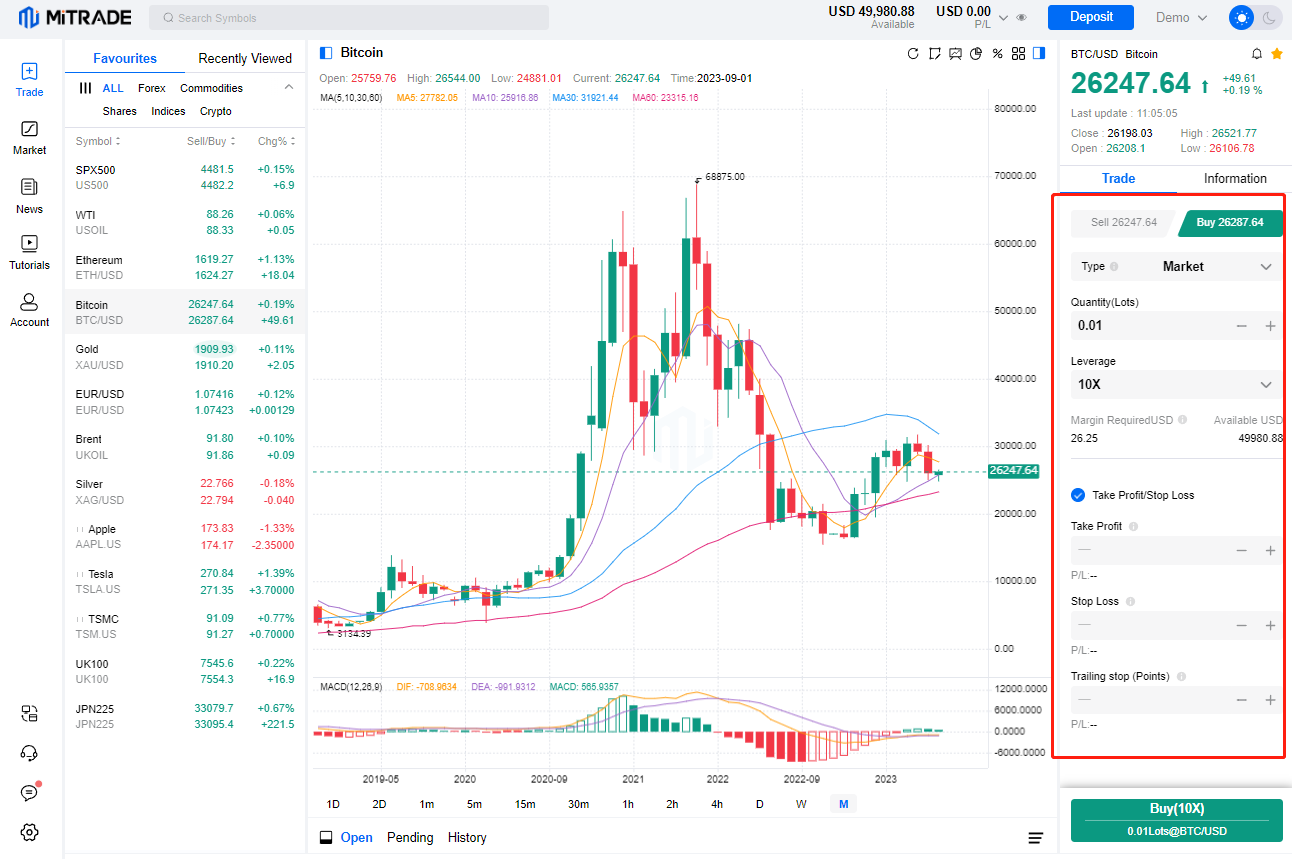 Step1: Open an account on Mitrade

Step2: Go long ( buy) or go short ( sell ) on Bitcoin
Step3: Set up the position size, stop-loss/take-profit levels
The lowest amount is 0.01, so if you choose 10X leverage, the lowest deposit is about $26 ( according to the current bitcoin price). If you choose no leverage, so you need to deposit $260 to open the trade.
What To Watch Out?
In conclusion, there are numerous cheap ways to buy Bitcoin and cryptocurrencies. However, you should do your due diligence and choose a platform that suits your investment goal.
First, look for Bitcoin faucets and other free ways if you don't mind growing little by little. However, if you plan on acquiring significant funds, find a reputable exchange with low fees, high trading volume, incredible analysis tools, high limits, and preferably, mobile apps.

Besides buying bitcoin on crypto exchanges, trading Crypto CFD trading is another easy way of getting profit from cryptocurrencies. You simply trade Bitcoin through a forex broker.
It is common for beginners to have jitters. It is understandable when starting out. But here is the good news. You can use Mitrade's trading tools ( e.g. Trading Analysis/economic calendar) to identify the trading opportunities in the market. Try Mitrade today and happy trading!
If you want to learn strategies and free demo trading, please click here to sign up for Mitrade's multi-asset trading platform. We offer trading on 300+ the world's most popular assets.
What Fees Are There When Buying Bitcoin?
Fees are associated with purchasing Bitcoin on cryptocurrency exchanges. These fees include deposit fees for transferring cryptocurrencies, as well as possible fees for depositing fiat currencies. Trading fees are charged when buying and selling Bitcoin, typically a percentage of the trade size. Withdrawal fees apply when transferring Bitcoin to external wallets, and fees may also be incurred for withdrawing fiat currencies.
What Are The Ways to Reduce Bitcoin Transaction Fees?
Be patient: Fees can be high when the network is busy. Try to send your transactions during times when fewer people are using Bitcoin, like when it's nighttime in the U.S.

Explore other cryptocurrencies: Consider using alternative cryptocurrencies that aren't facing congestion issues. Some popular options include Litecoin (LTC), Ethereum (ETH), Bitcoin Cash (BCH), Dogecoin (DOGE), and Polygon (MATIC).

Use a custody wallet: Certain platforms like Coinbase or Kraken allow you to pay invoices from your custody wallet. This helps reduce fees by processing your payments off-chain.
* The content presented above, whether from a third party or not, is considered as general advice only. This article should not be construed as containing investment advice, investment recommendations, an offer of or solicitation for any transactions in financial instruments.