Hong Kong's Cryptocurrency Trading Platform Licensing System Takes Effect: What Does It Mean for Ordinary Investors?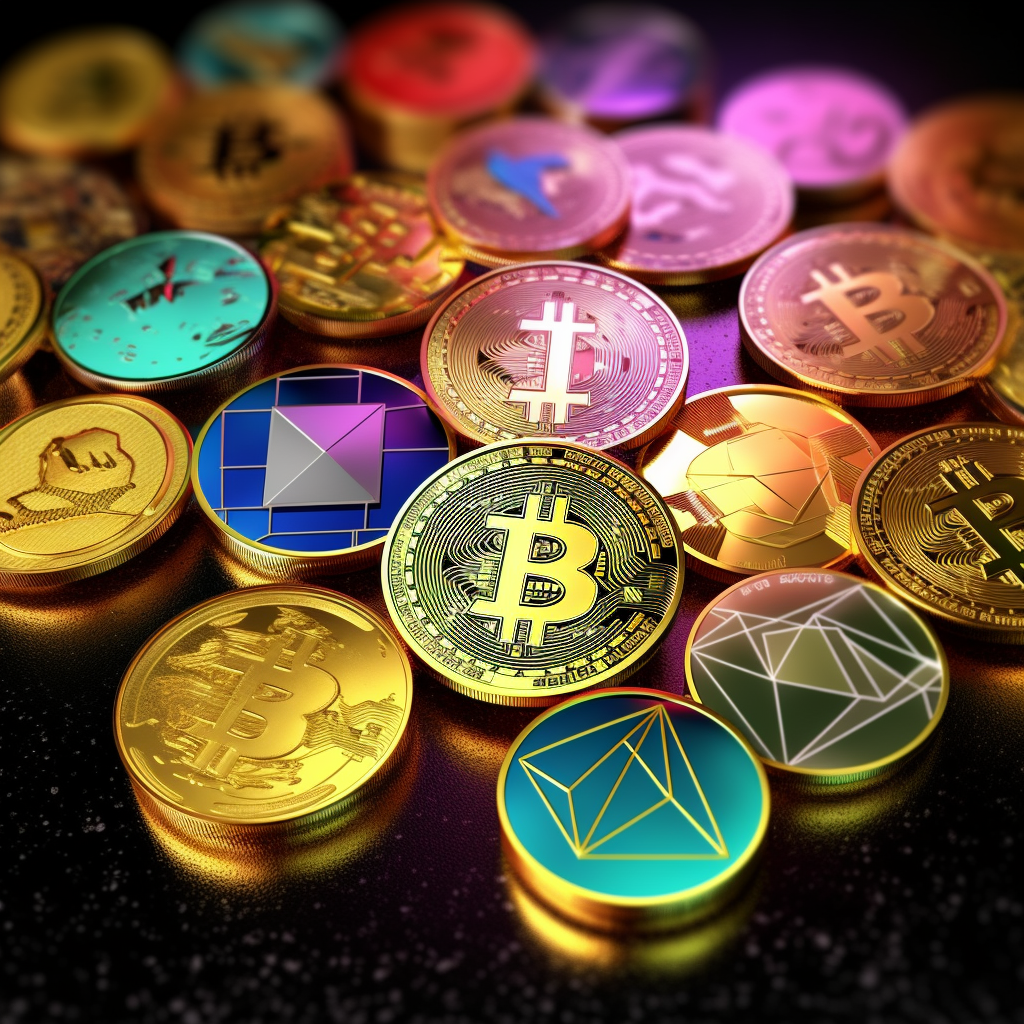 Market Review
Last week (5/29-6/4), the cryptocurrency market saw a slight decrease in market capitalization, dropping from $1.15 trillion to a low of $1.13 trillion, a decline of 1.73%. The market's fear/greed index showed a slight deviation with an increase from 52 to 53, but still remained in neutral territory.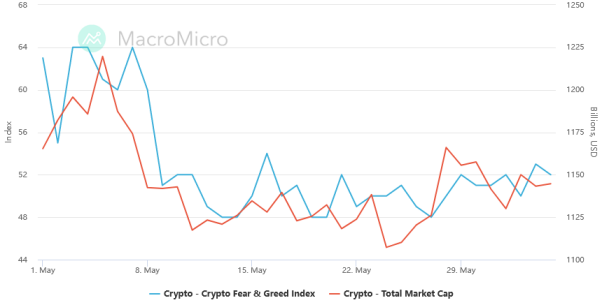 Trends of Crypto Total Market Cap and Fear Greed Index from 5/1 to 6/4 2023, Source: MacroMicro
And then, the mainstream cryptocurrencies had mixed performances. Among them, Ripple(XRP) performed the best, rising by 8.4%, while Chainlink(LINK) performed the worst, falling by 2.8%.
Bitcoin (BTC) dropped by 2.3%, while Ether (ETH) only fell by 0.1%, showing more resilience to the downturn.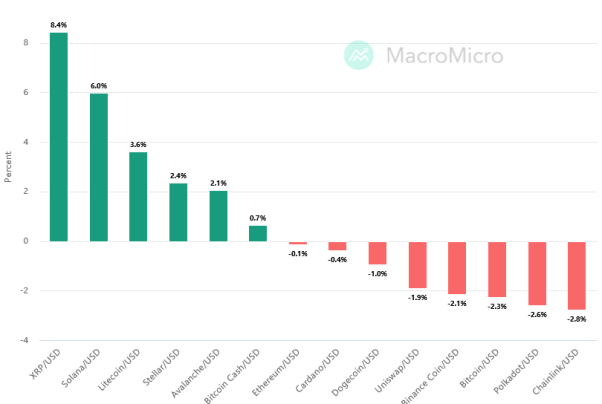 Price changes of mainstream cryptocurrencies from May 29th, 2023 to June 4th, 2023. Source: MacroMicro.
What does it mean that US regulatory agencies warn users not to deposit money into uninsured accounts?
On June 1, 2023, the Consumer Financial Protection Bureau (CFPB) released a report warning Americans to deposit their money into insured accounts and avoid depositing funds into uninsured applications, especially those related to cryptocurrency assets, to prevent losses in the event of a crisis. Additionally, the Federal Deposit Insurance Corporation (FDIC) may not provide insurance for deposits made through applications.
Mitrade analyst: Whether US regulators really have customers' best interests at heart is not the most important issue. In fact, from this report, we can draw two important pieces of information. First, there is a high probability of a crisis occurring, and regulatory measures have already been put in place to prevent it. Second, attempts are being made to encourage the liquidity of cryptocurrencies to flow back into banks and even the entire traditional financial market through persuasion. In fact, this report is a soft and gentle approach, while sanctions against crypto-circle projects or founders are a manifestation of a tough approach.
Although the report had little impact on the market, we should beware of the malicious actions taken by US regulatory agencies to rescue banks from a crisis at the expense of attacking cryptocurrencies. If persuasion fails, more aggressive restrictions or punishments cannot be ruled out.
Hong Kong's Cryptocurrency Trading Platform Licensing System Takes Effect: What Does It Mean for Ordinary Investors?
On June 1st, the Hong Kong Securities and Futures Commission (SFC) issued a circular providing transitional arrangements for a new licensing regime specifically designed for cryptocurrency trading platforms. Platforms that have already applied for a license before June 1st, 2023 can continue to provide cryptocurrency services for users, while those that do not wish to apply for a license should wind down their business activities in an orderly manner.
Mitrade analyst: Without regulation, anyone or institution can establish a cryptocurrency exchange, exposing users to the risk of fraud and fund misappropriation. Currently, Hong Kong has implemented a licensing system that requires cryptocurrency platforms to hold licenses in order to operate, filtering out top-quality trading platforms and eliminating unscrupulous exchanges. This measure is beneficial in reducing risks and providing protection for ordinary investors.
In addition, licensed trading platforms will attract more users due to their legal compliance, which bodes well for their tokens and presents a potential investment opportunity. Currently, Hong Kong's regulatory authorities have not announced licensed trading platforms, but many exchanges have already submitted applications, such as Binance (BNB), OKX (OKB), Huobi (HT), and Gate.io (GT).
Bitcoin is about to trend, will it go up or down?
On April 14, 2023, Bitcoin (BTC) rebounded strongly to $31,000, but did not continue to rise and instead experienced a pullback. During this time, BTC had three upward movements, all of which were ultimately knocked down, with two touching $25,000 downwards. Currently, the daily trend of BTC is a descending triangle, approaching the end of the triangle, and trading volume has significantly shrunk, which often indicates an impending reversal.
Bitcoin price trend in 2023. Source: TradingView
Mitrade analyst: Will Bitcoin go up or down? Based on past experience, the trend shows a descending triangle, and the probability of further downside is higher. In addition, looking at the current global economy and the unfriendly regulation of cryptocurrencies by the United States, market liquidity in the cryptocurrency market will be further weakened. Once this happens, it will be difficult for Bitcoin to avoid continuing to fall back.
Regardless of whether Bitcoin ultimately goes up or down, there is a high probability that it will experience volatility in June, which means there will be significant fluctuations. Therefore, the key level to watch is $25,000 as it is a critical point of inflection.
* The content presented above, whether from a third party or not, is considered as general advice only. This article should not be construed as containing investment advice, investment recommendations, an offer of or solicitation for any transactions in financial instruments.