Will the US dollar drop or rise? This is a hotspot around investors. As the reserve currency for international finance and global trade, the U.S. dollar has been the backbone of the world economy.
Interest by traders in the U.S. dollar has always been the subject of speculation on forex markets, and like all other fiat currencies, its value has been dependent on the health of the U.S. economy and its position in the world.
There are many factors that affect the value of the U.S. dollar in relation to other currencies, such as geopolitics, market sentiment and technical factors. This article is going to summarize these elements in addition to providing an economic forecast and ways that traders can leverage the movement of the dollar in forex markets.

What Drives The U.S. Dollar?
There are many factors that determine the value of the U.S. dollar, however it usually boils down to 3 major elements: (1) supply/demand, (2) market dynamics/psychology, and (3) technical factors that affect its value.

● How Supply Vs. Demand Affects the U.S. Dollar
Demand for dollars increases when the U.S. exports products or services because buyers must convert their local currency and buy U.S. dollars in order to complete the transaction. This results in a decreased demand for their home currency and an increased demand for U.S. dollars as part of the exchange.
In addition to trade, demand for USD increases when the U.S. government or entities like corporations issue bonds. For similar reasons as the previous example, foreign investors must convert their local currency to U.S. dollars to complete the purchase.
Increased demand for USD also arises when foreign investors wish to buy stock on the U.S. stock exchange. All these are examples of how the demand for dollars increases, and this is how a good portion of the value of the USD is determined.
The U.S. dollar is also considered to be a safe investment in times of global crisis when compared to the less stable economies of the world, creating more demand and increasing its value as investors more their money to U.S.-based assets.
● Sentiment and Market Psychology of Dollar Value
News about the U.S. economy can affect investor sentiment which then drives trading. An example of this would be reports of a weakening U.S. economy that dampens investor sentiment. This could then result in a sell-off of U.S. dollars in the form of currency conversions to sell bonds or stocks, lowering the overall value of the U.S. dollar in relation to other foreign currencies.
● Technical Factors that Impact the U.S. Dollar
To profit on the winning side of a trade, investors must speculate on whether the supply of dollars will be less than or more than the demand for dollars. News or events such as the release of various government reports like payroll or GDP data helps traders determine the direction of the U.S. economy.
Additional information concerning the activities of large players such as investment banks and large asset management firms is also essential because sentiment often drives the market more dramatically than proper economic fundamentals that determine demand and supply.
Other factors include the assessment of historical patterns associated with seasonal factors such as technical indicators, support and resistance levels. Many traders use these to speculate on price movements in the belief that such patterns are cyclical in nature.
Will the US Dollar Rise or Drop? USD Predictions VS Major Currencies
Predictions for the value of the U.S. dollar vary among experts, and 2020 is proving to be a very unpredictable year given the economic downturn associated with the COVID-19 event that caused severe market crashes.

● AUD/USD Forecast
Experts at Capital.com believe that the AUD/USD pair is a bad long-term investment due to bearish Australian dollar to US dollar predictions, with a positive outlook given for the USD.
Their analysis reveals a gradual decline for the AUD/USD pair starting in January 2020 that will fall to 0.598 by December 2021, favoring the dollar overall.
Source: Wallet Investor
● EUR/USD Forecast
Outlook for the dollar is favourable, according to the experts at Capital.com who believe the euro is in serious trouble due to weak macroeconomic reports, further fueled by ongoing political crises in the Eurozone.
As a result investment in the euro is not advisable with analysts favoring the dollar.
Source: Wallet Investor
● GBP To USD Forecast
The USD is favoured over the British pound, according to Capital.com due to the effect of Brexit negotiations and a weak U.K. economy.
With U.S. stock markets back on the rebound and a weakened U.K. outlook, analysts forecast a stronger dollar overall.
Source: Wallet Investor
● NZD To USD Forecast
Despite recovery for the New Zealand dollar due to unchanged interest rates, the outlook seems positive for the USD in comparison, according to analysis at Capital.com.
Source: Wallet Investor
● JPY To USD Forecast
The USD/JPY is one of the most liquid currency pairs due to the position of the U.S. dollar as the first reserve currency in the world with the yen taking fourth place Predictions at WalletInvestor.com have the pair holding steady over the next year without much change.
Source: Wallet Investor
Ways to Invest in the U.S. Dollar
There are several ways investors can leverage the current market conditions favoring the U.S. dollar that include:

1. Certificates of Deposit & Savings Accounts
One way to invest in the U.S. dollar is to purchase Certificates of Deposit (CD) that earn interest at local rates in specific countries. While the CD is subject to exchange rate fluctuations, it's higher interest rate counters this effect when compared to dollar-denominated CDs.
2. Foreign Bonds
Investors can purchase mutual funds that invest in U.S. government bonds that increase if the value goes up relative to the foreign currency.
3. Exchange-traded funds (ETFs) and exchange-traded notes (ETNs)
Exchange-traded funds (ETFs) and exchange-traded notes (ETNs) are ways to invest in currencies without trading in forex. They can be traded like stocks with a standard brokerage account.
4. Standard Forex Trading Account
A forex account with a broker allows traders to speculate on currency prices from all over the world.
Currencies are traded in pairs, with traders speculating on which one will go up or down. The bid-ask spread is where the broker makes their money, making trades commission-free and profitable for traders engaging in multiple trades throughout each session.
5. Trading U.S. Dollar Via CFDs
Сontracts for difference (CFDs) are derivative products similar to futures, options, swaps or forwards. They allow traders to speculate on price movements that move up or down without owning the underlying asset.
Rather than buying or selling currencies, traders use CFDs to speculate on the movement of one currency versus the other. For example, if the trader decides to trade USD/JPY and predicts the value of JPY will fall, they can go short on JPY and profit if the USD goes up.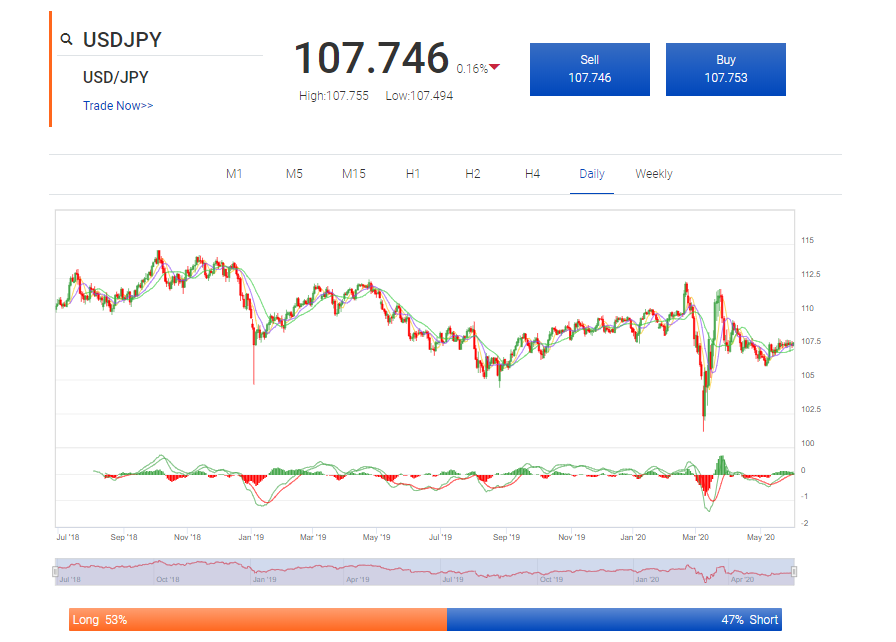 For the real-time price chart, please visit the Mitrade platform →
Advantages of USD Forex CFD Trading
CFDs do not use any type of exchange and are traded over the counter. They are facilitated by contracts between the broker and client that exchange the difference in the value of the underlying asset at contract closed.

There are many reasons for why CFDs have become popular in the last decade that include:
● Easy trading through an online broker
● Opportunity to profit on either price decrease or increase
● Low barriers to entry
● Trades as low as 0.01 lots of the underlying asset
● Leveraged trading that can amplify positions
● No shorting rules
There are several disadvantages of CFDs that can include a lack of regulation, very high risks, and the loss of capital that can come with the use of leverage, which is the use of credit from the broker to conduct large trades without paying the full cost. This type of trading offers opportunities to make stunning profits, however can also magnify the losses if the price goes the other way.
Leveraged trading is advisable for experienced traders or those that can afford to risk the total loss of their capital.
Discover US dollar trading with Mitrade
Trading US Dollar CFDs in Volatile Markets
Current market conditions are extremely volatile given recent events concerning COVID-19 and political instability in the United States.

These volatile markets present opportunities for some investors to use derivative instruments like CFDs for speculation on price movements due to the sharp and frequent upward and downward price swings.
The higher degree of price shifting presents greater opportunities with traders favouring long positions for upward predictions and short positions for downward predictions. CFDs offer profits for both directions, making them an attractive instrument for investment speculation.
Using CFDs To Reduce Portfolio Risk
Investors with portfolios that have large positions in USD-based assets can use CFDs as a protection mechanism to hedge or reduce the risk of falling USD prices. If the trader believes that the price of an asset in the portfolio will fall, CFDs can be purchased to profit on the decrease in price and offset any losses from the value decrease of the underlying asset in their investment portfolio.
Choosing a Forex CFD Broker To Trade US dollar
Choosing the right forex CFD broker requires the assessment of many factors that can include deposit requirements, trading platforms, withdrawal procedures, and the availability of a diverse range of financial instruments.

Security should remain the chief concern for all traders and the most important consideration for investors is to find a broker that is licensed by a governmental body and regulated for ethical standards of practice, such as ASIC, the Australian Securities and Investments Commission.
As one of the fastest-growing brokers in Australia, Mitrade is an ASIC regulated and reliable broker offering fast and reliable trade execution in an intuitive and easy-to-follow interface.
With features that include zero commissions, competitive spreads, and up to 200 times leverage, Mitrade is a popular choice for both beginner and advanced traders.
How to trade with Mitrade?
You can invest in US Dollar via forex CFD:
Mitrade also provides Bitcoin, gold, and Crude oil investment opportunity.
Successful Strategies for USD CFD Trading
Successful trading in Forex CFDs requires an understanding of key economic indicators like interest rates, inflation, employment rates, consumer spending and manufacturing activity. All these measurements determine the economic strength of a country, and this ultimately determines the strength of the country's currency. Some key indicators that influence US dollar investing include:

1. Central Bank Interest Rates
Decisions made by central banking authorities concerning interest rates can directly affect the demand and supply of a currency.
Interest rate increases are often used to control inflation to slow the growth of an economy and decrease stimulate borrowing so the economy can grow.
2. Nonfarm Payrolls
Non-farm payroll is a report released by the United States Bureau of Labor Statistics that discloses the amount of all payroll jobs in the United States. This number is exclusive of farmworkers, some public service government workers, sole proprietors and employees of non-profit organizations.
Many analysts look to this figure as an indication of Gross Domestic Product (GDP) as it can provide indications on the direction of consumer spending, which is an indication of economic growth.
3. Unemployment Rate
The unemployment rate is defined as the percentage of the labor force that is actively looking for work. Its increase or decrease is directly tied to levels of consumer spending, giving analysts a key metric for gauging the health of the economy.
4. Consumer Price Index (CPI)
The CPI provides an indication for the direction of prices through an index-linked measure of the cost of goods and services. The report often has a high impact on prices in the forex market because it gives indications on movements that may be taken by central banking authorities.
5. Industrial Production Index
The Industrial Production Index is a monthly report that measures U.S. output levels in the manufacturing, mining, gas, and electric utilities industries. Compiled by the Federal Reserve, it is given importance due to the indications provided on overall structural changes in the economy.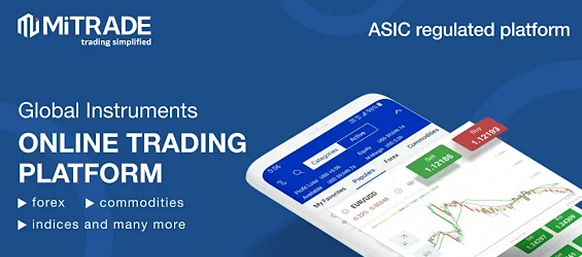 ---
The content presented above, whether from a third party or not, is considered as general advice only. This article does not contain and should not be construed as containing investment advice, investment recommendations, an offer of or solicitation for any transactions in financial instruments. Mitrade does not represent that the information provided here is accurate, current or complete. For any information related to leverage or promotions, certain details may outdated so please refer to our trading platform for the latest details. Mitrade is not a financial advisor and all services are provided on an execution only basis. Before making any investment decisions, you should seek advice from independent financial advisors to ensure you understand the risks. *CFD trading carries a high level of risk and is not suitable for all investors. Please read the PDS before choosing to start trading.