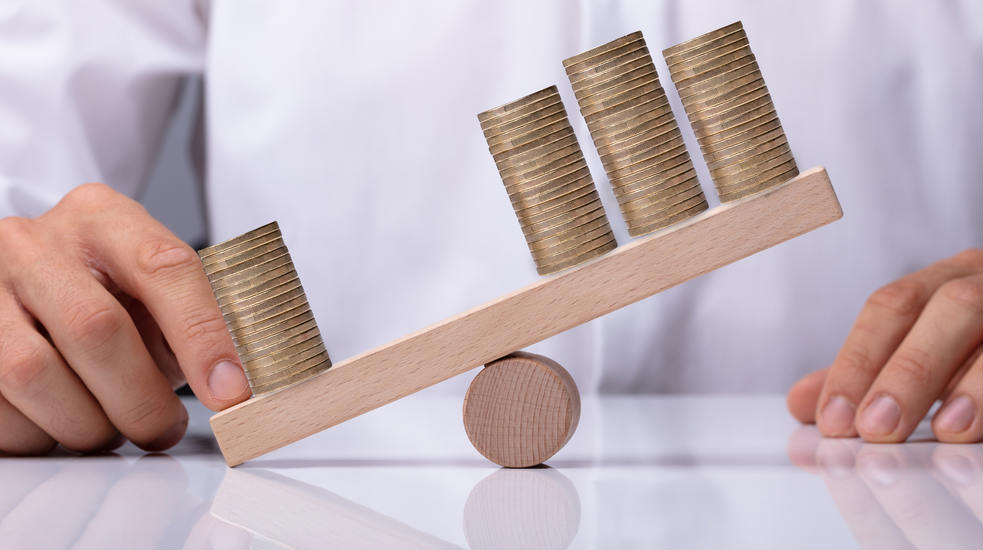 Any experienced trader would turn away when they come across anything that suggests that there is a Holy Grail in the art of forex trading. This is because the term "Holy Grail" has been used to mislead millions of traders into believing that they have found a system or strategy that will help them milk millions of dollars from trading.
I was once a victim.
The end result is always the same: losses and blown accounts.
Well, I am here to tell you, from my many years' experience in trading, that the real Holy Grail is in what we call the Risk to Reward Ratio (RRR).
My Early Days of Trading
I joined the world of Forex Trading many years ago after I watched a documentary about a young trader that made over $2,000 daily from it. I began the journey alone and never had a mentor apart from Google and YouTube.
To cut the long story short, I came across websites that were selling very promising indicators and trading systems. They came along with videos and screenshots of the systems in action or performance records. I would purchase one system after the other until it became obvious that none was ever close to giving me the winning that I pursued.

Just before I stopped purchasing the systems, I bought one "non-repainting" indicator that really made the profits. I would collect 30, 40, 15 and so pips without a struggle. However, it would also make some losses. The problem is that the losses would be super huge, amounting to hundreds of pips. As such, after collecting about 100 pips, I would make a 180 pips loss. This set me back by 80 pips.
At the end of my trading days, I would close with losses.
This continued until I blew my account.
I went back to YouTube and that is when I learned that no single system would ever make anyone successful. They suggested that plain chart trading, also known as Price Action, was the thing. Having learned "the secret", I rushed to purchase a price action course for $2,000.
Sadly, a story that makes me shudder in sorrow, the trend was the same: I made some profits, then losses, and eventually, my account was gone.
After 1 year of trading, I quit, having lost over $5,000 buying overpromising systems and indicators and also blowing my accounts.
The Risk to Reward Ratio
One year after I quit trading, but with the pain still fresh in my mind, I met one of the friends I had made during my trading days. He had clean charts without tons of indicators, and, from his history, he was a profitable trader. When I asked about his secret, that is when he explained to me about the Risk to Reward Ratio approach. It made so much sense that when I got back home, I resuscitated my trading account, ready for demo trading with the new concept.
Well, let me tell you this: with the RRR, you can make money with almost any strategy as long as it makes technical analysis sense. I will be showing you how in the rest of this article.
So, what is this RRR?
Risk simply means the amount that you are willing to put on the line for a single trade.
In short, it is the amount that you have no problem losing because it also has the potential to give a benefit known as a reward.
The Reward is how much you are looking forward to gaining by using the risk. If I can put it better, let's assume you have $1 that after investing, can earn you another $1 so you end up with $2. In this case, the dollar that you invest is the Risk while the one you earned is the Reward.
The same applies to Forex.
The amount that you use per trade is the Risk while the profits you earn are the Rewards.
Now, the tiny secret that changed my losing streaks into profitable trading is that your rewards must exceed the risk.
Simple.
If we go back to the $1 that you invested, remember that you can either lose it, or it will multiply. That is how Forex works. You can either make a loss when your Stop Loss (SL) is hit, or you can make a profit when your Take Profit (TP) is hit.
So, would you choose to risk $1 and make another $1, or risk $1 and make $3 more? Obviously, you would go for the second option. This is what you need to apply in trading for profitability.
After I learned this concept, I realized that all the systems that I had purchased would have made me some money if I had utilized RRR.
As I highlighted earlier, I would make some money then later lose it by following "buy" and "sell" arrows. The problem is that after raking some dollars through tiny profits, I would lose them all to one major loss.
So, my thought was, what would happen if I reversed this phenomenon?
I mean, make more tiny losses and a few huge profits?
In the long run, my profits would exceed my losses, and that would result in overall profitable performance.
Applying RRR
By now, you already know that RRR is not a system or indicator. This is just a witty application of the typical SL and TP features found in all trading platforms. The SL represents the Risk that you will apply, while the TP represents the Reward that you are aiming for.
The concept here is to find the trades that promise more Rewards while requiring minimal Risk. Let's look at this concept in our charts.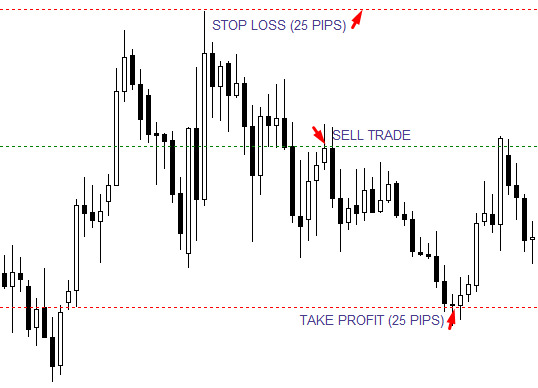 From the figure above, you can see that the distance of the SL from the entry point of the sell trade is equal to the distance of the TP from the entry point. In this case, the trader was risking 25 pips to earn 25 pips. To get the RRR, expressed as Risk:
Reward, we divide the risk by the reward. As such, 25/25 gives us 1/1. Therefore, we can say that the RRR of this trade is 1:1.
Let's assume that the trader won this time (made 25 pips profit) then placed another similar trade and lost (made 25 pips loss). It means that from the two trades, he or she would have made 0 pips profit.
Now let's look at how RRR improves trading success and brings profits.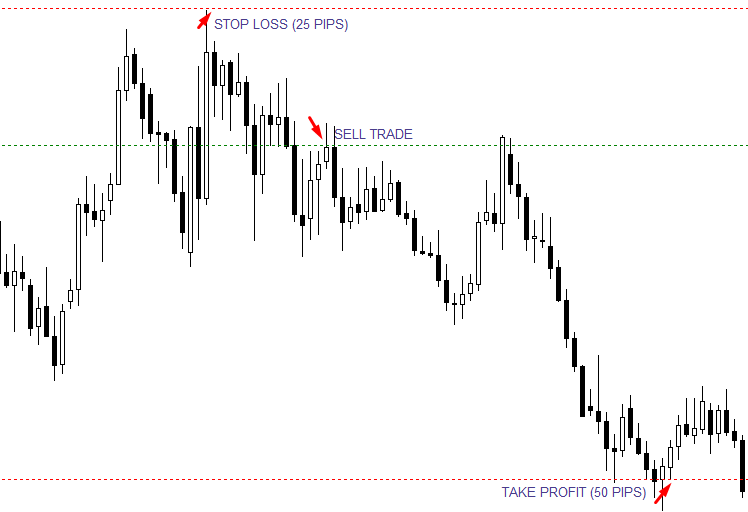 In this image, we can see that the trader made an alteration. The SL distance is now 25 pips, while the TP distance is 50 pips.
First, let's calculate the RRR. To do so, we get the risk (25) and divide it with the reward (50). 25/50 = ½. This is expressed as RRR 1:2. What this means is that the trader risked 25 pips while seeking to earn 50 pips.
Let's assume that he won the above trade and earned the 50 pips. Then later, he took a similar trader with RRR 1:2 and lost (SL was hit). He would have lost 25 pips. Assuming that he only made the 2 trades that day or week, he would still have 25 pips of profit in his account!
Do you see the magic in this approach?
In short, he would have to make two consecutive losses to deplete his earlier profits of 50 pips.
It gets sweeter!
Now, you've not seen it all, yet! Let's say that out of 10 trades using the same RRR, the trader only won 4. This means he made (4 trades x 50 pips profit) = 200 pips, and lost (6 trades x 25 pips) = 150 pips. Overall, he would have (200 pips profit – 150 pips loss) = 50 pips.
In short, even after losing 6 trades and winning only 4, he still remained with 50 pips of profit. His performance graph would show that he is profitable.

If this trend happened ten more times, he would have (50 pips x 10) = 500 pips of profit.
This is the simplest way to make money in Forex trading.
Are you already thinking what would happen if you had a RRR that was way higher? Let's see how it would work out: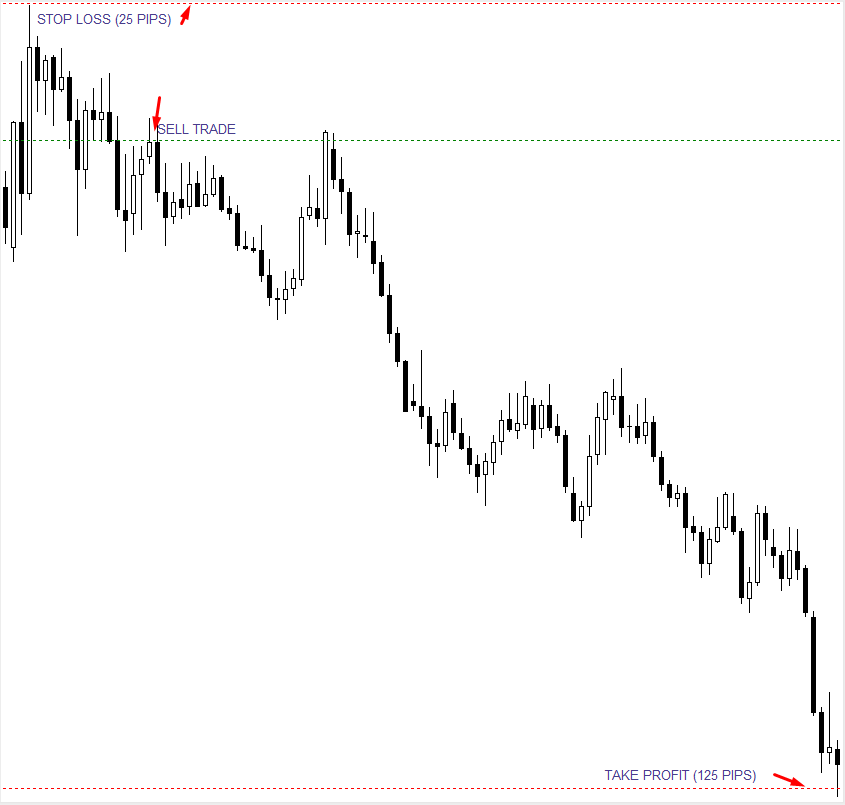 Stop salivating already and focus on the concept above :)
We can see that the SL was placed 25 pips away from the trade entry and the TP is placed 125 pips away. The RRR, therefore, is 25/125 = 5. As such, the RRR of this trade is 1: 5.
If you make a trade like this and won the first one, you would have 125 pips profit in your bag. It would take 5 consecutive losses to lose all the 125 pips. Still, this would only take your earned profits without touching your capital.
Let's assume that out of ten trades, you lost 7 and won only 3. The wins would be (125 x 3) = 375 pips profit. The losses would be (25 x 7) = 175 pips. So, in total, you would end up with (375 – 175) = 200 pips of profit.
If this trend happened ten times, you would have 2,000 pips of profit despite making more losses than profits. However, with a working strategy, you should be able to make at least 60% wins, meaning the winnings would be even more.
This is what has kept me winning and not worrying about making consecutive losses because I am sure that when I score a winner, it will cover all the losses and leave me profitable.
Calculating RRR in your trading
Read this very carefully before you blindly apply the RRR. If you just decided to apply a 1:5 RRR to random trades without the proper market analysis, you will be gambling and that might see you make serious losses and get your account blown. You MUST know how to calculate and spot the trades that have the potential to offer more reward than risk.
For instance, we can use Support & Resistance to calculate the potential RRR of a trade. This is the most-traded concept in Forex. Unfortunately, it is mostly done the wrong way as RRR is usually ignored. The figure below shows you how to calculate the RRR of a trade before pulling the trigger.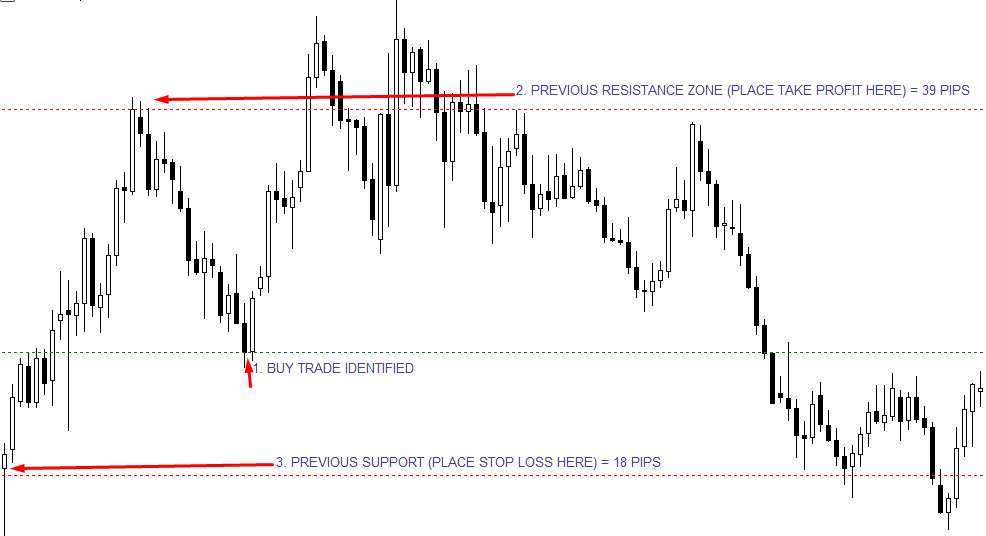 In this image, we can see that the trader looked at previous Support & Resistance to identify where they would place their SL (Risk) and TL (Reward). If we divide the Risk with the Reward, we have 18/39 = 1:2.1. In short, the RRR for this trade would be 1: 2.1. In this case, we call it a good trade. However, if the RRR was below 1:1, it would not be advisable to take it.

Remember that you don't need to use Support & Resistance only to apply the RRR approach. Use any strategy that you feel works for you, but make sure to look only for trades that let you place the TP further than the SL.
Our final diagram below shows how I use the RRR when trading using the Elliott Waves principle.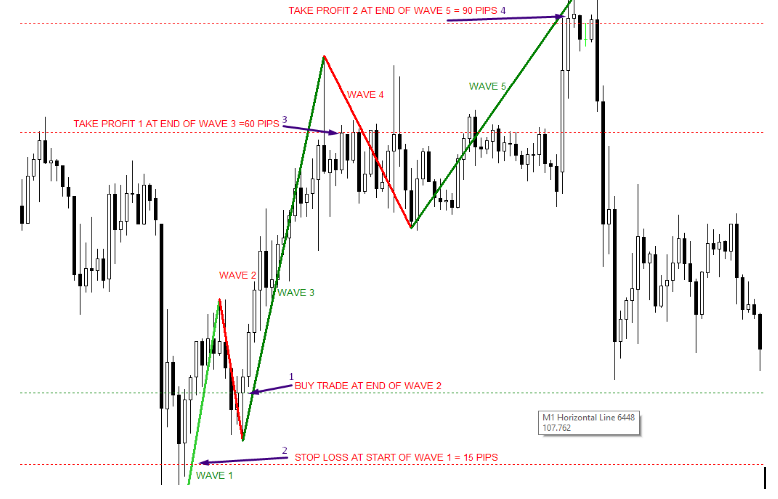 If you understand the Waves principle, then you can easily understand this diagram. Don't worry if you do not get it. Just use any strategy that you like.
As you can see, my SL is at 15 pips. As per the third wave's concept, my first TP would be 60 pips away from the entry point. As such, the RRR is 15/60 = ¼. Therefore, the RRR for the first TP is 1:4. According to the fifth wave's concept, the second TP would be much further from wave 3. In this case, the TP is 90 pips away. Our RRR, in this case, is 15/90 = 1/6, meaning it is 1:6.
Magical, isn't it?
Conclusion
If you have been undergoing the stress of making consecutive losses and ending up on the losing side, your time to rise has come. You only need to apply this very simple RRR method and the graphs will turn upwards.
Incorporate the approach and remember to always take the trades that promise higher Reward than the Risk. Personally, I never take any trade that offers a RRR below 1:2. Again, keep in mind that the higher the Risk to Reward Ratio a trade offers, the fewer winning trades you need in order to remain profitable.
Cheers to your profitable trading. See you on the charts!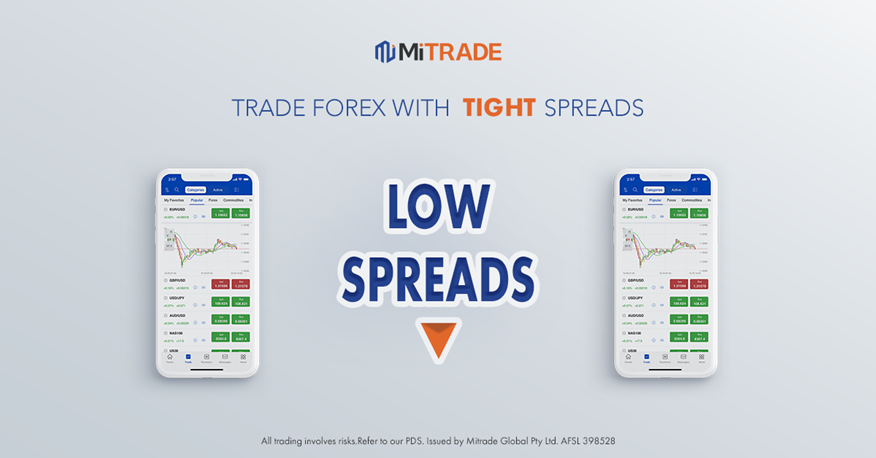 Trading leveraged products puts you at risk of losing part or all of your money. Learn first before investing. Also, apply proper risk management to protect your funds.
---
The content presented above, whether from a third party or not, is considered as general advice only. The information provided here does not consider one or more of the objectives, financial situation and needs of audiences. In addition to the disclaimer below, Mitrade does not represent that the information provided here is accurate, current or complete, and therefore should not be relied upon as such. This information does not contain a record of our trading prices, or an offer of, or solicitation for, a transaction in any financial instrument. Mitrade is not a financial advisor and all services are provided on an execution only basis. We advise any readers of this content to seek their own advice.