Nowadays, you can trade assets like forex, among others, in the financial sphere in many different ways. The forex market, for instance, is one of the largest trading markets in the world. Orders are made 24/7/365 all across the globe. And with the introduction of cryptocurrency, the forex platform has taken a whole different perspective. Well, it would be rather surprising if the forex market didn't respond to the intriguing expansion of cryptocurrencies.
As an investor or someone new to trading, if you have decided to take part in forex crypto trading, you should understand that it is a risky business. So, before you start bitcoin forex trading, it is better that you understand everything about it.

That's the reason we created this post to help investors and beginners like you to give the head start in understanding the market.
Let's get started.
Can you Trade Bitcoin and Crypto on Forex Broker?
Yes, cryptocurrencies like Bitcoin, Ethereum, and Litecoin, among others can be traded on foreign exchange markets. This has added a new dimension to currency trading.
Today, you can see many brokers and investors accepting bitcoin forex trading. You don't really transact the physical bitcoin, but trade the BTC/USD currency pair.
Check real-time price chart on bitcoin forex trading app-Mitrade>>
How Does Bitcoin Trading Work On Forex?
While bitcoin and other cryptocurrencies are not directed to any uncertainty generated by foreign central banks, forex trading is usually controlled by organizations like the Financial Services Agency (FCA) or the Financial Conduct Authority.

In a forex trade, suppose you think the bitcoin price will go up, you buy ( Go long) on bitcoin and us dollars pair ( BTC/USD), if you close the trade at a higher point, then you will get profit. When you feel the price will go down, you sell it ( go short).
The basic of long trade is to "Buy Low = Sell High". However, a short trade is to "Sell High = Buy Low".

Of course, you should calculate the cost involved. Generally, there are overnight fees, spreads, commission per trade.
In bitcoin forex trading, you need to open an account with any of the Crypto Trading Forex Brokers available who accept bitcoin, among other cryptocurrencies.
Our Pick of Forex Broker for Crypto Trading
As we said, you need to look for Crypto Trading Forex Brokers online and determine whether they accept bitcoin for bitcoin forex trading. Once you have formed a list of the best possible brokers who you think are worth considering, you need to filter the best one out based on the factors that we are going to mention below.

Factors to consider when choosing a forex crypto broker:
When choosing forex brokers that offer cryptocurrency, it is critical to understand that not all brokers offer the same service. You need to determine the best forex bitcoin broker based on their services and what benefits they provide to the traders. The following are certain factors to consider when choosing a broker:
● Due to the high volatility of the assets, most brokers limit the leverage offered on bitcoin trading. The leverage, if offered, can range from 3:1 to 30:1. Therefore, ensure that you don't use too much leverage as significant changes against your position may cause irreversible damage to your account.
● Many forex brokers promise no charges or commissions on bitcoin trading in order to entice traders. Ensure that you read their terms of service carefully to determine whether there are any rollover charges or other hidden fees.
● Since there are a plethora of forex trading platforms available, you can choose between downloadable platforms or web applications, or a combination of both. Brokers have designed their bitcoin forex trading based on their target audience. If you prefer a mobile app, choose a broker that has a mobile app. And if you prefer web platforms, choose a broker that offers a user-friendly website.
● It is critical that you register with a bitcoin forex trading broker that is regulated. This is to ensure that your money is protected in case of an emergency. You should know that not every forex broker is regulated and not every exchange is regulated either.
● Last but not least, security is the topmost concern for most traders since they heavily invest in the exchange. Thus, the broker or platform you choose must be created using high-end technology that guarantees protection against hackers and other malicious activities.

Considering all the above-mentioned factors, if you are looking for a forex platform for bitcoin and crypto trading, MiTrade is here for new investors. It offers multi-platform compatibility with apps for both Android and iOS users along with a web platform. This allows you to trade from any platform, anytime and from anywhere.
The primary reasons why more and more people are using MiTrade are that the platform is simple and intuitive that offers competitive trading goals under competitive threshold trading conditions, it's regulated by ASIC, is protected against negative balances, and offers excellent online support.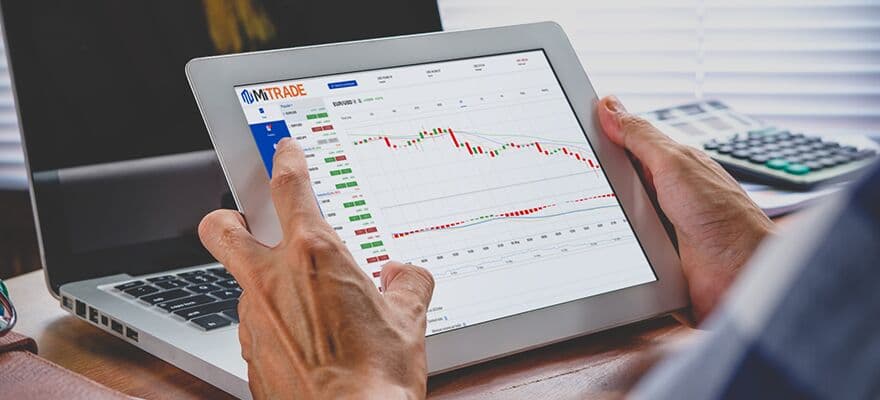 What Can You Trade On MiTrade?
With Mittrade, you can trade cryptocurrencies such as:
● Bitcoin
● Bitcoin Cash
● Ethereum
● Litecoin
● Ripple XRP

Benefits and Risks of Trading Crypto on Forex Broker
There are many benefits as well as risks associated with bitcoin forex trading.
Benefits:
● One of the significant advantages of trading bitcoin like forex is that there is no authority or central bank to randomly change the valuations of bitcoin. This decentralized nature allows the bitcoin rates to be free of any geopolitical influences along with any macroeconomic issues like nation-specific interest rates or inflation.
● Established bitcoin forex trading broker offer bitcoin leverage trading. Some broker's leverage can range up to 1:1000 for cryptocurrency (bitcoin) trades. Experienced as well as beginner traders can use this feature to their benefit. However, we recommend that you must approach such high margins with great caution.
● Forex market is a 24-hour global market, so you almost trade Bitcoin ( BTC/USD) anytime and anywhere.
● Traders can enjoy a low cost of trading. The forex brokers usually provide margin trading. It allows traders to start trading with a low deposit amount.
● Bitcoin prices have always exhibited high volatility, and you have 2 directions of trading, go long or go short, therefore you have more opportunities to trade.
What are the risks?
● You need to ensure that you understand the margin and leverage the broker provides.
● High leverage will increase the risks, you may lose all of your money.
Final Thoughts
If you look at the big picture, you will find bitcoin forex trading an amazing opportunity to get started in the most promising financial market of the future. However, you must educate yourself about all the aspects, try to process all the information, and research all about the trading procedure before everything else.

---
Explore Bitcoin Trading on Mitrade!
small investment, big profits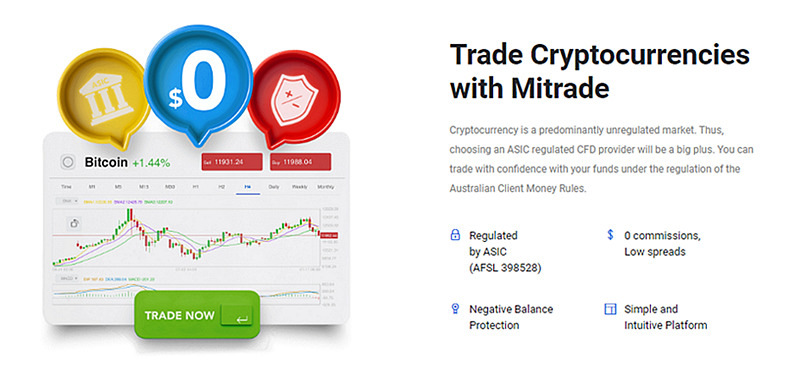 ---
The content presented above, whether from a third party or not, is considered as general advice only. This article does not contain and should not be construed as containing investment advice, investment recommendations, an offer of or solicitation for any transactions in financial instruments. Mitrade does not represent that the information provided here is accurate, current or complete. For any information related to leverage or promotions, certain details may outdated so please refer to our trading platform for the latest details. Mitrade is not a financial advisor and all services are provided on an execution only basis. Before making any investment decisions, you should seek advice from independent financial advisors to ensure you understand the risks. *CFD trading carries a high level of risk and is not suitable for all investors. Please read the PDS before choosing to start trading.