Bitcoin made its first appearance in 2009 but it had its highest momentum in 2017 and the BTC price has risen madly, since then the media has been buzzing with bitcoin and cryptocurrency news.

This spectacular growth has sparked some government fears, as some countries have gone as far as to put bans on Bitcoin trading just because they do not understand it and many central banks have cautioned from cryptocurrency.
While regulators around the world still trying to cope with this recent phenomenon, the main question arises — is Bitcoin legal?
In this guide, we are going to explore the legality of Bitcoin and the frequent questions on legal issues concerning crypto and bitcoin.
Discover Bitcoin trading with Mitrade
Why Would Bitcoin Be Illegal In Some Countries?
Although every transaction made on the network is recorded in Blockchain, it is easy for users to remain virtually anonymous, as these records contain only public keys and the amount of money transferred.
This leads governments around the world to consider many factors when it comes to regulate cryptocurrency. For example:
● The risks of using Bitcoin in illegal activities and money laundering - Bitcoin's ability to use almost anonymously is a cause for concern, as that would make it really attractive for criminals. as it is feared that the bitcoin with its decentralization nature may be exploited for money laundering and tax evasion.
We have heard some negative things about Bitcoin on the news channels in the past. When the dark web market, Silk Road, was online, Bitcoin was the preferred currency for people who have bought and sold on the platform.
Moreover, Bitcoin and other cryptocurrencies were also used as a means of money laundering. But, Bitcoin was not alone here. Every single currency in the world has been used for illicit activities. Also unlike cash, Bitcoin leaves behind a large digital line.
● The use of Bitcoin and other cryptocurrencies in cyber-terrorism, as it was evident with both the WannaCry and Petya viruses, which require users to pay $ 300 ransom by Bitcoin in order to decrypt files. In addition to financing other cyber-crimes.
● Fraud on Bitcoin investors and cryptocurrencies, and the emergence of many suspicious and unreliable platforms that are intended to fraud on users and traders. In addition to risks of losing money and huge investments by dealing with Bitcoin.
Given such cases, it seems natural that the ruling authorities are concerned about a completely uncontrolled Malian society. This also extends to exchanges and protection of people's money.
Many authorities (or regulators) around the world are still struggling to give Bitcoin definition legally. Not to mention establish a regulatory framework to Bitcoin.
The Legal Uses Of Bitcoin
Bitcoin has plenty of legal uses. That include, but not be limited to:

● Fast and low-fee payments – Bitcoin offers everyone around the world the ability to transfer money safely and send them to anyone else in the world. Transaction fees are small and usually, go through very quickly. In addition to being a decentralized cryptocurrency with no central authority detached from any government, Bitcoin allows you to own your money, and spend it freely with anyone, anywhere, anytime.
● Procurement of goods and services – With bitcoin, consumers can purchase goods and services directly through online retailers.Thousands of businesses online and many companies around the world accept cryptocurrency nowadays.
● Making money – Bitcoin (and related crypto instruments) are being traded on exchanges, and companies have been investing millions of dollars in cryptocurrency-related ventures. There are so many people in the world making money through trading the various cryptocurrencies on exchanges.
● Donations, fundraisers, stuff like that - A lot of websites have donation buttons in their footers showing their crypto addresses to collect donations. People who enjoy the site's content can donate some coins to their favorite content creators, feeling good that they are supporting their favorite creators and encouraging them to keep making cool stuff.
It should be noted that the illegal use of bitcoin doesn't exceed 10 percent of bitcoin's volume against 90 percent in legal uses, according to Forbes.
Generally, People who are using or interested in cryptocurrencies may love the idea of genuinely truly owning their money, protecting their privacy, the ideologies behind crypto, or just making money through trading.
List Of Countries Where Bitcoin Is Legal
Source from wikipedia
This colored map show Bitcoin legality around the world.
Green – Countries are legal Bitcoin markets.
Orange – Represents countries that allow Bitcoin markets but have some restrictions against it.
Pink – Contentious (interpretation of old laws, but bitcoin is not prohibited directly).
Red – Countries represent where Bitcoin is completely illegal and criminalized.
Gray – Represents the countries that have yet to comment on Bitcoin's legality.
Kindly note that this information might change in the future. The list of countries is just for reference. There are still many other areas outside our list.
USA
I know that many of you have wondered, is bitcoin legal in USA. The answer is; United States recognizes legitimate Bitcoin and other cryptocurrencies use, but in the same want to make sure that cryptocurrency isn't being used for illegal purposes.
The US Treasury has classified cryptocurrencies and exchanges as money services or financial institutions instead of labeling it a currency. That means they meet the requirements for legal operations such as KYC and AML laws. In addition, to staying on top of reporting and record-keeping.
While the Internal Revenue Service has billed Bitcoin and other cryptocurrencies as a digital asset, meaning it is taxable.
Australia
Bitcoin considered as a good and the earned income within Bitcoin activities is taxable in Australia. However, the Australian Central Banks said that further regulations for cryptocurrencies are not needed for the use of cryptocurrencies as a form of payment.
Canada
Canada was one of the first countries to introduce any type of legislation for cryptocurrency. In 2014 it passed a bill deemed cryptocurrency businesses as money services which bring them into compliance with KYC and AML laws.
Moreover, the Canada Revenue Agency declared Bitcoin as a commodity and considers income from cryptocurrency ventures as business income which means that it is taxable.
China
China has cracked down on bitcoin exchanges – all major bitcoin exchanges in the country, including OKCoin, Huobi, BTC China, and ViaBTC, suspended order book trading of digital assets against the yuan in 2017.
But is bitcoin illegal in China? The real answer is China has not banned bitcoin and insists it has no plans to do so.
Malta
Malta had a clear truthful situation regarding Bitcoin, it was so friendly to the crypto industry.
With no laws covering Bitcoin, Malta's prime minister express warm approval on Bitcoin and the Blockchain tech abilities. Moreover, he adopts a strategy to promote Bitcoin and blockchain.
Japan
Japan has been at the forefront of the countries that made a legal regulation regarding Bitcoin. It also passed a law in 2017 allows cryptocurrency exchanges under KYC and AML laws. Moreover, the FSA is checking up on these exchanges.
Russia
While it allowing the cryptocurrencies businesses and activities, Russia always tries to protect its people from scams schemes. Moreover, bitcoin mining is legal also.
Germany
Bitcoin and cryptocurrencies activities are legal in Germany. Moreover, It is also taxable.
France
Bulgaria
Estonia
Finland
Iceland
Israel
Jordan
Mexico
Slovenia
Venezuela
Sweden
Trade Ease With Australia's Popular Forex Broker
Countries Where Bitcoin Is Illegal
Bolivia
Bolivia bans dealing in any currency not issued or regulated by the government, and the central bank "El Banco Central de Bolivia" specifically mentions Bitcoin, but the ban extends to all cryptocurrencies and it has been criminalized.
Ecuador
The Ecuadorian government banned all cryptocurrencies since 2014, due to the establishment and development of a new electronic cash system to be linked directly to the local currency and operated by the state.
Vietnam
Vietnamese government outright banned the population from using Bitcoins within the country, and anyone caught using cryptocurrencies will face a fine.
Pakistan
State Bank of Pakistan has announced that cryptocurrencies are banned in Pakistan as of April 2018. Bank will not get involved if there is any dispute.
Countries In Which Bitcoin Is Not Regulated
United Kingdom

The Financial Conduct Authority (FCA) in the UK had defined Bitcoin as a commodity and it has no plans for crypto regulation.
India
In early 2018 India's central bank banned the financial institutions regulated by RBI from working with cryptocurrency exchanges and cryptocurrency-related activities.
But, is bitcoin legal in India?
The Indian government doesn't currently have any cryptocurrency law and using cryptocurrencies not criminal in the country.
Hong Kong
In Hong Kong deemed Bitcoins a virtual commodity, and there is no plan to regulate the cryptocurrency, according to HKMA.
Although the existing laws don't directly regulate digital currencies, it provides sanctions for unlawful acts involving those currencies, such as fraud and money laundering.
Belgium
Brazil
Colombia
Cyprus
Denmark
Greece
Indonesia
Lebanon
Lithuania
Malaysia
New Zealand
Singapore
Thailand
The Netherlands
Ukraine
Effective Tips To Avoid Common Bitcoin Frauds and Scams
Bitcoin created to fight the exploitation in financial systems and to guarantee the rights of both parties who are using BTC for payment as it records transactions almost transparently. But even that didn't prevent the fraudsters to exploited Bitcoin as any new technology emerges.
Moreover, bitcoin and other cryptocurrencies are complicated, confusing to new users and lightly regulated — all of which make them an ideal target for scammers.
There are many deceptive tricks designed to separate you from your cryptocurrencies. But fortunately, we also have a number of simple tips that will always keep you safe.
1. When you are going to any exchange or waller website you should always double-check URLs to make sure you're visiting the true website.
2. Don't click on suspicious links that are emailed to you.
3. Never disclose your private key with anyone.
4. Stick with well-known and popular exchanges and use 2-factor authentication.
5. Do your own research on any exchange or wallet before creating an account, to avoid the fake exchanges.
6. Don't let yourself be pressured into depositing funds or providing any personal information.
7. Be careful when you are going to install any software or app from any store, you should make sure its that is not a scam app. Also, you should get the wallet or exchange app from the officials' websites only.
8. When you are going to invest in an ICO project, you have to do thorough research on that ICO before buying in.
9. Setup a good antivirus to protect you from malware.
10. When you trade, be careful from the market manipulation, such as the small market-cap cryptocurrencies which see a sudden skyrocket price rise. Also, be wary of fake news and do careful research in the credentials of any cryptocurrency before buying it.
Want to join the Bitcoin Trading Market?
If you have wondered about is buying bitcoin legal in your country, there are thousands around the world had wondered before, and others will. If you use cryptocurrency for right purposes, you shouldn't worry about its legality.
Bitcoin will continue to grow alongside with blockchain technology which will enable the world to create all kinds of innovative new products. And just like with any new thing (especially anything involving money), the laws and regulations regarding Bitcoin will continue to be written and rewritten.
Want to join the Bitcoin Market?
Finding opportunities in the rise and drop with trading cryptocurrencies on Mitrade.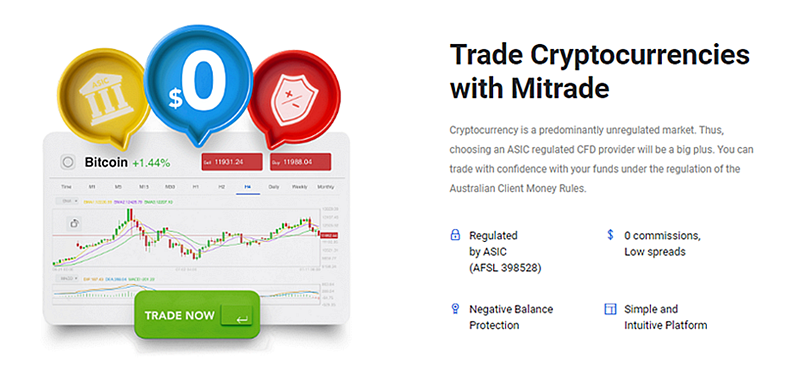 About Mitrade >>
* Regulated by ASIC, legal forex and CFD broker
* Leverage up to 1:200, low spreads, 0 commission
* Global market, 24-hour trading, T + 0
* Transaction as low as 0.01 lot, fast execution from
* Explore almost 100 popular markets: forex, gold, crypto, stocks indices
* One-stop account management: Dynamic charting, economic calendar, expert forecasts, sentiment, risk management tools
---
The content presented above, whether from a third party or not, is considered as general advice only. This article does not contain and should not be construed as containing investment advice, investment recommendations, an offer of or solicitation for any transactions in financial instruments. Mitrade does not represent that the information provided here is accurate, current or complete. For any information related to leverage or promotions, certain details may outdated so please refer to our trading platform for the latest details. Mitrade is not a financial advisor and all services are provided on an execution only basis. Before making any investment decisions, you should seek advice from independent financial advisors to ensure you understand the risks. *CFD trading carries a high level of risk and is not suitable for all investors. Please read the PDS before choosing to start trading.