Australia, being one of the leading trading hubs in the world, has hundreds of CFD brokers.
While this might be a blessing, it should not mean that you run to the first broker choice that you come across.
These CFD trading platforms differ depending on what they offer and how they offer it.
That said, it is important to make it clear that no one CFD broker can be listed as the "best" since different traders will love specific trading platforms due to personal reasons.
In light of this, today we are going to look at 10 leading CFD trading platforms/ brokers in Australia. From the information that you will find here, you can see the unique features that each broker presents then decide which of them suits you best.
Here is a breakdown of what you should expect inside this post:
Discover CFD trading with Mitrade
➤
Trade now
!
Overview of CFD Trading In Australia
● What are CFDs?

Contracts for Difference (CFDs) , also known as margin trading, are a type of derivative investment products. Unlike futures and stock trading, a derivative is a type of trading product where a person does not own the underlying product but can profit by speculating on its movement.
In short, when you place a Buy trade on the AUDUSD, you do not have the two currencies in hand, but by saying that their exchange rate will increase or decrease, then you can make some money from it.
Online CFD trading platforms might offer the following derivatives for trading:
– Foreign Exchange (currencies)
– Share CFDs
– Global Stocks
– Stock Indices
– ETFs
– Hard Commodities (Gas, Uranium, Oil, Gold, Copper, Silver)
– Soft Commodities (Agricultural products)
Etc.
The CFD account opening process is much simpler than the stock or futures. You can open an account directly on the online CFD broker in a few minutes.
● Is CFD trading Legal in Australia?
One of the best reasons to trade from Australia is that CFD trading is not only legal but also supported and regulated.
On that note, do you know that in some countries such as the USA, CFD trading is illegal?
Luckily for us, the government acknowledges the major forms of trading like CFDs. On top of that, we have the Australian Securities and Investments Commission, ASIC, which ensures traders and trading platforms coexist harmoniously. When you have a regulator, it means the broker cannot play tricks on you. Similarly, you cannot play tricks on the broker since the regulatory body will intervene whenever there are disputes and deliver a fair judgment.
● Are the Taxes for CFD Trading in Australia?
The fact that the Australian authorities monitor the trading industry and even support it means that trading is recognized as an income-generating channel. As such, there are some applicable taxes to both the trader and trading platform.
However, unlike some unfair tax regimes faced by traders elsewhere, in Australia, taxes are calculated after the expenses; including losses.
In short, you will only pay tax for what you have gained as profit and not on your stake (capital) or total returns.
Better still, when you make losses, the amounts are calculated as tax deductions so you do not encounter double losses.
On that note, make sure to pay your taxes since Australian tax laws are very strict and might affect you negatively if you are ever caught withholding due tax payments.
How to Choose A CFD Broker Suited To Your Needs?
Now that we understand that there is no single perfect broker, we need to have criteria for filtering out a trading platform that fits our needs.

Remember that settling on the best CFD broker is a personal choice and you should test them yourselves as opposed to blindly following third-party advice.
Below are some of the important features to consider when researching and deciding on who to trade with:
1. Regulation
You should always trade with a regulated broker.
Trading without a regulator or with an unaccredited regulator places your money and entire trading career at risk.
When choosing the leading broker in Australia, make sure they are regulated by ASIC.
Some brokers might be operating in the country yet they are regulated by other international bodies. While these bodies might be legit, always go for the nearest regulator.
Also, the ASIC is one of the best regulatory bodies in the world. As such, you should not struggle with finding others.
2. Trading Costs
You already know that a broker must charge you something for every trade that you make.
It might be in the form of commission, spreads, swaps, and so on.
Due to this, you must find out what the trading platform is charging you for, and how much they are charging it.
For example, if a broker charges commission, it is a fee that is applied per trade at a predetermined rate. If their terms are, "1% on EURUSD", make sure they never charge anything more.
Similarly, if your trade has a positive swap, check to see that it has been added to your account.
Some of the costs that a broker might charge you include:
○ Spread: This is the difference between the buy and sell value. Strive to find the broker with the lowest spreads.
○ Commission: These are charged per trade. Also, find a platform that charges low commissions.
○ Swaps: Some brokers will add or deduct some money into your account if your trades remain open past midnight. Make sure they add when they have to.
○ Withdrawal charges: Some platforms charge to withdraw and deposit funds into the account. If you are okay with it, go for it; if not, find a broker that has no charges.
Discover CFD trading with Mitrade
➤
Trade now
!
3. Available Markets
As a beginner, you were probably advised to practice on different trading instruments before deciding on which ones were favorable to you.
Some traders prefer bonds over currencies. Others go for crypto over stocks, yet, still, some opt to trade certain currency pairs over others.
At the end of the day, it is about what you feel most comfortable with.
In light of this, go for a trading platform that offers you multiple choices of available markets. This way, you can practice on as many as you want before settling on your favorites.
4. Trading Tools
Unlike ancient times when trading depended on a few trading platforms for market feed, today, there are tens of them.
You can use the MT4, MT5, custom traders, mobile apps, desktop software, web-based traders, cTrader, TradeStation, and so on. The list goes on and on.
This is yet another area where you should pay close attention. Some key elements to consider when choosing a trading tool include:
○ Ease of use
○ Speed of execution
○ Number and efficiency of trading assistants such as indicators
○ Comfort when using the tools
○ Supported devices, and
○ Quality of the market feed
5. Leverage
Leverage is one of the outstanding features of margin trading.
The broker "multiplies" your initial deposit by a number that you choose, allowing you to place more or bigger trades. In this way, you can earn more than your initial deposit could allow.
Well, with that in mind, why would you settle for a trading platform that offers no leverage?
While using leverage, though, keep in mind that the higher the leverage you choose, the higher your risks.
6. Risk Management
Risk management is the biggest factor that determines your success or failure in the trading industry.
However, you might apply the proper risk management strategies, but, due to bad broker choice, you end up losing money.
Why?
First, some brokers do not have guaranteed stops. You might place a stop loss at a certain level then due to excess volatility, the price breaks past the level and leads to bigger losses.
Second, some trading platforms have no negative balance protection. They let your account balance to get low until it starts drawing a negative balance. This forces you to first deposit money to cover the negative balance before you can trade again.
Ensure your trading partner offers guaranteed stops and negative balance protection before you trade with them.
7. Customer Support
Finally, make sure to research the type of support available on your trading platform.
A good broker understands that traders are humans that will have inquiries from time to time. Therefore, they make themselves available.
Nothing can be as inconveniencing as a trading platform that delays or fails to respond to you.
Good CFD brokers provide multiple channels of communication such as Live Chat, active email, active phone numbers, and IM platforms.
10 Leading CFD Trading Platforms in Australia
With all the information above, we have composed a list of some 10 popular CFD trading platforms from Australia below. They are all regulated by ASIC.

The highlighted features are not conclusive but they are some of the most important characteristics to check for in a trading platform. This list is in no particular order.
1. Mitrade
2. Pepperstone
3. Plus500
4. AxiTrader
5. IG Markets
6. XM
7. IC Markets
8. Think Markets
9. FP Markets
10. AvaTrade
Kindly note that this information is accurate but these characteristics might change in the future. Past performance is no guarantee of future results. The list of CFD brokers is just for reference. There are still many other good brokers outside our list and they may be more suitable for you than anyone on our list.
Trading With Mitrade - The Affordable CFD Trading Platform
From the above list, we can take one Australian CFD broker,Mitrade, and see how they fit into the discussed criteria in the trading of CFDs.
One of the dominant things you will realize is that they offer trading derivatives drawn from all the major instruments namely currencies (FX), Commodities, Indices, and Cryptocurrency. As such a trader is spoilt for choice.
In addition to just providing the trading instruments, they also list the requirements and conditions for each cluster specifically for traders following the Australian time.
For example, for AUDUSD, they state that the average floating spread is 7 pips. They support the leverage of this pair up to 200. The maximum allowed volume for the same is 30. If you care about the Australian trading time, they have listed the trading and closing periods for each instrument.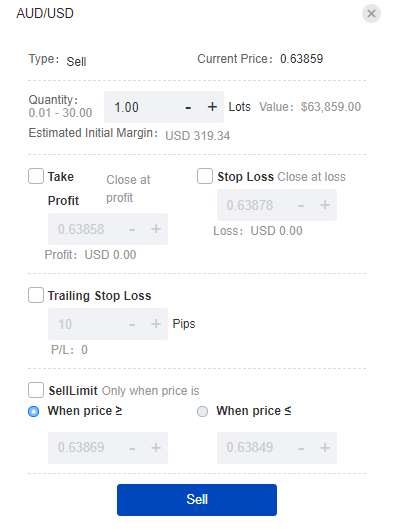 AUD/USD trading deal ticket on Mitrade platform
In this way, it is easy to know when to trade them, how much to spend on each trade, the expected spreads, contract sizes and so on.
How to trade CFDs with the Mitrade Platform?
Getting started with Mitrade is easy. Follow the steps to start trading in less than 10 minutes:
〉 Create a Mitrade demo account or live account
〉 Search the markets you want to trade and select it
〉 Open a long or short position
〉 Set up your position size
〉 Confirm the trade
Key features of Mitrade
Once you get trading with Mitrade, you will enjoy extra benefits such as:

● A customized platform that is easy to use, and has all the important trading tools like indicators
● Low spreads and no commissions or hidden charges
● Lightning-fast execution of all types of orders
● Responsive support 24 hours a day on weekdays
● Bonus program for eligible clients
➤Register today & Explore our bonus programs
* Trading is risky. Your capital is at risk.
This post aims to ensure you can easily identify the leading CFD trading platforms and brokers in Australia (or anywhere else).
Settling for a credible CFD broker is not a random act; rather, you need to do some exploration. This helps you in deciding whether the trading platform's offers suit your individual needs.
If the highlighted steps in this article are adhered to, then you should not have a problem finding your favorable CFD broker.
Discover CFD trading with Mitrade
➤
Trade now
!
---
The content presented above, whether from a third party or not, is considered as general advice only. This article does not contain and should not be construed as containing investment advice, investment recommendations, an offer of or solicitation for any transactions in financial instruments. Mitrade does not represent that the information provided here is accurate, current or complete. For any information related to leverage or promotions, certain details may outdated so please refer to our trading platform for the latest details. Mitrade is not a financial advisor and all services are provided on an execution only basis. Before making any investment decisions, you should seek advice from independent financial advisors to ensure you understand the risks. *CFD trading carries a high level of risk and is not suitable for all investors. Please read the PDS before choosing to start trading.