Abstract: U.S. stocks hit new highs as infrastructure negotiations brightened. Crude oil inventories fell sharply and prices rose strongly. The dollar stalled while gold lingered at a low level. Bitcoin resumed sell-off, falling below $30,000. GBP fell on the unexpected dovish signal from the central bank.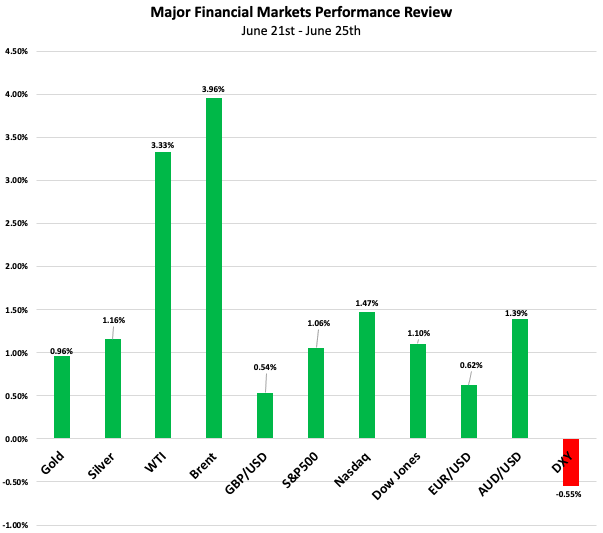 U.S. stocks hit new highs after final deal on infrastructure proposal
U.S. stocks rebounded from declines to hit record highs last week on dovish testimony from Federal Reserve (Fed) Chair Jerome Powell and news of a tentative bipartisan agreement on U.S. President Joe Biden's infrastructure proposal. Mr Biden said that the two parties have reached an agreement on the $579 billion infrastructure deal that will be sent to Congress along with another plan called "Human Infrastructure." Although Republicans rejected the trillion-dollar plan, the $579 billion infrastructure deal added to the market's optimism about the economic recovery. Additionally, economic data also provided good news for the market. Durable goods orders in the U.S. rose 2.3% in May, slightly less than expected but better than the small decline in April. And the final reading on GDP for the first quarter was at an annual rate of 6.4%. The S&P 500 and Dow made history after the data were released. At last week's close, the S&P 500, Nasdaq and Dow were at 4,266.49, 1,4369.71 and 34,196.82, respectively, up 1.06%, 1.47% and 1.10% for the week. See S&P 500 chart below:
Source from: Mitrade
The U.S. non-farm payrolls data for June will come this week. On the one hand, despite an improvement in the unemployment rate in May, labor shortages continued to plague the U.S. job market. On the other hand, new claims for jobless benefits remain elevated , standing at 411,000 last week, less than economists had expected. So it will be interesting to see whether this week's employment data can improve.
Crude oil inventories fell sharply and oil prices recorded new highs
Oil prices hit another multi-year high last week. U.S. API and EIA crude inventory data showed a sharp drop of 7.199 million barrels and 7.6 million barrels for the week ended June 18, much better than market expectations. U.S. crude and Brent crude rallied strongly after the data. OPEC + was considering sending more crude to the world starting in August in response to a strong rebound in demand, contributing to a slight pullback in oil prices. But prices were then boosted by expectations that the election of hardliner Ebrahim Raisi as Iranian president would cast a shadow over the nuclear talks. At the end of last week, U.S. crude and Brent crude traded at $73.79/BBL and $76.12/BBL, up 3.33% and 3.96%, respectively, for the week.
On top of that, Brent crude could hit $100 a barrel next year as pent-up oil demand has been unleashed, according to Bank of America's latest outlook for crude prices. Going forward, crude prices are likely to continue to be supported by surging demand in the oil market, but investors need to keep an eye on the potential impact of a new Iranian president on the U.S. -Iran nuclear deal. When OPEC+ meets this week, it will be interesting to see what the major oil producers decide on increasing oil production and what they think about the future outlook for the oil market.
The dollar index retreated sharply, while gold traded sideways
Gold prices had fallen after the Fed hinted it might tighten monetary policy sooner than many economists had expected, reducing demand for a non-interest bearing asset gold. The metal edged higher following its biggest weekly decline in 15 months, helped by Mr Powell's downplayment of inflation fears, a drop in the dollar and a boost from investors in gold ETFs. According to Bloomberg, holdings of gold ETFs rose by the most in three months, causing the metal to rebound. But the gold price lacked momentum to move forward and was finally resisted at $1,975. At the close of last week, gold was trading at $1,780.3 an ounce, up 0.96% for the week.
Separately, the U.S. dollar index (DXY) retreated from a high of 92.4 last week. On the one hand, the DXY was weaker due to dovish comments from Mr Powell in the Congressional testimony report that price increases might come in higher than expected but inflation would be temporary. On the other hand, the upward trend in the dollar was undermined by divergent views among Fed officials about the tapering of quantitative easing (QE). At last week's close, DXY slipped by 0.55% to 91.811. Going forward, the greenback is likely to remain dependent on U.S. economic data and Fed officials' differing interpretations of inflation. If economic data continues to beat expectations, then QE tightening may be on the way, thus supporting the dollar higher.
Bitcoin dropped below 30,000: Is it the beginning of crypto winter?
The price of Bitcoin slumped below the 30,000 mark last week, its lowest level in more than five months, due to increased scrutiny of cryptocurrencies by the Chinese government and adverse technical factors. The Chinese government said it had summoned officials from major banks and Alipay to reiterate its ban on cryptocurrency services. And China's crackdown on Bitcoin mining has intensified, with authorities in Sichuan province, an important base for China's Bitcoin mining industry, ordering cryptocurrency miners to shut down their operations. Still, cryptocurrency-related investment products have proliferated. Last week, the first Bitcoin fund in the Middle East was listed on the Nasdaq exchange in Dubai, according to Bloomberg. In addition, Ark Invest ETF, run by Cathie Wood, helped push Bitcoin back above 30,000 by aggressively buying Grayscale Bitcoin Trust and Coinbase shares after the cryptocurrency dipped below 30,000. Previously, Bitcoin had hovered between 30,000 and 40,000 for a long time, indicating that the enthusiasm for Bitcoin investment is waning. Despite the week of volatility in the Bitcoin market, plenty of investors still believe in the cryptocurrency's prospect. Therefore, the price of Bitcoin may remain range-bound in the short term. See BTC/USD chart below:
Source from: Mitrade
GBP fell after the central bank unexpectedly sent a dovish signal
Last week, the Bank of England (BoE) announced its interest rate decision. The central bank kept its benchmark interest rate and total asset purchases unchanged. It also dismissed speculation that the surge in UK inflation meant it was preparing to raise rates, saying premature QE tightening would damage the economic recovery. Needless to say, the comments were a bit more hawkish from the BoE about the need to maintain stimulus. Not only that, but the BoE also raised its inflation forecast, which they expected to peak at 3%, half a percentage point higher than their forecast six weeks ago. GBP/USD dropped briefly as the decision was at odds with the hawkish expectations of the BoE meeting. At last week's close, sterling was at 1.3877 against the dollar, up 0.54% for the week. In addition, the UK PMI for manufacturing and services came in at 64.2 and 61.7, just below previous record highs. And as the UK economy was recovering strongly, inflation pressures were rising significantly. This week, UK GDP figures will be released. Investors should focus on whether this data can bring further guidance for the market after the BoE said that GDP growth was slightly faster than expected and it expected the economy to experience a brief period of strong GDP growth and above-target inflation.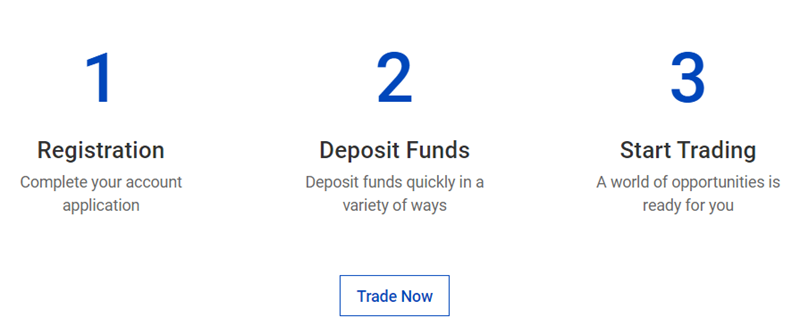 ---
The content presented above, whether from a third party or not, is considered as general advice only. This article does not contain and should not be construed as containing investment advice, investment recommendations, an offer of or solicitation for any transactions in financial instruments. Mitrade does not represent that the information provided here is accurate, current or complete. For any information related to leverage or promotions, certain details may outdated so please refer to our trading platform for the latest details. Mitrade is not a financial advisor and all services are provided on an execution only basis. Before making any investment decisions, you should seek advice from independent financial advisors to ensure you understand the risks. *CFD trading carries a high level of risk and is not suitable for all investors. Please read the PDS before choosing to start trading.