Worst trading day in seven years for XAU/USD on Tuesday, losing US$116 in the space of just a few hours. It's clear that US economics caught gold bugs watching the 'COVID-doom nightlight' rather than what is actually transpiring in underlying economics and its impact on spot gold.
Markets have shown that if there is any sign of improving growth it will be bid up. Inflation, activity, and output is clearly better than the depths of the crisis at the start of the year and growth is starting to rear its head.
But the technical red flags that had been building in spot gold showed it was primed for a significant fall.
The break below the psychologically significant US$2,000/oz has not only consolidated but has gathered pace and now finds itself below the wedge breakout that started on August 4.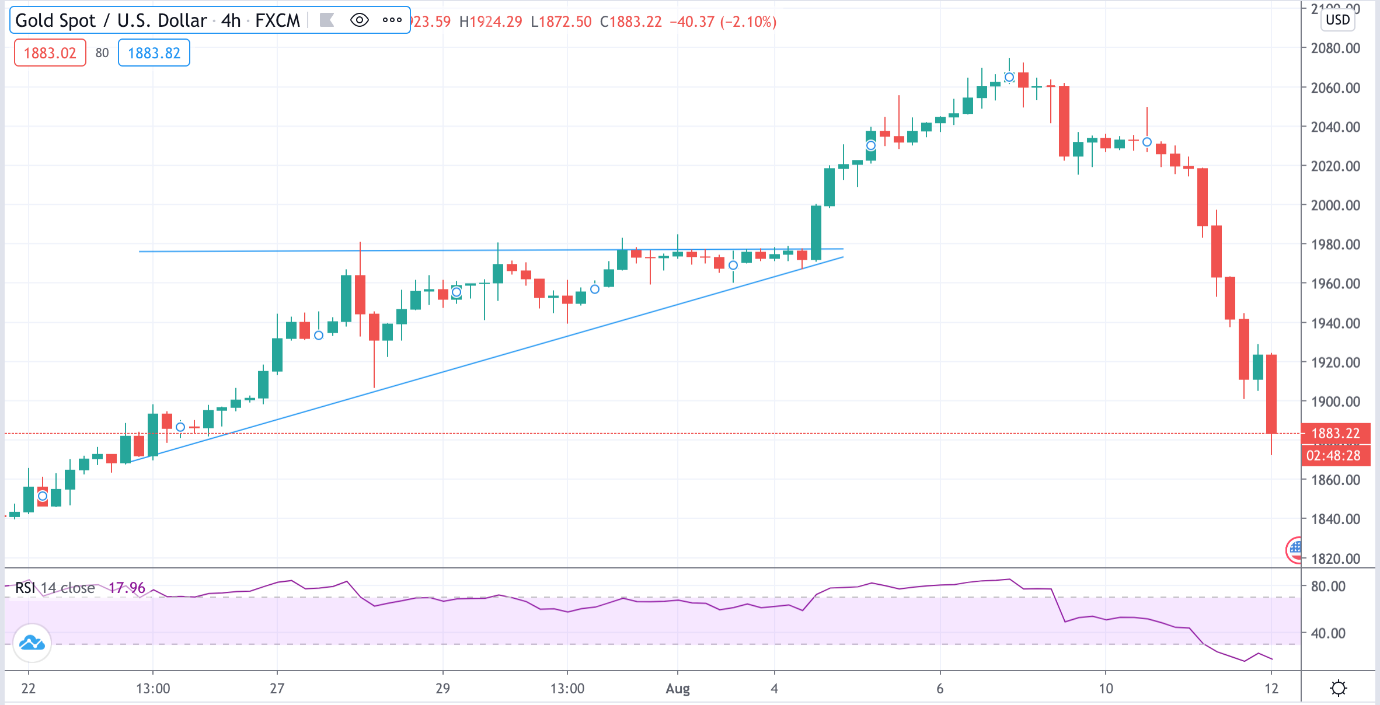 Now the Relative Strength Indicator is screaming oversold, so having singled out the overbought position last week we need to single out the opposite flag when it presents.

The question facing spot gold (and even more so spot silver) is the resumption of strength in the USD, it will be a headwind. We also need to highlight the upcoming CPI print, as there are growing inflationary concerns following the modest non-farm payroll figures and wage inputs. There is a lot the fundamentals can explain spot gold's collapse.
Then again it could just be the fact that US listed Gold ETFs had two consecutive days of large outflows leading up to this correction – that is clear profit taking, could it be a reposition movement too?
Where to next? Spot gold is still well above the previous record high set in 2011, thus watch for consolidation, if we see support building the shakeout may be short lived. If we break below the previous record then this could signal the second stage of the collapse.
---
The content presented above, whether from a third party or not, is considered as general advice only. This article does not contain and should not be construed as containing investment advice, investment recommendations, an offer of or solicitation for any transactions in financial instruments. Mitrade does not represent that the information provided here is accurate, current or complete. For any information related to leverage or promotions, certain details may outdated so please refer to our trading platform for the latest details. Mitrade is not a financial advisor and all services are provided on an execution only basis. Before making any investment decisions, you should seek advice from independent financial advisors to ensure you understand the risks. *CFD trading carries a high level of risk and is not suitable for all investors. Please read the PDS before choosing to start trading.