Abstract: Santa Claus has brought a surprise to Bitcoin, sending its price to a record high. As the bullish sentiment soared, the price of Bitcoin continued to rise. Will investors find investment opportunities in this rising trend?
The year 2020 is a special year, and Christmas is a surreal one bringing bitcoin bulls an unparalleled Christmas gift - bitcoin prices hit an all-time high of more than $28,000. The best way to describe Bitcoin's performance this year is to say that it "rises abruptly based on its accumulated strength". As early as January 2020, the price of Bitcoin was just over $7,000. In the past 12 months, it increased by 264%. Between November and December alone, the price increased by nearly 90%, far outperforming other financial markets. While Bitcoin price has risen almost daily recently, volatility has also been increasing. This seems to create a good environment for short-term investors. What's driving Bitcoin's soaring price? How should investors take advantage of market volatility?
Bitcoin in 2017 and 2020
2017 and 2020 have been two bull years for Bitcoin since its inception. Back in December 2017, Bitcoin took the world by storm, with its price once approaching $20,000. But retail investors, who dominated the investor population, took profits after the price hit its high when institutional investors were skeptical about its value. As a result, many see Bitcoin's bull run in 2017 as fragile. So how will it in 2020?
1. Large-scale quantitative easing policies around the world have led to currency depreciation, prompting investors to seek other inflation-fighting assets. The surge in Bitcoin prices is largely due to the global economic contraction caused by the COVID-19 rampage in 2020. Take the United States as an example. In order to promote its rapid economic recovery, the Federal Reserve pledged financial asset purchases to sustain market liquidity, leading to a sharp depreciation of the U.S. dollar. Investors seem more inclined to put more capital into Bitcoin because of the dollar's decline and expectations of future inflation. JPMorgan believes the future boom in the Bitcoin market will weigh on gold bulls. As a result, Bitcoin seems to truely become a safe haven asset.
2. Institutional investors and large corporations are the major drivers of Bitcoin's record-breaking rise. So far, not only are big tech finance companies such as Visa, Paypal and Square involved in Bitcoin, but also institutional investors have jumped on the bandwagon. For example, in December, SkyBridge Capital from Anthony Scaramucci, a prominent American finance expert, launched a Bitcoin fund with $25 million invested. MassMutual also announced a $100m investment in Bitcoin. In addition, global investment firm Guggenheim Investments applied to reserve the right for 10% of its $5.3 billion Macro Opportunities Fund to invest in the Grayscale Bitcoin trust.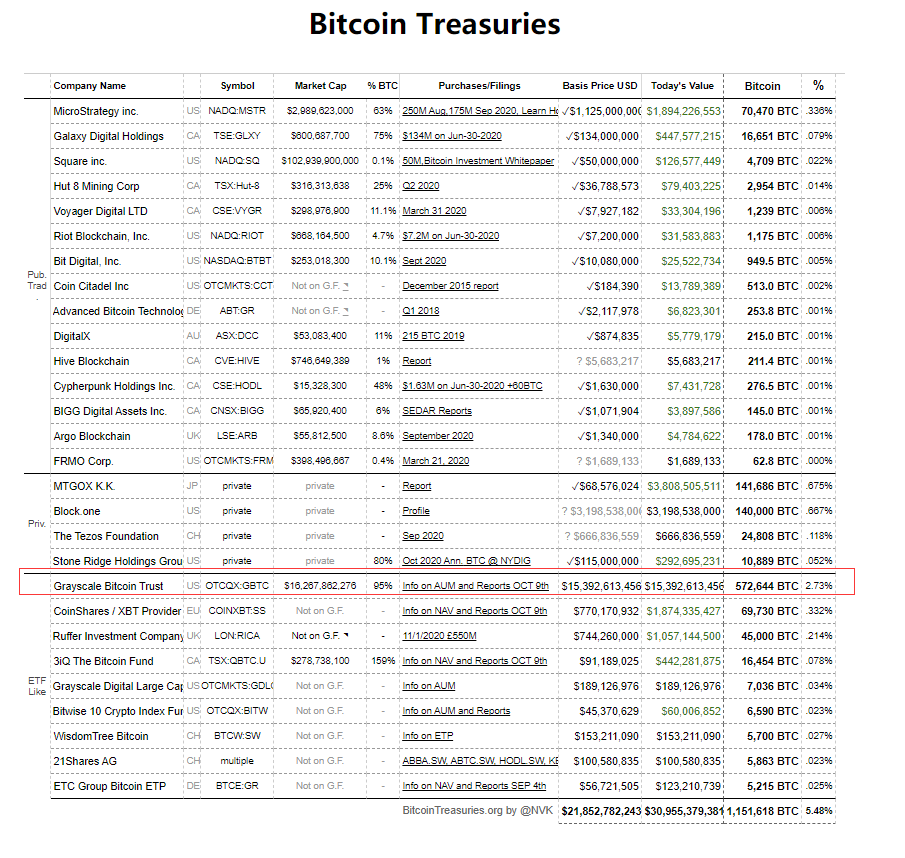 Source from: https://bitcointreasuries.org/
Assets under management at Grayscale Bitcoin Trust, the world's largest publicly traded Bitcoin investment trust, have climbed to $13.1 billion from $2 billion in early December, and Bitcoin prices have risen several times in 2020 so far. Currently, $1 billion a month flows into the fund. (Source from: Bloomberg)

Can Bitcoin's bull run continue?
1. The bitcoin market, which is in full swing, is likely to face tougher regulation. For now, Bitcoin appears to have gone from being a marginal investment to a mainstream asset. As it grows ever more rapidly, the regulatory risks it faces are likely to increase. It's reminiscent of the SEC's recent lawsuit against Ripple Labs Inc., the company of digital token XRP, which the SEC said raised $1.3 billion through unregistered "digital asset securities". The day after the announcement, Ripple dropped more than 50% and Bitcoin exchange Coinbase decided to stop trading XRP in January 2021. So any whiff of regulatory news about digital currency could cause huge swings in the price of Bitcoin.
2. Bitcoin's bull run depends on a steady stream of money pouring into the market. Bitcoin's market value recently surpassed $500 billion, nearly doubling in the past two months. This has undoubtedly become a significant factor in the rise in Bitcoin price. It is worth noting, however, that while the increase in Bitcoin's market value contributes to its price rise, it also creates the potential risk that, without a steady flow of money into the Bitcoin market, the price will fall, possibly sharply. Therefore, as the price keeps rising, the risk and magnitude of its decline will also increase.

Bitcoin technical analysis
On November 24, the price of Bitcoin managed to break through a record high of 19269, briefly reaching around 19486, but failed to establish itself at that point, which was followed by two consecutive days of price correction. The correction has been the driving force behind successive price rises since then. Despite nearly a week of narrow trading ranges in early December, Bitcoin prices have surged after the correction. The rising trend of Bitcoin was particularly strong after its price successfully broke $20,000 on December 16. The run-up to Christmas also stoked market sentiment, with Bitcoin surging to $27,451 at one point, up about 42.5% from its all-time high in 2017. To be sure, its relative strength index (RSI) shows that the currency has been in overbought territory for two weeks with no pullback. In addition, the Bollinger bands for Bitcoin is expanding, and its price reaches the upper Bollinger bands, indicating the strong upward momentum. It should be noted, however, that with a slowdown in the flow of money into the Bitcoin market, Bitcoin prices are likely to undergo a sharp correction, and corrections at 22782,21929 and 17563 are worth watching closely.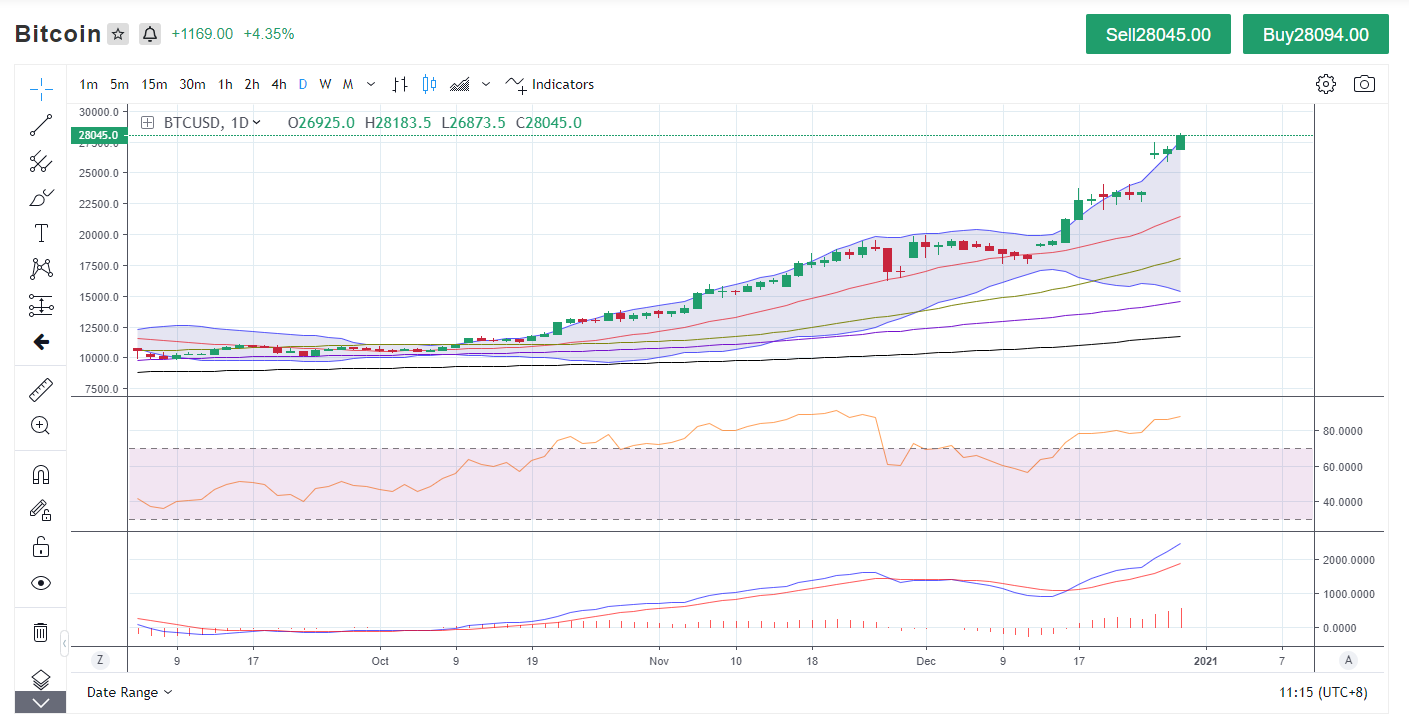 Source from: Mitrade
To sum up, Bitcoin is strong, but the current Bitcoin market is still dominated by speculators, and the resulting volatility adds to the uncertainty about the future of the currency. Many believe that Bitcoin's bull run is mainly supported by institutional investors. Beware that excessive reliance on institutional investors, who may be behind the bull market, also adds to the risk. In addition, as Bitcoin's popularity surges, national authorities are likely to tighten their oversight of the cryptocurrency market. Thus, investors should keep an eye on the risks posed by news such as regulation while watching for the opportunity for a Bitcoin price correction.
Using Mitrade to get more instant news and obtain buy/sell signals in time >>Trade Now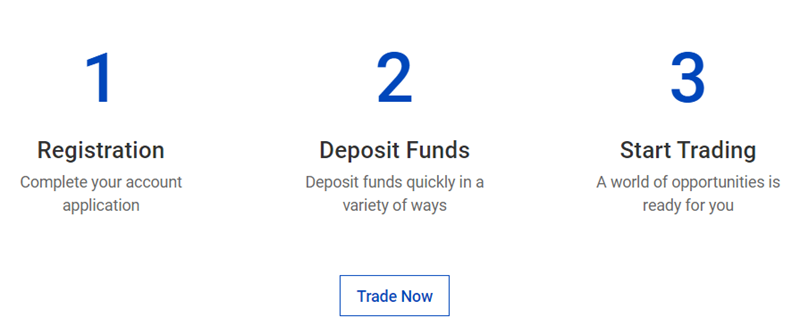 ---
The content presented above, whether from a third party or not, is considered as general advice only. This article does not contain and should not be construed as containing investment advice, investment recommendations, an offer of or solicitation for any transactions in financial instruments. Mitrade does not represent that the information provided here is accurate, current or complete. For any information related to leverage or promotions, certain details may outdated so please refer to our trading platform for the latest details. Mitrade is not a financial advisor and all services are provided on an execution only basis. Before making any investment decisions, you should seek advice from independent financial advisors to ensure you understand the risks. *CFD trading carries a high level of risk and is not suitable for all investors. Please read the PDS before choosing to start trading.