Abstract: Gold is approaching historical highs!
Gold has been rising for 6 consecutive days, potentially break through the 1900 mark. What are the factors boosting the growth of gold?
Global political turmoil is a principal element
The outbreak of the COVID-19 crisis failed to ease international relations by forcing countries around the world to focus on prevention and control at home.
Instead, it soured major power relations. For instance, the abrupt closure of China's consulate in Houston marked the latest incident in a rapidly escalating conflict between China and the United States, while the rift between Australia and China is widening.
In Europe, the EU is still in dispute with the U.S. over a "digital tax" on U.S. technology companies; Markets are once again panicking that Britain is considering a no-deal Brexit from the EU due to floundering negotiations, in addition to an escalated dispute with China over a national security law for the former British colony - Hong Kong.
In just two months, complex and volatile relations between major countries have deteriorated, leading to a reversal of risk aversion that had been warmed by the economic recovery. The reversal was a key factor driving up the prices of gold and silver.
Quantitative easing policies have a critical bearing on gold and silver
Many countries turned to quantitative easing policies to revive their own virus-hit economies. In the United States, for example, the Fed decided to maintain its fed funds target range of 0% to 0.25% for a long period of time as the economy is struggling to manage the COVID-19 pandemic, and to helicopter money out to the unemployed.
Besides, it started buying junk bonds and financial assets in a titanic bid to invigorate liquidity in financial markets. Although these moves helped the U.S. economy recover, they also led to a sharp decline in the value of the dollar. As of July 23, the US Dollar Index went depressed below 95.00, its lowest level in nearly 52 weeks.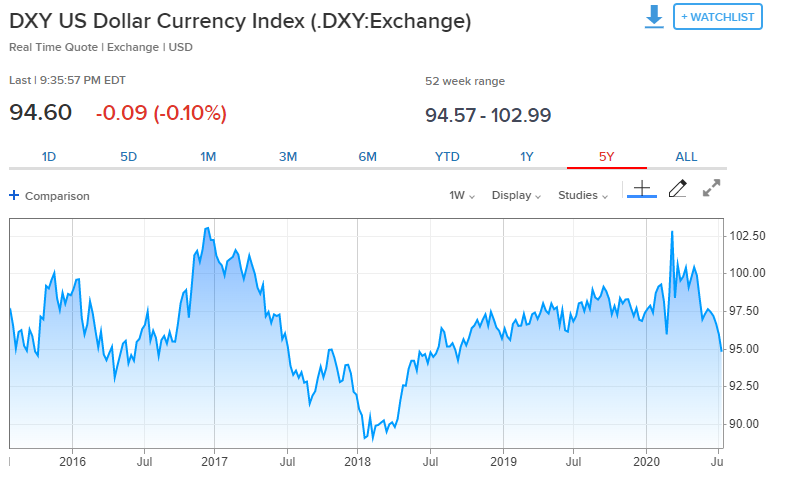 Source from: www.cnbc.com
With the Fed's first economic stimulus package set to expire at the end of July, a new one is on the horizon, which could increase monetary liquidity and cause the U.S. dollar to fall again, thus reducing the market's trust in this currency.
While the Fed was arguing for a new stimulus package, European Union countries reached a breakthrough agreement on a recovery fund program that could lower real interest rates and trigger a boom in non-yielding assets such as gold and silver.

As COVID-19 ravages, risk assets are hard to regain favor
Novel Coronavirus cases in Europe and America are experiencing an increasing number of new infections and deaths. However, the economic restart makes it impossible for people to keep a safe social distance, which worsens the virus situation and finally forms a vicious circle.
A major factor underpinning the current rise in the price of risk assets is the disclosure of progress on vaccines. It means that a vaccine is within reach, but no one knows when. Under such uncertain circumstances, it is hardly surprising that gold and silver prices have soared.

What is the trend of gold and silver prices in the future?
1. Strong demand for gold and silver may be driving their prices higher. In this calendar year so far, gold-backed exchange traded funds (ETFs) have seen global net inflows at $40 billion, the World Gold Council has said. With that, gold ETFs have beaten the previous full year record of $23 billion, set in 2016, as shown below: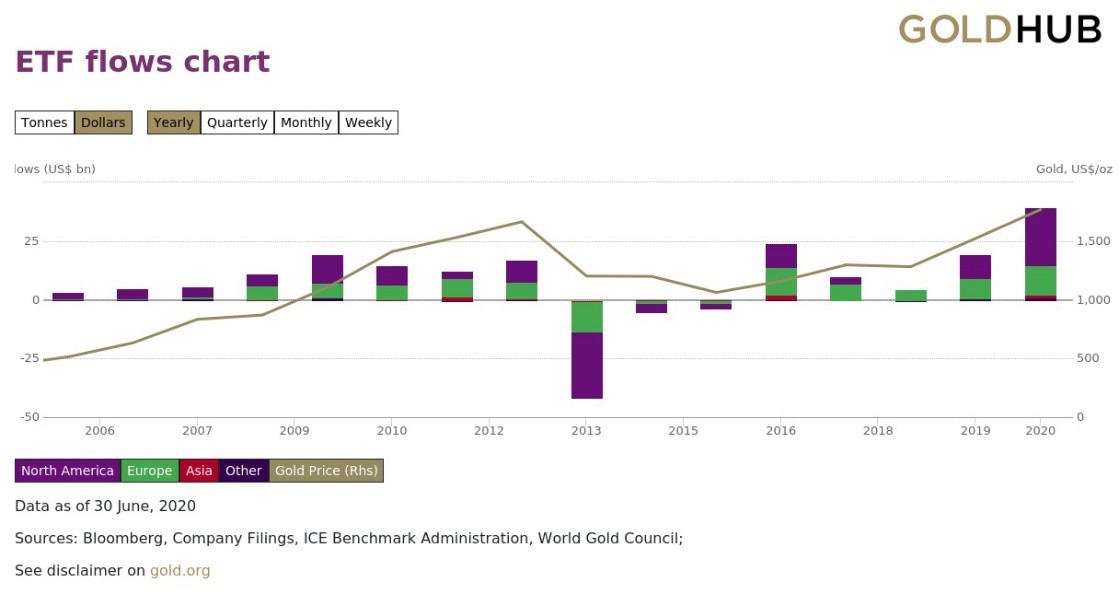 Source from: World Gold Council
In silver's case, many analysts and traders expect ensuing climb in its price as more and more investors pile in the silver market, even after the recent rally, according to Bloomberg.
Not only that, analysts at Citi said in a note silver prices could rise to $25 an ounce over the next six to 12 months, and even possibly reach $30 in a bullish scenario.
2. The U.S. interest rates have hit a historic low, which are approaching pre-global financial crisis levels, and thus expectations of inflation rise, as shown below: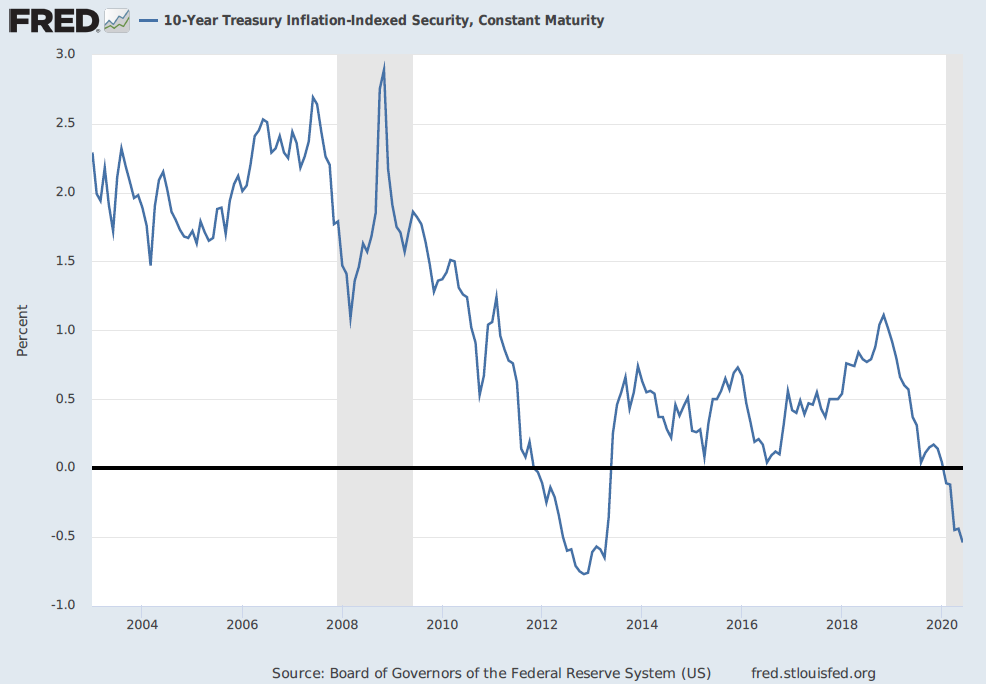 Source from: Board of Governors of The Federal System
Despite the continued increase in money supply by major central banks, the soaring government debt levels, and the possibility of a slight pick-up in inflation, the Fed may not raise its interest rates, given the current weakness of the economy, so expectations of higher inflation may stimulate demand for gold and silver.

3. As the forthcoming 2020 presidential election is with a unpredictable outcome, the market turmoil has been exacerbated by growing calls for Democratic politician Joe Biden as an increasingly strong candidate.
To stand out in polls, he pledged to make electricity generation carbon free by 2035 throughout the country. This carbon-free power target indirectly drives future demand for silver, an important material for renewable energy sources like wind and solar.
Hence, the sharp rise of gold and silver prices is consequent to integration of several events, including political instability, currency depreciation, quantitative easing policies, and inflation while it follows the historical rule of commodity price fluctuations.
Thus, the prices are expected to remain a steady rise, but investors still need to keep a watchful eye on possible short-term shocks that follow in case of positive news on vaccine development and the RSI imbalance.

---
The content presented above, whether from a third party or not, is considered as general advice only. This article does not contain and should not be construed as containing investment advice, investment recommendations, an offer of or solicitation for any transactions in financial instruments. Mitrade does not represent that the information provided here is accurate, current or complete. For any information related to leverage or promotions, certain details may outdated so please refer to our trading platform for the latest details. Mitrade is not a financial advisor and all services are provided on an execution only basis. Before making any investment decisions, you should seek advice from independent financial advisors to ensure you understand the risks. *CFD trading carries a high level of risk and is not suitable for all investors. Please read the PDS before choosing to start trading.