The RBA appears to be 'pulling one out of the bag'. Having exhausted all its policy tools in March by setting new records lows with cash rates and market intervention, the RBA's communication has been that the Board hoped fiscal policy would now be the main driver for economic growth. In other words, the board was out of policy ammunition.
However, in a speech to the Australian Industry Group, it appears that maybe the Board has one more package to pull out to help 'Team Australia'.
The package would likely include:
· Cutting the cash rate to 0.1% from 0.25%
· Extending its bond purchase objectives to capture 5- and 10-year bonds
(Considering it's advocating for the Federal and State governments to spend up big, lowering the borrowing rates for government is a Team Australia move. It also looks like making this program open-ended.)
· Expanded the Targeted Curve Control (TCC) program in the 3-year bond to target 0.1% rather than 0.25%
· Term Funding Facility (TFF) also moved to 0.1% from 0.25%
What this means is that what is referred to as the 'effective lower bound rate' is being moved to a new 'effective lower bound rate'.
The time of this action is now forecasted to be the same day as the Federal Budget – October 6. This would be a 'double-whammy' on the stimulus front for both the long and short term as huge amounts of monies are released into the economy.
The reactions in the AUD from the speech have been telling.
AUD/USD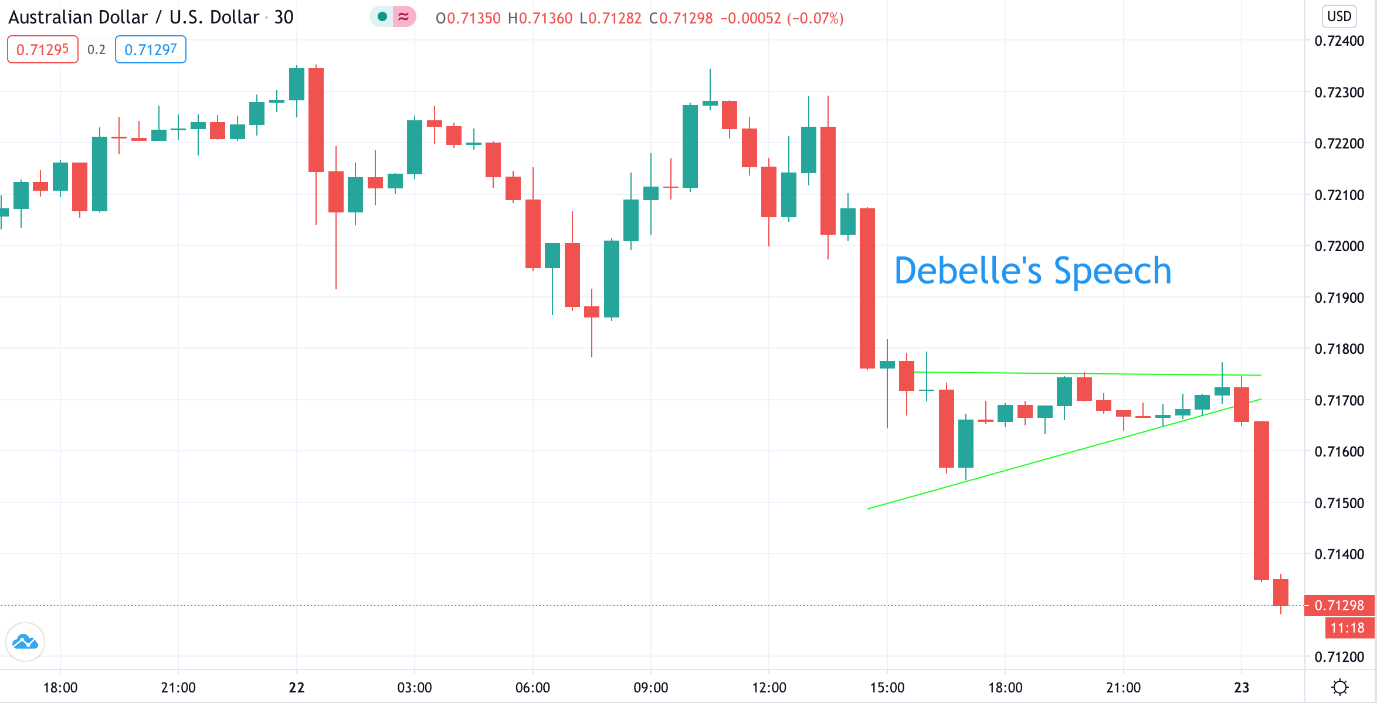 There is clear breakdown from his speech and now a second breakdown of a wedge pattern has occurred as economists line up to confirm the view that the Bank will move on October 6. Look to ride the momentum, but be wary nearing the October 6 meeting as volatility will be high as there is a chance the Board could wait until November to move.
---
The content presented above, whether from a third party or not, is considered as general advice only. This article does not contain and should not be construed as containing investment advice, investment recommendations, an offer of or solicitation for any transactions in financial instruments. Mitrade does not represent that the information provided here is accurate, current or complete. For any information related to leverage or promotions, certain details may outdated so please refer to our trading platform for the latest details. Mitrade is not a financial advisor and all services are provided on an execution only basis. Before making any investment decisions, you should seek advice from independent financial advisors to ensure you understand the risks. *CFD trading carries a high level of risk and is not suitable for all investors. Please read the PDS before choosing to start trading.