Strong U.S. Labor Market, Will Gold Prices be Under Pressure?【Weekly Update】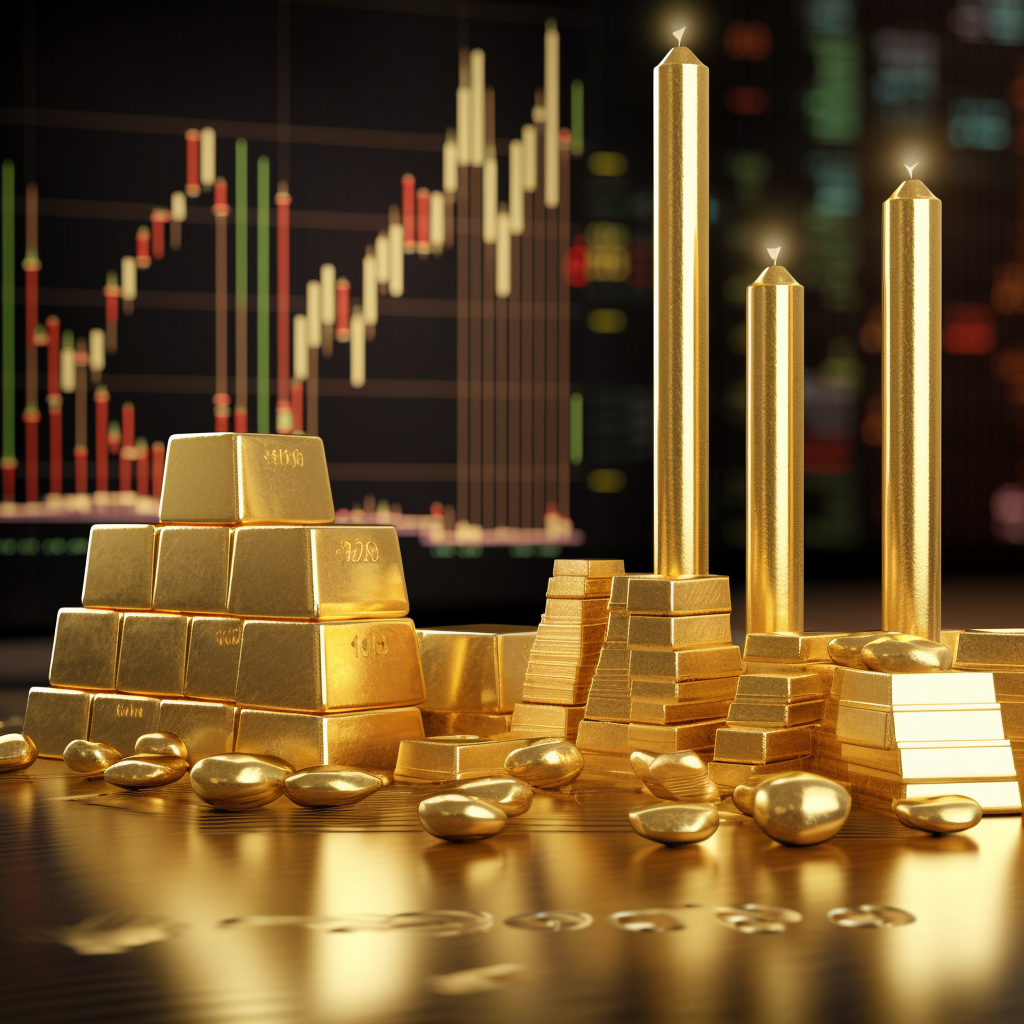 Gold may continue to volatile downward correction, with upward resistance at 1977 and 1945, support at 1913 and 1809 this week. The recent strong U.S. labor market may be negative for gold. According to CFTC and technical bias, gold remains in an upward trend in the long run, while facing the risk of short-term downward correction.
Market Review
Last week (5.29-6.04), precious metals went mixed, among which, gold rallied over 0.3%, silver raised 1.7%. Gold recovered briefly and dropped 30 USD sharply to a lever around 1947 due to the post of NFP data.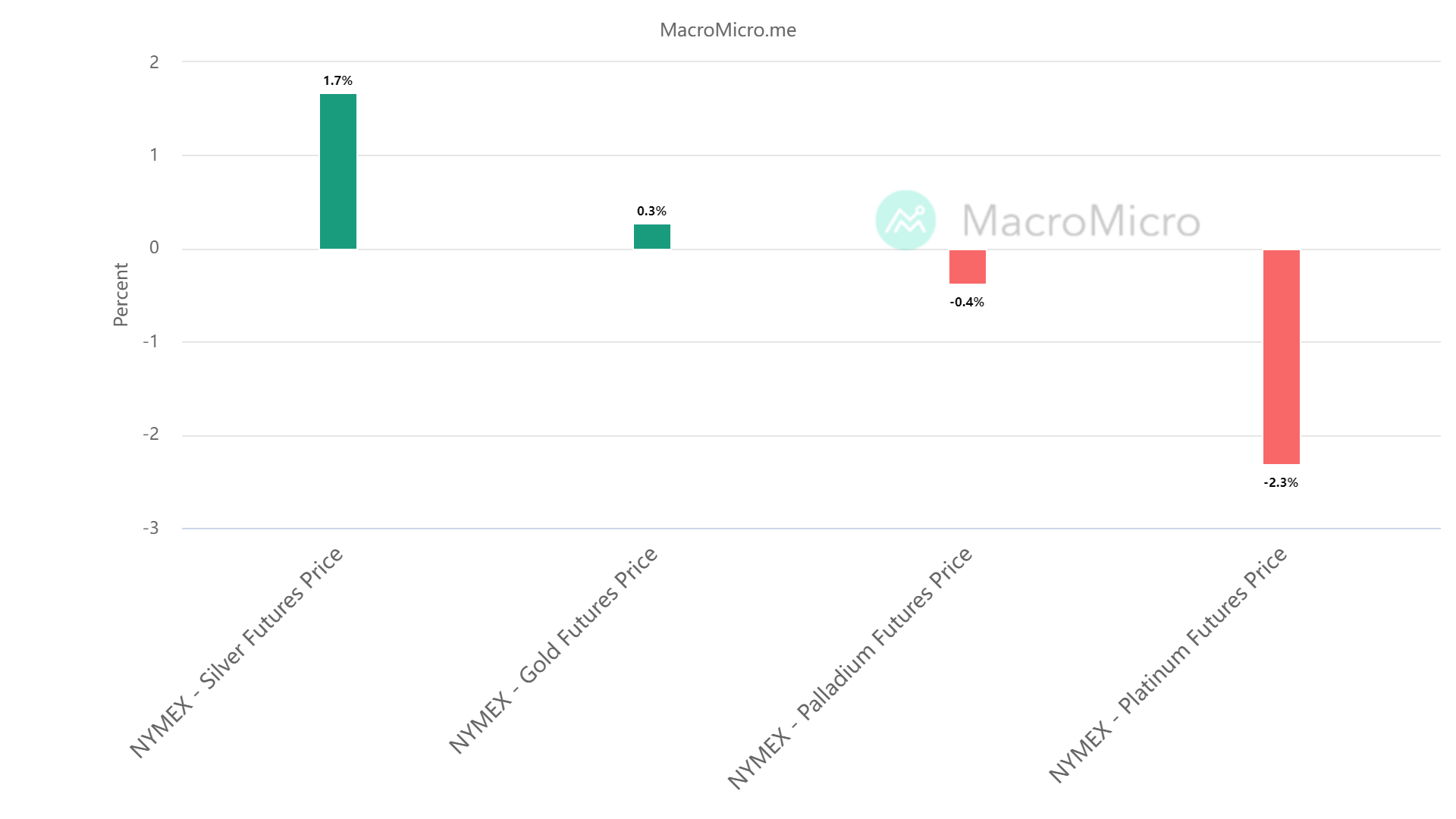 【Source: MacroMicro, The Performance of Major Precious Metals during May 29-June 4 】
Fed's Beige Book: Slight Cool Economy, Slower Inflation
On June 1st, the Fed released its latest Beige Book, which showed that the US economy is still expanding but with a slight cooling. In recent months, both employment and inflation have slowed down, which can not fully alleviate the high level of inflation. There has been little change in economic activity in the past two months. Although expansion is expected to continue, expectations for future growth are not very optimistic. In terms of employment, most regions in the US are still experiencing growth, but at a slower pace. Regarding consumer prices, the prices continued to rise in most regions, primarily due to the increased costs. The banking industry is still recovering from the crisis, with financial conditions stable in most regions and loan reductions in some areas, while consumer loan delinquency rates have a slight increase.
Several Fed officials expressed "dovish" views in the latest beige book. Fed officials reiterated that they will guide monetary policy based on economic performance. Pausing its rate hikes in June, Fed will have more time to read and analyze data before the decision of future rate hikes. However, some officials also indicated that pausing rate hikes did not mean that the current tightening cycle has reached its peak.
Mitrade Analyst
The Fed's Beige Book further confirms that future monetary policy will be adjusted based on data performance. However, with slight slowing of US economic growth, sluggish market credit activity, and "dovish" Fed speeches essentially confirming the current rate hike cycle was closed in May. The possibility of a June rate hike has decreased again, but the future rate hikes remain uncertain.
In addition, due to fluctuations, the 2-year US Treasury bond yield fell from 4.63% to 4.34% this week, the US dollar briefly weakened and gold rebounded to 1983. As the US Treasury yield rebounded to 4.5%, the dollar strengthened and gold fell again. Gold may continue its previous trend of volatile downward correction in the short term.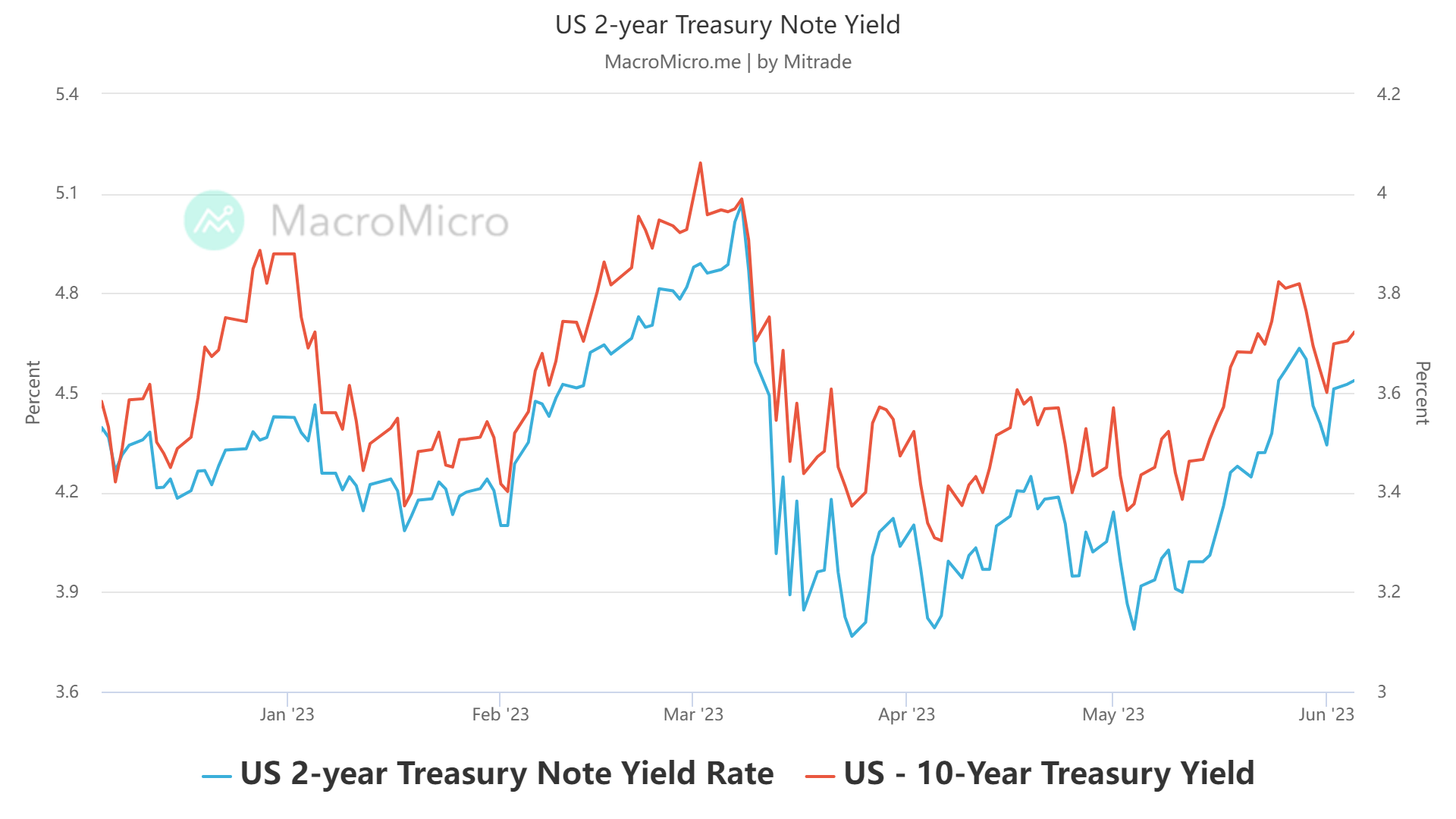 【Source: MacroMicro, The Performance of the 2-year US Treasury Note yield Rate】
Strong U.S. Labor Market may be Negative for Gold
Last week, the overall performance of US NFP exceeded expectations, the number of job openings in April's JOLTs report was above anticipated at 10 million; ADP employment in May and initial jobless claims for the week ending on May 27 were better than expected. 339k jobs were added in May according to the NFP data. This beat the 195k anticipated and there was also an upward revision to the previous two month figure of 93k. However, the unemployment rate ticked up to 3.7% from 3.4% previously and above the 3.5% anticipated.
In addition, the May non-farm payroll data released by the Federal Reserve on June 2nd far exceeded expectations, with an increase of 339,000 employed individuals, the largest increase since January 2023, and maintaining growth for 29 consecutive months, with a revision of 93,000 for the first two months. However, the US unemployment rate rose slightly from the previous period to 3.7% (previous value was 3.4%), which was higher than expected (3.5%).
Mitrade Analyst
From the performance of NFPdata and unemployment rates, the employment population is strong, and with data revisions from the previous two months, the labor market is strengthening. If the Fed cools down the labor market to curb inflation in the future, and interest rate hikes are expected, which will further drag down gold prices.
Speculative Net Short Decreasing, a Slight Volatile Decline Come to Gold
In recent times, speculative long positions in gold increased, mainly due to a few longs adding to their positions. According to updated CFTC data, speculative long positions in gold increased by 8,584 during May 24-30; meanwhile, speculative long positions in open gold futures contracts also slightly increased by 1,157, while short positions decreased by 7,427 from the previous period. This reflects a wait-and-see attitude among short-term market investors regarding the future trend of gold, but there are still aggressive investors who are bullish.
Mitrade Analyst
In summary, gold is expected to experience a slight volatile and decline in the short term due to speculative investors adopting a wait-and-see attitude and some aggressive longs buying in.
Technical Analysis
Gold rebounded last week and fell back finally. It was stimulated by the news and rebounded to around 1983, then fell back to around 1948.
From the perspective of technical bais, the MA (60-day) long-term line is still going upwards, with no downward trend. The RSI(14-day) value of 43 on the 14th is less than 60, indicating that there is still a bearish market; at the same time, the MACD daily line, the short-period line and the long-period line are sticking together which shows a downward trend. DIFF, DEA, and MACD are all negative, indicating that gold is a net-short market, and may continue a downward trend.
Resistance:1977、1945
Surpport:1913、1809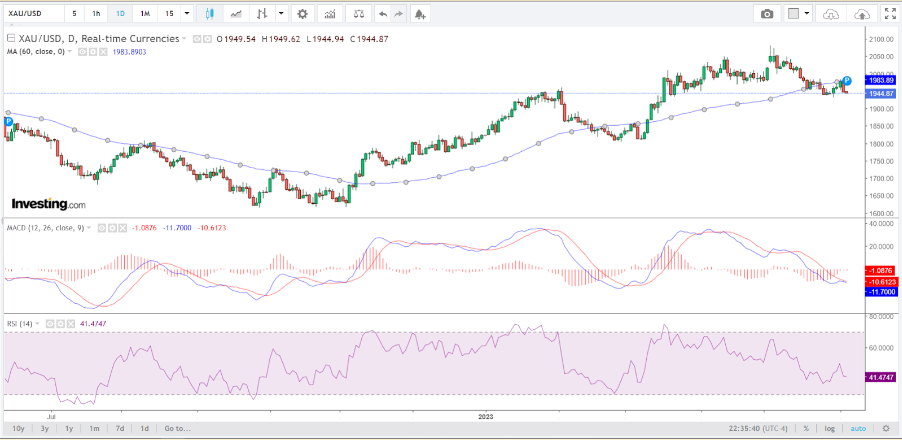 【Source: Investing.com 】
Mitrade Analyst
Based on the analysis of various indicators, the overall upward trend of gold has not reversed, but there is a risk of downward correction this week.
In addition, investors need to pay attention to news and economic data that may provide guidance for the future trend of gold this week, such as American ISM Services PMI (May), Euro Area GDP Growth Rate QoQ 3rd Est(Q1) and GDP Growth RateYoY 3rd Est(Q1) etc..
* The content presented above, whether from a third party or not, is considered as general advice only. This article should not be construed as containing investment advice, investment recommendations, an offer of or solicitation for any transactions in financial instruments.