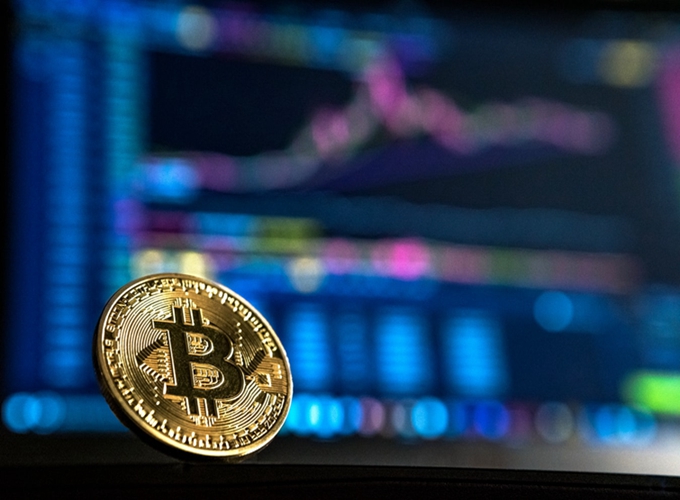 Investing in cryptocurrency ( Bitcoin and Altcoin) has been one of the greatest concerns in recent years due to its massive profits.

If you have invested 1 Bitcoin in Jan 2017 at the price of $750, it can bring you 10X ROI now (Nov 2019). Similarly, if you buy 1 Ethereum in Jan 2017 at the price of $10, you can get 18X ROI now.
If you are wondering how to invest in Bitcoin and other crypto coins in an easy way, you are on the right track here.
Crypto investing is not complicated, just follow our steps below and at the end of the day, we are sure that you can have core knowledge to start trading yourself.
Step 1: Investing In Cryptocurrency - Understanding main concepts
If you are planning to invest in the cryptocurrency market, it is essential to understand a glossary of trading terms that you can see frequently on the market places.
Limit Order/ Limit Buy/ Limit Sell - As a trader, you can buy or sell a crypto-currency with a preset price, sometimes it is also considered as a "for-sale" sign.
Market order/ Market buy/ Market sell - A purchase or a sale of a crypto-currency at the current price.
Market trading - The action of using your existing coin to leverage the trades. This tool has a high-reward but very risky too.
Go short - When going short, you will gain profits if the price decreases
Go long - When going long, you will gain profits if the price increases
Bearish - Anticipation of a decreased trend of the price.
Bullish - Anticipation of an increasing trend of the price.
ATH - All-time-high, the highest price of a certain crypto-currency so far.
Altcoin - Any crypto-currency, except for Bitcoin and Ethereum.
Tokens - The "currency" of Ethereum-network-based projects to raise money via its own tokens.
ICO - Initial Coin Offering, a typical crowd-funding method where a start-up creates its token to exchange for Ethereum to raise money.
Arbitrage - The act of buying or selling in different markets to get the benefits of different prices for the same commodity. For instance, you can compare Bitcoin prices on US exchanges and UK exchanges to see on which market the BTC is cheaper to buy or sell.
TA - Technical Analysis, the prediction of the market move by investigating current charts.
Step 2: Invest In a safe crypto investment platform
You may know 3 unique features of a cryptocurrency are: decentralized, anonymous, and no third-party involved. Therefore, choosing a suitable bitcoin investment platform with highly secured features is the crucial step to make sure your trade is valid and protected.
To get rid of scams and frauds from the markets, a lot of exchange sites these days apply 2 procedures: KYC (Know Your Customer) and AML (Anti-Money Laundering) regulations.
KYC - Know Your Customer
To prevent using cryptocurrencies for illegal activities, many platforms apply a scanning procedure to confirm the identity of the users. The scanning procedure includes submitting Identity Proof ( IDs, residential address, contact numbers, passports, etc.) to make sure the users are real and qualified. Especially, this tool helps very much in excluding criminals and creating a complete database of information to prevent any crime in the future.
AML - Anti Money Laundering
To prevent misuses of cryptocurrencies for illegal activities, the financial institutions are required to apply sets of procedures, regulations, to detect, prevent, and protect the industry. These activities can be market manipulation, trade illegal goods, tax evasion, public funds corruption.
Other crypto-currency regulations
Apart from KYC and AML, there are a lot of regulations used to monitor the transactions of crypto-currencies. Particularly in crypto-transactions, which are untraceable and anonymous, financial institutions and governments are effortfully checking, monitoring, and managing at a great level.
A great example of a crypto-currency buying/ selling site is the Mitrade platform. These days you can find dozens of exchange sites satisfy KYC/ AML, regulations, but when it comes to features, the Mitrade platform is the right solution for both beginners and experienced traders.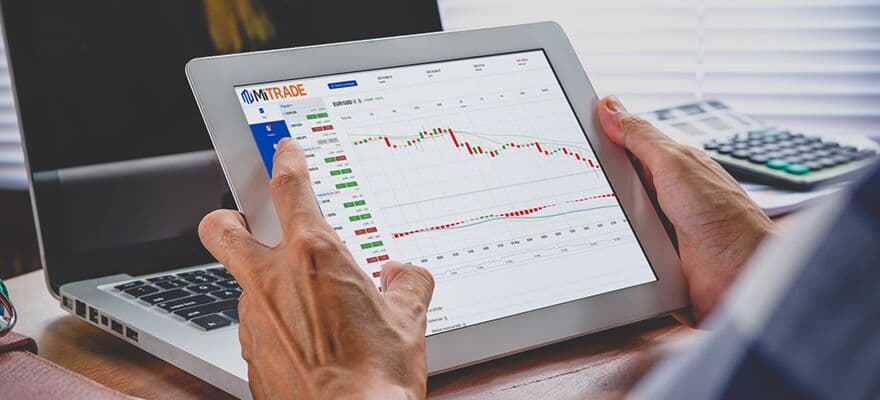 Mitrade has a license from ASIC (Australian Securities and Investments Commission), a highly demanding regulator when talking about procedures, laws, regulations. The broker also uses KYC as a secure method.
On the Mitrade platform, you can use instruments like Go Long or Go Short, similar to trading Forex, and you can leverage your trade up to 1: 200. Mitrade also offers a lot of incentive attractions such as zero commission, low spread, and low deposit requirement. All of your transactions are processed in no time, less than 0.1 seconds.
If you are seeking for a great Bitcoin trading platform, the Mitrade is a good one to start. But you must note that trading is not suitable for everyone. Mitrade provides leveraged product and can result in the loss of your capital. ( Please read the Risk Disclosure Statement before choosing to start trading.)
If you want to how I've been trading bitcoin on Mitrade, you can skip to the last part.
Step 3: Do your own analysis to determine the best coin and when to trade
If you want to invest in cryptocurrency, you must know how to do your own research and determine the best time to buy or sell.
You may think what kinds of analysis can I do before investing in cryptocurrency?
Despite a lot of methods are used by traders these days, there are two typical methods of analysis in crypto-trading: Technical Analysis (TA) and Fundamental Analysis.
Technical Analysis (TA)
This method relies on reading charts to collect data, find the trend, and predict the price of a coin in the future. Generally speaking, the price tends to repeat itself because of the patterned behaviors of traders. Therefore, if you have seen the trend in the past, it is likely to happen again in the future. A lot of daily traders extensively use TA to make decisions whether buying or selling a coin.
Fundamental Analysis (FA)
This method defines the crypto-value based on studying the crypto-projects, the team behind the projects, the improvement, the problem-solving capabilities, and other intrinsic aspects. Typically, a coin holder excels in FA to be able to make correct predictions.
You should bear in mind, whatever method you choose will need a sufficient amount of practice time.
Step 4: Set up your Take-Profit/ Stop-Loss point
After you determine what cryptocurrency to invest and when to trade. Next, the most important is to set up your goals——Take-Profit/ Stop-Loss point.
Deciding your Take-Profit/ Stop-Loss point are 2 important strategies in trading crypto-currencies.
The Take-Profit is an order that helps you to close a position when your targeted price is reached. The Stop-Loss point will instruct the broker to reduce the losses of a certain trade when the market moves against your position.
Both orders are crucial elements to maximize your earnings and limit your risks. Therefore if you want to be successful in this field, you should master how to calculate and set up take-profit/ stop-loss points correctly.
There are several ways of calculating the stop-loss/ stop profit size, but the most recommended rule is that the loss of every trade should be limited to 2% of the total money you have.
Depending on your style of trading, you can choose different strategies based on percentage, volatility, time, etc, these techniques can be difficult to understand in a short time. So, the best way is that you should start with the simple one and practice frequently.
Step 5: Buy/ Sell
Next, we come to the trading point, Let's try to make the first trade!
Trade means you will buy or sell the cryptocurrency you chose.
When it comes to buying/ selling cryptocurrencies, there are two styles: Short Trade and Long Trade. These terms indicate whether a trade is started with buying or selling.
In Short trade, you start by selling a coin, then buying, with the intent to repurchase the coin at a lower price and get the profit. For example, if you go short on 2 Bitcoin at the price of $9,000 you will receive $18,000 into your account, but it is not your money yet because you have -2 BTC in your balance. Later on, if you can buy again 2 Bitcoin at $8,500, your total profit is $1,000 (minus fees).
In Long trade, you begin with buying the coin and expect to sell it and a higher price and get the profit. For example, if you are going long on 2 Bitcoin at $ 9,000, your transaction will cost $18,000. Later, if you can sell 2 Bitcoin at $9,500, you will be able to get $1,000 profit (minus fees).
| | | | |
| --- | --- | --- | --- |
| Short trade | Step | Your balance (in BTC) | Your balance (in USD) |
| Sell | Sell 2 coins at $9,000 = 2 x $9,000 = $18,000 | - 2 BTC | $18,000 |
| Buy | Buy 2 coins at $8,500 = 2 x $8,500 = $17,000 | + 2 BTC | -$17,000 |
| Close | | 0 | + $1,000 |
| | | | |
| --- | --- | --- | --- |
| Long trade | Step | Your balance (in BTC) | Your balance (in USD) |
| Buy | Buy 2 coins at $9,000 = 2 x $9,000 = $18,000 | + 2 BTC | -$18,000 |
| Sell | Sell 2 coins at $9,500 = 2 x $9,500 = $19,000 | - 2 BTC | +$19,000 |
| Close | | 0 | + $1,000 |
The key difference between the two methods in the potential earnings. When going long, your potential earning is unlimited because the price of your coin can rise infinitely, whereas in going short, your earnings are restricted to the amount you receive for your initial sale. In reality, a trader will proceed with every trade will a smaller move to keep everything under control.
Together with buying/ selling the crypto coins, traders can also get profits from CFD trading, in which both buyer and seller in a transaction based on the price movement only, without owning the coins.
If the price of the coin rises during the contract time, the seller pays for the price difference.
On the other hand, if the price of that coin drops in when closing, the buyer pays for the price difference.
During the trade, the coin is not transferred but just the money value.
CFD trading has higher leverage than buying/selling coins, meaning that you can have greater potential earnings with the same margin amount. But at the same time, CFD is riskier and require to master a lot of trading knowledge to be successful. You should consider whether you can afford to take the high risk of losing money.
( Read the Risk Disclosure Statement before choosing to start trading. )
How To Start Trading Coins On Mitrade?
Trading coins like Bitcoin and Ethereum on the Mitrade platform is very easy. You can set up an account and start trading in a minute. Here are the steps.

First: Open an account on the Mitrade platform. As the exchange uses the KYC procedure to ensure security, you have to answer a list of questions (about 10), upload your ID, verify your address, phone number, email, etc. Once uploaded, Mitrade will investigate all the documents and inform you about your account status in just an hour.
Second: Deposit your fund and start trading. You can use Bank Account, VISA, Master Card, Skrill, Wire Transfer to add money into your account. At the moment, Mitrade offers a bonus for a deposit of up to $500 as shown below.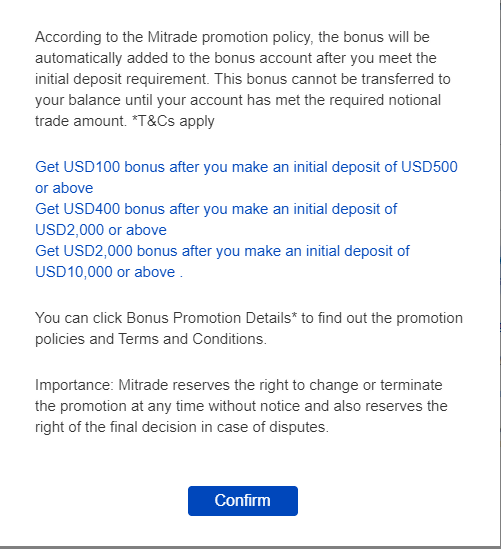 Photo: Mitrade promotion for $500 deposit and above

Third: Start trading. Now you can Buy/ Sell Bitcoin, Ethereum on Mitrade. Unlike other exchange sites, Mitrade has a lot of useful features such as Take Profit, Stop Loss, Trailing Stop, etc, to help you limit your risks and maximize earnings automatically.
Especially, you do not need a lot of money to trade on Mitrade, as the minimum volume per trade is just 0.1 lots and you can use Leverage 1:10 for coin trading. In other words, you just only need as low as $80 for trading Bitcoin or $15 for trading Ethereum. This is great for beginners to test the market and expand their trading knowledge.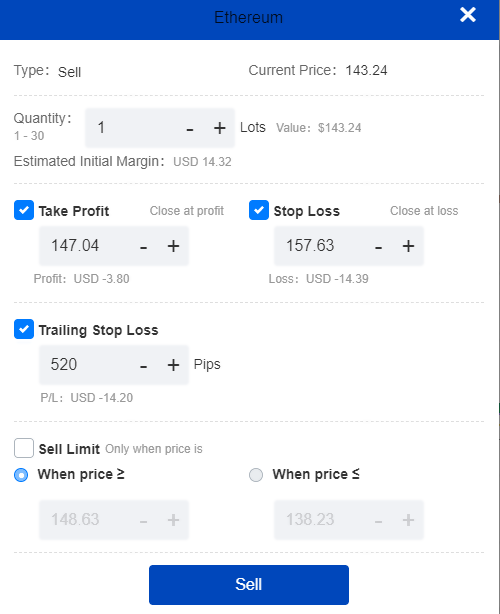 Photo: Mitrade platform - Sell Ethereum
Trade on Forex, Commodities, Indices and Cryptocurrencies in 3 Steps:


Note: OTC derivatives can result in the loss of your entire capital.
Conclusion
Now, you know how to start investing in cryptocurrency. It's Your turn!

Trading cryptocurrency is not something very difficult to master, you just only need to understand the main concepts, to seek for a suitable exchange with high security and practice trading over time.
If you are beginners, the best way to start with crypto-trading is to try Mitrade Demo Trading, which gives you the opportunities to buy and sell coins similar to real markets at no cost. Especially if you have a good mind of analysis and reading charts, crypto-trading will be a perfect place for you to make a fortune.