Investing gold bullion during the recession is not as profitable as expected. In fact, there are many other forms of gold investment that can bring profit opportunities. That is online trading of CFD gold.

CFDs provide opportunities to trade and make profits in both directions of the market.
If you think gold will rise↗, please buy gold (XAU/USD). From there, you have the opportunity to profit from price increases, which means "go long"
If you think the price of gold will fall ↘, sell it (XAU/USD). From there, you have the opportunity to profit from the price falling, which means " go short".
In this article, we will discuss if it Is still worth trading gold and how to choose the right trading platforms. In the end, you will have a list of leading gold & silver trading platforms and some strategies of gold and silver trading.
Let's start from here.
Is it worth trading gold now?
For gold bulls, this has been a week to remember indeed. Gold has finally managed to close above the all-important psychological level of $2000 a troy ounce.
It's been a long journey. Taking almost a decade to break $1900 set way back in 2011.
And while this year has been stunning for the yellow metal, it's only now that long-term resistance is smashed, that the real fun begins!
With awesome fundamentals like ultra-low interest rates, money printing as far as the eye can see, with no realistic chance of any rate increases, plus the potential for a global depression; it certainly looks like gold and silver are going to become centre stage in investors eyes.
So, despite the recent gains, the easy money still lies ahead.
Let's not forget silver too. It's just put in its best monthly performance in 40 years. Yet, it's still miles away from the old highs of $50.
Ever since the Coronavirus pandemic came along, the metals have been on fire. Initially on pandemic fears.
But fear-based rallies aren't sustainable. It takes long-term fundamental drivers to see gold push higher and break-out of strong overhead resistance.
The Fed has already said it's going to everything it can to stave off a global depression. Ditto the other main central banks. At some point, it looks like a global inflationary wave is headed our way.
As a trader, the best markets to trade are those in sustainable fundamentally driven uptrends.
No matter if you're a day trader, swing trader or a long-term fundamental guy or gal, it pays to let the trend be your friend.
Gold is massively overbought right now by so many metrics and is likely to fall before resuming a new up move – so right now is a great time to start thinking of how to make most of the new bull market!
Let's see the newest gold price:
Gold Trading Hours
The world of gold trading is complex.
Futures exchanges, physical bullion dealers, bullion banks, and over-the-counter markets all play a part in setting the price.
The largest trading exchanges in the world are:
● Shanghai gold market 9.00 am–11.30 am 1.30-3.30 pm
● Mumbai gold market 10.00 am– 11.30 pm
● Dubai gold market 8.30-11.30am
● London gold market 8.00 am–5.00 pm
● New York gold market 8.20 am-1.30 pm
● Mumbai and Dubai see huge physical gold transactions.
The New York Comex on the other hand, is the largest futures market – and is the most important for price discovery.
Other hubs include Hong Kong, Bangkok, Islamabad, Istanbul, and Sao Paulo.
The newest and most exciting new gold trading hub is Shanghai, opening in 2008.
Trading exchanges like the Comex, are home to bullion banks, gold and silver fabricators, commercial end-users, large speculators and small speculators
They're highly regulated and even the smallest speculators need deep pockets to trade on these exchanges.
It also means these trading exchanges have specific opening and closing times. But exchanges aren't the only place where gold trading takes place.
As a small trader you will be part of the opaque market known as the OTC markets.
This is a network of individuals, retail brokers, banks and liquidity providers all trading with each other, usually settling in cash (no physical delivery).
And these off-exchange transactions are huge, dwarfing the futures market and the physical gold market in terms of transactional volume.
London is the main hub for OTC, but fear not. Even as an Aussie trader your gold trading platform will usually allow you trade Monday 7.00 am in Oz through to 9.00 pm in New York.
What to Look for in a Gold Trading Platform?
A trading platform is where you conduct business with your broker. These are sophisticated pieces of software. And as each year passes technology improves. But let's discuss a few points when choosing a broker first.

1. Operational for a minimum of 2 years
I'm all for start-up companies, well in some sectors anyway. But when it comes to parking your trading capital, you don't want a company that is still finding its feet.
Two years of trading at least will mean others will have already tried them before you! Making any decisions about them you make that much more informed.
2. Regulatory jurisdiction
As primarily Aussie traders we want to be registered with the ASIC. For non-down-under traders, you need to make sure your chosen broker is registered with the jurisdiction where you reside. If they are not, it is one rather large red flag!
3. Ease of fund deposits and withdrawals
These should take place within 2-3 working days. Nothing worse than gold breaking out to new highs and you're still waiting for your trading funds to clear!
4. Does your broker operate in multiple countries?
While not essential, it's always satisfying to know your target broker is big enough and organised enough, to do business in multiple locations.
5. Your broker is your business partner – don't forget!
You need to see your broker as a business partner. Trading is a business after all, and the last thing you want is a shady business partner, right?
So due diligence is vital, there are many great posts on how to choose a broker on the internet, that you can look through.
As a trader we are always worrying about something or other – the last thing we need is to be worrying about the broker we are using too!
6. Demo accounts
Stay away from any company that doesn't let you trial their platform for a month at least without having to open an account. Known as a demo account, or virtual trading account, these are essential first steps into the world of trading.
7. How easy is the platform to use?
The complex world of gold trading does not require software that only a maths genius could use! You want your trading platform to be intuitive to use.
There's little worse than spending hours trawling the How to Guide, every time you want to trade!
I've been on gold trading platforms designed by software geeks. They didn't have the first clue about what a trader needs. Lots of bells and whistles, but totally unsuitable for the nuances of trading.
That's why trialing the software first is so important.
8. How wide is the spread in the contract you are trading?
What is the allowable leverage for your account? Some jurisdictions enforced higher margin (lower leverage) while others, like the ASIC, are more lenient.
With the super explosive rallies in the metals, maximum leverage (with appropriate money management of course) enhances profits beyond belief.
Below is a list of five retail brokers in Australia, all ASIC registered.
5 Leading Gold & Silver Trading Platforms In Australia



Gold-XAUUSD

Advantage

Disadvantage

Mitrade

Spread0.58

Leverage1: 100

Minimum Trade size: 0.01

Commission-free, low spreads, Simple to use platform, Multiple supports

Non MT4/5

Only CFDs offered

AvaTrade

Spread:0.34

Spread (Pro):0.28

Leverage (Pro):200:1

Leverage (Retail):20:1

Minimum Trade Size:1

Multiple deposit and withdrawal options, MT4/5, Over 250+ instruments

Phone support is not responsive




plus500

Spread:1.25

Initial margin0.67%

Leverage1:150

Commission-free,Low spreads, Over 2,000 trading instruments, Simple to use platform

Non MT4/5

No phone support

Lack of market news and education

Xtrade

Spread:0.08%

Provide multiple supports, Covering 140 countries, Over 150 CFD assets

Non MT4/5

No Negative balance protection

Charge commissions

easyMarkets




Fixed spreads, Max Leverage:1:400




No commissions

MT4

Easy-to-use web platform

High spreads compared to others

Some features don't work with MT4
* Kindly note that the characters are sourced from the official site, Wikipedia, and other review websites. The data is right now but may change with time. This list is just for your reference. There are still many other good forex trading platforms outside our list and they may be more suitable for you than anyone on our list. You should do your own research before trading any markets. ( this list is not in specific order)
From the above list of brokers, we can find that Mitrade is not bad. Mitrade is an online forex and CFD trading broker based in Melbourne Australia, regulated by ASIC (AFSL 398528). Mitrade provides a clean and intuitive trading platform to simplify trading for both beginner and advanced traders.
The platform is minimal-looking, intuitive, and much "cleaner" compared to Metatrader, which looks complex with a lot going on.
I'm not saying the Metatrader is "bad" in any way. It's just really complex looking!
All in all, if you are starting out or want something more straight-forward, I think you'll prefer Mitrade platform to the Metatrader.
Gold(XAU/USD) Contract Specifications on Mitrade: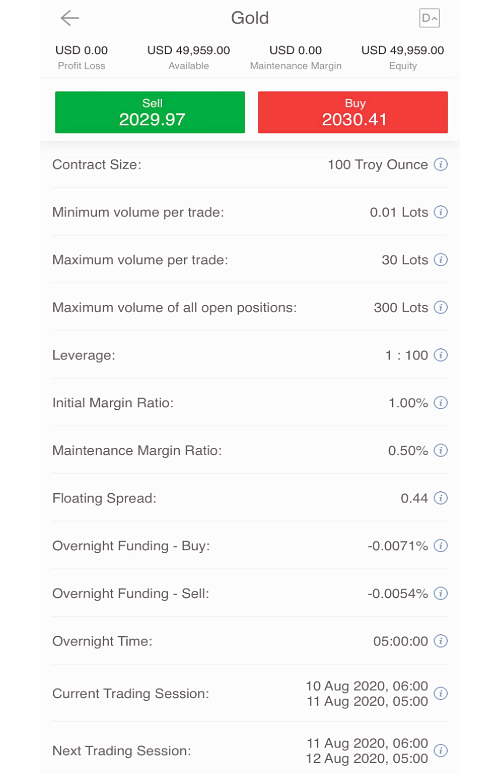 Trade Ease With Australia's Popular Forex And CFD Broker

✔️ 24-Hour global market trade, Go long or go short
Mitrade provides almost 100 global popular instruments, including forex, commodities, indices, and cryptocurrencies. CFD is a T+0 margin trading product, you can go long or go short. No matter the market moves, you have the opportunities for risky returns from markets fluctuating.
✔️ Low threshold conditions, Competitive Trading costs
With zero commissions, they offer competitive spreads, up to 200 times leverage, as well as fast and reliable order execution. If you buy 0.01 lot of gold, you will deposit about 18 dollars according to the current price.
✔️ Simplified trading platform, Superior trading experience
Mitrade provides 5*24 hours online live support, supporting users to trade on the web and mobile APP. Mitrade platform interface is simple and intuitive. You don't need to download any software, just log in the Mitrade platform and trade.
✔️ ASIC regulation, Trade with Ease and Safe
Mitrade is an ASIC regulated broker. They provide reasonable leverage based on different trading instruments(Gold 1:100, Bitcoin 1:10, most forex 1:200). Also, Mitrade provide you protection against negative balances, allowing you to control the trading risk and trade with peace of mind.
Start Trading Gold And Silver In 5 Easy Steps
→ Register an account with Mitrade (Demo or Live)
→ Deposit your AUD into your account
→ Search for 'gold' or 'silver'
→ Decide to 'buy' or 'sell'
→ Confirm the trade
Don't have a demo account yet?

Find out the free demo account, Mitrade provides $50000 risk-free virtual funds to help you experience the real trading environment at zero cost. *The experience time is 90 days

Useful Strategies for Gold and Silver Trading
● Seasonality

The first thing you need to know of is gold seasonality.
The Indian wedding season is a major buying period, and this kicks off in August. The precious metals often make an important bottom in price here. Come September, western financial markets roar back to life. Traders are back from the summer holidays. They start allocating cash according to current economic and geopolitical trends.
Stock markets and precious metals tend to have a lively December as the festive season arrives. Watch out for the stock market in January! If it falls hard, it could mean gold is in for a good year! In February is Chinese Lunar New Year, also a major gold buying season.
After a quick wobble after this, gold tends to top in April or May. Then the summer doldrums arrive, and metals prices flatten.
This didn't happen this year though. And when summer seasonality doesn't occur, it usually means gold is going to keep trending higher.
Seasonality is never a hard and fast rule, but it does pay to be aware of it.
● Negative real rates
For a real gold bull to be taking place gold should be moving higher in all currencies. But, without a doubt, the currency you need to look at is the US dollar.
When the Federal Reserve is in an interest rate raising cycle, the dollar usually rises. And when the dollar rises, gold usually falls. In this way the dollar and gold trade are opposite. There are times when this correlation breaks down – but rarely and not for too long.
Gold thrives best in a negative real rate environment – when inflation runs higher than the interest rate.
The last time we saw this in a big way was in the 1970s. But with the Fed now expanding its balance sheet like never before gold is piping up. And this theme isn't likely to end soon.
What stopped the gold bull in the 1970s was when Paul Volker raised rates aggressively – do you really see anyone on the horizon today willing to do such a thing?
Nope.
● Buy low sell high
How can you buy low and sell high when gold has risen a lot already? Believe it or not, it is possible. But it requires patience.
No market ever goes up in a straight line. There are always pauses in trends, corrections and consolidations.
There simply has to be. A market that goes up too much, too quickly, is unhealthy. This is what happened to bitcoin back in 2017. And this is likely where we are in gold right now.
Overbought/oversold indicators can give us a good idea when buying or selling has reached extremes.
According to the RSI indicator gold hit its 90 reading very recently. This is historically high. The RSI needs to come well off these levels before the market can resume its uptrend. A reading of 30 or so means the selling will likely be done.
Another way to measure how overbought on gold we currently are is to use gold's 200-day moving average.
If you take the gold price of $2031 an ounce and divide it by the value of its 200-day moving average you get a price of 1.23. What this tells us is that gold is stretched 23% above its 200-day moving average.
Considering historically gold gets overbought stretched 15% above its 200-day moving average right now gold is very overbought indeed!
So while I am a gold bull for years to come as I am writing this, gold needs to correct. Using RSI to improve your gold market timing decisions will keep you on the right side of this bull market.
You could also consider learning about Price Action for short-term trading.
Conclusion
Trading is a business. Gold is in a new long-term cyclic bull market. So it makes sense to make gold trading your business.
Learn the technicals, learn the fundamentals - and you can really profit in the years ahead.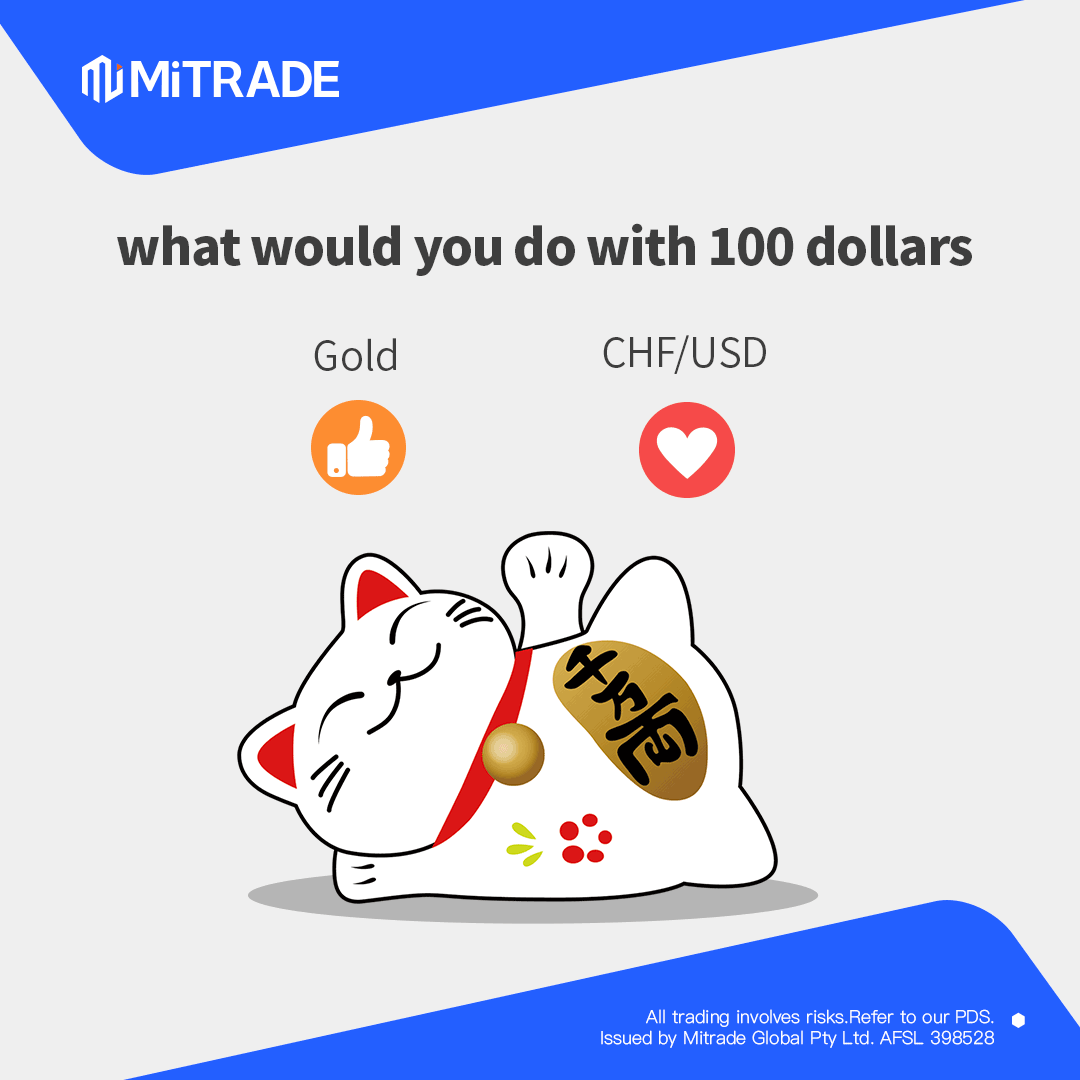 ---
The content presented above, whether from a third party or not, is considered as general advice only. This article does not contain and should not be construed as containing investment advice, investment recommendations, an offer of or solicitation for any transactions in financial instruments. Mitrade does not represent that the information provided here is accurate, current or complete. For any information related to leverage or promotions, certain details may outdated so please refer to our trading platform for the latest details. Mitrade is not a financial advisor and all services are provided on an execution only basis. Before making any investment decisions, you should seek advice from independent financial advisors to ensure you understand the risks. *CFD trading carries a high level of risk and is not suitable for all investors. Please read the PDS before choosing to start trading.