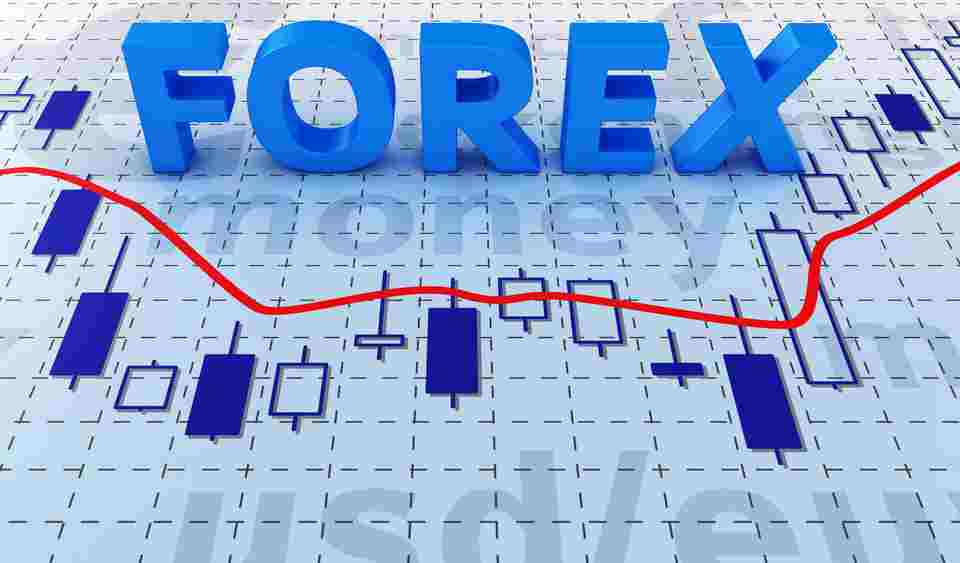 Trading forex (currencies) is increasing in popularity all over Australia and new forex brokers are constantly appearing to meet this demand. For many new investors, finding a forex trading platform with a local presence that is compliant with legal regulations is important for the security of their investments. Along with that are other important factors, like fees, ease of trading platform, and commissions.
There is a multitude of forex broker options available for Australians, making the choice challenging for new investors. This article will provide the best options based on our research, so you can find some trustworthy and technologically advanced forex brokers in Australia to fit your needs.
Foreign Exchange (Forex) Market in Australia
ASIC (Australian Securities and Investments Commission) is the integrated corporate, markets, financial services, and consumer credit regulator in Australia.

It is an independent government body created to administer the Australian Securities and Investments Commission Act with the purpose of:
● Maintaining, facilitating and improving the financial system and the entities that operate within it
● Promoting confidence and participation by both investors and consumers within the system
● Administering and enforcing the law
● Publishing company and broker information for the public
All forex brokers operating within Australia must be regulated by ASIC. This ensures public safety and security, and all brokers referenced in this article meet compliance regulations.
A List Of Best Forex Brokers For Australian Traders
The following are 13 good forex brokers for Australian traders, divided into beginner and advanced categories. There are still many other good brokers outside our list and they may be more suitable for you than anyone in our list. Thus, this list is merely for your reference, you should do your own research to find the one who fits you the most.
Each forex broker was assessed and compared in terms of industry compliance, available investment instruments, platform features, awards, fees, and reputation. This list is in no particular order.
Let's start to find your best forex broker in Australia.
Forex Brokers For Beginners

#1- Mitrade
Mitrade is an online forex and CFD trading broker based in Melbourne Australia, regulated by ASIC (AFSL 398528). They offer over 100 financial instruments including forex, commodities, stock index, and cryptocurrency.
The trading platform is minimal-looking, intuitive, and much "cleaner" compared to Metatrader, which looks complex with a lot going on.
The minimum size per trade is as low as 0.01 lots for many markets. Leverage up to 200:1. You will enjoy seamless trading via both iOS and Android mobile apps along with web platform.
At Mitrade, you can invest as little as $5 in EUR/USD! Check the details on the trading page and practice with a demo account!
How to trade with Mitrade?
"Buy" or "Sell" at Mitrade- Get started

#2 - GO Markets
Known mostly as a forex trading broker, Go Markets also offers binary options trading. With a good reputation and strong regulatory compliance, GO Markets is a reliable choice for many beginner and advanced-level traders.
#3 - Avatrade
Popular with newer traders, Avatrade supports smaller trades and features an intuitive easy-to-use platform. Compliant with regulations across five continents, the company has a solid reputation throughout the world. Based in Dublin, Avatrade has offices in several major centres, including Sydney.
#4 - FXCM
Now fully compliant with Australian legislation, FXCM was founded in New York, and is now based in London with a presence in Australia. The company provides both standard and mini accounts, making it a solid choice for advanced and beginner investors.
Forex Brokers For Advanced Traders

#5 - IC Markets
Based in Sydney, IC Markets is one of the largest forex brokerage companies in the world, and one of the most popular in Australia and the far East. Focusing mostly on ECN brokerage, it only serves clients in countries where its services are legal.
#6 - CMC Markets
One of the best forex brokers in Australia, CMC markets has been around since 1989. Based in London with offices in Australia, CMC markets is one of the original currency trading brokerages with a solid reputation.
#7 - Pepperstone
Based in Australia, this award-winning company was established in 2010. It is highly regarded and respected, offering a wide range of trading options to Australian clients.
#8 - USGFX
USGFX, also known as the Union Standard Group, was founded in 2005 and is headquartered in Sydney, Australia. In addition to being regulated by ASIC, it also holds an Australian Financial Services Licence under the name Union Standard International Group Pty Ltd.
Popular with both beginner and advanced traders, USGFX offers four different account types: Mini Account, Standard Account, VIP Account, and Pro-ECN Account.
#9 - Vantage FX
Vantage FX is authorized and regulated under the name Vantage International Group by the Cayman Islands Monetary Authority (CIMA). The Vantage Group also operates other companies such as Vantage Global Prime, which is regulated by ASIC.
Vantage FX offers trading platforms that provide unique advantages to both beginner and professional traders. They offer a demo account for new clients to test a variety of order types and execution modes.
#10 - AxiTrader
Founded and headquartered in Australia, Axitrader is an award-winning forex trading platform designed by traders for traders. Formerly known as AxisForex, the company is reported to have a monthly volume of approximately $100 million.
#11 - Easy Markets
Recent award-winner and highly trusted, Easy Markets has earned a solid reputation in the marketplace.
With an easy-to-use platform, Easy Markets offers many unique features that make it attractive for beginners and advanced traders.
#12-Think Markets
Hugely popular with Asian traders, ThinkMarkets is based in Australia and has a strong reputation for regulatory compliance.
While it offers services in several jurisdictions, this broker restricts activities in countries where certain categories of trading are not accepted by law.
#13 - City Index
Popular with newer forex traders, City Index offers an extensive range of financial products. Backed by GAIN Capital, the company has a strong reputation and offers reliable customer service.
Beginner vs. Advanced Forex Trading: Things To Consider
Several factors went into our categorization of brokerages into the beginner and advanced categories, like safety, ease of platform use, and amount of leverage.
These categorizations, however, are not absolute. Most forex brokers cater to every experience level and the right choice is highly individual. As a general rule, beginner traders will benefit from simpler trading platforms and lower leverage levels, while advanced traders will appreciate more sophisticated tools and higher leverage.
The Forex Brokers Comparison Summary
The following Australian forex brokers compare all of our choices and list important features side by side.
| | | | | | |
| --- | --- | --- | --- | --- | --- |
| | Accepts AU Traders | Platform type | Multi-language sport | Awards | ASIC Regulatory |
| Mitrade | Yes | Self-developed platform | 5 | Yes | Yes - AFSL 398528 |
| GO Markets | Yes | MT4&5 | 8 | No | Yes - AFSL 254963 |
| Avatrade | Yes | MT4&5 | 31 | Yes | Yes - 406684 |
| FXCM | Yes | MT4 & self-developed platform | 20 | Yes | Yes - AFSL309763 |
| IC Markets | Yes | MT4&5, C-trader | 18 | No | Yes - 335692 |
| CMC Markets | Yes | MT4, self-developed platform | 10 | Yes | Yes - 238054 |
| Pepperstone | Yes | MT4&5, C-trader | 2 | Yes | Yes - 414530 |
| USGFX | Yes | MT4&5 | 21 | Yes | Yes - 302792 |
| Vantage FX | Yes | MT4&5 | 13 | Yes | Yes - 428901 |
| AxiTrader | Yes | MT4 | No | Yes | Yes - 318232 |
| Easy Markets | Yes | MT4, self-developed platform | No | Yes | Yes - 246566 |
| Think Markets | Yes | MT4&5, self-developed platform | 16 | Yes | Yes - 424700 |
| City Index | Yes | MT4, self-developed platform | No | Yes | Yes - 345646 |
* Kindly note that this information is accurate but these characteristics might change in the future.
How To Choose The Best Forex Brokers?
Choosing the right forex broker in Australia has many factors, such as types of trading instruments, commission costs, and ease of trading platform.

Here are 6 crucial factors to consider before making your choice:
1. Transaction Costs
Transaction costs, whether they are commissions or in the currency spread, will affect every currency trader.
Some brokers offer fixed spreads, others offer variable spreads, and most offer both depending on the type of account. The overall cost of the trades takes into account the variable spread and commission. Depending on the type of trading and amount of trades, these are important factors to consider before making a choice.
2. Deposit and Withdrawal
Easy deposits and withdrawals from your account are essential for every trader. Some brokers make the process tedious or difficult in order to have you hold on to your funds. Careful research is necessary before opening an account in order to ensure that the withdrawal process is hassle-free.
3. Trading Platform
Knowledge of the trading platform is essential in order to facilitate smooth trades in a safe and timely manner.

The platform must be stable without lags because some trades are time-dependant and require fast execution.
Other factors to consider include the addition of technical/charting tools, a news feed and any other information required to execute trades efficiently and in a timely manner.
5. Price Execution
Getting the closest possible market price for your orders is essential to ensure maximum profits while trading. Your broker should be able to fill your orders at a price that is exactly at or within a few micro-pips of the market price.
6. Security

Lastly, but definitely not of least importance is a high level of security. Checking the credibility of a broker with the local regulatory agency (like ASIC) should be easy, and each broker should have this information easily available on their website.
How to Verify ASIC Authorisation?
Every Australian broker has disclosure text at the bottom of their website in the footer section. To verify ASIC authorization simply scroll to this section to find their AFSL number.
The next step is to visit the ASIC website to validate their current regulatory status and check that the numbers are the same.
Mitrade is ASIC regulated (AFSL 398528) broker.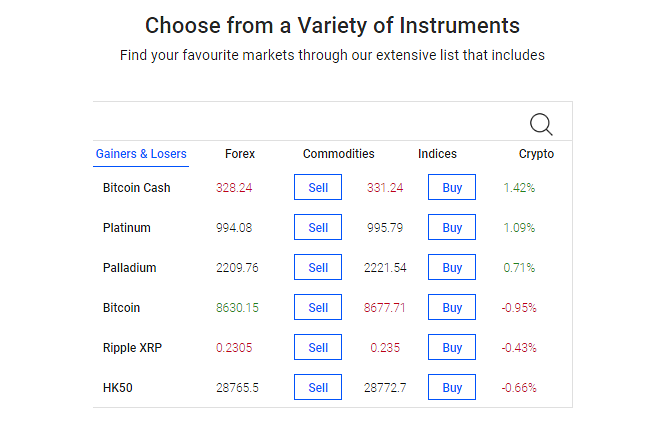 FAQs
Is forex trading legal in Australia?

Yes. The only legal restrictions set by ASIC are in limiting credit card deposits to $1,000 when you open an account.
Is forex trading taxable in Australia?
Yes. All profits on trades are taxable as income under the normal tax structure, and any losses cannot be claimed against income.
What is the best time to trade forex in Australia?
There is no simple answer to this question as it depends on trading style and strategy.
Experienced traders create and test plans over time as part of a long-term strategy. Testing the strategy will help you develop your style of trading and from there the optimal time window can be determined.
Conclusion
Many new forex brokers are appearing on the market in light of the increase in the popularity of forex trading in Australia. Finding the best forex broker can be a time-consuming and confusing process, and hopefully, this guide has helped steer you in the right direction.

The most important factors to consider are transaction costs, ease of deposits and withdrawals, price execution, security, and ease of platform use.
This is all aside from developing a trading style and strategy. The most common advice given by analysts is to only invest what you can afford to lose, to do your research, and trade wisely!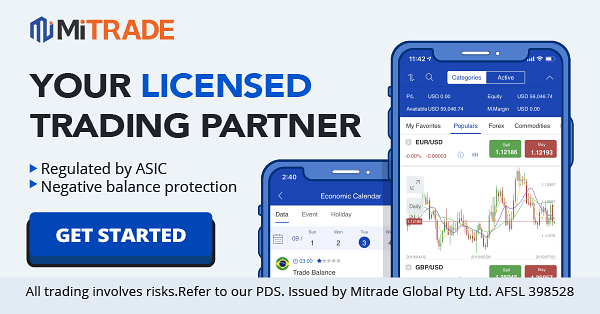 ---
The content presented above, whether from a third party or not, is considered as general advice only. This article does not contain and should not be construed as containing investment advice, investment recommendations, an offer of or solicitation for any transactions in financial instruments. Mitrade does not represent that the information provided here is accurate, current or complete. For any information related to leverage or promotions, certain details may outdated so please refer to our trading platform for the latest details. Mitrade is not a financial advisor and all services are provided on an execution only basis. Before making any investment decisions, you should seek advice from independent financial advisors to ensure you understand the risks. *CFD trading carries a high level of risk and is not suitable for all investors. Please read the PDS before choosing to start trading.