Today, we are going to look at the best ways to buy, store, and sell gold in Australia.
Dear fellow Aussies, do you know that about 85% of us don't hold gold in our investment portfolios?
Listen; about 20 years ago, 1 ounce of gold (about 30 grams) was worth about AUD 500. As at the time of writing this piece, the price of the same is AUD 2,359.
Just imagine if you had bought gold and held on to it for the 2 decades. No other investment in Australia has performed this way during the period in focus.
Worry not; you can still buy gold now and keep it because this is one commodity that is so good at maintaining and growing its value. You can never go wrong by investing in it. However, you must learn to do it right.
Why Buy and Sell Gold?
We've all seen in movies how nations went to battlefields over gold. Pirates roamed the seas finding ships to rob hoping to find some gold. Back in the day, gold and silver coins were the measure of one's wealth.

Today, gold is a reserve for the rich in most Arab countries. It is still used to make the most expensive jewelry and trophies. Gold mining is one of the oldest and most profitable forms of mining. More importantly, gold remains one of mankind's most treasured and valued metal.
For over 6,000 years, this metal has been the backbone of our wealth and financial system.
Have you ever wondered why?
✔️ First, unlike other valuables, including money, during times of panic such as disaster or financial meltdowns, the price of gold mostly rises.
✔️ Second, during the most severe recession periods in the world, gold retained its value and even grew. So, those who invests gold in store were not significantly affected.
✔️ Third, even during times of deflation, gold retains its purchasing power.
✔️ Fourth, since it is a rare metal, it rarely loses its value since there can never be an oversupply in the market. In fact, as current mines get depleted, the price of the commodity is likely to escalate even higher.
✔️ Fifth, if you live in Australia, you can be sure of the investment that you're making since it is one of the safest and most stable nations on the planet. This means your gold will always be in good valuable standing.
✔️ Last but not least, this metal is like a global currency. If you carry yours to any part of the world, you can be assured of a ready market any time you think of converting it to fiat currency.
The reasons of buying gold are endless. Do we need to mention how beautiful a piece of gold looks when held in hand?
Factors to Consider Before Buying or Selling Gold
Knowledge is very important whenever you need to go into a new venture, especially those that carry financial risks.
You might end up making serious mistakes that might cost you due to ignorance. In this case, you need to know what to buy, from whom, at what rate, and so on.
The following are some important considerations that you must make before selling or buying gold.
1. Purity
Gold is sold depending on its purity. In the market, you will find some that is 100% pure while others will have a certain percentage of other metals in them. This goes a long way in determining the price that you get or offer.
The purity of gold is measured in karats. The more karats that the gold has, the purer it is. Normally, 24 karats (k) gold is the purest. This figure means that all the 24 parts of the gold are pure. 22 karats gold means 22 parts of the gold are pure gold while the other 2 parts consist of other metals.
2. Hallmarks
Always purchase gold from credible, certified dealers. The only way to know this is to check whether the gold being offered has a hallmark. This is a stamped mark that will be engraved in the gold to certify its legality and purity. Uncertified gold can be fake or acquired illegally, which can land you in problems with the authorities.
3. Tax
In Australia, there is usually no tax charged when purchasing gold. However, you must pay some taxes to the government depending on the capital gains that you make after selling some.
4. Price
Price is very important whether you want to buy or sell gold.
Fortunately for us, gold is one of the commodities that have standardized prices. Just like fiat currency, the value of gold is made public at any given time. Now, if you know the current price of the metal, it is easy for you to compare vendors and see the one with the best prices.
Similarly, when looking to sell your gold collections, looking at the standard price at the moment helps in deciding the selling price.
5. Type of gold
Gold comes in various forms. It can be in the form of bars (ingots), coins, jewelry, lumps, powder, e-gold, and so on. E-gold refers to investing in derivatives based on gold as opposed to holding the physical metal.
Knowing the type of gold that you want will determine other factors such as storage, cost security, and handling. Therefore, understand what you want to buy before making the purchase.
6. Ease of selling
Investing in gold starts with buying and ends with selling. In short, you will make profits by selling your pieces for a higher price than what you paid for them.
That said; you should understand the ease of selling the gold if you wanted. Ingots and coins are easier to sell than jewelry. In Australia, for instance, many banks act as ready markets for high-quality gold. However, they prefer gold bars and coins over the other forms.
7. Necessity
Finally, make sure you have a purpose for purchasing your metal. If it is purely for investment purposes, try to acquire a maximum of 10% of your total investment portfolio.
As fate would have it, in as much as the value of gold is stable, it does not mean that it cannot depreciate in the future. Therefore, to be safe in case of such occurrences, invest only a small amount to minimize the risk.
6 Ways of Investing In Gold In Australia
Here comes the juicy part: how can you invest in gold?

There are two main ways that you can choose to invest in your gold: physical and digital. Physical gold is that which you can touch. Digital (or paper) gold means making money by buying and/or selling derivatives related to gold. In short, you don't deal with physical gold.
Buy PHYSICAL GOLD
1 Bullion
Bullion is the name given to gold that is at least 99.5% pure.
It can come in the form of coins, bars or ingots. Bullions are valued depending on weight value, usually measured in ounce (oz) and the current spot rate.
Bullions are wise investments in that they are backed by the government and have high purity. Also, they come in different sizes. If you prefer "touching" your wealth, gold bullion is the way to go.
2 Gold Accounts
Australian banks, like other banks, can store money, wills, title deeds, valuable documents and mortgages for you. They can also store your gold!
A bank can store your gold in two ways: in an allocated and unallocated account.
An allocated account means that once you have acquired the gold, it is stored in a safe place by the bank. In this case, the gold never leaves the secure storage location. Due to this, it cannot also make extra money for you.
An unallocated gold account means that, yes, the bank has kept the gold for you, but they use it for their investments. Depending on your bank, you can agree on some commission. This method is somehow risky because gold on the move is gold that can get lost.
3 Numismatic Gold
Numismatic gold is gold that has been made into valuable coins. Unlike the typical gold coins that are made every day from smelting the metal, these coins have some intrinsic value. For instance, you might want to collect gold coins from the 1800s. Maybe you want those collected from shipwrecks.
If you decide to go down this road, be ready to pay more. The advantage of buying numismatic gold is that it grows in value as time goes.
Buy DIGITAL GOLD
4 ETFs and CFDs
Exchange-Traded Funds, ETFs, and Contracts-For-Differences, CFDs, are based on the fact that the price of gold fluctuates every second. Gold might be worth $1,500 now and $1,700 or $1, 300 in the next 12 hours. Now, if you know how to purchase the security of an investment rather than the investment itself, you can make money from gold.
A popular way of investing in gold ETFs and CFDs is by signing up with an online broker like Mitrade and speculating on the price of gold. If you think that the value of gold will increase, then you can open a "buy" trade and hold it for as long as you wish.
The best thing with ETFs is that you can also make money when the value of gold decreases! This is made possible by the fact that you are investing in the value of gold and not the metal itself.
5 Sovereign Gold Bonds
From time to time, governments announce the offering of Sovereign Gold Bonds (SGBs) to willing investors. As you might already know, gold bonds are derivatives of gold, not the metal itself.
Once an investor acquires the bonds, they hold them until the government starts buying them in the future. If their value will have increased, then the investor makes profits.
6 Gold Futures Contracts
Futures contracts are deals made between a buyer and a seller to exchange an underlying asset in the future at a fixed price. Bonds, stocks and indices are examples of futures contracts.
For example, if you think the price of gold will decrease in 4 months, you can buy gold indices and offer them to a buyer at the current market price. After the 4 months, if the price has fallen, then you can sell the indices at the initial price without making a loss due to price changes.
How To Buy Physical Gold?
Be very careful when purchasing your gold.
You will see people advertising it on social media, on websites, in the papers, on e-commerce sites and so on. In as much as making purchases online is safe nowadays, it is advisable to avoid this method especially if you are new in this venture.
The risks of buying your gold online include:
● Getting scammed
● Purchasing impure gold
● Purchasing illegal gold
To be safe, make sure to buy from certified gold vendors only. This calls for you to do some research before getting down to buying gold. It is also important that the online vendor you choose has a physical shop where you can visit for any inquiries.
If you are in Australia, here is a list of a few trusted bullion dealers:
— Ainslie Bullion in Brisbane
— Australian Bullion Company in Melbourne
— As Good As Gold in Adelaide
— ABC Bullion in Sydney
— Gold De Royal in Brisbane, and
— Gold Stackers Australia in Melbourne
※ Please note that this list is neither conclusive nor are we affiliated with the bullion dealers in any way. Rather, we have just provided a starting step for you if you wish to get started buying and selling with already-credible bullion dealers. There are hundreds of others.
How To Buy Digital Gold Online?
Buying digital gold online is safer than buying real gold, especially if you are dealing with a credible, certified broker. Such dealers are regulated by governments and financial authorities such that they cannot scam investors.
Here are some places in Australia where you can buy and sell digital gold:
★ Stock Markets
Remember that in the stock markets, you benefit from the movement of the value of gold and not gold itself.
Here are some good stocks brokers for you:
— BetaShares Gold Bullion
— ETFS Physical Gold
— VanEck Vectors Gold Miners ETF
— Perth Mint Gold
★ CFD Markets
CFDs are also like the stock market where investors (known as traders) ) make potential profits by speculating on the movement of the price of gold but without actually owning physical gold.
Hundreds of CFD brokers offer online gold trading in Australia. Before settling on a broker of choice, make sure they are regulated by the Australian Securities and Investments Commission (ASIC). This body administer the law effectively and fairly settle the disagreements between you and the broker.
Mitradeis a fully-certified and regulated Australian broker supervised by ASIC. You can click here for their fast sign up and you could be making money off gold in a short while.
However, note that CFD trading uses leveraged products and can lead to the loss of your money. Get a proper education before trading.
Sopt gold price- XAUUSD
Specifications for trading gold on Mitrade platform:
Symbol: XAU/USD
Contract size: 100 Troy Ounce
Minimum volume per trade: 0.01 Lots
Maximum volume per trade: 30 Lots
Leverage: 1 : 100
Average Floating Spread : 35
Minimum Stop Order Distance: 50
* For more details, please check the Mitrade app.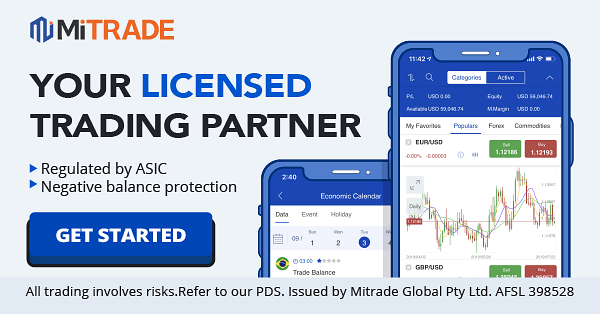 How To Store Gold?
Once you have purchased your physical gold, you need to know where to store it. This is a valuable commodity that you should protect in the best way possible.
Some places where you can store your yellow metal include:
● Banks
As earlier mentioned, banks are excellent places to keep your precious metal at a fee.
● Vaults
The second option is to use a vault storage company. These firms offer high-level security for valuables at a fee.
● Bullion Dealers
Bullion dealers not only sell, but they also store the gold for willing clients at a fee.
● Home
If you want to keep touching your valuable or you don't want to pay for storage, you can opt to keep it at home. This is a risky choice.
● Body
The final way of storing physical gold is on your body. You can have it made into jewelry that you can carry around. This is, however, the riskiest choice. Also, you can only wear a little amount of it at a time.
How To Sell Gold?
If you have your gold at home or the bank, you have several options of selling it. You can start by looking for banks that purchase gold. Beyond the bank, you can find individuals, jewelry dealers, and bullion vendors. Bullion vendors are the best option since they are always willing to buy pure gold.
Keep in mind that if your gold is kept by bullion dealers, they might be the only ones that you can sell to. Therefore, try to find a dealer that offers good buying prices before storing your gold with them.
Third, if you own some jewelry, you can approach jewelry stores and offer them your gold. They will most likely first value the gold, check for hallmarks, weigh it and then offer you their price.
In the case of numismatics, find coin collectors or approach firms such as museums since they understand the underlying value more than the actual price of your gold.
In a Summary…
Whether you are a serious investor or a simple Australian, buying some gold is a good idea. The metal is super stable and will hardly be valued less than what you buy it at not unless you're investing in digital gold.

There are many ways that you can invest in gold. Some are as simple as buying gold and burying it deep under your floor. You can also trade paper gold and earn a living from it. In the end, what matters is that you understand your investment and also implement measures to safeguard it until you are ready to liquidate it.
Now you know why gold is golden :)
---
Want To Join The Gold Market?

Finding opportunities in their rising value OR their drop with trading Gold derivatives - contracts that track their change in value (CFDs) !
Open Demo Account Or Trade now ››
---
The content presented above, whether from a third party or not, is considered as general advice only. This article does not contain and should not be construed as containing investment advice, investment recommendations, an offer of or solicitation for any transactions in financial instruments. Mitrade does not represent that the information provided here is accurate, current or complete. For any information related to leverage or promotions, certain details may outdated so please refer to our trading platform for the latest details. Mitrade is not a financial advisor and all services are provided on an execution only basis. Before making any investment decisions, you should seek advice from independent financial advisors to ensure you understand the risks. *CFD trading carries a high level of risk and is not suitable for all investors. Please read the PDS before choosing to start trading.