Commodity trading in Australia is exciting and a great way to make money as a passive income or even as a full-time job. With a gold-based economy, Aussies have always been very interested in what happens with metals and raw materials, and how to take profit of their resources.
That's why commodities trading is one of the top sources in Google when it comes to talking about financial topics. To address the necessity of that kind of information, here in Mitrade, we have decided to move forward and offer you a complete guide on how to start commodity trading in Australia.
In this article, we will talk about metals and raw materials trading in the Land Down Under, as well as how traders can do these kinds of investments.
Have you ever asked yourself if is it a good idea to invest in the commodities market? what is the best way to do it, and what companies are the best positioned to offer you the most reliable products?
▌ You can use Mitrade app to find commodity prices and trade or continue reading.
Gainers & Losers
Forex
Commodities
Indices
Crypto
Open your trading account at Mitrade or try our risk-free demo account! ▼
What are Commodities?
Commodities are the commercial and economic representation of raw materials or primary agricultural products that can be traded for other goods or money. Commodities are used as the material base and critical components in the production of several products, goods, and services.

Their price fluctuations can affect the entire supply chain and, for instance, the valuation of other products, services. Commodities also impact the rate of currencies.
Good examples of the impact of commodities in the global economy are the fluctuation in oil prices with geopolitical tensions in the Middle East and its impact on gas. The effect of a drought on corn can change what you will eat in the long term, or even a rally in Palladium prices can affect how much money you will pay for your next car.
Usually, commodities in trading are divided into four major categories: energy, metal, livestock, and agriculture.
■ Energy commodities trading: Products such as WTI crude oil, Brent crude, natural gas, heating oil, and gasoline are often traded in the form of CFDs, or contract for difference, but also as futures contracts.
The most significant factors affecting commodities are geopolitical concerns, war, deals, production cuts, and OPEC attitudes and news.
View WTI price chart on Mitrade▼
You can go long or go short when oil prices fluctuate

■ Trading metal commodities: Elements such as gold, silver, copper, palladium, and platinum are traded continuously in the form of contracts for differences where investors make money with the difference between the opening and closing prices.
Metals are classified into two types, precious metals, and industrial metals. As metals are critical components of final products, their price fluctuations come after recession concerns, public health problems, risk aversion, etc. Gold is considered a safe haven, so any time when investors become worried, they run to buy gold.
View gold price trend on Mitrade▼
You can go long or go short when gold prices fluctuate
■ Agricultural commodities trading: Including rice, corn, soybeans, wheat, coffee, cotton, and others, investors purchase and sell CFDs as a way to speculate with the price of agricultural goods. They are also known as soft commodities.
As agricultural products depend on mother nature and climate fluctuation, freezings, droughts, and excess of rain affect prices.
■ Trading livestock and meat commodities: Animal products, including pork bellies, live cattle, lean hogs, among others, are traded with CFDs. Meat prices are affected by health problems, recession concerns, and political problems.
Get *$50 free trial bonus & up to *$3000 trading bonus
*Read T&Cs
Brief History of Commodities Trading
The relationship between commodities and trading is as old as human civilization is. Starting with the first agricultural revolution when human societies evolved from hunting and gathering to farming and become more sedentary than nomad cultures, people began to collect goods and then exchange it for what they needed.

Therefore, the trading and exchange of commodities are an ancient practice. However, if we want to talk about the modern way of trading commodities, the first exchange boards and brokerages were established around 1530 in Europe and 1850 in the United States.
▍ The Amsterdam Stock Exchange is known to be the first stock exchange where people traded commodities with contracts, short sales, forward contracts, and even options.
The Chicago Board of Trade, also known as the CBOT, is the oldest especialized futures and options exchange market in the world. It was founded in 1848. Then the New York Board of Trade, the NYBOT, started offering futures and commodities trading in 1870.
Around 1873 the New York Mercantile Exchange (NYMEX) exchanged dairy products, and almost 30 years later, the Chicago Butter and Egg Board, officially known as the Chicago Mercantile Exchange, was the leading agricultural commodities exchange.
At current times, most of those markets have merged with others evolved to offer optimized products. Top global commodity market centers are now located in Chicago, London, and Tokyo.
Why Should I Be Interested In Commodities Trading in Australia?
Commodities have similarities but also fundamental differences with stocks and currencies.
When it comes to talking about equities, you are speculating about the production and revenues of companies and how they will be branded in the world. Basically, you buy and sell shares in line on how much money they will make in the future. Consequently, how much their stock will appreciate in case of making more money than expected, or it will be depreciated if they miss revenues targets.
In the currencies field, you are not trading specific goods, but the idea of how much the value of a currency is. Foreign exchange is like fishing in a river. The water runs, and you are waiting to catch something.
On the other hand, when you are trading commodities, you are exchanging real goods like food, resources, or materials which are required for our development. It is essential to understand that there is no one investment better than others, but with commodities, you will trade real stuff.
Top experts recommend the investment in the commodities market because it is an excellent way to diversify portfolios, and it is becoming more and more demanding from societies. Let's talk about that.
✔️ Commodities as a way of portfolio diversification
Diversification is a helpful tool to manage risk; however, you should know how to do it properly. Remember what The Oracle of Omaha Warren Buffett said about it: "Wide diversification is only required when investors do not understand what they are doing."
That being said, some commodities have a negative or a positive correlation with other assets. For example, gold has a negative correlation with the dollar, and palladium could have a certain level of positive correlation with carmakers and chip companies.
In that way, you can use commodities to diversify your portfolio, manage risk, and even to make aggressive bets to make more money. It is all up to you.
✔️ Commodities demand is on the bullish
The world population is growing and countries are developing themselves. In that framework, people are demanding more and more resources and commodities. Today, the necessity of palladium or silver is more than ever, so prices tend to go up. The same with agriculture, the more people are with us, the more food we will need.
Check charts and identify trends that match demographics. It is a very crucial point to understand the prices of commodities. Plus, watch out for mother nature changes and how it could affect the production of those assets.
Most Popular Commodities Market to Trade
Among the most popular and actively traded commodities in the world are gold, silver, oil crude in its two versions, soybeans, corn, and in the last times, palladium.

Let's check the most popular commodities to trade. But before, to understand the magnitude of the commodity market and what is the weight of every asset, watch the following image provided by Visual Capitalist in 2016. Just a hint: The oil market is bigger than all-metal markets combined.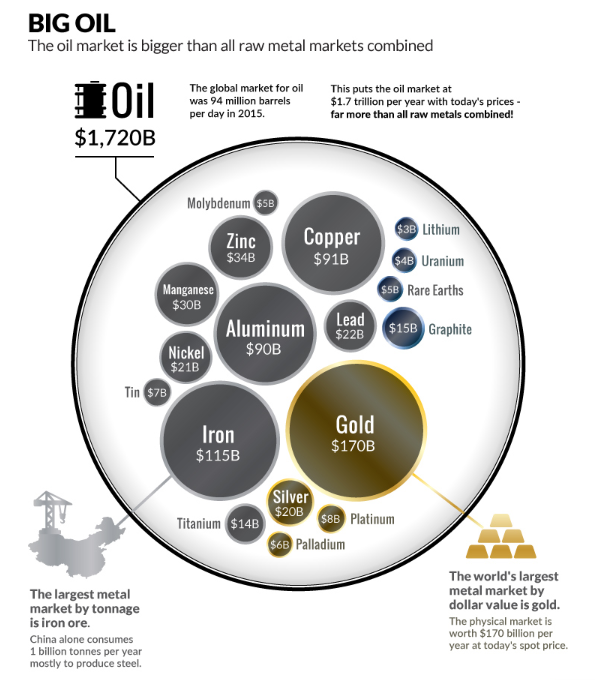 ● West Texas Intermediate (WTI) Crude Oil
Also known as Texas light sweet, the WTI crude oil is a grade of crude used as a price benchmark in the oil industry. Described as a medium crude oil, WIT has a relatively low density and low sulfur content.
● Brent Crude Oil
The oil of the North Sea, the Brent Crude is one of the benchmarks prices for worldwide purchases. Brent is light and sweet, low density, and low sulphur.
● Natural Gas
This non-renewable hydrocarbon is used for heating, cooking, and the generation of electricity. It also fuels vehicles in certain countries and is implemented in industrial chemical products.
● Soybeans
As one of the most popular agricultural products, soybeans are used as food, fuel, and farming procedures. It is one of the stellar players in the United States and China trade war.
● Corn
Corn is used in the production of food, ethanol and help the alimentation of animals. It is heavily traded in the Chicago board. The United States, Argentina, China, and Brazil are among the top producers in the world.
● Gold
Gold is the most important metal in the world. It is utilized for many industrial uses, components for products, and as a luxury material. It is considered a safe haven, so when people get nervous, they tend to purchase the bullion.
● Silver
Labeled as a precious metal, Silver is also used as a component for new technological components, solar panels, and photographic products. It is highly correlated with gold.
Get *$50 free trial bonus & up to *$3000 trading bonus
*Read T&Cs
Gainers & Losers
Forex
Commodities
Indices
Crypto
How to Trade Commodities Online In Australia?
Even though people can invest in commodities in several ways, two methods are the most popular: Futures, CFDs.
1. Future commodities
People usually invest in commodities via futures contracts. It is an agreement to purchase and sell materials at a specific date in the future with a predetermined price. Speculators and organizations that actually need the commodity are the critical players in futures.
Advantages of futures
● Investors trade the underlying commodity directly.
● Potential big profits
● Long and short markets
Disadvantages of futures
● Very volatile
● Risky due to external factors
2. Trading CFDs on commodities
One of the most popular ways to invest in commodities is by trading it through CFDs. It is good because it requires less money, and you don't have to take care of the ownership of the underlying asset.
When you trade commodities via CFDs, you are speculating with the price of the asset but not about purchasing the real material but making money with the difference between the opening and closing prices.
In that way, you will make money if you buy a commodity cheap and sell it expensive. On the other side, you will have profits in case you sell an asset high-priced, but then you close the position at a lower price.
Besides, CFDs allow you to trade on margin, so you will be able to open positions that represent a more substantial amount of money with a significantly less required deposit.
Pros of commodities CFDs
● Diversification in several markets with one account
● Seek opportunities in the rise and fall
● Enjoy flexible margin trading
Cons of commodities CFDs
● High volatility, so you are more exposed
● Leverage rises the risk level
You can use Mitrade app to find news, analysis, and data on the commodities you want to trade. Or Create an account to trade today!

Start Commodity Trading Online In Australia ( 4 Steps)
Trading commodities online is not complicated, but you should consider yourself whether you understand how it works and your ability to bear the risk of huge losses. There we will talk about how to invest in commodity CFD in Australia.
First, choose an Australian commodity broker.
Second, Open a live or demo account.
Third, starting trading.
Let's check out how to start trading commodities on Mitrade app.
Step 1: Open your platform of trading. Go to your broker account and open the platform. Click " Trade Now"
Mitrade is an Australia-based online trading platform regulated by ASIC, providing online trading on nearly 100 different markets — including Forex, Index, Commodity, and Cryptocurrency.▼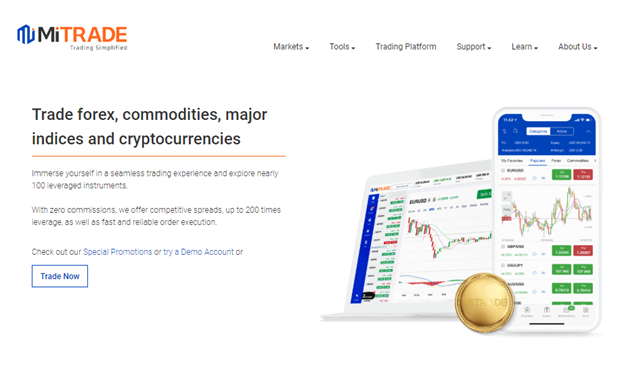 Step 2: Select the market you want to invest in. After doing your research and reading all the related news, decide what commodity you will trade. In the Mitrade platform, you have a selection of the most popular commodities in the left column.
Which Commodities can you trade with?▼
| | |
| --- | --- |
| Name | Symbol |
| Gold | XAUUSD |
| Silver | XAGUSD |
| Platinum | XPTUSD |
| WTI | USOIL |
| Brent | UKOIL |
| Palladium | XPDUSD |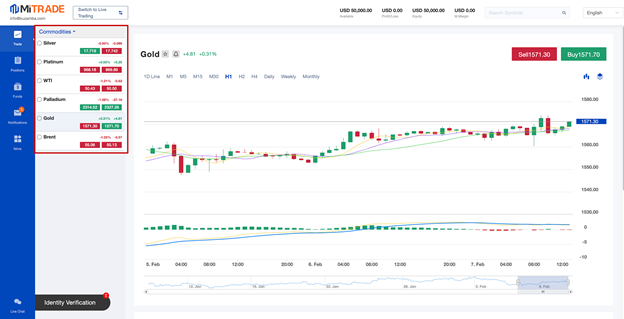 Step 3: Choose the direction of your trade. Long if you want to buy the asset because you think the price will go up. Short if you are planning to sell the pair because your analysis concludes prices will go down.▼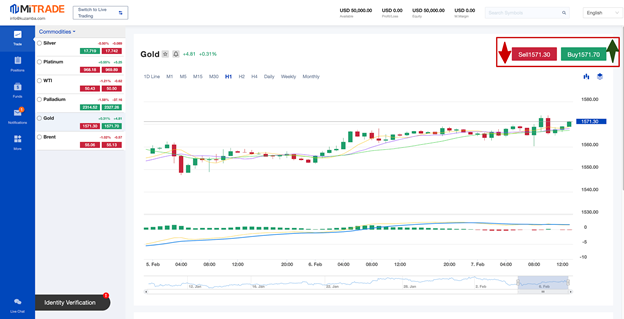 Step 4: Configure the settings of your trade. After determining the asset and the direction, you should decide all the settings for your business. Set the size of your position, stop loss, and profit taking. Finally, click on Buy or Sell to launch your position. ▼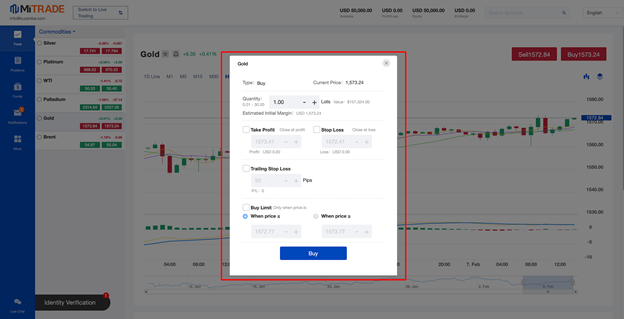 At Mitrade, you can invest forex, cryptocurrencies, indices and commodities via CFDs - contracts that track the change in value. Start trading your favoutite products all on one app →
Get *$50 free trial bonus & up to *$3000 trading bonus
*Read T&Cs
Popular Commodities Exchange
Commodities can be traded online with several brokers who offer that service in their platform. However, where the real game takes place is in commodity exchanges. Big players, organizations, and people in need of commodities use that kind of venue.
Let's check out what are the top global commodity exchanges.▼
Chicago Board of Trade (CBOT): The oldest futures and options trading exchange in the world was established in 1848. It is now a subsidiary of the CME group and offers more than 50 futures and options.
London Metals Exchange (LME): Experts say that LME has origins in the England of 1571; however, it was officially founded in 1877. London offers futures and options based on metals.
Chicago Mercantile Exchange (CME): Founded in 1898 as the Chicago Butter and Egg Board, the CME is one of the most important and most significant exchanges in the world.
New York Mercantile Exchange (NYMEX): It is the largest physical commodity exchange in the world. The CME group acquired it in 2008, and it operates the COMEX. It was founded in 1882.
Intercontinental Exchange (ICE): Online platform focused on global commodities futures and OTC products.
Australian Securities Exchange (ASX): Founded in 1987 and merged with Sydney Futures Exchange in 2006, the ASX offers futures and options on agricultural and energy commodities.
Tokyo Commodity Exchange (TOCOM): Established after the merging of the Tokyo Textile Exchange, Tokyo Gold Exchange, and the Tokyo Rubber Exchange in 1984. TOCOM supports trades on metals, energy, and agricultural products.
Is It Good To Invest In Commodities In Australia
Commodity trading is one of the most popular ways to invest in the world, and for Aussies, it could be a great source of passive income. The real question here is if you have what it takes to be a commodity trader.

So, what does it take to be successful in the trading of commodities? Well, educate yourself, test strategies before implementing it in real accounts, and understand risk management.
As you may know, the trading of commodities could represent huge gains, but at the same time, it could drive significant losses. It is vital to understand that as traders, we never know for sure what will happen in the future, but we collect all the information and hints to anticipate trends and price movements.
Take it seriously and trade responsibly. It is all about you!
Get *$50 free trial bonus & up to *$3000 trading bonus
*Read T&Cs
---
The content presented above, whether from a third party or not, is considered as general advice only. This article does not contain and should not be construed as containing investment advice, investment recommendations, an offer of or solicitation for any transactions in financial instruments. Mitrade does not represent that the information provided here is accurate, current or complete. For any information related to leverage or promotions, certain details may outdated so please refer to our trading platform for the latest details. Mitrade is not a financial advisor and all services are provided on an execution only basis. Before making any investment decisions, you should seek advice from independent financial advisors to ensure you understand the risks. *CFD trading carries a high level of risk and is not suitable for all investors. Please read the PDS before choosing to start trading.