We suggested last week that Federal Open Market Committee (FOMC) would move the 'goalpost' after its all-encompassing review of the 'Statement on Longer-Run Goals and Monetary Policy Strategy'.
The FOMC has indeed moved the goalposts, although if we are honest, it's probably more that the statement is aligning with what they have actually been doing for the past decade rather than something completely 'new'.
The key quote from Powell was this:
"The economy is always evolving, and the FOMC's strategy for achieving its goals must adapt to meet the new challenges that arise…Our revised statement reflects our appreciation for the benefits of a strong labour market, particularly for many in low- and moderate-income communities, and that a robust job market can be sustained without causing an unwelcome increase in inflation."
The 'advantage' of moving the goalposts is that you now have something new to 'kick' at.
So, the goals now stand as thus:
Full Employment or 'maximum employment' '[is] a broad-based and inclusive goal' and this will inform the FOMC's 'assessments of the shortfalls of employment from its maximum level.' This was originally 'deviations from its maximum level.'
Inflation or price stability: 'seeks to achieve inflation that averages 2 percent over time.' That was a known principle. But now it's written in black and white means 'following periods when inflation has been running persistently below 2 percent, appropriate monetary policy will likely aim to achieve inflation moderately above 2 percent for some time.'
In short, the FOMC is giving itself even more ability to stimulate itself out of this 'flat spot'. What that likely means is the USD will continue to be faced with devaluing fundamentals.
The dollar basket is near its lowest level in 2 years after touching this late last week. And, with the Fed's September meeting being 2 weeks away, the new goalpost is likely to be hit with new stimulus pushing more devaluing pressure on to the USD.
The most interesting pair so far from all of this is AUD/USD. It is starting to show signs it wants to not only push through the $0.73 handle, but it also wants to rally test $0.74. Momentum is strong, and the current consolidation looks healthy for that second attempt of punching high still. It remains the pair to watch, now and over the coming months.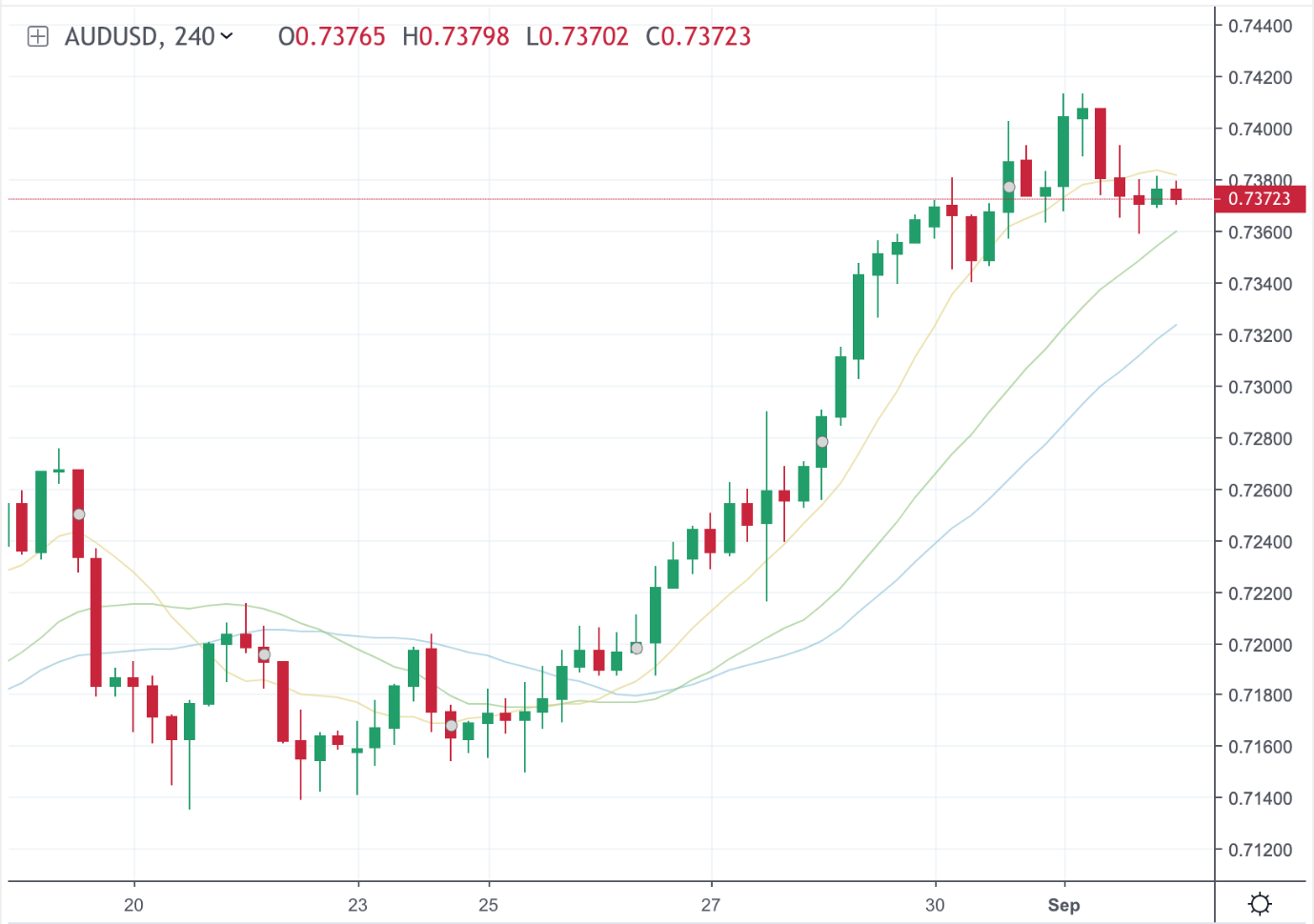 ---
The content presented above, whether from a third party or not, is considered as general advice only. This article does not contain and should not be construed as containing investment advice, investment recommendations, an offer of or solicitation for any transactions in financial instruments. Mitrade does not represent that the information provided here is accurate, current or complete. For any information related to leverage or promotions, certain details may outdated so please refer to our trading platform for the latest details. Mitrade is not a financial advisor and all services are provided on an execution only basis. Before making any investment decisions, you should seek advice from independent financial advisors to ensure you understand the risks. *CFD trading carries a high level of risk and is not suitable for all investors. Please read the PDS before choosing to start trading.