Abstract: Did U.S. non-farm payrolls that surprise all followers indicate the re-sailing of investment in risk assets? Risky signals still require attention while crude oil suppliers may sanguinely be re-connected; EUR and GBP remain ambiguous trends as Brexit negotiations take a tortuous path. Does the soaring AUD have a tempting prospect?
While USD experienced twists and turns, the U.S. indices benefited
As for the financial markets, there was no stronger shot in the arm than the non-farm payroll (NFP) data for June announced last week. The figures injected hope on a global scale and increased optimism among investors. Nonfarm payrolls soared by 4.8 million in June, much better than the expected 3-million increase, and the unemployment rate fell to 11.1%.
Still, errors plagued the June reports, and the actual data may have been overstated. Why?
First, statistical analysis of the data was conducted in the week of June 12, when the COVID-19 pandemic in the country was much less severe than in the last two weeks of June.
Second, some states suspended the restart of their economies at the end of June. The dollar index ended the week at 97.152, down about 0.36%, as investors believed the U.S. economy was in buoyant health based on NFP data. However, U.S. stocks turn strong, as shown below: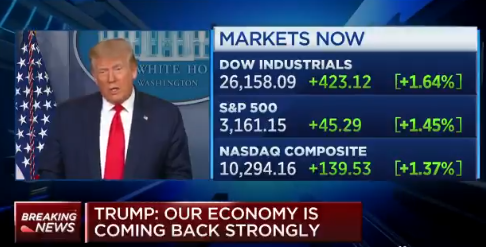 Source from: www.CNBC.com
All three major U.S. stock indices soared as President Donald Trump announced the NFP data. The S&P 500 rose about 0.5% on Thursday, recouping 4% of last week's decline. And the Dow Jones Industrial Average (+4.6%) edged out the benchmark index to close at a record high, while the Nasdaq gained by 3.25% on the week.
But here comes the question: Despite the surprise in the unemployment rate, what about the U.S. stock bubble? Who will pay for it? And how will the second outbreak end? These are likely to be issues to be resolved in the second half of 2020. This week, the U.S. ISM Non-Manufacturing PMI is due to be released, and it is worthy of the wait on account of the last rebound and better-than-expected performance of ISM Manufacturing PMI.
Can't wonderful U.S. data hold back gold's advance?
Last week, while venture investors were cheered by better-than-expected U.S. economic data, particularly the record non-farm payrolls, markets were still gripped by pessimism about the second global outbreak of COVID-19 crisis. Nevertheless, gold seems to rise superior to such bullish signals. It briefly shrank after NFP release, but quickly recovered.
In addition, Federal Reserve Chairman Jerome Powell told the congressional hearing last week that "while the U.S. economy is improving, it is fraught with uncertainty." Also, he warned that the second outbreak would again halt economic activities. Last week gold price topped $1,800 an ounce to mark their highest finish since 2011, closing down $ 1774.31 an ounce, up about 0.22 percent for the week.
Thus, risks to be focused on this week include:
1. A record high in gold prices and too much good economic news will lead to more shorts.
2. Stocks have risen almost in lockstep with gold, and the positive economic data could prompt short-term investors to shift their focus to higher-yielding stocks.
As a result, both gold and the U.S. economy seem to have an uncertain future in the short term.
As crude oil hits record high, is Saudi Arabia rocking the boat?
Last week, EIA and API data on crude oil inventory surprised the market. U.S. crude inventories fell by 7.2 million barrels, the biggest drop in nearly six months, according to the EIA. OPEC+'s strict compliance with the oil production reduction agreement, instantiated by the case that Saudi Arabia and Russia led the way in sharply cutting production and exports in June, has brought the "calm" crude oil prices to a boil. Also, improvements in the global economy, especially a significant increase in economic activities in China, the second-largest oil consumer, have made contributions to its rise.
However, there is still considerable uncertainty about the trend of crude oil prices. For example, last week's refusal by Angola and Nigeria to conform to the production cuts "provoked" Saudi Arabia's threat of a crude price war, which sparked fears but had little impact on oil prices. U.S. crude closed last week at $40.23 per barrel and Brent at $42.76, up about 5.4% and 5.1%, respectively, for the week.
In this case, future headwinds for U.S. oil prices include: 1.
1. High levels of new virus infections and a halt in economic activities in the country may have reduced demand for oil.
2. While OPEC+ cuts expire in August, Russia and Saudi Arabia have made no plans to extend them. 3. The lifting of Libyan oil blockade and the approaching re-supply of crude oil will add more oil barrels to the market.
4. The possibility of another oil price war exists, as the output cuts have hurt economies of OPEC+ countries and cause some to seek financial compensation by raising crude prices.
When China is experiencing recovery, AUD says: "Me too!"
China manufacturing PMI rose 0.3% in June from a year earlier to 50.9%, reported last week. It signals steady climbout of its economy. In the same week, Australia announced a 2% increase in trade surplus for May, while retail sales hit a record high of 16.9% year-on-year. These figures have been the main drivers of the AUD.
At the same time, the Australian government is planning to open its borders to international students, an important source of its economic income, underscoring its efforts to open up its economy. But the coronavirus continues to weigh on the country's economy, with its house prices falling for two consecutive months in June. Last week, AUD/USD sailed up to 0.69142, making it a fifth straight rally and up about 0.79% in a week. This week, the Reserve Bank of Australia is to release its interest-rate and monetary policy decision, and they are likely to affect whether the Australian dollar can sustain its upward trend.
As the European Union crumbled by Brexit, GBP/EUR remained a mystery trend
The pound surged last week after British Prime Minister Boris Johnson addressed that Britain would embrace an economic recovery through infrastructure spending. However, it broke its upward trend against the dollar after the new round of Brexit negotiations between the UK and the EU failed due to the huge differences between the two sides. Last week, the pound closed at $1.2481, up about 1.2% for the week. Moreover, if the UK-EU negotiations do break down and the UK sticks to a no-deal brexit, the pound will undoubtedly bear the brunt.
The Euro fell slightly against the U.S. dollar after another lower-than-expected eurozone unemployment report last week, before closing at 1.12464, up 0.26 percent for the week. Investors to trade the Euro this week should keep an eye on the upcoming Eurogroup Meetings and EU Finance Ministers Meetings, where they will continue to discuss economic rescue plans in the wake of the pandemic. EU member states have been at loggerheads over the recovery fund, but the issue is likely to receive positive feedback this week. And the President of the European Council, Charles Michel, recently had a new plan that, if agreed, might offer a glimmer of hope for Europe's economy. The Brexit negotiations will continue this week, and its outcome will also be the focus of the market.
---
The content presented above, whether from a third party or not, is considered as general advice only. This article does not contain and should not be construed as containing investment advice, investment recommendations, an offer of or solicitation for any transactions in financial instruments. Mitrade does not represent that the information provided here is accurate, current or complete. For any information related to leverage or promotions, certain details may outdated so please refer to our trading platform for the latest details. Mitrade is not a financial advisor and all services are provided on an execution only basis. Before making any investment decisions, you should seek advice from independent financial advisors to ensure you understand the risks. *CFD trading carries a high level of risk and is not suitable for all investors. Please read the PDS before choosing to start trading.