Abstract: Several pieces of good news about the efficacy of coronavirus vaccines have been a boon for risk assets. They pushed WTI crude and Brent crude recently up more than 15%, breaking out of the range they had been in since the third quarter. Can such a strong rally be sustained? Let's dive in.
The oil market, which has been flagging, is back in the spotlight thanks to a boost in risk sentiment. WTI crude and Brent crude rose above $46 an ounce and $49 an ounce, respectively. Especially, WTI crude has reached the highest level since March. The rally, which relied heavily on positive news about the effectiveness of vaccines and the increasingly clear outcome of the U.S. election, has boosted risk sentiment among investors and revived bullish hopes for crude. It is important to note, however, that the rise was not supported by fundamentals, but simply driven by market optimism. As a result, the divergence between market sentiment and oil fundamentals will likely lead to more volatility in the oil market. So, what does the fundamentals of crude oil look like? Going forward, is there a solid basis for a sustained upturn in the oil market?
A sharp drop in the VIX index has given crude oil prices a renewed boost
The easing of market panic helped push crude oil prices higher. Earlier, the Volatility Index (VIX) had jumped to 40 on the back of the U.S. election, and crude oil at that time was also selling off, with both WTI crude and Brent crude falling to their lowest levels since late May. But as the election is coming to a close and the news about the efficacy of coronavirus vaccines was encouraging, the VIX fell to near 21, its lowest level since August, as shown below: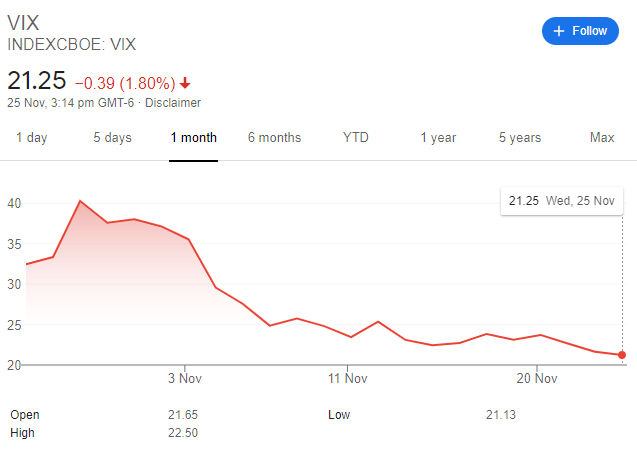 Source from: Google Finance
There is no doubt that the smooth progress of vaccine development has been key to easing risk aversion, and is a major reason for the recent rise in oil prices. Every week since November 9, the market has been greeted with upbeat news from vaccine companies. First came Pfizer's bombproof announcement that its vaccine is 90% effective. This was followed by Moderna's 94.5% effectiveness. The latest news is that the highly anticipated AstraZeneca vaccine is, on average, 70% effective. As a result, WTI oil and Brent oil have risen 15.8% and 13.8%, respectively, in the past two weeks. The slump in the oil market was quickly reversed. However, the global surge in new infections still casts a shadow over the current good times for oil markets. Already weak demand for crude oil has been compounded by another wave of the COVID-19 and renewed restrictions on economic activity. Thus, how is the current oil supply and demand?
Oversupply in the crude oil market may not change quickly
1. Oil storage tanks fill up as crude oil demand drops. Tanks at Cushing, the most important oil storage center in the U.S., are filling up again and moving quickly closer to the critical level reached after oil prices plunged in May, according to Bloomberg. Cushing stocks stood at 61.6 million barrels, or about 81 percent of capacity, as of mid-November, Bloomberg estimated. This is the result of the renewed economic blockade, which has forced some oil traders to explore storage space for crude oil, and again confirms the extremely uneven supply and demand in the oil market. In addition to the economic blockade, crude contango has also become an important factor for the fill-up. Because forward futures prices are higher than those under recent contracts, some traders are hoarding crude in order to sell it at a higher price in the future. Hence, downside risks remain, while crude oil prices are recovering.
2. The vaccine is in sight, but in the short term, it is difficult to reverse the decline in oil demand. Although vaccine development is progressing well, Pfizer has submitted to U.S. FDA for an emergency use authorization for its coronavirus vaccine candidate, mass production of the vaccine appears some way off. That is because while the FDA said it would review the vaccine in collaboration with BioTech as soon as possible, it does not necessarily mean that the review results will be disclosed soon. Therefore, a real recovery in oil demand may be at least until next year, and it is doubtful whether the current rise in oil prices is just a flash in the pan.
3. Major oil producing countries may continue to commit to their production cuts in response to the economic blockade caused by the worsening of the COVID-19. OPEC had previously planned to reduce its 7.7 million b/d production cut to 5.7 million b/d. And the recent OPEC+ Ministerial meeting has given a positive sign for the oil market. At the meeting, ministers discussed extending OPEC's current production cuts by three to six months. The resolution, if supported by OPEC Allies, could have a positive impact on oil prices. But if the opposite is true, oil's upward trend may be thwarted. Trade Now>>
See WTI oil live chart below:
Source from: Mitrade
Technical analysis
The crude oil market has been volatile since November. On the one hand, crude oil sold off, as political risk from the U.S. election in early November prompted investors to seek safe-haven assets. On the other hand, the optimistic expectation of vaccine development and pessimistic news such as a sharp increase in the number of new infections are mixed, which played long and short positions off against each other and finally caused a volatile oil market, as shown below: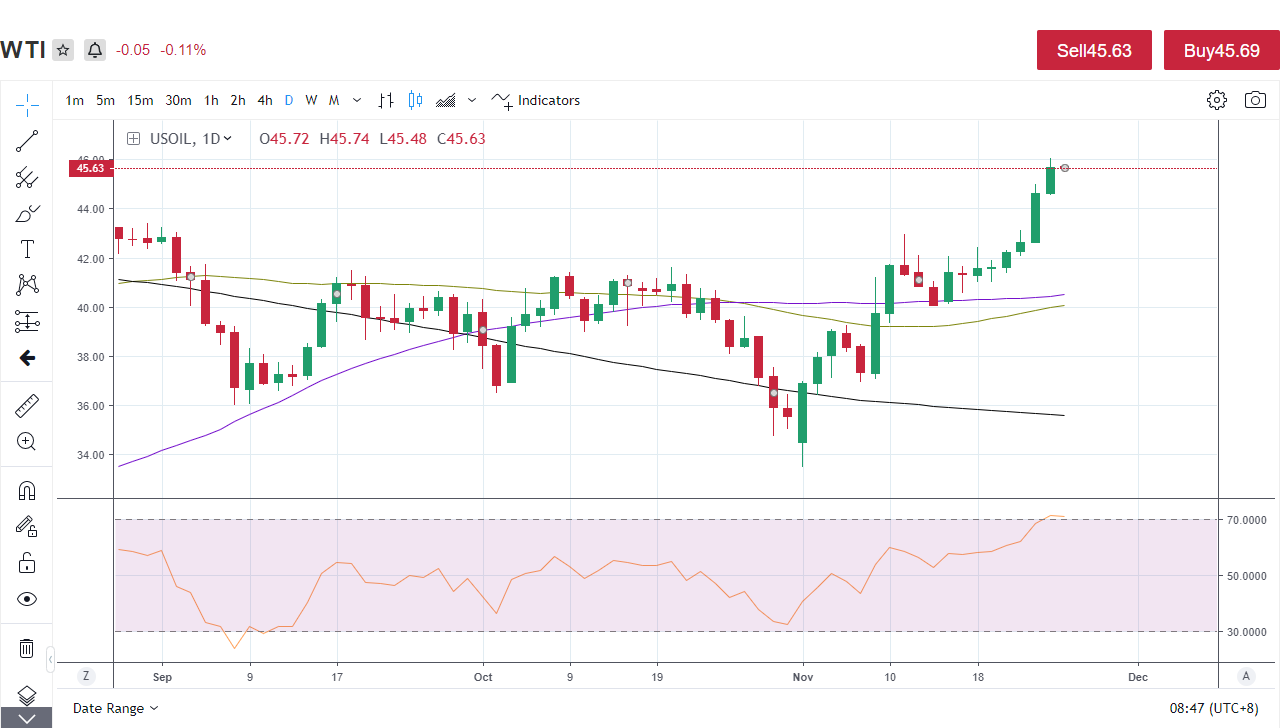 Source from: Mitrade
On November 2, for example, the price of WTI oil fell as low as $33.5 a barrel, its lowest level since June 1. On that support, it briefly broke through $39 a barrel, and climbed back to near $42 a barrel on news of Pfizer's vaccine development, before falling back against resistance. Subsequently, oil regained support from the news about Moderna's vaccine development and formed a clear upward path. This week, WTI crude broke through a key resistance of $43.25 on Sept. 2 and its highest level since April at $43.54, briefly topping $46 a barrel, its highest level since March. But investors should be wary that the relative strength index, or RSI, is currently in overbought territory over 70, suggesting some resistance may be in order as prices continue to climb. Then, fading bullish sentiment may give an opportunity to short position. In the short term, WTI oil support may be around 41.68 and 40.
In brief, positive news on vaccine development has fueled risk aversion. While this has the potential to revive the oil market, the upside is likely to be limited given the weak fundamentals. Moreover, as the bullish mood ebbs, the bears may regain the upper hand. The resulting market volatility requires investors to maintain cautions and choose oil positions carefully.
Using Mitrade to get more instant news, in order to obtain buy/sell signals in time >> Trade Now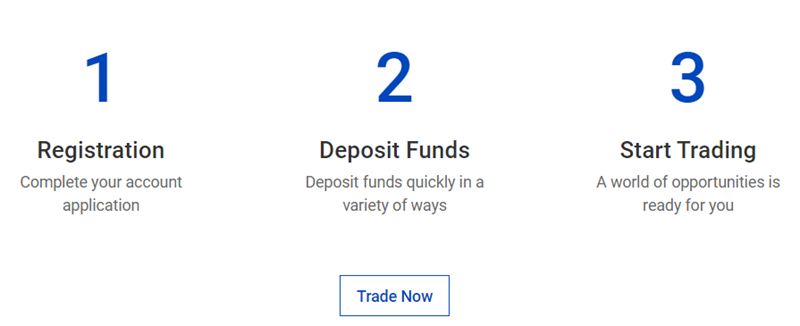 Mitrade is offering many attractive promotions Now!


Welcome bonus! You can get free $50 trial bonus when you open a real trading account.
Get cumulative trading points and receive up to $3,000 bonus!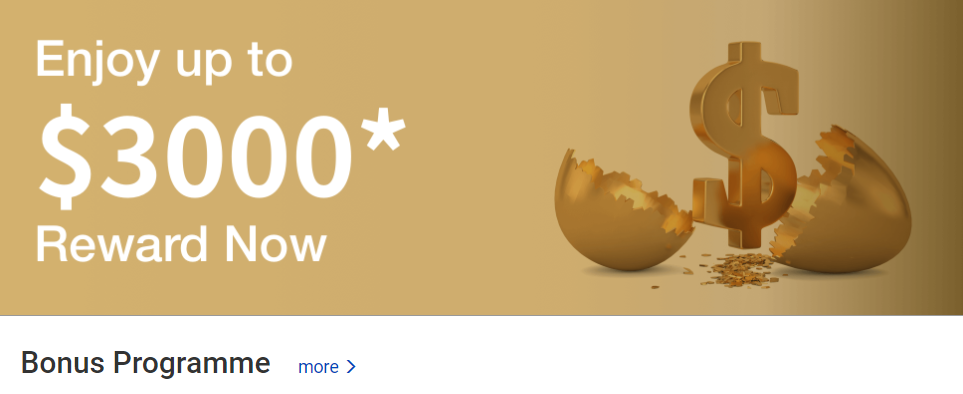 ---
The content presented above, whether from a third party or not, is considered as general advice only. This article does not contain and should not be construed as containing investment advice, investment recommendations, an offer of or solicitation for any transactions in financial instruments. Mitrade does not represent that the information provided here is accurate, current or complete. For any information related to leverage or promotions, certain details may outdated so please refer to our trading platform for the latest details. Mitrade is not a financial advisor and all services are provided on an execution only basis. Before making any investment decisions, you should seek advice from independent financial advisors to ensure you understand the risks. *CFD trading carries a high level of risk and is not suitable for all investors. Please read the PDS before choosing to start trading.