Abstract: Short squeeze is weakening, and the war between retail investors and hedge funds has come to a temporary end. The January non-farm payrolls data, due tonight, will bring investors back to economic fundamentals. Forecasts for the non-farm payrolls data vary widely, and even have negative expectations. What exactly did the U.S. employment look like in January? What impact will the non-farm payrolls data have on already volatile markets?
Review of previous non-farm payrolls data
Looking back at the non-farm payrolls data for December 2020, economy saw job loss in December for the first time in eight months, and total payrolls decreased by 140,000 compared with the figure in November, while economists had expected a modest increase. In addition, the U.S. unemployment rate remained at 6.7% in December, ending the previous seven consecutive months of decline, as shown below: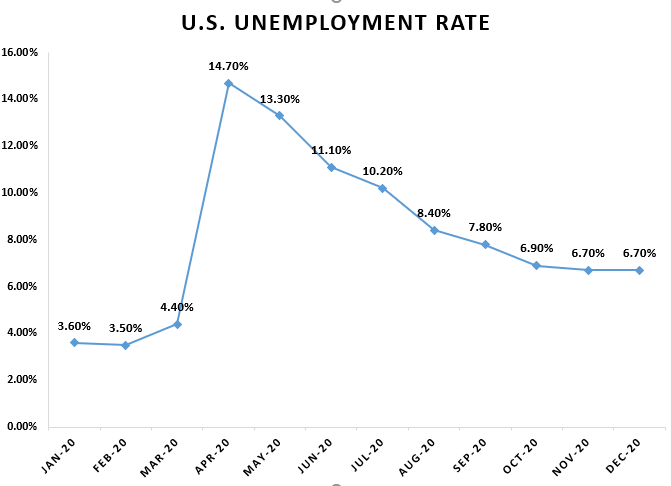 Source from: U.S. Labor Department
The leisure and hospitality industry, hit hardest by a surge in COVID-19 cases and the economic blockade, remained the main contributor to the job loss of December, as shown below: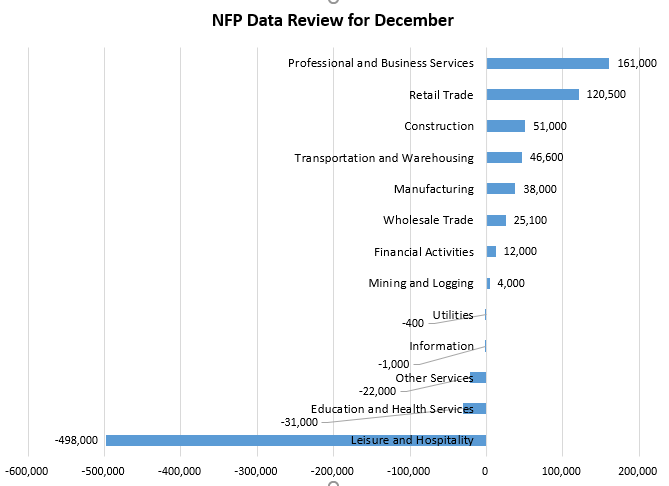 Source from: U.S. Labor Department
Employment in the leisure and hospitality sector fell by nearly half a million in December, but most sectors gained, another sign of the significant impact of the pandemic prevention and control on the U.S. employment recovery. Is the U.S. pandemic prevention and control getting better? Can continuous vaccination reverse the wave of the virus?
People that have received COVID-19 vaccinations have first surpassed the infected in U.S.
So far, 26.3 million people have been infected with Covid-19 in the United States and 443,000 have died, while as of Monday, 26.5 million Americans had received one or two doses of the current vaccines, according to Bloomberg. The number of people who have been vaccinated over the number who have been infected seems to be a sign of hope for pandemic prevention and control in the United States. Yet new infections in the country continue to rise at a rate of more than 100,000 a day. Public health expert Anthony Fauci estimated that between 70% and 85% of the U.S. population will need to be vaccinated to achieve "herd immunity," meaning enough people are protected that it's difficult for the virus to continue spreading. In addition, four more virulent variants have been found around the world. Experts said that while the prevailing Covid-19 vaccines provide protection against these mutations, it is unclear whether the protection is sufficient. As a result, the accelerating vaccination may not be enough to help reverse the current employment woes in the United States.
Initial claims for unemployment benefits approximate a million, and large-scale layoffs continue
The labor market is under pressure because of seasonal adjustment and a post-holiday spike in COVID-19 cases. Initial jobless claims topped 900,000 for the second straight week in mid-January, the highest level since August, as shown below: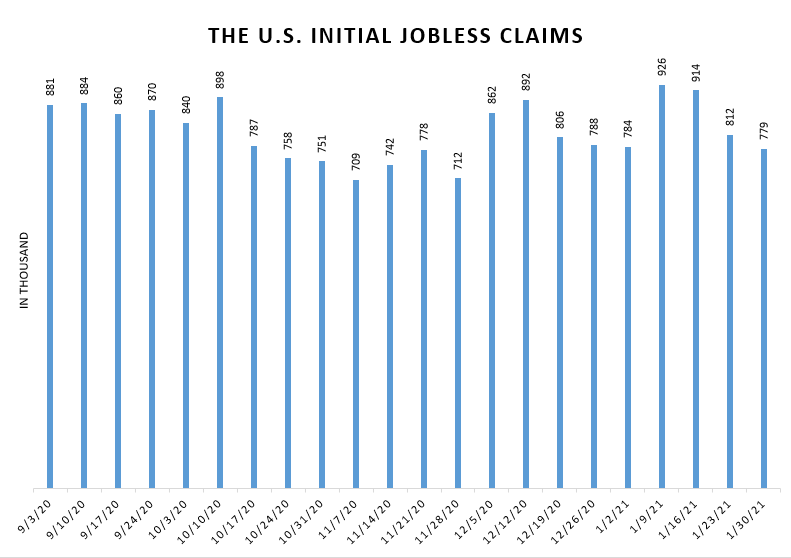 Source from: U.S. Labor Department
The increase in initial claims partly reflects the accelerated pace of layoffs as a result of the economic blockade. Some economists cited the seasonal adjustment as the main reason for the jump in claims in January and suggested the underlying trend was beginning to stabilize. In addition, employment in the U.S. private sector increased by 174,000 in January, well above market expectations of 50,000, the monthly data published by the Automatic Data Processing (ADP) Research Institute revealed. Besides, some U.S. states have started economic restart, and allow local restaurants and other service places to reopen, so the U.S. employment pressure may be eased to a certain extent.
How will January's nonfarm payrolls data impact financial market after short squeeze came to an end?
1. The volatility index (VIX) spiked as the short squeeze was in full swing, sending gold modestly higher. For now, gold traders are focused on whether Biden's $1.9 trillion pandemic relief plan will pass a vote in Congress. At Biden's meeting with Republican delegates, the delegates unveiled their $618 billion counterproposal, less than a third of Biden's. The Republicans' $618 billion plan, which does not include money for state and local governments, became a sticking point in the stimulus talks. Going back to last month's non-farm payrolls data, the employment rate surprised but didn't stop gold from falling sharply. This time, the non-farm payrolls data are not likely to cause too much shock for the gold market, and gold may maintain its current weakness. However, investors need to be alert to changes in risk sentiment.
2. U.S. stocks rebounded strongly from last week's losses as fears of a "short squeeze" abated and earnings from major companies were better than the expected. For now, investors on the U.S. stock market remain focused on when a massive economic stimulus will arrive and when adequate supplies of vaccines will be available. Many believe a recovery will be in sight once the pandemic turns around and the government is ready to support it. However, the non-farm payrolls data may not provide too many surprises for the market, although it is better than previous data.

---
The content presented above, whether from a third party or not, is considered as general advice only. This article does not contain and should not be construed as containing investment advice, investment recommendations, an offer of or solicitation for any transactions in financial instruments. Mitrade does not represent that the information provided here is accurate, current or complete. For any information related to leverage or promotions, certain details may outdated so please refer to our trading platform for the latest details. Mitrade is not a financial advisor and all services are provided on an execution only basis. Before making any investment decisions, you should seek advice from independent financial advisors to ensure you understand the risks. *CFD trading carries a high level of risk and is not suitable for all investors. Please read the PDS before choosing to start trading.