Abstract: Gold pierced the key support level! It is facing mounting pressure from strong dollar. Why has gold, a preferred safe haven asset, crashed when market turbulence persists?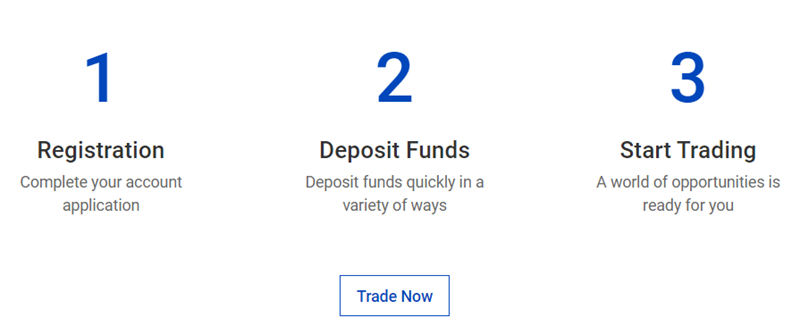 Gold has had a chequered recent history. Its rally has stalled since it hit a record high of $2,075 an ounce in early August. While central banks have allowed some degrees of inflation and long periods of low interest rates, these policies fail to help gold's upward trajectory. On the flip side, the precious metal has fallen below a key resistance level of $1,860 an ounce in recent days. The marketplace seems to be turning a blind eye to the positive news on gold, which has gold bulls wondering if the bull market is over. Currently, turbulent political and economic scene is likely to last for some time. Although the economies are recovering gradually, most big countries are still caught between the slow pace of recovery and the economic blockade caused by the second wave of the COVID-19 pandemic. As the chairmen of central banks said, "The economy is full of uncertainty." In such a volatile environment, why has the safe-haven gold been losing ground?
Gold is a casualty of the dollar's strength
Despite growing risk aversion, investors prefer the U.S. dollar. Since September, there has been a massive sell-off in risky assets worldwide and a surge in risk aversion. However, investors chose the dollar as a hedge against the downside risk. The reasons are mainly as follows:
1. The sharp improvement in non-farm payrolls and other stronger economic indicators have led to a strong recovery in the U.S. dollar. The U.S. unemployment rate fell to 8.4% in August, and PMI readings for manufacturing and services rebounded to 53.1 and 55, both beating expectations. In addition to the United States, the recovery in European countries is also in full swing. The recent comments from central bankers seem a little more optimistic than their previous gloomy views. As a result, improving economic data and more bullish central bank comments have helped the dollar rally.
2. The pending new U.S. stimulus package has hit the pause button on the dollar's slide. Two months into talks on the new package, the dollar is taking a breather as the talks are complicated by the looming U.S. election.
3. Vacancy on Chief Justice of the Supreme Court of the United States has heightened fears about the U.S. election, leading investors to flee to the dollar market. President Donald Trump tends to promote a Conservative to fill the vacancy, but Democrats are holding out until after the election because it could have a serious impact on it.
By September 23, the U.S. Dollar Index had broken 94 for the first time since July 28. This upward trend put great pressure on the gold market, as denoted below: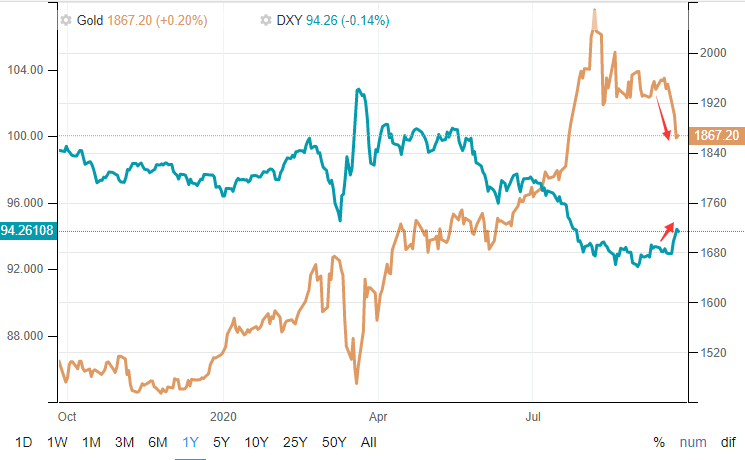 Source from: Tradingeconomy.com
Improving U.S. economic data have slowed economic stimulus
While Federal Reserve Chairman Jerome Powell has repeated the Fed will do whatever it takes to expand stimulus to save the economy, the central bank is unlikely to take a more aggressive approach as U.S. economic data improve sharply. Separately, Chicago Fed President Charles Evans struck a particularly hawkish tone at a virtual meeting of the London-based Official Monetary and Financial Institutions Forum, saying further quantitative easing may not provide an additional boost to the U.S. economy. As a result, slowing economic stimulus and quantitative easing are acting as headwinds for gold.
Central banks slow their purchases of gold.
Since the 2008 financial crisis, central banks have been increasing purchases of gold as part of their portfolios, while the World Gold Council has reported a slow decline in gold demand from them in the past two years. Their net purchase in July this year fell to the lowest level since December 2018, as shown below: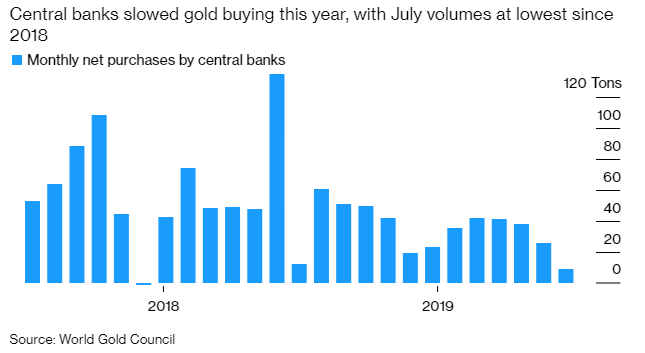 Source from: Bloomberg
As an important part of the demand side, central banks have slowed the pace of gold purchases, which has undoubtedly become one of the obstacles to rise in gold prices.
Will gold regain its lost ground?
1. The upcoming U.S. election leads to increased risk aversion and in turn prolongs volatility in risky asset markets. In addition, despite the recent bipartisan agreement on a temporary bill, a final agreement may not be reached until after the U.S. election. So the dollar's strength may be short-lived. In contrast to the dollar, gold, another safe-haven asset, could see an uptrend in the future.
2. Central banks are following the Fed in reducing their inflation controls, so the markets may reinforce optimism about gold as an inflation tool. Meanwhile, the global economy is recovering but at a slow pace, and the recent reimposition of the economic blockade by some European countries may make gold a favourite again.

Technical analysis
Although it is relatively optimistic from the above fundamental analysis, technical analysis suggests that gold is likely to keep a downward trend for some time. Gold prices have faltered since hitting a high of 2075 on August 7, before falling to around 1900. Since then, gold has broken 2000 only once, as shown below: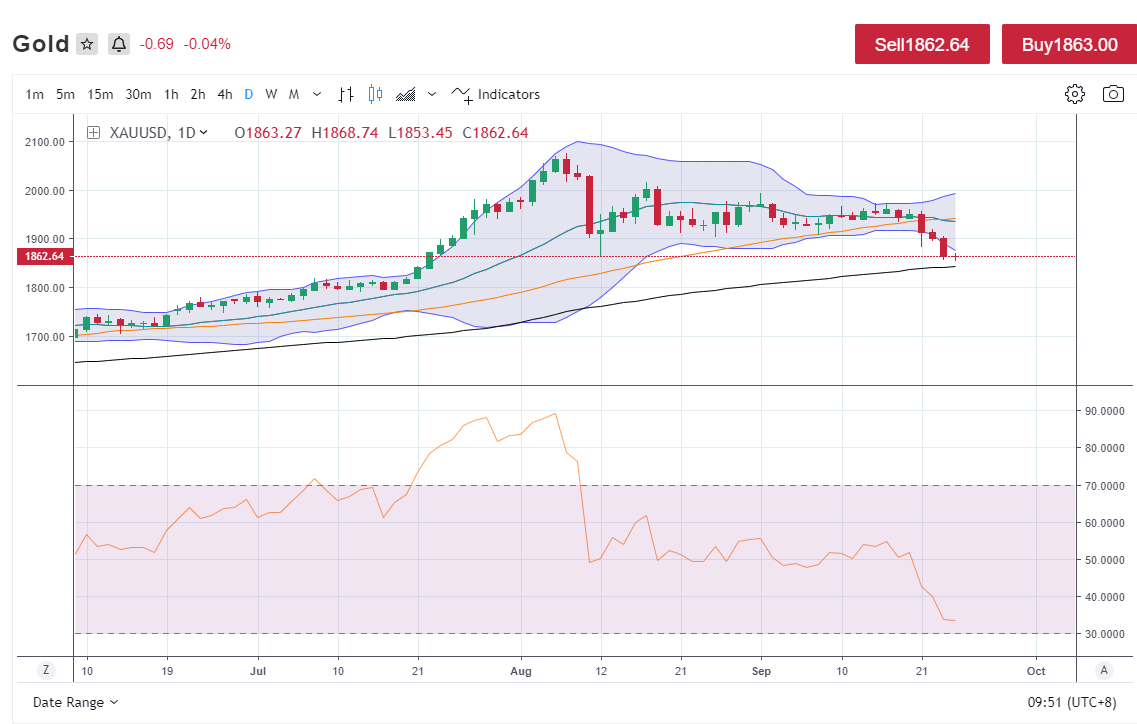 Source from: Mitrade
This month, gold dipped below its 20-day and 50-day moving averages on September 21 to start a downward trend. If the metal continued to fall below its recent low of 1862, support could be around the 100-day moving average of 1840. According to the Bollinger Bands, it has remained range-bound for nearly two weeks, and is now in the way of breaking through the the lower Bollinger band. The relative strength index (RSI) is 36 and depicts a bearish trend, indicating the market is dominated by gold shorts while gold bulls are weak.
To sum up, the current macro environment is still favorable for gold, especially when the recent sharp fluctuations in the stock market and the second wave of the pandemic in Europe led to increased risk aversion. Meanwhile, central banks' increased tolerance of inflation and a prolonged period of low interest rates have kept gold propped up over the long term, whereas positive news on the vaccine and a short-term strengthening of the U.S. dollar keep gold at a downside risk. Accordingly, investors should weigh situations and choose an appropriate opportunity to invest.

---
The content presented above, whether from a third party or not, is considered as general advice only. This article does not contain and should not be construed as containing investment advice, investment recommendations, an offer of or solicitation for any transactions in financial instruments. Mitrade does not represent that the information provided here is accurate, current or complete. For any information related to leverage or promotions, certain details may outdated so please refer to our trading platform for the latest details. Mitrade is not a financial advisor and all services are provided on an execution only basis. Before making any investment decisions, you should seek advice from independent financial advisors to ensure you understand the risks. *CFD trading carries a high level of risk and is not suitable for all investors. Please read the PDS before choosing to start trading.