Abstract: What progress has the U.S. economy made in recovering from the harsh blow of the coronavirus? Will the Non-farm payrolls data bring a "surprise" again?
Did the BLS release wrong data inadvertently or intentionally?
The U.S. Bureau of Labor Statistics (BLS) surprised investors with an announcement that the unemployment rate dipped from 14.7 percent in April to 13.3 percent in May. This dip meant an increase of 2.5 million payrolls. Not long after, however, the agency admitted that that might not tell the whole story as "misclassification error" was making unemployment look lower than it really is. In fact, the actual figure may be over 16%. While it didn't have a negative impact on the markets, such error has raised questions about whether the BLS was politicized. Currently, the most optimistic forecast in a survey of 78 economists, according to Bloomberg, was for a drop of 800,000 in unemployment. It was already well above the consensus estimation for a decline of 8 million. So how did the BLS come up with such an inaccurate result? What is misclassification?
To put it simply, the BLS surveyed about 60,000 households nationwide and found that approximately 5 million Americans were on temporary layoff in May, who, however, were counted as employed but "not at work for other reasons." Including all those who were potentially unemployed, the actual 16.3% unemployment rate towered over the reported figure. The classification error also affected the March and April jobs reports following the outbreak of the Covid-19 crisis, as shown below: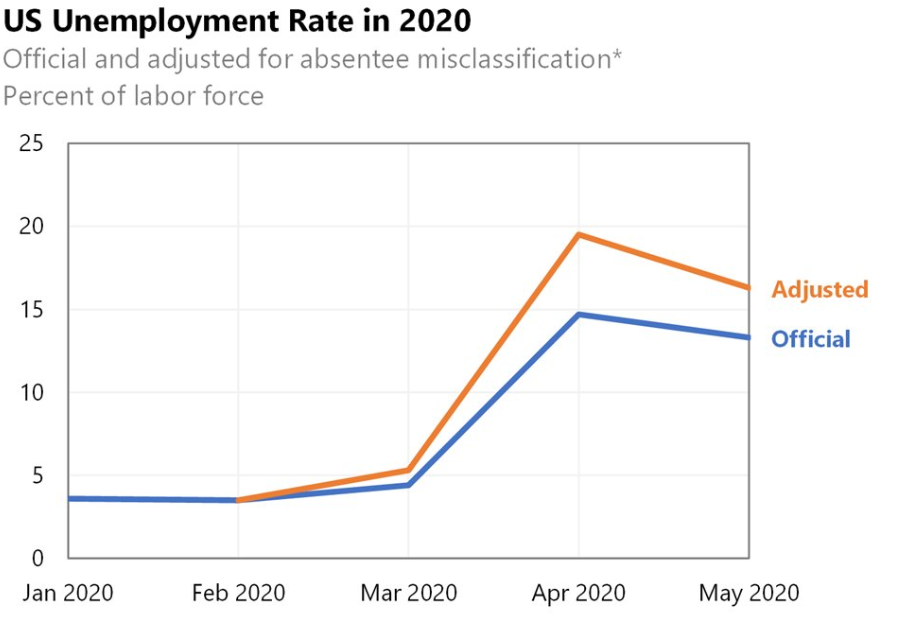 Source from: BLS/ www.cnbc.com / Twitter: @ernietedeschi
Whether or not the May data are results of a conspiracy, the hope is that the June report will deliver a message of real economic upturn. Currently, how well is the U.S. economy?
The June non-farm payrolls may be at a slightly elevated level
Claims for jobless benefits declined for three consecutive weeks through June 28, but at an increasingly slow pace, as shown below: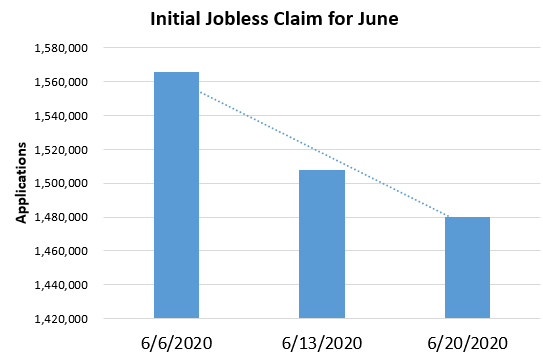 Source from: US Department of Labor
Initial jobless claims have fallen for the past 12 weeks, despite that the latest two weeks saw a higher figure than expected. The drop in jobless claims and recent improvements in economic indicators made the markets give upbeat expectations for an upturn in the U.S. economy. But in fact, the second wave of layoffs has already begun, with Macy's cutting 3,900 corporate staffers in June. That, in addition to the inability of many employees to return to work as a result of nationwide protests in early June that forced stores to be closed, will also weigh on the data.
U.S. May retail sales and PCE price index rose in the biggest monthly jump
U.S. May retail sales surged 17.7%, with the rebound largely reflecting a slowdown in restrictions on business activities caused by the COVID-19 crisis. Personal consumption expenditure rose by 8.2% on a monthly basis in May, while personal income fell 4.2%, as shown below: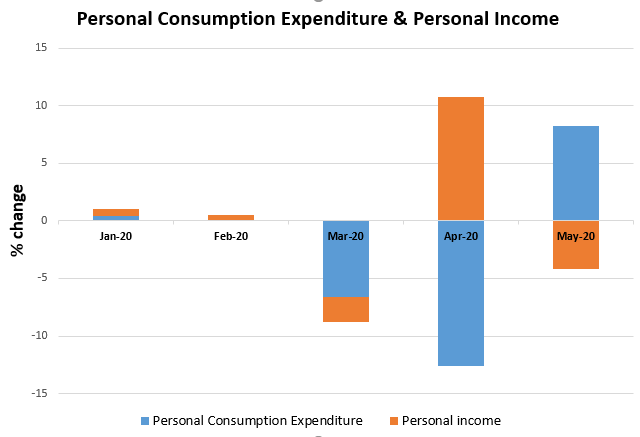 Source from: Bureau of economic analysis
The imbalance between personal consumption expenditure and personal income in the U.S. demonstrated that unemployment benefits paid by the government to households fueled its economic recovery. Meanwhile, divisions have broken out within the Republican Party over benefits for the unemployed. Some believed the compensations would discourage the unemployed from returning to work, while others thought they should be increased to boost spending. Besides, whether the extra $600 per week in unemployment benefits that will cease July 31 may continue becomes an imminent issue to be addressed.
Stimulus policies lead to a shift
Future stimulus policies are likely to shift toward improving U.S. employment. Whether for political reasons or to support the economy, the Trump administration is projected to implement a $1 trillion infrastructure plan in the next few weeks, as part of the next stimulus package, reducing unemployment and creating jobs. On top of that, Republicans are more inclined to give incentives to workers upon their return than to raise insurance proceeds for the unemployed under the HEROES Act, a second round of stimulus checks. If the plan is approved, the Non-farm payrolls may deliver a decline in unemployment rate in the second half of the year.
Taken together, economic indicators started to improve in June and the economy was expected to make a turnaround. But the coronavirus was pushed back in June, and the number of new infections in the United States has reached a new high since the outbreak. This caused a pause to bring back normalcy to the workplace and production facilities in some states, and the misguided fantasy of a "V-shaped" recovery is increasingly disappearing. Thus, there is still a lot of pressure ahead of the June non-farm payrolls data. In any case, the peak of unemployment in the United States may have passed, and the change may be positive in the future. Even so, investors should keep an eye on the second wave of COVID-19 and adjust their investment strategies accordingly.
---
The content presented above, whether from a third party or not, is considered as general advice only. This article does not contain and should not be construed as containing investment advice, investment recommendations, an offer of or solicitation for any transactions in financial instruments. Mitrade does not represent that the information provided here is accurate, current or complete. For any information related to leverage or promotions, certain details may outdated so please refer to our trading platform for the latest details. Mitrade is not a financial advisor and all services are provided on an execution only basis. Before making any investment decisions, you should seek advice from independent financial advisors to ensure you understand the risks. *CFD trading carries a high level of risk and is not suitable for all investors. Please read the PDS before choosing to start trading.