Minutes
Invalid Date Invalid Date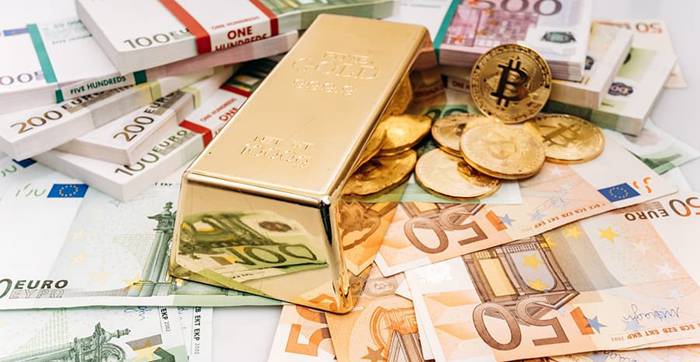 It appears that inflation is continuing to rise. Gold, the primary safe-haven asset, continues to be highly appreciated by investors despite the stock market's increased volatility in early 2022 and the conflict in Russia and Ukraine.
What venues are available for investing in gold, and how and where to buy gold in the Philippines? Take a look at that!
Is Gold a good investment? Is It Wise to buy Gold?
From the onset, gold is a good investment. It retains high value even during times of financial and economic crisis. Data shows that central banks are increasingly investing in gold. As the demand increases, the price follows in tandem. Below is the major reason why gold is an excellent investment.
A Shield During Inflation and economic crisis
Gold is an excellent hedge for states and individual investors. Although it exhibits high volatility, especially in the short term, gold holds its price well, making it a great hedge against inflation.

The precious metal exhibits an inverse correlation with interest rates and the stock market. In simpler terms, the price of gold increases when the stock prices are tumbling. Therefore, it acts as a safe haven for investors when the stock market is performing dismally.
Perhaps you are asking, where does gold get its high value? The precious metal has limited supply and rarity features, which gives it constant demand. This explains why savvy investors turn to tangible gold bars, coins, and jewelry when inflation rises.
So, is it wise to purchase gold? Whether to invest in gold or not, I think you may decide for yourself. The reasons for investing in gold are:
1. The value of the asset allocation
2. Needs for hedging or preserving value
3. It can fight inflation
4. As a financial investment
However, to benefit from gold means accepting the short-term risk for long-term trends. In addition, it has significant opportunity costs because there are no dividends or interest returns.
Risk-Free Demo Account
Direct market access | Deal on rising and falling market | 24-hour trading | Limit and stop-loss for every trade
The Global Gold Market
The gold market, especially wholesale trading, is complex although undergoing gradual changes over the years. Trading is domiciled in the US future market, Shanghai gold exchange, and London OTC market. The 3 trading centers comprise 90% of the global trading volume. However, secondary exchanges and OTC market centers complement the big markets.
Gold Market in the Philippines
The gold market in the Philippines is small and does not provide major liquidity. The Bangko Sentral ng Pilipinas (BPS) is solely responsible for buying and selling gold in the Philippines.

It is accredited by LMBA and holds almost 9% ( 196 tonnes) of gold in the country. However, these productions don't meet the standard policies and always find their way out of the country unaccounted. BSP sells gold to top industries and jewelry manufacturers in the form of gold sheets and grains of 100 and 50 grams. The gold has a minimum of 99.5% assay.
BPS Gold Buying Programs
BPS buys gold from small-scale miners and processes it to meet international standards. BPS Buying Stations Location:
Quezon City - Security Plant Complex East avenue

Zamboanga City - LMS Buildings veterans avenue

Baguio City - RCBC building session road

Naga City - Regional office Roxas avenue

Davao City - Regional office Quirino avenue
You should note that BSP does not have a commodity trading platform to facilitate metal trading. Until then, buying and selling gold in the Philippines was still in the physical market.
If you want to invest in nonphysical gold, you need to open an oversea brokerage account. Mitrade is an ASIC-regulated forex broker, providing gold, forex, commodities, stocks, and crypto trading. You can easily open an account to trade gold online today!
How Can Investors Buy Gold For A Profit in the Philippines
After learning about the gold market and the reasons to buy gold, how can we invest in gold as an ordinary people? First off, there are numerous methods for buying gold, largely falling into two categories: physical and non-physical. People are now investing more in paper gold. Here's a rundown and comparison of the pros and cons of different methods of investing in gold:
1. Buy Gold Coins and Bars
The traditional way of investing in gold is by purchasing coins and bars. Essentially, gold bars are widely traded and weigh between one kilogram and one ounce. Traders mainly use the bars because they offer a good spread between the quote and ask price.
But trading physical gold is not without its downsides. First, you require highly secure storage to prevent theft. This increases the additional cost in terms of security needs. Moreover, every trader is expected to pay a 2%-5% tax.
There are also unreliable jewelry shops and pawnshops that can sell you counterfeits. This makes buying physical gold risky.
2. Enter Gold Exchange Traded Funds (ETFs)
Technological advancement has made it possible to invest in gold without owning the physical gold directly. This involves buying and selling gold through index funds and ETFs.
This method involves investment vehicles buying physical gold and allowing traders to speculate on the prices. The firms offer liquidity which makes gold investment flexible, low cost, and less hassle.
But how do you rest assured of your investment if you don't get the physical gold? Essentially, investors are protected by the Collective investment schemes Act. The law demands the funds to create monetary investment in a special fund. They are also obliged to deliver the gold to you.
3. Philippines-Based Gold Mining Stocks
To track the prices of gold mining stocks, you have to be aware of the health of the company. The main districts in the Philippines where mining occurs include Paracale, Baguio, Surigao, Masbate, and Masara. Below are top-performing Filipino gold mining stocks.
Medusa Mining: The Mindanao-based mining company, is one of the biggest in the Philippines, with an annual production of over 100000 ounces of gold annually. In 2019, it reported an annual income of $120 million.
Apex: Apex Mining has been operating for over 40 years producing well over 80000 ounces of gold annually. It is also located on Mindanao island.
Philex:Founded in 1955, it is one of the oldest in the country. It produces silver, gold, and copper concentrates. At its peak, the company was hitting P10 Billion, which has dipped to P6 million on the back of increased operating costs.
4. Buy Gold Futures
Investing in gold futures might sound complicated. As the name implies, you agree to invest in gold at a specific price at a later date. Buying and selling futures gives you profit due to price changes.
If you sell futures contracts, you benefit if the price of gold plummets. If the price rallies, buyers of futures contracts make a profit. However, you should exercise caution if you are a rookie trader. The price can change massively due to high volatility caused by the high borrowing.
5. Buy and Sell Gold CFD in the Philippines
CFD trading involves speculating on the price of gold spots. This means you can profit whether the price goes up or down. You simply go long when you expect the price to rise and go short if you expect the price to plummet.
Gold CFD and Gold futures are similar. The common feature is that they are traded on margin, so the transaction cost will be much cheaper. These two ways are suitable for short-term trading, but be careful to avoid high leverage.
When choosing a broker, you will want to ensure that it accepts traders from the Philippines and lists precious metals for trading.
| | |
| --- | --- |
| Brokers | Instruments |
| Mitrade | forex, gold, commodity, us stocks, crypto |
| XTB | Forex, Indices, Commodities, Crypto, Equity CFD, ETFs |
| Etoro | Stocks, Forex, Commodities, Portfolios, Metals, Crypto |
| XM | Forex, Commodities, Stocks, Metals, Cryptocurrencies |
| Exness | Forex, Metals, Indices and Energies, Crypto |
6. Buy Gold Jewelry - least recommended way
This is probably the easiest way to invest in gold, but buying gold for jewelry is not the best way for investors. But it doesn't matter if you just want to buy gold Jewelry as a gift.
| | |
| --- | --- |
| Gold stores | Contacts |
| Gemline | Phone: +63 2 8656 3704 |
| Karat Gold | Phone: +63 2 8633 4988 |
| Nami | Phone: +63 920 959 6098 |
Gold websites:
Helen Jewelry Shop: https://helenjewelryshop.com/
Modern Myth: https://www.modernmythlabel.com/
Suki: https://sukijewelry.ph/
Should I Investing in Gold?
Gold is a great hedge against inflation and a safe haven for traders during a financial crisis. But trading physical gold is so much hassle of storage and security needs. Luckily, you can trade gold on the go using your devices.
If you want to buy gold, let me help you quickly sort out a few conclusions:
1. Want to hold gold investments for the long term
If you plan to hold gold within 5 years, gold ETFs may be a suitable way. If you are sure that you will not sell gold for more than 5 years, then don't hesitate to go to the bank to buy gold bars.
2. Optimistic about gold in the short term, and want to trade gold in the short and medium-term
You can buy gold futures or gold CFD online, they are at the lowest cost. Remember to pay attention to leverage, novices are not recommended to trade with this way.
In addition, don't buy too much gold for physical, like gold coins or gold jewelry. Now, owning physical gold means you need a substantial amount to buy gold bullion. Adding the insurance, storage, and logistical issues are too much hassle.
Avoid illiquid gold futures and gold ETFs with high management fees.

Lastly, open a Mitrade account you will trade gold spot with CFDs. With CFD contracts for difference, you are in the way of trading gold spot "price", you will own a piece of gold as you watch profits trickle in whether the price rises or plummets.
Risk-Free Demo Account
Direct market access | Deal on rising and falling market | 24-hour trading | Limit and stop-loss for every trade
Trade the Gold and Silver Online With Mitrade
It is more efficient to use CFDs to trade gold online from your mobile or pc. Here is how you can trade gold online on the Mitrade platform.
Step 1: Register Account
The first thing is to create an account. You can use an email address or a phone number to sign up.
Step 2: Read the Price Chart
Once you sign up, you need to read the chart and analyze the market. Essentially, the adage "the trend is your friend" should be at the back of your mind.
Step 3: Open the Trade
Open a long position if you believe the gold prices will rise. Conversely, short gold if you believe the price will fall.
Step 4: Set up orders
Use a stop loss to exit the market if the trade goes against you. You can also use trailing stops to lock in profits. In addition, ensure you set a profit target to exit the market and avoid a winning trade turning into a loss due to the roller coaster movement of the market.
Step5: Close the trade
Gold trading platform: Mitrade
Mtrade is a CFD broker providing diversified commodities investment services. Founded in 2011 and headquartered in Melbourne, Australia. The main products include currency pairs, stocks, commodities, gold, global indices, and cryptocurrencies. Mitrade currently has 3 regulatory licenses,
- Australian Securities and Investments Commission (ASIC): AFSL 398528
- Cayman Islands Monetary Authority (CIMA): SIB 1612446
- Mauritius Financial Commodities Services Commission (FSC): GB20025791
At the same time, Mitrade pays attention to the safety of client funds. The funds are independently managed by trust accounts and negative balance protection is provided. In case of unfortunate losses, the losses will not exceed the principal. Mitrade also offers 0 commissions and a very simplified trading process, which is suitable for short-term traders, novices, and experienced traders with little capital.
Risk-Free Demo Account
Direct market access | Deal on rising and falling market | 24-hour trading | Limit and stop-loss for every trade
* The content presented above, whether from a third party or not, is considered as general advice only. This article should not be construed as containing investment advice, investment recommendations, an offer of or solicitation for any transactions in financial instruments.