Do you want to learn how to trade cryptocurrencies like a pro? Well, I understand the reason. Digital assets are now a hot topic in the news and the financial world as the crypto and blockchain revolution is transforming almost all the industrial sectors.
Today, many new businesses and investments are making many people millionaires with only one topic in common: Cryptocurrencies.
Like a notorious advertising spot said many years ago, you can quote it, disagree with it, glorify or vilify it, but the one thing you can't do is ignore it because it changes things. Digital assets are the future, but you should understand how to make money trading cryptocurrency if you want to be a successful trader.
keep reading and you will learn the best way to trade cryptocurrency, what are the most popular cryptos to invest, and the best platform that fits with you.
Because the future is here, and cryptocurrencies are part of it.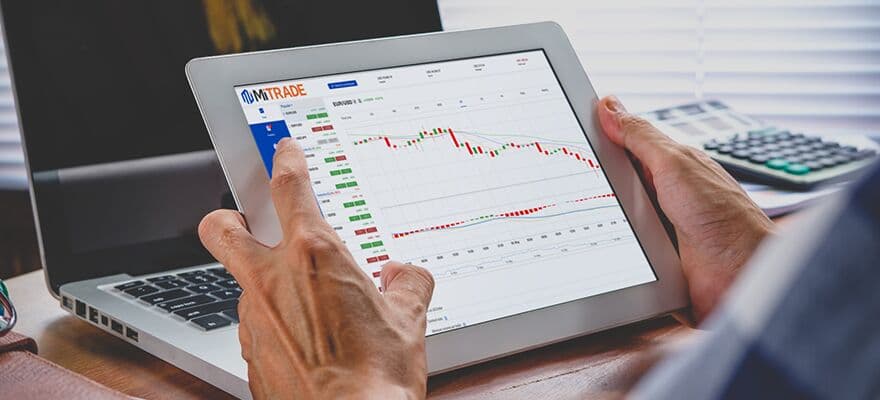 How to start trading cryptocurrencies? 5 Easy Steps
Have you ever seen a company at its beginnings? Even before it becomes a startup and it is only a dream. Well, every big company started as a wish from an entrepreneur that believes he or she can achieve something big.
It is the same in the investing world. When you start as a trader, you have the dream to have a steady income that will allow you to have a better life. But before being a great crypto trader, you should learn how to trade cryptocurrencies and know your skills and weakness.
Do you have what it takes to become not an ordinary trader, but a successful and profitable money maker? Let's talk about how you are the entrepreneur of your trading life, and like any other business, you should make it grow.
1. Time and schedule
The best way to trade is to have a regular schedule where you trade the same time and hours every day. You don't need to open positions all the time, but select the best time that fits with you.
Remember that the market has its singularities, and those characteristics work with a symmetry that answers to determined hours and cycles. So, it would be more efficient for your trading if you discover the details and singularities of some specific hours rather than surfing the whole trading day.
2. Set targets
Setting reasonable targets is one of the most important decisions when you are starting your investing life. Everybody wants to become a millionaire in a week, but honestly, it is something that doesn't happen often.
Decide how much pips you would like to do every day or every week. Then, plan your trading accordingly. You need to check your risk tolerance and money allowance; therefore, your return/risk rate. Setting reasonable targets will free you from excessive pressure and continuing frustration.
Remember that Rome wasn't built in a day. So, doesn't your trading account.
3. Choose a strategy
In trading, your strategy is your plan of action. It determines what factors a trade should fulfill to be considered a potential position. When determining your trading plan, you should choose between trading short or long terms.
Are you trading short term timeframes? In that case, you will need to adapt your strategies to the ones which suit the best from the one-minute to the 1-hour and 4-hour charts. On the other hand, if you prefer long-term trades, your options go for a steady and quiet profit with longer timeframes such as 1-day and 1-week.
Short term strategies usually offer more profits, but also represent the higher risk taken. Long term plans are more conservatives and mean less risk for your money.
4. Select your cryptocurrencies
Every cryptocurrency represents a different technology with a unique characteristic, so its performance and behavior are also peculiar. After choosing the right strategy that you want to use in your trading, you should look for a digital asset that fits with your plan.
Some cryptocurrencies have more intrinsic volatility than others; there are digital tokens that are more stable and others that work the best in the night. Who are you as a trader, and what is your strategy? So, look for that crypto that proves you right.
5. Pick your trading platform
As important as your trading plan is, as vital your trading platform becomes. Your investing life needs to have a reliable and trustable broker platform.
We have a dedicated article on how to select the right trading platform. Still, overall, when it comes to choosing the right platform to have the best way to trade cryptocurrency, you should check fees, latency, spread conditions, and what pairs that platform offers.
Remember, having a good trading platform is like going from Malaga in Spain to Paris, France in a Porsche, it will be comfortable, will enhance your trading experience, and you will buy and sell with confidence.
And then, Get ready to trade!
How To Trade Cryptocurrency/Bitcoin?
It is not hard to understand how to make money while trading CFD in cryptocurrencies, but it is a hard business to make a buck.
Let's explain a bit about how to make money when you buy or sell cryptocurrencies.
Going long:
Going long in a position is when you think that the price of a cross will go up, and then you buy it for a certain amount of money with the hope you will sell it for a more significant amount of money. In that case, you make money from the difference between the opening and closing prices: Buy cheap and sell expensive.

Going short:
As the opposite of going long, a short position is when you think the price of an asset will go down, and then you sell it with the hope you will buy it cheaper.

So, as a CFD, you will make money with the difference between selling expensive and buying cheap. With the right platform, you will be able to open a position in both directions, long and short — also, several long and short positions at the same time.
The Bitcoin long and short sample
A classic sample on how to make money with cryptocurrencies was what happened in 2017 and 2018. Let's say that you were an early bitcoin adopter, and you buy BTCs in January 2017 just because you felt that bitcoin was the future.
Then, the crypto king became popular, and the word was spread, igniting the BTC to a four-digit rally, from $1,000 per BTC to close your position in December at $19,000 per unit, making an outstanding 1,870% profit.
On the other hand, after all the noise, you watched how Bitcoin was losing value and decided to open a short position in January 2018 at $16,000 per unit. Then, BTC collapsed to $3,700 in February 2019, when you decided to close the position, making a decent 76% profit in just a year.
How to read crypto price charts?
Before explaining the basic details of a cryptocurrency chart, let me tell you that the best way to learn, know and understand a chart is just to try it. The best trading platforms offer demo accounts to all its potential and existing users so they can test any strategy and the software itself.
That being said, let's talk about open, short, price fluctuations and candlesticks. As you can see it in the graphic, there are some components in a chart.
Candles: Each bar you see in the chart represents a unit of the timeframe. If you are trading a 1-hour chart, each candle represents one hour, the same if you are watching a 15-minute frame, every candle will show you the performance in 15 minutes partitions.
Red candles are considered drops in prices, green candles represent an increase in value.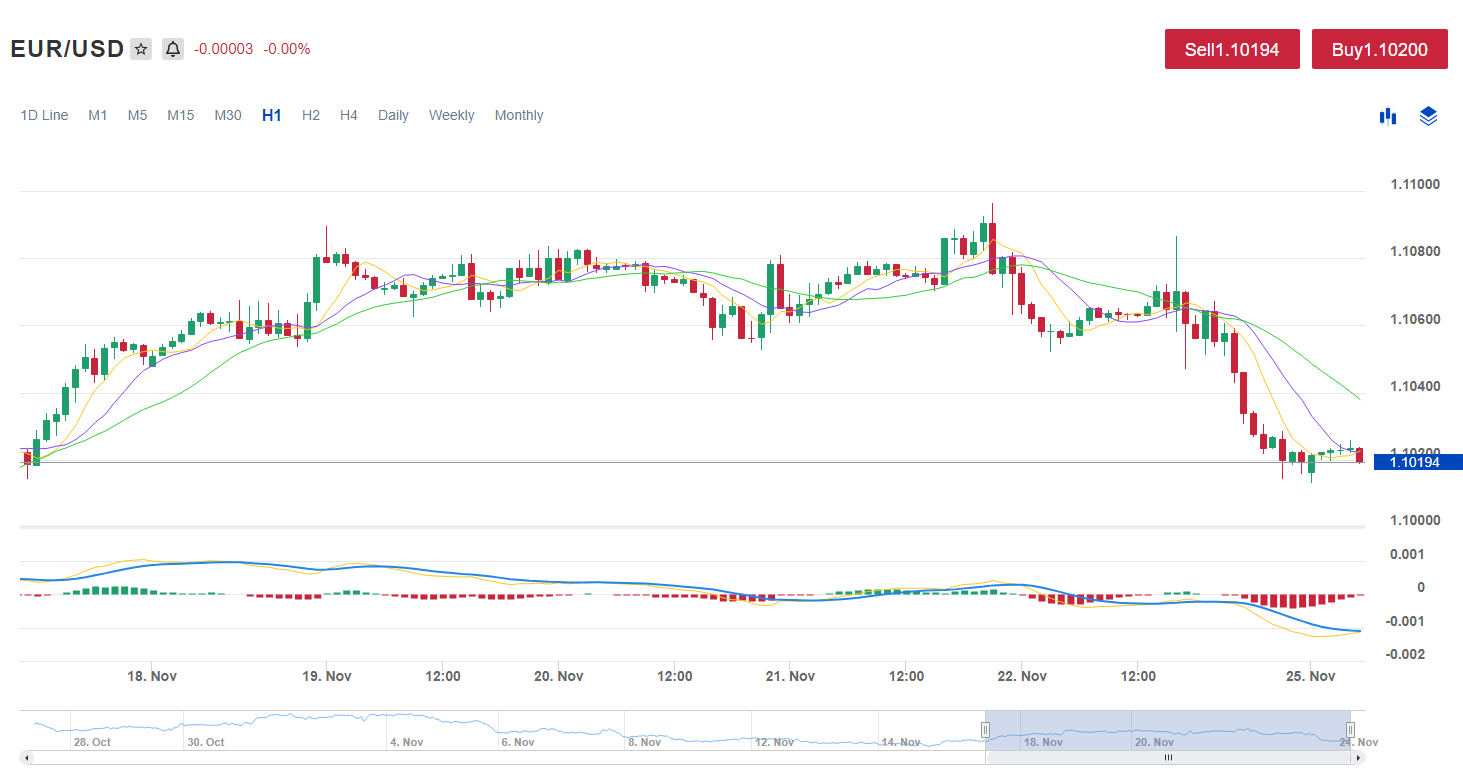 Technical indicators: Statistical studies are tools that can help your trading performance. You can add those studies in your chart by adding from the library of your platform.
Long position: To open a long position you buy the pair by licking in the buy box and then choosing all the needed details. Then you speculate at a higher price.
Short positions: When going short, you should click on the sell box and verify the information. As you can see in the picture, you go short by believing the price will go down.
Candlesticks Charts
A chart builds with candles is called a candlestick chart. It is a visual tool that follows price fluctuations and is among the most popular type of charts in the cryptocurrency market.
While a red candle is down, a green candle is when the price goes up. It has tails that represent the whole movement of price in that period of time.
The body shows the difference between the opening and closing prices. In case you want to know more about this kind of chart, please see our Candlestick article. Meanwhile, Watch the following picture.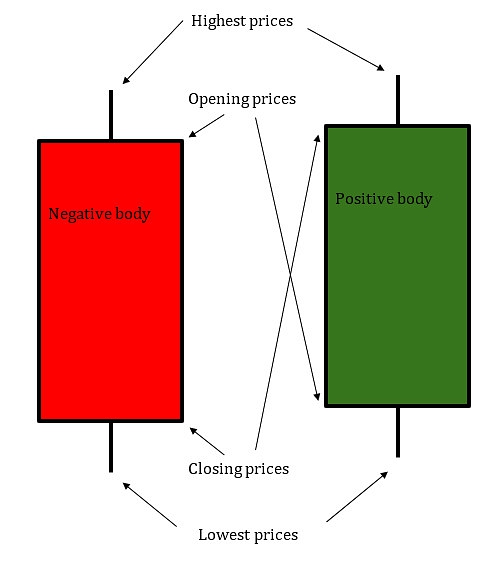 Most popular Cryptocurrency & Bitcoin trading strategies
There are many different strategies to trade cryptocurrencies, but what is the best trading plan for everybody? As we told you before, there is no grail or secret sauce when investing, but hard work and hours in front of your charts.
That being said, there are three components for every operation of trading: Liquidity, volatility, and volume. If you pay enough attention, you will see it every single moment you are in front of a chart. If you mix it well, you will find the right strategy for you.
Meanwhile, let's talk about three more popular techniques in cryptocurrencies.
Day trading cryptocurrency
A day trader is a person who opens both long and short positions and closes it within the same day. So, day trading is when your positions don't take overnight closes. You can use different timeframes, but the principal characteristic is that your trades don't live more than a few hours.
When you are doing day trading, you are watching for volatility and short term movements. It could be breakouts, scalping, or reversals. It also offers a higher return ratio, but at the same time, it involves the riskier bets.
Swing trading is an investment technique that involves short to middle term investments. It works to make profits from extended movements or trends in cryptocurrencies.
As the trend is your friend, swing trading in cryptocurrencies goes from positions that last between two days and two weeks. Also, positions can be maintained by months. The swing trader is always watching for pullback movements, resistance, and support levels.
Long-term trends in cryptocurrencies
As the crypto market is relatively young, most of the movements are violent. The industry, brokers, and traders are still on the development of the nature of the market. For that reason, many experts don't trade cryptos in a long-term way.
However, if you are a believer in blockchain and cryptocurrencies, no matter the BTC/USD is at 1,000 or 10,000 per unit, you will see it as a cheap asset to buy. So, go ahead and invest in cryptos.
Long term strategies in cryptocurrencies involve trends that are developed in bigger timeframes such as daily, weekly and even monthly charts. Swing trading is an excellent example of that; you take a trend and wait for its development until you see its exhaustion.
Then you can trade reversals or fading, which is when technical indicators such as volume, moving averages, and divergences show you that the trend is coming to an end, and another is undergoing.
What affects cryptocurrency prices
The prices of cryptocurrencies are affected by several factors; however, within the most critical elements that can make a digital asset fluctuate are related to the sentiment of the market.
Regulation: All new crypto-related news and attempts to regulate existing and new digital assets can affect the fluctuations of all cryptocurrencies. For instance, every time advanced economies make laws about Bitcoin and altcoins, it will add pressure to the upside or downside to coins.
Forks: Forks or division and creation of new tokens from an existing one is always a risky event for crypto traders. Usually, the cryptocurrency involved in the fork will come under pressure in the days before the event and the hours after.
Technology updates: As cryptocurrencies represent the technology and the network behind it, all technology upgrade or change, as well as any new implementation in the industry, will push prices up.
Market sentiment: In the investment market, the sentiment is everything; it is the base of every economy and the gas that fuels purchases and sales. It happens the same with cryptocurrencies. A good example is the 2017 rally when everybody believes that it was the beginning of the crypto era, but then the big sale in 2018 when the very same people assumed it was too soon for a digital tokens economy.
How to choose the right crypto platform?
In any case, every trader must have the ability to follow all developments that happen in the crypto market. Also, to have a platform that allows the trader to follow price fluctuations and to track events' impact in cryptocurrencies.
For example, Coinbase in case you want to exchange real digital assets, and Mitrade if you prefer to trade CDFs of cryptocurrencies.
The right platform for you should list at least the ten more popular cryptocurrencies in the market, from Bitcoin to Stellar.
According to CoinMarketCap, the top ten cryptocurrencies by market capitalization are:
○ Bitcoin: the original cryptocurrency
○ Ethereum: The queen of digital tokens
○ XRP: The payment method
○ Bitcoin Cash: The coin that came with a hard fork
○ Tether: A stable coin mirroring the US Dollar
○ Litecoin: A hashing algorithm for consumer-grade hardware
○ Binance Coin: The utility token of Binance
○ EOS: The platform for vertical and horizontal scaling of DApps
○ Bitcoin SV: The result of a hash war
○ Stellar: The cross-asset transfers coin
The best cryptocurrency trading platform
So, what is the best cryptocurrency platform to trade in 2019? Well, it all depends on your needs and skills as a trader.
However, any good platform should have low fee costs and no premiums on withdrawal or deposits, it should be easy to use and provide demo accounts to all new and existing clients, and a network with low latency and fast execution.
Besides, as you should take care of your money, any new platform or broker you are considering should be well regulated in at least one of the advanced financial economies including the US, Europe, Australia, Switzerland, and Japan.
As we are talking about the trading of CFD in cryptocurrencies, one of the best/leading cryptocurrency trading platforms is Mitrade.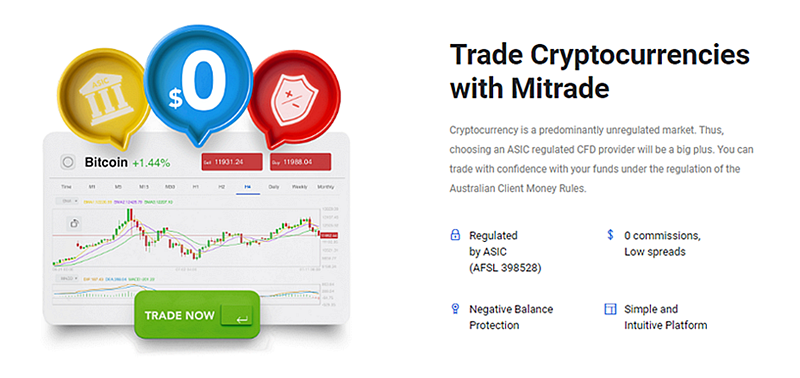 Why?
Well, Mitrade is a well established and regulated broker and trading platform. You can start your account with just a few bucks, and they will charge you with zero commissions and competitive spreads.
The platform also allows you to manage your risk with market and trading orders, as well as you can open positions in a long and short direction at the same time.
Finally, you won't have to care about cryptocurrency ownership or the security of your wallet, because you are not holding any assets in your account but trading and making money with the price difference between opening and closing price.
That being said, remember that you don't want to be an average trader that loses all his money after three months. What you really like to be is to be a successful investor who can identify opportunities and place trades in a platform that enhance your trading skills.
So, go for it. Try it, test it, and then go live and trade.

Risk Warning: CFDs are a leveraged product and can result in the loss of your entire capital.