Are you confused about the best online trading platforms for your forex trading journey?
Do you want to know the differences between the various online trading platforms?
Your choice online trading platform can have a significant influence on your trading results. This piece takes a look at all you need to know.
What Is an Online Trading Platform?
An online trading platform is a piece of software provided by brokers which serves as an interface that allows traders to open, manage or close trading positions. The best online trading platforms allow speedy trade executions. They are also developed for use on a desktop and on mobile devices. Generally, brokers provide forex trading platforms for free to all customers.

Basic features of online trading platforms include:

➤ Charting packages for easy analysis of asset price movement
➤ Technical analysis indicators
➤ Instant execution with market orders
➤ Pending orders
➤ Multiple timeframes for analysing asset price movement
Generally, proprietary trading platforms tend to have more unique features than third-party trading software.
Difference Between Third-Party Online Trading Platforms & Proprietary Software
A third-party online trading platform is designed by a company separate from the forex broker. It can be used by multiple brokers around the world. Examples of third-party trading platforms include MetaTrader 4, MetaTrader 5 and CTrader, etc.
Proprietary trading software, on the other hand, is designed by the broker and cannot be found elsewhere. Such software will contain all the basic features expected of a trading platform but may include other distinguishing features.
The main difference between third-party platforms and proprietary software is the user-interface. Some brokers also charge fees to use their unique platforms. Additionally, the technology behind third-party platforms often makes them the best choice for algorithmic trading.
Choosing a broker with proprietary software doesn't reduce or improve your chances of success in trading. At the end of the day, both types of forex platforms have similar features. They are both a bridge between you and the market. The charts, pricing information and order execution processes might vary slightly, but the goal is the same: to get you in the market.
So, it comes down to your preferences.
If you have always traded on third-party platforms like the MetaTrader 4 and 5, you may find it difficult to make the shit to a proprietary platform.
If you are a new trader, however, you may like the proprietary platforms provided by many brokers.
The Popular Proprietary OnlineTrading platforms
Proprietary forex trading platforms are designed in-house by the broker. This gives traders the assurance that the broker is completely in control of their trading environment. One major advantage of proprietary trading platforms is that brokers are able to create solutions that are properly tailored to their trading audience.
For example, encumbering a platform with automated trading abilities when a large majority of the traders using the broker do not deploy automated trading is unnecessary. Similarly, some of the features of third-party platforms are never used by the average trader, yet they contribute to the size of the platform and its drain on device resources.
The best online proprietary trading platforms provide only the most necessary features for trading.
On the flip side, the lack of popularity of these platforms means that a learning curve is always necessary to get the hang of the features and basic controls. Regardless of the simplicity of the user interface, this is almost guaranteed. Secondly, unscrupulous brokers using proprietary technology can manipulate charts and price feeds.
Let's have a look at some popular options that offering online proprietary trading platforms. (*The information is for reference only, please refer to the real-time data on the platform)
Plus500
The Plus500 platform is a user-friendly proprietary online forex and cfd trading platform that ticks all the right boxes. Plus500 is founded in 2008 and has a head office in Israel. They are regulated by FCA, ASIC, etc.
The user interface is intuitive, and the charts are crisp. The two-step login process further enhances the security of the platform. Plus500 offers one way to trade: CFDs. With Plus500 you will need a minimum deposit of $100*.
Pros
● Easy to use interface
● Multi-language support with live chat and email.
● Option to trade +2000 CFDs instruments
● All major order types supported including Market, Limit, Stop, and Trailing orders
● Available on Mobile
Cons
● The platform is limited customizability (for charts, workspace)
Mitrade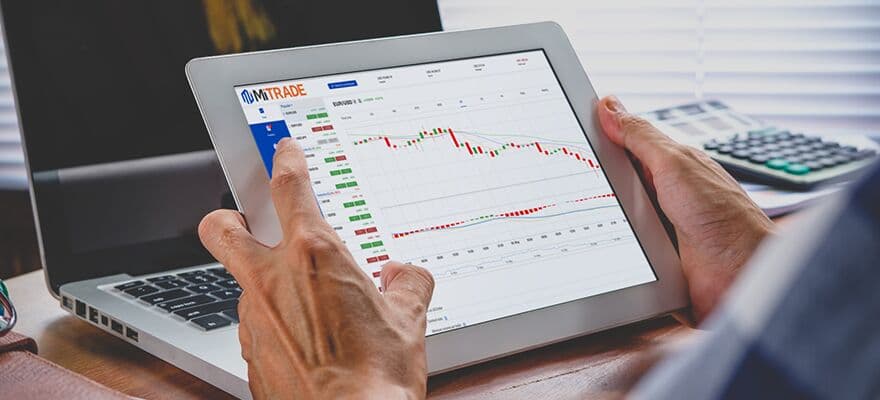 Mitrade is an ASIC-regulated forex and CFD broker that offers a wide range of tradable assets on a robust proprietary trading platform. (AFSL 398528)
On a desktop, you can start trading on the platform immediately without downloading any software. The demo trading account allows you to get a feel of the software before you start live trading.
Pros
● Beginner-friendly interface
● All types of orders supported
● Lightweight mobile-app available for on-the-go trading
● Major technical analysis indicators provided
● One-stop accounts: economic calendar, trading strategy, forecast, sentiment index, real-time alerts
● Live support on website and mobile application
● Almost 100 popular trading tools on Forex, commodities, indices and cryptocurrencies & more
Cons
● As is the case with other proprietary trading software, the platform is not customizable.
For more trading details, please visit Mitrade App/ Webtrader. ( Free demo account for beginners)
Most Popular Third-Party Online Trading Platforms
The most popular third-party forex online trading platforms are covered below:
1. MetaTrader 4
MetaTrader 4 is unarguably the platform that revolutionised retail forex trading. It is a reliable third-party trading software that comes with a wide range of features designed to simplify the forex trading process. Some of the main features of this platform include:
Multi charting
Nine time-frames
Limit orders
Pending Orders
Over 60 technical indicators
Compatibility with automated trading software and scripts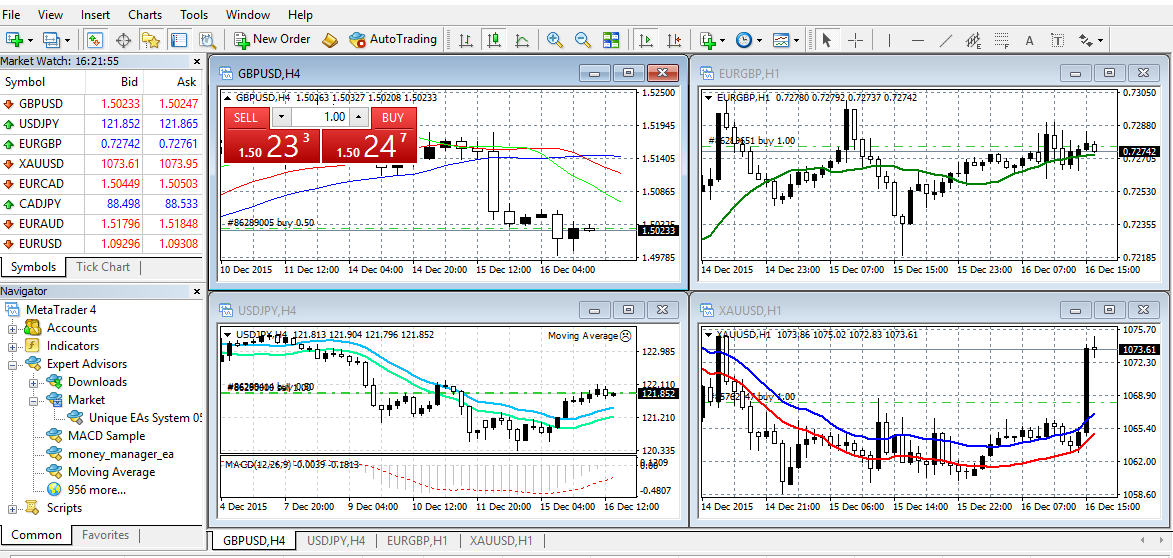 Pros
● MetaTrader 4 is the most popular online trading platform, thus making it the most supported.
● It has a desktop and mobile version for all the major ecosystems including Windows, MAC, iOS and Android.
● It supports multiple languages.
● MetaTrader 4 supports a large number of tradable assets.
● Traders can easily customize the platform to suit their specific needs.
Cons
● Some of the main features of MetaTrader 4 (like the speed of execution and number of tradable assets provided) are determined by the broker operating the platform.
● The feature-packed user interface of the platform can be difficult to understand for newer traders.
Forex Brokers Offering MetaTrader4:
TickMill
Pepperstone
AxiTrader
XM
FBS
2. MetaTrader 5
MetaTrader 5 is the successor of the MetaTrader 4 platform. However, this is only in name as the MetaTrader 4 remains the most widely used in the retail forex trading space. This platform retains all the best features of its predecessors and comes with some additional improvement.
Pros
● It supports up to 21 timeframes
● The pending orders available include the standard buy-limit, sell-limit, buy-stop and sell-stop orders on MetaTrader 4, and the new buy-stop-limit and sell-stop-limit orders.
● The Depth of Market (DOM) function allows traders to keep an eye on the market liquidity pool.
Cons
● Hedging is generally not allowed on Metatrader 5
● There is no backward compatibility with MetaTrader 4 so, indicators that worked on MetaTrader 4 will not work on MetaTrader 5.
● The overall interface may be too advanced for certain traders.
Forex Brokers Offering MetaTrader 5
Exness
NordFX
Swissquotes
XM
Pepperstone
3. cTrader
cTrader was the first real challenger for MetaTrader 4. Since its launch, it has slowly become one of the top-rated online trading platforms. Many brokers include it in their offerings these days.
Pros
● The platform has a standalone app that can be downloaded on mobile and desktop.
● It contains quality charting and analytical tools.
● The user interface is less cluttered than its competition
Cons
● Due to the use of the C# programming language in a niche dominated by the MQ language, cTrader is not as widely supported as MetaTrader.
● Although the platform has a cleaner interface, it is still as confusing as MetaTrader.
● It can drain the processing power of a computer leading to slower transitions and slow trade executions.
Forex Brokers Offering cTrader
ICMarkets
OctaFX
Pepperstone
4. NinjaTrader
NinjaTrader is one of the oldest platforms in the retail forex trading world. It is also based on the C# programming language.
Pros
● There are lots of great technical analysis tools.
● It has excellent charting abilities.
● High-quality technical support is provided for users that need to learn how to use the software.
Cons
● The adoption rate of the platform in the retail trading space is still very low.
● The premium features of the platform are only available to traders that pay the subscription fees.
● The support for automated trading is limited.
Forex Brokers Offering NinjaTrader:
Forex.com
FXCM
How To Pick The Online Forex Trading Platform Right For You?
Choosing the right trading platform for you doesn't have to be tricky. Here are some points that can help you to make the right decisions every time:
Your Trading Strategy
Do you have automated trading strategies? Are you a manual trader that makes use of special trading software? The best online trading platform for you will be one that supports your strategy. If you can't use your specially made indicators on the platform, it may be best for you to look elsewhere.
Similarly, if your trading strategy is dependent on the speed of execution, then lightweight platforms that can process orders in milliseconds are the best for you. Most of these platforms allow a demo account. Put this to good use before you create your live account.

Your Level of Experience
If you are not highly-experienced, using simple platforms like the Mitrade proprietary software may be better for you. Such platforms only contain the most important features, thus saving you from the confusion that can derail your trading results. If you are very experienced, on the other hand, you'll be less fussy about the interface of a trading platform.
Other Broker-Related Features
When you have found brokers that have the platforms you'd like to use, test them on a demo account to analyse other important features such as spreads, commissions and swaps. Confirm that the broker's demo trading conditions are the same as the live trading environment.
Secondly, check out the broker's regulation. FCA and ASIC regulated brokers are generally the most trustworthy. If the broker ticks all the right boxes, you can choose the platform.
Conclusion
The best online forex trading platform will vary from one trader to another. However, it is important that you spend as much time as possible on the selection process to avoid making a potentially costly mistake. Let your trading strategy, your expertise level and the broker's reliability guide you in the decision-making process.
FAQ
What is the best online forex trading platform for Australian traders?
There is no specific best online trading platform for traders in Australia. Some of the popular brokers in Australia with an ASIC license include IG, Pepperstone, ThinkMarkets, ICmarket, CMC, vantageFX, AxiTrader, FXCM, Mitrade, and more.
Which online trading platform is best for new traders?
Most new traders may benefit strongly by using proprietary trading platforms that are simple to understand.
What are the leading cryptocurrency trading platform options?
If you'd like to trade cryptocurrency CFDs, brokers like Mitrade offer leveraged cryptocurrency trading to all traders. You can trade all the major cryptocurrencies including Bitcoin, Ethereum and Litecoin. If you want to trade "real" cryptocurrency, however, you can start with platforms like Coinbase, Bitbuy and Kraken.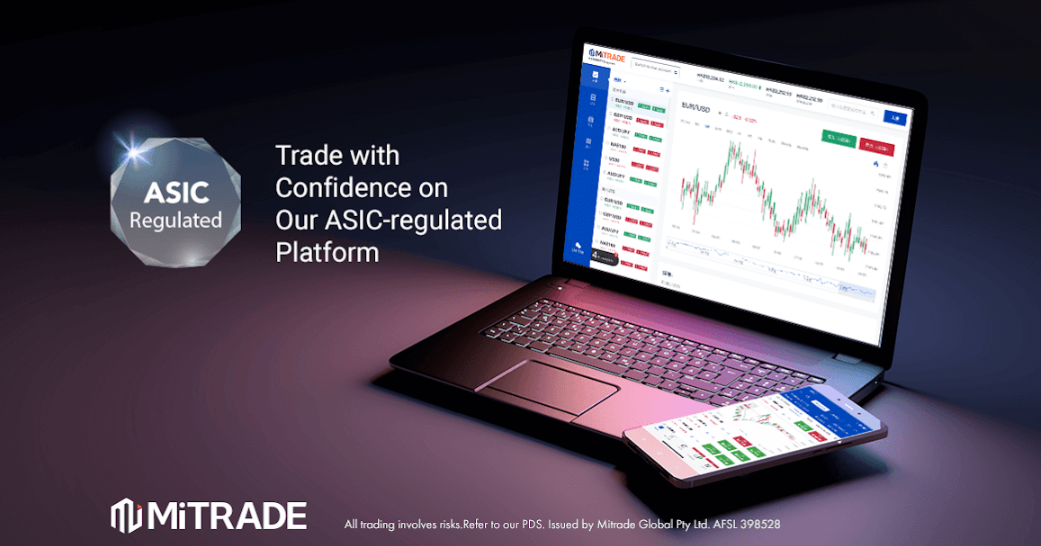 ---
The content presented above, whether from a third party or not, is considered as general advice only. This article does not contain and should not be construed as containing investment advice, investment recommendations, an offer of or solicitation for any transactions in financial instruments. Mitrade does not represent that the information provided here is accurate, current or complete. For any information related to leverage or promotions, certain details may outdated so please refer to our trading platform for the latest details. Mitrade is not a financial advisor and all services are provided on an execution only basis. Before making any investment decisions, you should seek advice from independent financial advisors to ensure you understand the risks. *CFD trading carries a high level of risk and is not suitable for all investors. Please read the PDS before choosing to start trading.