Abstract: The US indices soared after non-farm payrolls data exceeded expectations. Will the market still be bullish on gold and silver following oscillations of both metals? Despite a surprise in U.S. oil inventories, oil prices remain detrended fluctuation. The Bank of England left its interest rates unchanged, and sterling may have peaked against the dollar. Can the RBA's intervening measure keep the AUD up?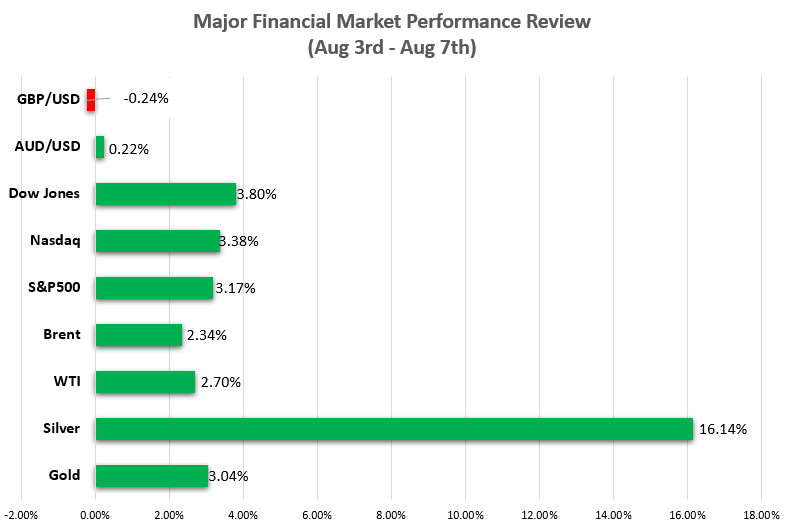 Will the market still be bullish on gold and silver with collapse in their prices?
Gold and silver investors took fright last week at the released non-farm payrolls data. Non-farm payrolls rose 1.76 million in July, beating expectations of 1.48 million, and the unemployment rate fell to 10.2% from 11.1% in June.
The improvement in the U.S. employment pushed the U.S. Dollar Index higher while gold and silver markets came under pressure. Last week, gold rose 3.04% while silver jumped 16.14%, closing down at $2034.9 an ounce and $28.27 an ounce respectively.
Currently, despite the decline in their prices, the market is still bullish on them. The bullish factors include the international turmoil, especially the seemingly increasingly distant relationship between China and the United States, and the fact that the COVID-19 pandemic was not well prevented and controlled. These turned out to be long-term support for gold and silver prices.
In terms of technical analysis, gold price was on the upper band and in the stage of substantial expansion according to Bollinger Band indicator. As such, gold price may usher in short-term volatility. At the end of last week, the RSI was still above the 70 threshold and gold was leveled overbought, another indication that many investors are still bullish on gold.

Non-farm payrolls improved slightly while US indices soared
Last week's non-farm payrolls data, which were slightly better but gave a fillip to the market, caused another shock. The S&P 500 and Dow have soared along with the non-farm data and managed five consecutive sunny days last week. At last week's close, the S&P 500 was up 3.17% and the Dow up 3.8% at 3349.16 and 27433.48, respectively, whereas the Nasdaq failed to keep a continuous rise but turned down from its all-time high of 11121.19 on Thursday. Finally, the Nasdaq closed at 11, 108.07, up 3.38 % for the week. See real-time Nasdaq100 chart below:
Source from: Mitrade (https://go.onelink.me/ESP8/9dc1187c)
Among the factors driving the three major U.S. stock indices higher were the positive news on vaccine development and the market expectations that the new economic stimulus bill will soon be enacted.
When bipartisan negotiations were deadlocked, Trump issued executive orders in four policy areas over the weekend. One of them mandates renewed weekly unemployment benefits, reduced from $600 to $400, and states will be asked to cover 25% of the cost. However, several states are facing major budget shortfalls, and questions remain about Trump's authority to directly interfere with unemployment benefits and related tax issues.
In addition, next week's release of the CPI for the United States will shed more light on how the recovery is progressing.
Oil prices are expected to go above the current range with a surprise in U.S. oil inventories.
EIA and API inventory reports showed a surprise last week. They recorded declines of 8.6 million barrels and 7.4 million barrels, respectively. U.S. crude rose to $43.50 a barrel while Brent rose to $46.2 a barrel after the EIA's announcement, and both hit their highest levels since April's freezing point. Another big factor underpinning the rally was the massive explosion in Lebanon and the market being skewed by Mr. Trump who called the explosion a "terrible attack".
The coronavirus crisis will see oil prices dropping by 41% this year, compared to last year, the International Monetary Fund (IMF), has said in a new report. And the IMF's forecast for oil demand in 2020 is similar to that of OPEC and the EIA. The EIA expected in July that global oil demand would fall by 7.9 million b/d this year, while OPEC expected a decline of 8.9 million b/d. Separately, Saudi Arabia cut crude prices to customers in Asia and Europe to offset slowing demand.
Amid worries about falling oil demand, Iraq, the world's second largest oil producer, said it cut output by about 400,000 b/d in August to make up for missed quotas, and and other countries that did not meet their quotas would follow suit in August and September. But the news failed to reverse the downward trend in crude oil prices caused by the conflict between China and the United States. At the end of last week, U.S. Oil closed at $41.53 and Brent at $44.64, up 2.7% and 2.34 %, respectively, on the week.
The pound is not doing well after the BOE is on the dovish side
Last week's announcement of the fiscal and monetary policy by the Bank of England (BOE) was the dominant factor behind the pound trend. The BOE held its benchmark borrowing rate unchanged at a record low of 0.1% and dismissed the prospect of negative rates any time soon, when leaving the size of its bond-buying stimulus program unchanged at 745 billion pounds, or $980 billion.
BOE policymakers said UK economic growth is unlikely to recover to pre-pandemic levels until late 2021, while unemployment could take even longer to decline. Sterling rose to a near five-month high of 1.3186 against the U.S. dollar shortly after the announcement of BOE, but then fell. Finally, sterling fell 1.3051 against the dollar last week, down 0.24% on the week.
In addition, there has been a lot of pessimistic news about the Brexit negotiations. According to a document posted on Twitter by Brexit negotiator David Frost, it is no surprise that the Brexit talks will take place in August and September, with the planned three rounds of negotiations due to conclude on October 2. Failure to reach an agreement by then could trigger emergency high-level talks. This week's GDP figures are curious, given that the BOE last week cheered the market by revising its forecast for 2020 down from -14% to -9.5%, only to be followed by a repudiation by the BOE governor of its rosy economic outlook.

The Australian dollar was mixed as the RBA stepped in to buy bonds
Last week the Reserve Bank of Australia (RBA) decided to keep cash rates and the yield on three-year government bonds at a record low of 0.25%. The RBA returned to the government bond market on Wednesday and purchased A$500 m ($359 m) of federal government securities maturing in April 2023, with yields in recent weeks above 0.25%.
The RBA chairman sounded a note of concern about the Australian economy, saying Australia's unemployment rate would rise to around 10% in the second half of 2020 as jobs were further cut in Victoria and there were still plenty of people looking for work in other parts of the country. Unemployment is expected to fall gradually to around 7% over the next few years.
The RBA also admitted in the Statement on Monetary Policy last week that Australia's economic recovery was slower than expected because of the current economic blockade in Victoria. The statement reversed a triple rally of AUD on the RBA's good news on debt purchases and AUD closed last week at 0.7157 against the U.S. dollar, down 0.22% on the week.
In addition, the RBA made pessimistic forecast for unemployment and the unemployment rate hit a 1998 high of 7.4% in June. Therefore, this week's unemployment report is tinged with pessimism, which could pose downside risks to the AUD/USD. Investors should be wary of that.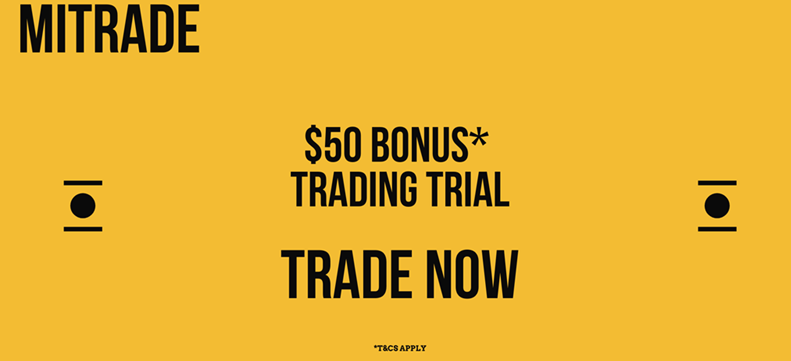 ---
The content presented above, whether from a third party or not, is considered as general advice only. This article does not contain and should not be construed as containing investment advice, investment recommendations, an offer of or solicitation for any transactions in financial instruments. Mitrade does not represent that the information provided here is accurate, current or complete. For any information related to leverage or promotions, certain details may outdated so please refer to our trading platform for the latest details. Mitrade is not a financial advisor and all services are provided on an execution only basis. Before making any investment decisions, you should seek advice from independent financial advisors to ensure you understand the risks. *CFD trading carries a high level of risk and is not suitable for all investors. Please read the PDS before choosing to start trading.