Abstract: Second-quarter GDP plunged by record 32.9% as the coronavirus wreaks havoc on the U.S. economy. America's three most populous states have been hit hardest by COVID-19. Will the employment growth of the previous two months stall in July? Worrying data on July non-farm payrolls could boost gold and silver prices.
June's non-farm payroll report was certainly a big surprise. U.S. employers added a substantial 4.8 million jobs in June, leaving the unemployment rate to be 11.1%, down from 13.3% in May. The data signals a second straight month of job gains and an attempt of the US economy to recover from the coronavirus-caused recession. Then will the July non-farm payrolls data give the market another big cheer?
Re-smitten U.S. sees record increases of new COVID-19 cases in three most populous states
In July, the coronavirus outbreak in the United States was shifting to the Midwest as the surge in the South showed signs of abating, leaving California, a key pillar of the U.S. economy, as the worst affected region. The rampant virus in the nation's most populous state has once again limited economic activity in California, leading to more job losses, as shown in the figure below: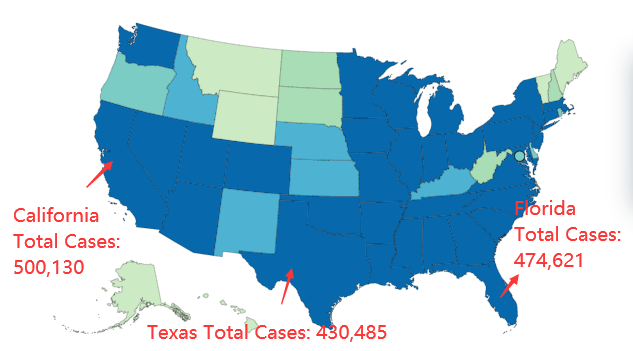 Source from: www.cdc.gov
The figure showed all three of America's most populous states have been hit hard by the outbreak of COVID-19, which has cast a shadow over July's non-farm payrolls data. In mid-July, California governor Gavin Newsom announced an immediate shutdown of indoor bars, cinemas and restaurants across the entire state, one of the largest such closures ever imposed in California, so the job-creation surge that followed the reopening of the economy subsided as the virus spiralled.
The U.S. Manufacturing PMI is improving, but with a slow recovery in unemployment
The U.S. Manufacturing PMI rose to 54.2% in July, up from a June reading of 52.6%, marking a three-month expansion and the highest level in 15 months, as shown in the figure below: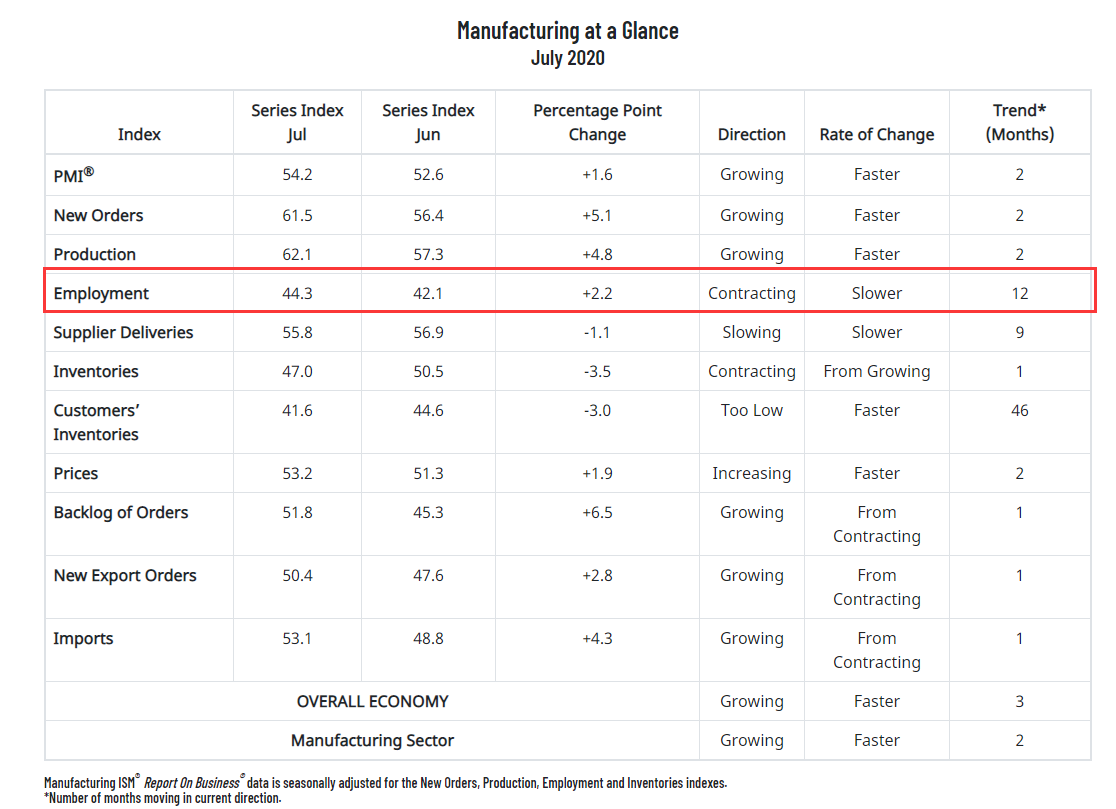 Source from: Institute for Supply Management
In the figure above, the Manufacturing PMI showed significant improvement in orders received, new orders, production and imports in July, while the employment data indicated that the employment index edged up to 44.2% from 42.1%, but numbers below 50% signalled that companies were still cutting jobs.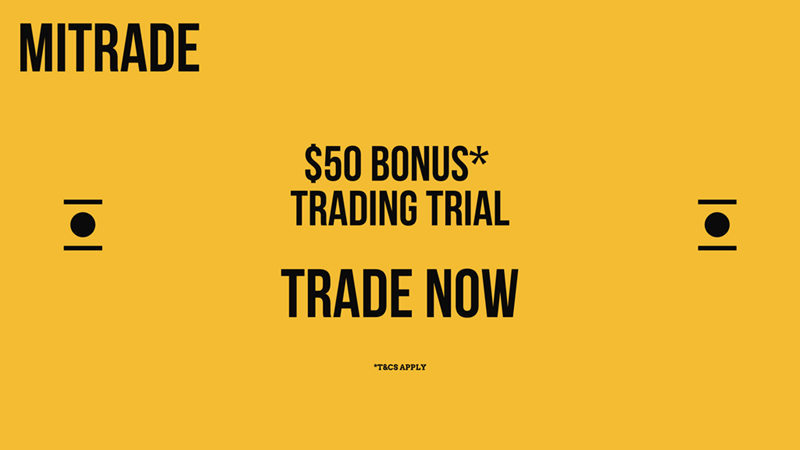 Corporate-rescue plan is struggling with a wave of layoffs
Approximately 150 U.S. businesses that received financing from the Paycheck Protection Program (PPP) have announced plans to lay off employees, according to Bloomberg. Not only that, the U.S. government provided a $25 billion bailout for the airline industry in April, although airlines are still warning of massive layoffs in October. Even some have begun their lay-offs:
1. On July 8, United said it would lay off and furloughed 36,000 employees, including 2,250 pilots and 15,000 flight attendants. In addition, an internal memo in late July said they would furlough a third of the pilots, about 3,900 employees.
2. Spirit Airlines is preparing to furlough 20-30% of its workforce, according to a July 28 internal memo.
3. Southwest Airlines offered extended leave and severance packages. As of July 20, 28% of the company's employees, mainly pilots and flight attendants, had accepted such arrangements.
4. On July 15, American Airlines said it would lay off as many as 25,000 front-line workers, including 9,950 flight attendants and 2,500 pilots, almost 20% of the total.
In addition to employers in the virus-hit airline industry, the second wave of COVID-19 also forced staff at big retail stores, banks and technology firms to be laid off:
1. Linkedin cut 960 jobs on July 21, or 6% of its global workforce.
2. Walmart, the world's largest retailer, announced layoffs of hundreds of workers in July.
3. Wells Fargo announced in July that it would fire thousands of bank employees.
These are all signs that the U.S. government, despite its several corporate-rescue programs, is still struggling to save American businesses from the economic crisis they are facing. With a wave of layoffs looming, non-farm payrolls after July may be even more worrying.

Will July's non-farm payrolls data boost gold and silver?
Downbeat expectations for July non-farm payrolls may have given gold and silver more room to rise. Gold remains bullish as the U.S. dollar weakens and the global economy faces prolonged turmoil. Although gold prices fell since hitting a record $1988 an ounce, the pullback has been driven largely by positive economic data from European countries and China, and is normal given the current overbuying of gold.
However, due to the occurrence of the Lebanese explosion and the release of ADP data, the gold price hit $2055 per ounce. Moreover, after the announcement that the United States intends to reimpose aluminum tariffs on Canada, the gold once again reached $2,070 per ounce, the highest level in the history. The real time gold price chart as below:
Source from: Mitrade (https://go.onelink.me/ESP8/702deedc)
In silver's case, the strong demand helped the metal post its biggest monthly gain since 1980 in July. Another factor driving the price of silver is supply pressures. With Mexico shutting down its mines, including the continued closure of Peru's Mining Industry, nearly 40% of global silver production is offline, according to Bloomberg. In addition, the Silver Institute predicts a 13% decline in mined production from Latin America this year, with global supply set to shrink 7.2%. As a result, a shortage of silver is likely to support its prices in the long term. The real time silver price chart as below:
Source from: Mitrade (https://go.onelink.me/ESP8/702deedc)
To sum up, as the inability of the US government to cope with the pandemic has hit the economy hard again, gold and silver seemed to have become a necessary option for investors to allocate their assets. On the face of it, the US economy is recovering, but any signs of recovery will be short-lived if the employment woes are not properly addressed. And the Fed's forthcoming stimulus package for businesses and individuals will provide only temporary relief. If the nation fails to prevent and control the COVID-19 crisis effectively, the unemployment rate will not improve, but will rise again. So even a slight improvement in July's non-farm payrolls would make sense if, in fact, the second wave of COVID-19 hit it hard.

---
The content presented above, whether from a third party or not, is considered as general advice only. This article does not contain and should not be construed as containing investment advice, investment recommendations, an offer of or solicitation for any transactions in financial instruments. Mitrade does not represent that the information provided here is accurate, current or complete. For any information related to leverage or promotions, certain details may outdated so please refer to our trading platform for the latest details. Mitrade is not a financial advisor and all services are provided on an execution only basis. Before making any investment decisions, you should seek advice from independent financial advisors to ensure you understand the risks. *CFD trading carries a high level of risk and is not suitable for all investors. Please read the PDS before choosing to start trading.