Abstract: Responding to the global outbreak of the COVID-19 pandemic, safe-haven assets are becoming the next investment trend. Will U.S. stocks continue to soar after FED's exhausted bail-out package? What will happen to EUR/USD in the wake of a trade war between Europe and the U.S.? How would New Zealand's economy go as its central bank maintained its interest rate?
The second wave of coronavirus has brought gold to the fore.
Gold hit an eight-year high of $1,779 an ounce last week, up 1.5% for the week, after rising risk aversion amid a surge in global coronavirus infections. It then traded slightly higher, ending above $1,769.9 per ounce, up 1.5% weekly. The surge was a manifestation of investors' frustration with the road to global economic recovery. In such case, Goldman Sachs recently hiked their gold price 3-month forecasts, 6-month forecasts and 12-month forecasts to $1,800, $1,900 and $2,000, respectively, and recommended holding gold until December this year. This week, three major factors are behind the gold trend: 1.How well has the second global outbreak been contained? 2. Were quantitative easing policies over-aggressive? 3. How will the trade war between America and Europe go? Another important factor that will affect gold prices is that FED Chairman Jerome Powell will analyze the current economic situation and monetary policy at the congressional testimony next week.
While U.S. economic data mixed, the U.S. dollar index turned positive.
Last week saw a flurry of U.S. economic data, with annualised GDP growth rate in line with its estimate at minus 5%, but manufacturing and services PMI came in well below forecasts. In addition, initial jobless claims fell but remained higher than expected, a sign that the recovery is faltering. Meanwhile, FED took a contrary attitude to the current economy to what Mr. Trump called "V-shaped recession" .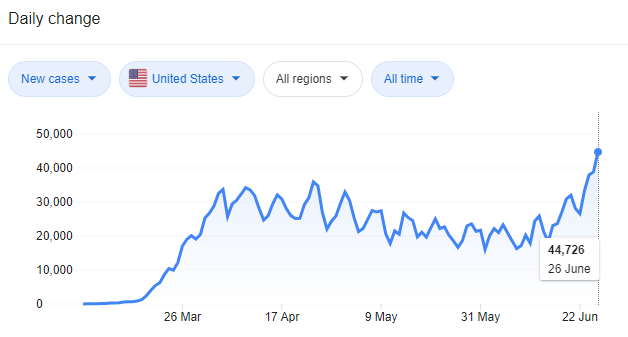 Source from: Google Statistics
On Friday, meanwhile, new infections in the U.S. hit a new high since the outbreak of COVID-19, and some states began suspending or delaying economic restarts. As a result, the U.S. dollar index turned positive last week and moved higher than 97, closing at 97.338, down slightly for the week. This week, all eyes will be on Non-farm payroll report, FOMC minutes, and the release of initial jobless claims. Then, what kind of shock will they bring to the market?
Will there be another stock market crash? Do S&P 500 and Nasdaq run into trouble?
The U.S. stocks have been the talk of the town in the financial markets over the past few weeks. The triggering of four times of Circuit Breakers and a sharp rebound in the S&P 500 and Nasdaq suggested that investors' expectations of American economy came up. And benefiting from FED's easing program, the U.S. stock market was on a roll. Recently, FED announced an expansion in corporate credit financing and loans to support securities financing at the same time that it began buying individual corporate bonds. Thursday's announcement by U.S. regulators that banks will be allowed to increase their exposure to venture capital funds further fueled a surge in bank shares, which also propelled an early rally in the three major indexes. But a second wave of COVID-19 could shatter FED's expectations, instead setting the stage for another plunge in U.S. stocks. Moreover, its balance sheet shrank for two consecutive weeks, leaving the central bank with less firepower than it needs to rescue the market. The S&P 500 index ended the week down 1.7 percent at $3,007 whereas the Nasdaq 100 closed at $9,865.5, down 0.6% for the week. Treasury Secretary Steven Mnuchin said last Tuesday that discussions with senators on the next stimulus bill could lead to a new stimulus package in July. Investors could keep an eye on it and the bill may be just around the corner.
EUR/USD seems to be in decline as US-EU trade war resumes
The hot spot that rattled markets last week was the sudden outbreak of a trade war between America and Europe. It began when EU countries prepared to impose a "digital tax" on American high-tech companies and the United States considered retaliation with a spate of new tariffs on $3.1 billion in exports from Europe. As a consequence, EUR/USD turned downward at the start of last week, closing at 1.12176, up 0.37% for the week. Besides, the monetary policy minutes showed the European Central Bank reaffirmed its dovish stance, which triggered more negative expectations for EUR/USD. In his latest comments, the President of the European Central Bank said the EU might not agree on a recovery plan at its Summit on July 17-18. The summit, and in particular the recovery plan, has been eagerly awaited, but for now it looks far from certain. In the meantime, IMF has sharply lowered its forecast for global GDP this year, and it is likely to be -10.2% in Eurozone, the biggest decline in GDP growth. Intensive Brexit negotiations between the European Union and Britain may begin this week, accompanied by the release of Eurozone unemployment and CPI. They will give a direct indication of how effective its fiscal policy is and how well its economy is recovering, which investors should pay close attention to.
NZD/USD showed a downward trend as RBNZ kept its rates unchanged
Last week had the RBNZ rate decision to keep rates at 0.25%, which was in line with market expectations. With the global pandemic of coronavirus, the decline of export in New Zealand ensued and has slowed the pace of employment and inflation. With that, the New Zealand government continued the quantitative easing monetary policy, including the large-scale asset purchase program. NZD/USD, which fell meteorically on last Wednesday, has slowly risen and ended Friday at 0.64213, up 0.02% from a year earlier. Although New Zealand is among the least affected countries in the world, NZD investors should focus on the spread of the pandemic and its prevention and control, because the country is heavily dependent on exports, whose economic development is linked to the economies of worst-affected countries.

---
The content presented above, whether from a third party or not, is considered as general advice only. This article does not contain and should not be construed as containing investment advice, investment recommendations, an offer of or solicitation for any transactions in financial instruments. Mitrade does not represent that the information provided here is accurate, current or complete. For any information related to leverage or promotions, certain details may outdated so please refer to our trading platform for the latest details. Mitrade is not a financial advisor and all services are provided on an execution only basis. Before making any investment decisions, you should seek advice from independent financial advisors to ensure you understand the risks. *CFD trading carries a high level of risk and is not suitable for all investors. Please read the PDS before choosing to start trading.