The oil market has experienced a series of ups and downs since the COVID-19 outbreak. Crude oil prices recovered slowly after May when big producers started to stringently implement production cuts, after an price war between Russia and Saudi Arabia sent oil prices plunging into negative territory. However, the oil market slump was repeated in "Black September", when U.S. crude fell as much as 17.7% from a high of $43.75 a barrel to near $36. Brent crude also suffered, falling 13% from $46 a barrel to below $40. Both dropped to their lowest levels since late June. The plunge in the oil market is a clear sign that investors are losing confidence in the recovery in oil prices and are worried about the outlook for the oil market. So what's holding back the recovery?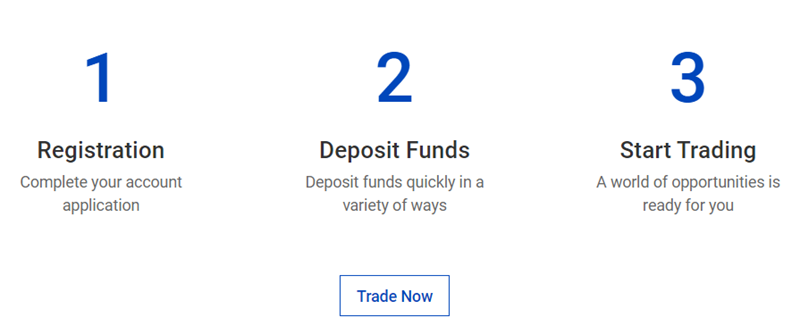 A glut comes in the crude oil market, with a negatively-expected recovery in demand.
(1) The global aviation industry's demand for crude oil has plummeted.
Social distance has become a key factor hindering demand for aviation fuel, as the COVID-19 pandemic and inadequate prevention and control restrict economic activities. While commercial flights have been picking up slowly since mid-May, and significant increases in civilian flights have been seen in June and July which are rush months, commercial flights fell by 1.74 million, or 45.2%, over the same period compared with August 2019, as shown below: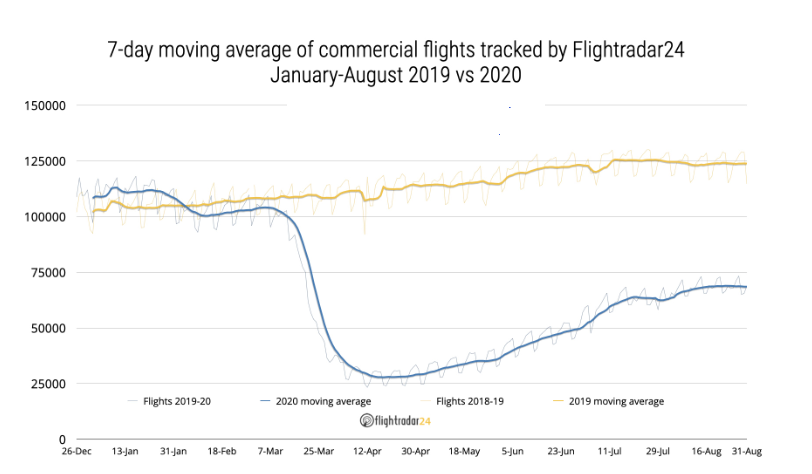 Source from: www.flightradar24.com
In addition, global passenger traffic will not return to pre-COVID-19 levels until 2024, a year later than previously projected, according to the International Air Transport Association (IATA). The move comes as the world's major airlines continue to plan their lay-offs, in a further sign that the industry's weakness may remain for a long time to come. The fall in fuel demand from the airline industry after the summer peak has led to more bearish sentiment in the oil market.
(2) With changes in the crude oil structure, contango appears.
According to Bloomberg, the crude oil market is currently in contango, which poses a downside risk. Contango refers to a situation in which the price of a commodity or security in the future (known as Futures Price) is more than the price of such commodity or security at present (known as Spot Price). This reflects the current glut of crude oil. Saudi Aramco cut Arab Light to Asia to a discount against the benchmark oil price used by the Saudis for the first time since June. It also lowered pricing for northwest European and the Mediterranean buyers. Such price cut re-confirms faltering demand in the oil market.
(3) Weakening demand for crude oil in China and India
China and India, the world's two largest consumers of crude oil, have not contributed to the recent recovery in demand. Despite being the world's fastest recovering economy and the country with the strongest demand for crude oil, China hoarded large amounts of crude oil in March and April at the lowest price level in 20 years. The problem is even more acute in India, the world's third-largest consumer of crude oil, where the COVID-19 has worsened after the United States. As of September 9, 76,000 new cases were being confirmed every day in India. Meanwhile, sales at India's top three fuel retailers fell 20% in July and August from a year earlier. That suggests Indian demand for crude oil remains weak. Weakening demand from China and India is adding to the gloomy oil market.
Risk appetite has plunged, and the crude oil market may suffer.
The market's appetite for risk has been dented by three consecutive days of flash crashes and a surge in the CBOE Volatility Index (VIX), which rose as much as 26%. Although August's non-farm payrolls data and other key economic indicators were much better than expected, they did little to ease the market's jitters. Investors are increasingly skeptical about the momentum of the global economic recovery. In addition to U.S. stocks and crude oil, safe-haven assets such as gold and silver also sold off. Another factor is that U.S. President Donald Trump is taking a more aggressive political approach to China in order to win more votes in the approaching election. The long-term risks to the oil market have been exacerbated by the democratic presidential candidate Joe Biden's embrace of clean energy. As a result, uncertainty about the economic recovery and the complex and volatile international political environment eventually led to another sell-off of crude oil.

What will happen to the oil market?
The heightened risk aversion in financial markets has sent global stock markets, commodities and non-U.S. currencies tumbling. The plunge in U.S. stocks is believed to be the trigger for the decline in the oil market. Previously, the three major U.S. stock indexes fell three days in a row, especially the Tech-heavy Nasdaq index, which fell by 10% in three days. However, the slump in technology stocks has injected energy into some value stocks, so there are signs of a rebound in stocks that are more sensitive to the economic recovery, such as airlines, cruise ships and, to a small extent, retail stocks. As of September 10, the U.S. stock market rallied and the market panic rebounded slightly, which gave the oil market a short respite in the short term. However, in terms of the crude oil market itself, weak global oil demand will be the long-term issue that dominates the oil market, so crude prices are likely to remain under long-term pressure. Another negative impact would come from the recent strong rally in the U.S. dollar.
Case of U.S. crude: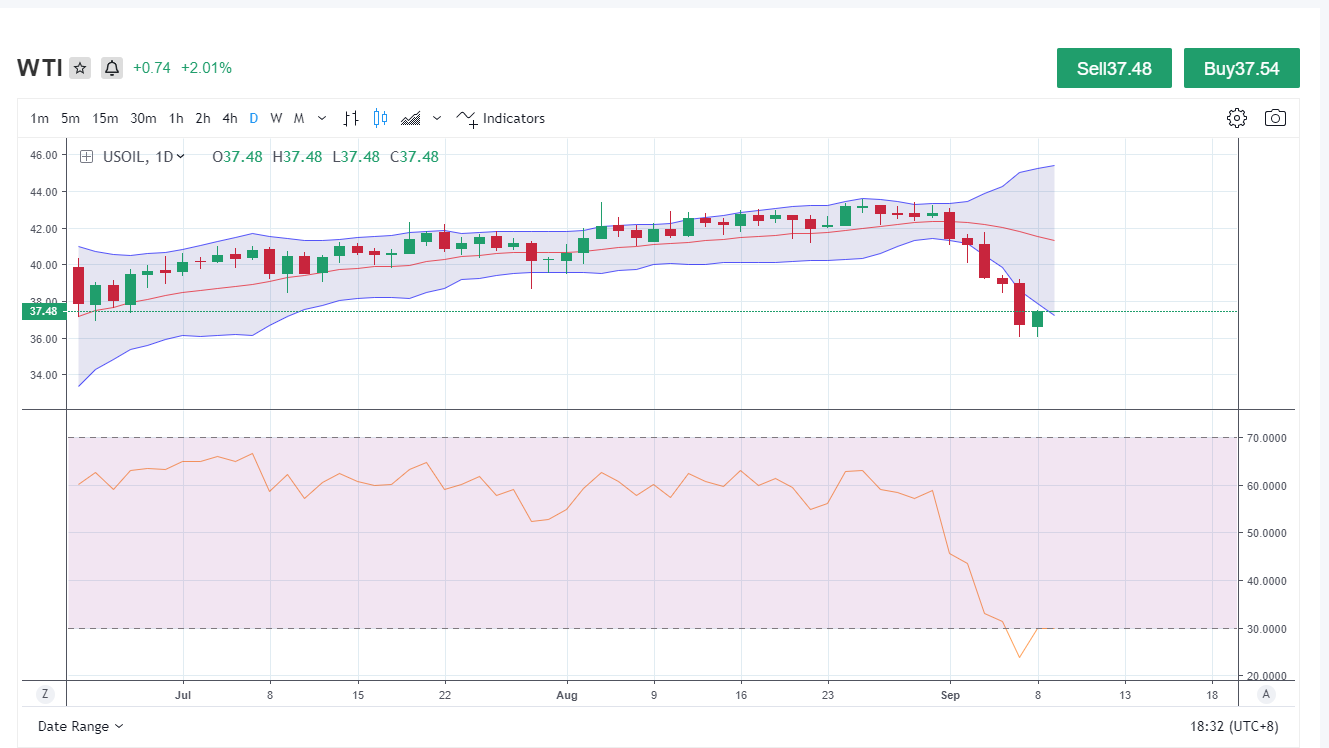 Source from: Mitrade
By technical analysis, the relative strength index (RSI) was around 29 for Brent and U.S. crude, indicating oversold conditions. Bollinger Bands also showed U.S. and Brent crude expanding by dipping below their lower Bollinger bands after contracting for about a month and a half. The underside support for U.S. crude is likely to be around 34.5, the lowest since June, and if the U.S. crude oil rebounds, the resistence level would be $42.

---
The content presented above, whether from a third party or not, is considered as general advice only. This article does not contain and should not be construed as containing investment advice, investment recommendations, an offer of or solicitation for any transactions in financial instruments. Mitrade does not represent that the information provided here is accurate, current or complete. For any information related to leverage or promotions, certain details may outdated so please refer to our trading platform for the latest details. Mitrade is not a financial advisor and all services are provided on an execution only basis. Before making any investment decisions, you should seek advice from independent financial advisors to ensure you understand the risks. *CFD trading carries a high level of risk and is not suitable for all investors. Please read the PDS before choosing to start trading.