Abstract:
Worryingly, COVID-19 was followed by the price of crude oil futures plummeting to an all-time low. Why does it dip below zero? Are crude oil investors distracted by the Middle East's relations with Russia and the United States? Here we will detail factors behind the volatility of crude oil prices.
What is happening in oil market now?
Since the early 20th century, crude oil has been a hot inter-state battlefield and its market is always in flux. The interval from the early to mid-20th century witnessed that the United States, the monopolist in the crude oil market, was gradually superseded by the Organization of Petroleum Exporting Countries (OPEC). OPEC's boom was short-lived, however, as the discovery of shale oil in the United States led to record oil productivity and threatened the interests of OPEC members. In such case, "OPEC+" emerged.
OPEC+ is a new counterweight to the United States, made up of OPEC members and non-OPEC oil producing countries, including Russia and Kazakhstan. But there is no strong bond within the group. In March, for example, Saudi Arabia announced slashed prices in a price war with Russia, which sent the oil price into one of the steepest falls in history.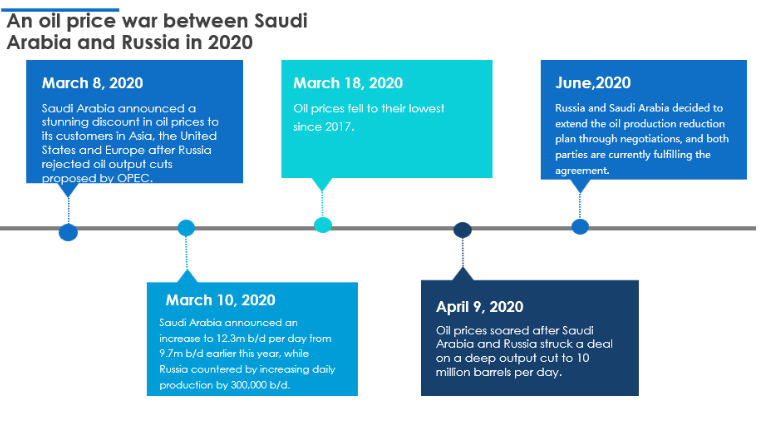 This picture illustrates how important big producers are to crude oil prices amid presenting the whole story of the price war between Russia and Saudi Arabia during global fight against COVID-19. Thus, what else determines the price?
What factors impact on crude oil price?
On the crude oil market, oil price fluctuates with changes in supply-demand relationship of crude oil, which is similar to price volatility of other commodity markets.
1. Supply-demand imbalance leads to large fluctuations in oil prices. Oil resources and production are monopolized by OPEC, Russia and the United States, among which, OPEC's oil exports account for roughly 60% of the total petroleum traded worldwide while the United States has dominated the crude market since 2014 by exploiting shale oil. This produced dramatic imbalance between demand and supply, and consequently global oil prices fell sharply in 2016. Besides, the demand for crude oil decreased since the outbreak of the COVID-19 pandemic whereas the supply increased, which intensified oil price fluctuation. The following shows the supply and demand of crude oil in the past year:
Source from: U.S. Energy Information Administration
Tender balance between supply and demand is the key to keep oil prices stable. From the above graph, the price of U.S. crude and Brent crude oil slumped between March and April 2020, when the crude oil was oversupplied and the market was scared about the pandemic.
2. U.S. and China's demand directly affects crude oil prices.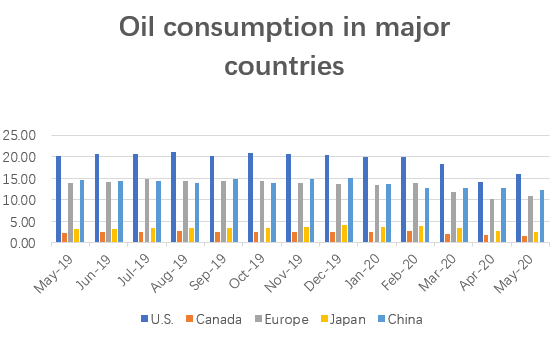 Source from: U.S. Energy Information Administration
The United States is the world's largest oil consumer, followed by China. Amid global fight against the COVID-19 pandemic, China and the United States launched a shutdown policy and saw a big slump in oil prices. On the one hand, the shutdown has caused a rapid drop in crude oil demand; on the other hand, the existing concerns about the trend of oil prices and the unsatisfactory economic recovery in the United States and China make it harder for oil prices to lift fast.
3. Storage capacity is of great importance to oil prices
The industrial process from the exploitation of crude oil to the end-use needs a series of support, among which storage is a very critical link. If there is not enough room for crude oil, the oil price losses will ensue. The industrial chain of the crude oil is as follows: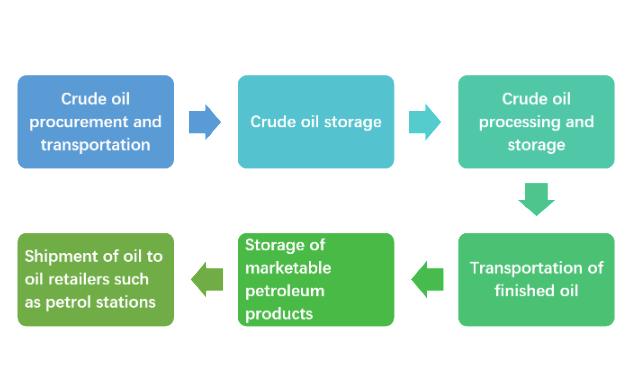 Oil depots worldwide have been laden with crude oil due to the outbreak of the COVID-19 pandemic. It means that demand for oil has fallen a low, and many refiners cease receiving and storing oil. In the meantime, oil companies chose to pay buyers to dispose of their crude instead of bearing high storage costs. That is why crude futures turned negative.
Geopolitics, natural disasters and pandemics have had a dramatic impact on oil prices
Historical cases in which regional disputes brought about increased demand for oil count up to a considerable number. Some oil merchants were war profiteers, possibly including former US President George W. Bush, who was presumed to cash in on the US-Iraq war via oil business. In addition to wars, other factors beyond human control exert an immediate effect on oil prices as well, such as the COVID-19 pandemic - a Black swan event. The chart below shows how geopolitics, civil strife, financial crises and pandemics undulate oil prices.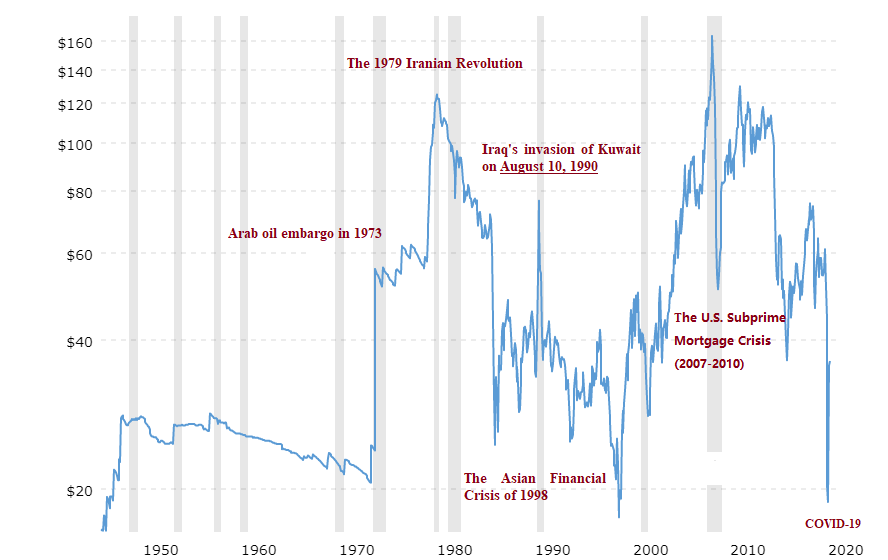 Source from: www.macrotrends.net
Analysis of current crude oil market
1. The COVID-19 pandemic and unpredictable financial markets are a cause for concern. Despite the economic market being fraught with uncertainty, the countermeasures against the pandemic are under way and have brought back some degree of normalcy to the workplace and production facilities. While most investors' anxiety about a second outbreak is at its peak, U.S. stock markets perform well and has shaped an illusive sign of economic recovery, making investors hallucinate to increase investment in risk assets.
However, as can be seen from the figure below, the number of confirmed cases infected with the COVID-19 pandemic worldwide has soared to a record high recently. This has become the main factor for a negative expectation of the current market for the oil price trend. The expectation mainly comes from two aspects: 1. In case of a second wave, investors will dump risk assets, including oil. 2. Oil demand will once again plunge in a tailspin.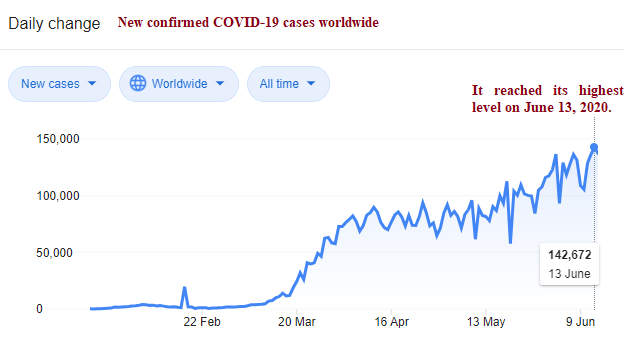 Source from: Google Statistics
2. Crude oil prices are expected to rise slightly and slowly, but they may fluctuate with economic uncertainty, according to the analysis of the supply-demand relationship in the crude oil market. Global oil supply still outstripped demand in the second quarter, but that may have changed from the third quarter, according to the Energy Information Administration (EIA).
(a)Demand for crude oil. Global demand for crude oil and liquid fuels is projected to reach 83.8 million barrels per day in the second quarter of 2020, down 16.6 million barrels per day on a year-on-year basis, according to the EIA. Liquid fuel consumption may rise to 94.9 million barrels in the third quarter.
(b) Crude oil inventories. Global liquid fuel inventories rose as demand for crude oil faltered worldwide, caused by travel restrictions and economic activity reduction implemented to help limit COVID-19's spread. 9.4 million more barrels per day of crude oil were stored in oil deposits from January to May, the EIA estimates. Global oil inventories at the end of May stood 1.4 billion barrels higher than they were at the end of 2019. In good part, an optimistic forecast is for crude oil inventories to start falling in June.
(c) Crude oil supply. Global liquid fuel supply averaged 92.6 million barrels per day in the second quarter of 2020, down 7.9 million barrels per day on a year-on-year basis, according to the EIA. The reduction was mainly due to production cuts of OPEC+ and the United States' reduced drilling activities that were weighed down by oil price fall. The EIA estimated that global crude oil supply would likely fall to 92 million barrels per day in the third quarter.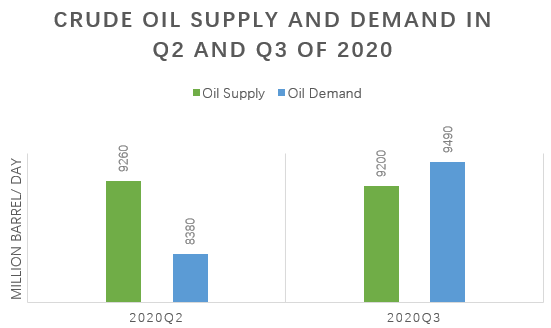 Source form: EIA
The chart above may suggest that crude oil prices are likely to rise from the third quarter, but it is not sure as market volatility caused by a second wave of COVID-19 and whether OPEC, Russia and the United States will abide by their commitments to cut crude oil production should be taken into account.
Technical analysis of crude oil trend
U.S. oil and Brent crude, both on a six-week winning streak, fell more than 5 percent last week(June 12th) as fears about the pandemic and the Federal Reserve's aggressive fiscal move spooked the crude oil market.
The example of the U.S. crude oil:
U.S. crude - weekly chart
U.S. Crude 4hrs Chart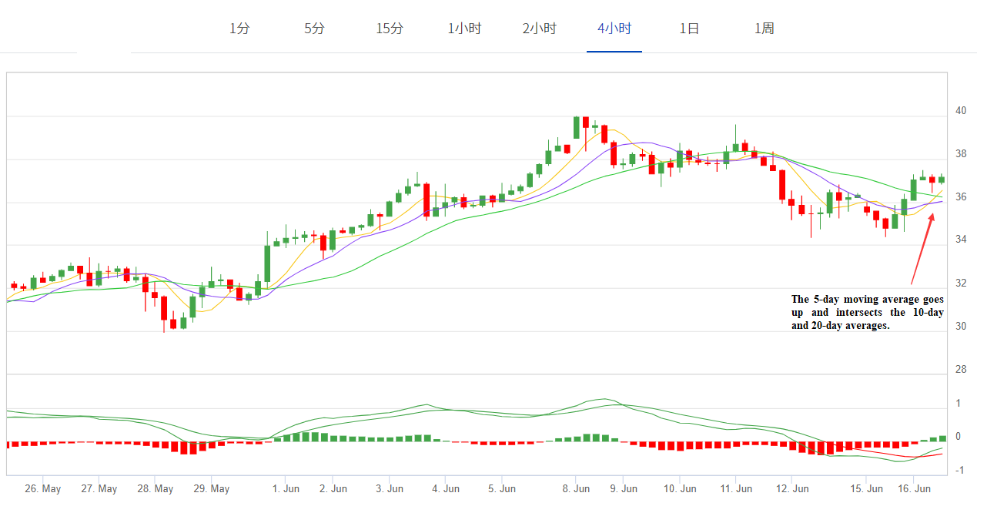 In combination with moving averages, the short-run line crosses the long-run and tends to rise, so the current volatility of crude oil may be a result of its on-going consolidation. Therefore, crude oil prices have the possibility of rising in the short and medium term. In the long term, there may not be a big spike in oil prices in 2020, but investors can look for short-term volatility.

---
The content presented above, whether from a third party or not, is considered as general advice only. This article does not contain and should not be construed as containing investment advice, investment recommendations, an offer of or solicitation for any transactions in financial instruments. Mitrade does not represent that the information provided here is accurate, current or complete. For any information related to leverage or promotions, certain details may outdated so please refer to our trading platform for the latest details. Mitrade is not a financial advisor and all services are provided on an execution only basis. Before making any investment decisions, you should seek advice from independent financial advisors to ensure you understand the risks. *CFD trading carries a high level of risk and is not suitable for all investors. Please read the PDS before choosing to start trading.