Abstract: Turbulence in global politics and economy, while helping fuel gold's surge, raised fears of a weakening of the U.S. dollar. In such case, Bitcoin, a "digital gold" that becomes increasingly correlated with the U.S. dollar and gold, seems poised to take over their roles. Let's talk about where Bitcoin is headed.
The recent surge in gold and silver and the devaluation of the U.S. dollar pushed Bitcoin price above $10,000 and even topping the $12,000 mark in early August, the highest level for a bitcoin in nearly a year. Looking back at the historical trend of Bitcoin, $10,000 has always been a key psychological barrier for Bitcoin investors. Once the $10,000 barrier is breached, its price will be more likely to experience a continuous rise. So what are the current factors influencing the price of Bitcoin?
Dollar's decline brings a carnival for cryptocurrency enthusiasts
The decline in U.S dollar has made a growing number of cryptocurrency enthusiasts believe cryptocurrencies are an alternative to traditional currencies. In the face of a global catastrophe, the decentralization of Bitcoin seems to have crystallised, against the backdrop of the Federal Reserve throwing money to manipulate the market.
The U.S. Dollar Index and Bitcoin price are found by comparison in a strong negative correlation, with one's highs highly overlapping with the other's lows at time points, as shown below: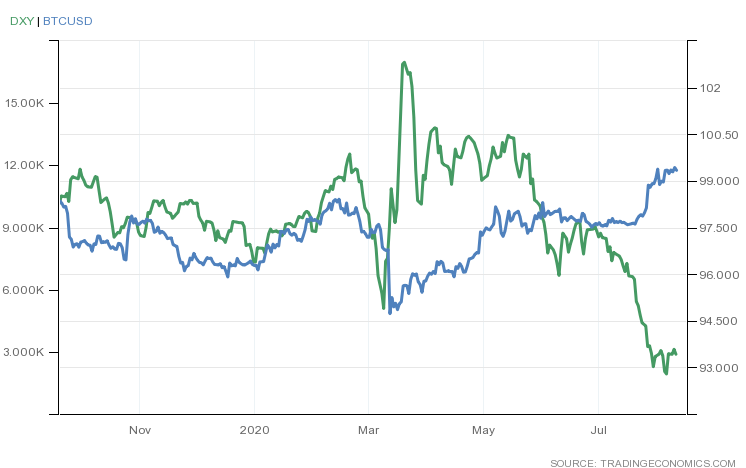 Source from: Trading Economics.com
On the one hand, recent improvements in US economic data have led to a rise in the U.S. Dollar Index and thereby have weighed on Bitcoin prices in the short term. On the other hand, while the current stalemate over a new economic stimulus bill could again reduce dollar liquidity, the supply of dollars will increase and the U.S. dollar will most likely depreciate further, if the two parties reach a deal on the bill in the near future.
An additional culprit for the dollar's woes is the COVID-19 that is wreaking havoc on the U.S. and making its economic recovery difficult. These factors, however, may present an opportunity for the cryptocurrency market. In cryptocurrency transactions, bitcoins are typically priced in dollars, and when the dollar falls, the likelihood that dollar-denominated bitcoins will rise in value increases. Hence, a positive factor for bitcoin's price rise could be created.
Gold's surge may further support bitcoin's upward trend
Gold's recent surge has helped push Bitcoin above the $10,000 mark. This is because Bitcoin, as a "digital gold", is increasingly correlated with gold, as shown below: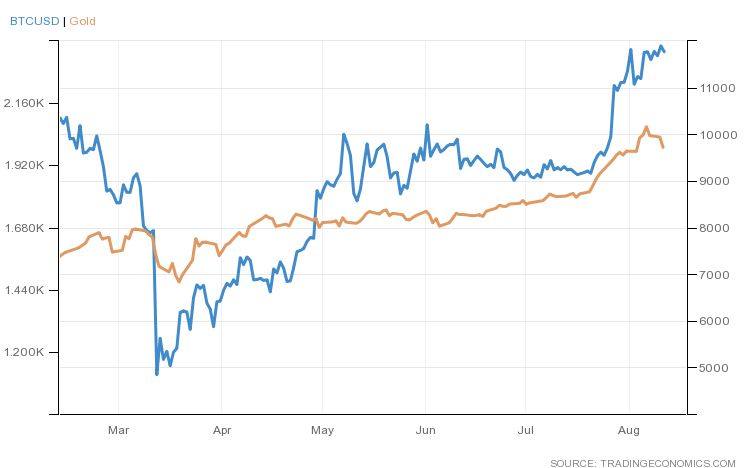 Source from: Trading Economics.com
As the figure above shows, the correlation between Bitcoin and gold has strengthened since July, whereas before, they were in low correlation. Although July's non-farm payrolls data sent a sharp shock through the gold market, it seems reasonable given the overbought market as a result of gold's previous rally. In the longer term, gold still has room to rise, and Bitcoin may take advantage of that to push its price higher.

Moves by central banks to step up national digital currencies could indirectly affect Bitcoin
Many central banks around the world are trying to apply blockchain technology to their financial systems. This renders digital currencies gradually legitimized, and there is no doubt that it will have an unpredictable positive impact on Bitcoin. China, in particular, has been speeding up its plans for digital Renminbi, possibly becoming the first country to offer a digital sovereign currency, while research on digital currency in Sweden, France, the Philippines, Thailand, the Bahamas and many other countries is also in full gear.
According to a report released by the Bank for International Settlements earlier this year, about 80% of central Banks surveyed are considering making inroads with national digital currencies, with 40% having moved to development and 10% having begun piloting their national digital currency projects. The news that growing central banks are developing their national digital currencies keeps coming. While not yet having a direct impact on the price movements of cryptocurrencies, particularly Bitcoin, more investors will start to consider buying Bitcoin or adding it to their portfolios as more explorations have been carried out on digital currencies.
Analysis of bitcoin price trend
It is found that the volatility of Bitcoin prices brings an exciting effect. Bitcoin rose from less than $1,000 to nearly $20,000 in 2017 and then fell below $4,000 in 2018. Since then, Bitcoin prices have never experienced a comeback to the top. But now, the macro environment is so uncertain that cryptocurrency investors believe the uncertainty may be an opportunity to push the price of Bitcoin beyond its barrier to further advance.
After reaching a high of $12,000 in the past two weeks, Bitcoin has tried and failed to gain ground. Therefore, investors speculated according to the trend in 2017 that the main resistance point that Bitcoin tried to break through was around $12,000 before it approached its peak of $20,000, as shown below: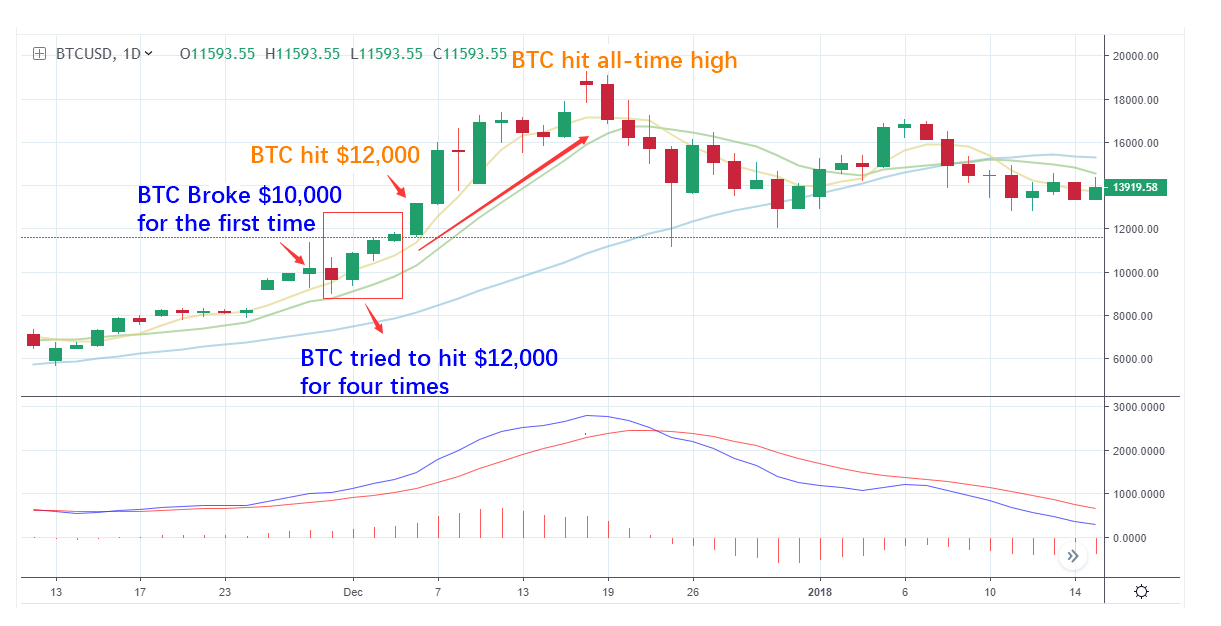 Source from: Mitrade
Bitcoin topped $10,000 for the first time on November 29, 2017, broke $12,000 within four days, and then surpassed $14,000 before soaring to an all-time high near $19,600. The historical trend seems to have similarities with the current situation. Hence, a wild guess comes that if Bitcoin can break through $12,000 and then make it to $14,000, maybe the bull market in Bitcoin will come.
To sum up, since Bitcoin are increasingly interwoven with the U.S. dollar and gold, the trend of Bitcoin may fluctuate with the depreciation of the U.S. dollar and the rise in the gold price from fundamental analysis. Despite limitations of technical analysis for Bitcoin, it can be confirmed from the above analysis that if Bitcoin can repeat its history of 2017 in the near future, the probability of its continuous upward trend will increase. Currently, view of cryptocurrencies has been split into two extremes: the doomsayers are always doomsaying, while the cryptocurrency enthusiasts remain convinced that a digital currency revolution will eventually come. Investors should be on guard against the huge volatility that could result.

---
The content presented above, whether from a third party or not, is considered as general advice only. This article does not contain and should not be construed as containing investment advice, investment recommendations, an offer of or solicitation for any transactions in financial instruments. Mitrade does not represent that the information provided here is accurate, current or complete. For any information related to leverage or promotions, certain details may outdated so please refer to our trading platform for the latest details. Mitrade is not a financial advisor and all services are provided on an execution only basis. Before making any investment decisions, you should seek advice from independent financial advisors to ensure you understand the risks. *CFD trading carries a high level of risk and is not suitable for all investors. Please read the PDS before choosing to start trading.