Gold is one of the most-traded commodities in the world, and there are many reasons for that.
● First, gold is seen as a store of value; in the past, it was the main means of exchange — money. Today, even though the fiat currencies are no longer tied to it, gold is still seen as a safe-haven asset for hedging against inflation.
● Second, gold is one of the best commodities for building a diversified portfolio to protect against stock market downturns, as it is often negatively correlated to the equity market.
● Third, the gold market is very liquid — estimated to worth over $7.3 trillion with about $70 billion traded every day. Interestingly, it also has adequate volatility, making it the commodity of choice for speculative trading.
But what are your options when you want to trade or invest in gold in Australia?
The popular ways to invest in gold in Australia
There are different ways to trade or invest in gold in Australia, and these are the most popular ones you should know:

► Trade spot gold online with CFD
Trading the spot gold market online with CFD (contract for difference) is a popular way to invest in gold in Australia. A gold CFD allows you to profit from changes in the price of gold without having to own physical gold.

Interestingly, you can trade in either direction — long or short. The difference between the price you bought and the price you sold would become your profit or loss, depending on whether the trade was in your favor.
Since you don't deal with the physical metal, trading spot gold as a CFD is the most cost-effective method participating in the gold market — you almost only pay the ask-bid spread on every trade.
If you know how to analyze the market and spot trading opportunities, gold CFD trading may be profitable. The risks here are mainly from leverage.

* CFD( Contract for difference) is a popular form of derivative trading. This type of trading involves speculating the price of gold spot.
Advantages of trading with CFD are:
✔️ Greater accessibility with less capital
✔️ Take advantage of all market fluctuations
Where to invest: There are many ASIC regulated brokers in Australia, such as Avatrade, CMC markets, IC Markets, Mitrade, etc.
► Buy gold bullion
Another way to invest in gold is to own a physical gold which you can do by buying gold bullion. But this is not an easy option because you need to be sure of the quality and purity of the bars you are getting as there can be adulterated products.
Another thing to consider about this option is the cost. Aside from the cost of buying the bullion, there is also the cost of storage. Other forms of physical gold you can buy are gold jewelry and gold coins. Be sure to buy from a reputable brand guaranteed by the government.
Where to invest: There are many online dealers, such as The Perth Mint, Australian Bullion Company, and Melbourne Gold Company.
► Buy gold ETFs
Gold ETFs are exchange-traded funds that not only track the price of gold but are also backed by physical gold bullions held by custodians, which can either be banks or the government.
ETFs are like stocks and are traded on stock exchanges; buying one gives you a share in the fund that owns physical gold.
When gold prices move up, you gain, and when the price falls, you lose. With gold ETFs, you only pay small management fees instead of owning physical gold yourself and paying for storage. So, this is a relatively easy way to gain exposure to gold, and the risk is minimal because the fund is backed by physical gold.
Where to invest: The places like ETFs Metal Securities Australia Ltd (GOLD) and Perth Mint Gold ETF (PMGOLD)
► Trade gold stocks
You can buy the stocks of gold mining companies if you like. Many of them are traded on the Australian Stock Exchange (ASX).
When you buy a stock, you own a piece of the company. Since these companies mine gold, their stocks appreciate when the price of gold is going up and decline when the price is declining.
Additionally, when there is a general downturn in the equity market, these stocks also decline, unlike the commodity that would move in the opposite direction. So, gold mining stocks are not a good way to diversify from the equity market.
Where to invest: Newcrest Mining Limited (NCM), Evolution Mining (EVN), Westgold Resources (WGX), etc.
There are other advanced methods for investing in gold. One of them is trading gold futures on COMEX or the London Metal Exchange. Another one is Options on futures. It is not common for ordinary investors, because those methods require advanced skills and large amount of capital.
Next, I will show you how you can trade the spot gold market in Australia. Read on!
How to trade spot gold in Australia?
Trading the spot gold market has been made a lot easy by Mitrade, an innovative online broker that offers CFD products on gold, forex, cryptocurrencies, indices, and other asset classes.
CFDs are leveraged derivative products that track the spot price of the underlying asset, such as gold, without directly owning the asset.
If you place a buy order, and the gold price goes up before you close the trade, you profit from the difference between the price you bought and the price you sold.
You can also go short, and if the price drops, you make money from the difference between the price you sold and the new price when you closed the trade. If the price is against your position when you close the trade, you lose money.
To start trading spot gold with CFD on Mitrade, here are the steps to take:
Step1: Study the gold market
To be an effective gold trader, you need to learn the basic things about online trading and specifically study the gold market to know the factors that move the market. You need to understand basic trading terminologies like the ask-bid spread, commission, trade size, tick values, and others so that you can understand the trading process.
Also, you need to study the factors that affect the gold market. Some of them include the Report, seasonality in gold prices, and the expectation of negative real rates of interest, which is given as nominal interest rate – inflation rate.
There is also a need to learn how to analyze the price chart, especially if you intend to trade based on technical analysis. You can learn both price action and indicator analysis.
Step 2: Open an account with Mitrade
To trade the spot gold market via CFD, you need to open an account with a trusted CFD broker, and in Australia, Mitrade has win the fast-growing forex broker last year.
You can 'Create An Account' or the 'Demo Account' with them. You simply fill in your phone number/email address and your preferred password to create a demo account. If you want to switch to a Live Account, you will get to the application form. Fill the application form and complete your ID verification.

Step 3: Create a trading strategy
It is time to create a trading strategy that suits your personality. Will you trade based on fundamental analysis, technical analysis, or combine both?
Whatever you choose, you need to determine your ideal trade size, trade entry criteria, risk management parameters, profit target, and how to manage your trades.
Make sure you write your rules down and trade your strategy with a demo account first to be sure that it makes money before trading in live.
Step 4: Fund your Mitrade account and start trading live
Now, just fund your Mitrade account with initial money.
Mitrade has a low minimum deposit requirement. You can start with as little as $50 and can deposit as much as you want, and there is different leverage to maximize your profit potentials.
Some of the ways to fund your Mitrade account include:
v Bank transfer
v Debit or credit card (VISA/Mastercard)
v Online banking
v Online Payment (Skrill)
Step 5: Make a purchase
You can now place Buy / Sell gold positions online and place Take Profit, Stop Loss, Sell limit, etc.
Based on your prediction about the market, place a Long - Short order via mobile app or web version.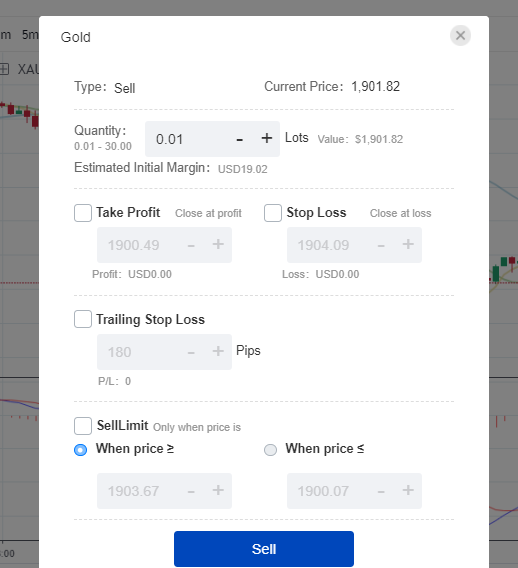 Open a Short( Sell) position on Mitrade Webtrader
Why you should trade with Mitrade?
Mitrade is an online CFD trading broker that is based in Melbourne Australia and regulated by the ASIC (AFSL 398528). They offer fast order execution, competitive and transparent spreads, zero commissions, low overnight fees, and up to 200 times leverage.
The broker provides you with an intuitive web-based platform, a mobile app, and the necessary tools for trading over 100 popular financial instruments across forex, commodities, indices, and cryptocurrencies.

How to invest in gold bullion in Australia?
To invest in gold bullion, you may follow these steps:
1. Search online for a trusted dealer in gold bullion that is guaranteed by the government. The Perth Mint is a good example.
2. Open an account with them by filling their registration form online and providing the necessary identification documents.
3. Make your orders online. You can choose to store the bullion bars with them or have the bars delivered to your address and pay the necessary fees for whichever option you choose.
How to invest in gold ETF in Australia?
You buy an ETF the same way you buy a stock. So, to invest in gold ETF, simply follow these steps:
1. Find a suitable online stockbroker, such as Westpac, CommSec, or Interactive Brokers, and create an account with them
2. Fund your account with the amount you want to invest with
3. Place a buy order for your preferred gold ETF — BetaShare Gold Bullion ETF (QAU), ETFs Metal Securities Australia Ltd (GOLD), or Perth Mint Gold ETF (PMGOLD)
How to invest in gold stocks in Australia?
As with every other stock, the stocks of gold mining companies trade on the ASX. To invest in any of them, do the following:
1. Register with a suitable traditional or online stockbroker in Australia
2. Fund your account with your desired amount
3. Choose the gold stock to buy and place your buy request
Advanced strategies for investing in gold
Here are some gold trading ideas that work:
1. Combine fundamental analysis with chart analysis: While you can trade gold with either the fundamental analysis approach or a technical analysis method, you may be better of if you combine both methods. Watch out for economic data, such as inflation, which can affect the movement of gold prices, while you also analyze the price chart to find good entry opportunities.
2. Keep an eye on the US Dollar Index: The price of gold tends to have an inverse relationship with the USD. When the USD Index is trending up, gold will likely be on the decline, and vice versa.
3. Be mindful of the expiration dates of major futures and options contracts: Futures and options contracts constitute a huge part of gold trading, so the expiration dates of those contracts tend to affect price movements as there will be a lot of activities in the gold market.
4. Breakout strategies work fine: Breakouts allows you to enter a trade when the price is gaining momentum, and it can be in either direction. New trends start with a breakout, so you may want to build your trading approach around a breakout strategy.
5. Pullback strategies are great too: A pullback strategy tries to enter a trade when gold is trading at value rather than when there is momentum. The idea is to look for buying opportunities at a support level and a selling opportunity at a resistance level. You can use reversal candlestick patterns as a trade entry trigger. This strategy works when there is already an established trend.
Want To Join The Gold Market?
Finding opportunities in their rising value OR their drop with trading Gold derivatives - contracts that track their change in value (CFDs) !

---
The content presented above, whether from a third party or not, is considered as general advice only. This article does not contain and should not be construed as containing investment advice, investment recommendations, an offer of or solicitation for any transactions in financial instruments. Mitrade does not represent that the information provided here is accurate, current or complete. For any information related to leverage or promotions, certain details may outdated so please refer to our trading platform for the latest details. Mitrade is not a financial advisor and all services are provided on an execution only basis. Before making any investment decisions, you should seek advice from independent financial advisors to ensure you understand the risks. *CFD trading carries a high level of risk and is not suitable for all investors. Please read the PDS before choosing to start trading.