Cryptocurrencies are becoming mainstream thanks to increasing popularity and awareness by the general public. This has resulted in the creation of new trading platforms that give access to the global markets to an increasing number of people.
Along with regular trading on the crypto market are increased offerings in Contracts for Difference (CFDs) for many of the popular cryptocurrencies.
This guide is going to give you the information you need to day trade Bitcoin (BTC) and cryptocurrency CFDs for high potential profits.
What is a Bitcoin Cryptocurrency CFD?
Cryptocurrencies are a medium of exchange in digital form. Through the use of cryptography, cryptocurrencies can track purchases and transfers, relying on market demand to determine their value along with investor speculation that moves their price substantially.
BTC was the first cryptocurrency created in 2009 and others soon followed including Ether (ETH, Litecoin (LTC), Ripple (XRP), EOS and Bitcoin Cash (BCH).
While BTC can be bought on an exchange, investors looking to capitalize on price differences choose CFDs.
CFDs are derivative investment instruments, based on contracts between the broker and the trader for their sale on a specific date. Sold over the counter, CFDs allow traders to speculate on whether the underlying asset (BTC in this case) while rise or fall in value without ever taking ownership in the asset.
CFDs can be created for many types of investment instruments, allowing investors to open contracts on the performance of that instrument relative to a fiat currency or other crypto, i.e. USD/BTC or BTC/ETH.
Start Trading Cryptocurrency Today
Cryptocurrency CFDs VS. Trading Crypto On An Exchange
Trading crypto over-the-counter via cryptocurrency CFDs is a very different experience from trading crypto on an exchange.
● Straight buying and selling of the cryptocurrency (whether for investment or for use in making purchases) is done through an exchange using fiat or other digital currency. This is a simple way to hold and invest in crypto.
● CFDs are strictly for speculation, offering a complex way to trade cryptocurrency. While investors can trade to profit with BTC through an exchange, CFDs give them the opportunity to benefit from price increases and decreases without ever owning the actual BTC.
One benefit often mentioned with respect to CFDs for BTC speculation is that they can be more secure than trading on exchanges, some of which have experienced serious problems in the last decade.
In summary, BTC CFDs and exchange-bought BTC have many differences, and can be summarized as follows:
| | | | | |
| --- | --- | --- | --- | --- |
| | Leverage and Margin | Risks | Liquidity | Short or Long Term |
| Exchange | None | Relative to price fluctuations | Medium, depending on banking policies | Both |
| Cryptocurrency CFDs | Up to 1:200 | Relative to price fluctuations and extent of leverage | Medium, depending on banking policies | Short |
How To Day Trade Bitcoin/Cryptocurrency CFDs in Australia?


Trade Ease With Australia's Popular Forex And CFD Broker



ASIC regulated • 24х7 • T+0
Mitrade is an innovative and simplified forex trading platform, providing users a quick and convenient way to trade on global markets, such as Forex, Commodities, Indices, cryptocurrencies.
The following are 5 steps to start trading BTC CFDs on the Mitrade platform:
Step 1: Learn CFD Terms
Trading CFDs can be complex and it helps to understand the terminology prior to testing out a platform. Here are some key concepts you should know:
■ Spreads and Commission
Bitcoin CFD prices have two quotes: buy and sell. The sell price is to open a CFD with a short position and the buy price is what the trader pays for a long position. The spread is the difference between the two prices.
■ Deal Size/Lots
The size of the contract is known as the deal size or lot, and this depends on the underlying asset being traded.
■ Duration
Duration refers to the time the position is opened to the expiry date. Since CFD trades have no fixed expiry date, the duration is calculated when the position is closed.
■ Profit/Loss
Profit or losses from a BTC CFD trade are calculated as follows:
Profit/Loss = # of contracts * (close price - open price)
The profit or loss is calculated by taking the deal size/lot (or number of contracts) and multiplying them by the change in the value of each contract (opening-closing price).
Step 2: Open Mitrade Account
To open an account with Mitrade please visit the registration page and complete the following steps:
→ Create a demo account by inputting your email address/mobile phone number and set a password.
→ Select Home > Switch to Live Account on the demo page to access the application form.
After completing ID verification, you will be able to fund the account and start trading.
Step 3: Fund Your Mitrade Account
According to the number of contracts you want to trade and the leverage used, you can deposit the margin into your trading account.
" For example, according to the current price, If I buy 0.1 lot BTC, I need to deposit USD116.77. The leverage is 1:10. "
There are many ways to fund your account, including:
1. Wire Transfer/Bank Transfer

2. VISA/Mastercard

3. Online Banking

4. Online Payment (Skrill)

5. ATM Card (available in VN only)
Step 4: Develop a Trading Strategy
CFDs are complex investment instruments that require a proper trading strategy that takes into account:
Investment Size
Invest only what you can afford to lose. While cryptocurrency is a very high-risk investment, CFDs are even riskier due to the use of leverage.

Risk Tolerance
The risk tolerance of a wealthy person risking 1% of their capital is very different for someone that works a minimum wage job. Assess your risk tolerance and make a plan to stick to the parameters.

Profit Level
When it comes to day trading, make a plan for exiting the trade and stick to it no matter what because conditions can change in seconds.
Timing
Cryptocurrencies are new investment instruments and normally do not respond to general market indicators like unemployment or GDP. Understanding that they change a great deal due to investor speculation and be prepared to conduct trades accordingly.
Step 5: Start Trading Cryptocurrency(Buy Or Sell)
Trading CFDs on the Mitrade app is fairly straightforward:
1Find Market Products
Find your trading products by using the search field on the top right of the screen (magnifier icon).
2Placing Market Orders
Select a product and click "Sell/Buy", and a trading window will pop up where the current price and the estimated required margin will appear.
After adjusting the limit Buy/Stop, click "Sell/Buy" to open the position.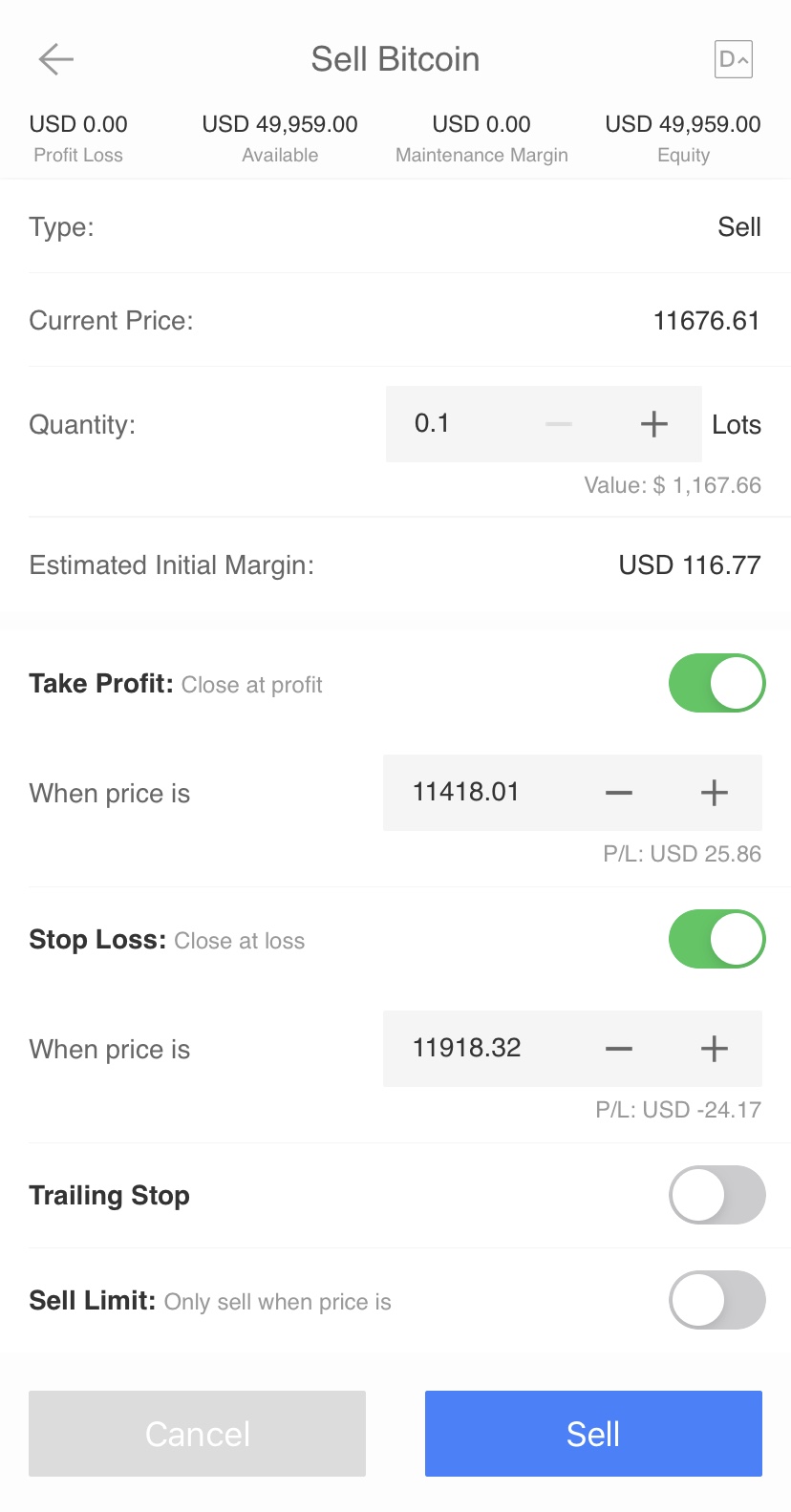 Picture: To open a sell position on BTC/USD on Mitrade app
3 Closing Positions
To close a position select "Position" –> "Open", then click "Close" after selecting the position you wish to close.
Now, you have a better understanding of what bitcoin derivatives are and how to trade, So, what do you want the next?
Start Trading Cryptocurrency Today
Why Day Trade Bitcoin CFD? Cryptocurrency Day Trading Advantages
Many traders engage in short-term or "day trading", prefering to use CFDs for many benefits that include the ability to profit on both the increase and decrease in the underlying asset price of the CFD.
Specifically, if a trader thinks the value of BTC will rise, they can go "long"; if they expect it to decrease they can "go short".
This is unique to CFDs (along with all derivative instruments), giving traders the opportunity to make profits in both rising and falling markets.
How Traders Take Advantage of Leverage
Leverage is the ability to get credit from the broker to increase a position in a trade. It is considered to be an advantage by some traders and a disadvantage by others because it can magnify the profits along with the losses.
Depending on the leverage amount, a trader only needs to deposit a small percentage of the trade's total value - as low as 5% (or even less in some cases). This is known as the margin requirement.
The end effect is that trades of $10,000 can be opened with as little as a $500 initial cash outlay, and 100% of the profits go to the trader if they make the right prediction.
Conversely, losses can be catastrophic because they are calculated based on the full value of the position, meaning that the trader will lose much more than their initial deposit.
Benefits of BTC CFDs:
■ Speculate on crypto price without owning the crypto

■ No need to deal with crypto exchanges or open a crypto storage wallet

■ Trading on margin magnifies gains

■ Many platforms are regulated

■ Profits can come from both rising and falling markets

■ Easy to start with fiat currency

■ Increased access to many popular cryptos



BTC CFD Risks:
■ Massive potential losses when trading on margin

■ CFDs and cryptocurrencies are highly-speculative

■ Cryptocurrencies are highly volatile and speculative

■ Not suitable for long-term investment






How to Choose The Best Cryptocurrency CFD Trading Platform ?
Choosing the right CFD broker requires an analysis of several factors that include commission, ease of withdrawal/deposit, variety of trading instruments, and the type of trading platform.
Some important factors to consider include:
■ Security
Security should be of paramount importance. Thankfully checking a broker is fairly easy through a local regulatory agency like ASIC, and all reputable brokers have this information easily available in the footer section of their website.
■ Commissions & Transaction Costs
All currency traders are affected from the cost of conducting each trade, especially day traders that engage in multiple trades per day.
■ Ease of Deposits and Withdrawals
Most brokers should offer multiple easy ways to fund an account, along with an easy withdrawal process.
■ Price Execution Times
Markets can move very quickly, so getting the closest market price is essential when profits can change in seconds.
■ Trading Platform
All platforms are different, with variance in their features and capabilities. It is important to thoroughly research and test a platform using a demo account prior to using your own funds.
Mitrade: Trade with Ease
Mitrade is an online forex and CFD trading broker based in Melbourne Australia, regulated by ASIC (AFSL 398528). With zero commissions, they offer competitive spreads, up to 200 times leverage, as well as fast and reliable order execution. If you buy 0.01 lot of gold, you will deposit about 18 dollars according to the current price.
【Competitive Cost, 24-hour Trading】
Zero commissions, low overnight fees, and competitive and transparent spreads. All costs will show on your deals order.
【Low Deposit High Leverage, Trading Anytime Anywhere】
The minimum size per trade is as low as 0.01 lots for many markets. Leverage up to 200:1. You will enjoy seamless trading via both iOS and Android mobile apps along with web platform.
【Good liquidity, efficient and convenient】
Provide more than 100 popular global trading instruments. T+0 settlement, more flexible and efficient.
The contracts specification for Trading cryptocurrency on Mitrade:
| | | | | | |
| --- | --- | --- | --- | --- | --- |
| Market | BTCUSD | BCHUSD | XRPUSD | ETHUSD | LTCUSD |
| Floating Spread* | 48 | 300 | 45 | 220 | 130 |
| Leverage | 1:10 | 1:5 | 1:5 | 1:10 | 1:5 |
| Contract Size | 1 | 1 | 500 | 1 | 10 |
| Minimum Volume per Trade | 0.1 | 1 | 1 | 1 | 1 |
| Overnight Funding* - Buy | -0.0487% | -0.0607% | -0.0607% | -0.0607% | -0.0607% |
| Overnight Funding* - Sell | -0.0198% | - | - | - | - |
| Initial Margin | 10.00% | 20.00% | 20.00% | 10.00% | 20.00% |
| Maintenance Margin | 5.00% | 10.00% | 10.00% | 5.00% | 10.00% |
* For reference only, please refer to the real-time quotation on the trading platform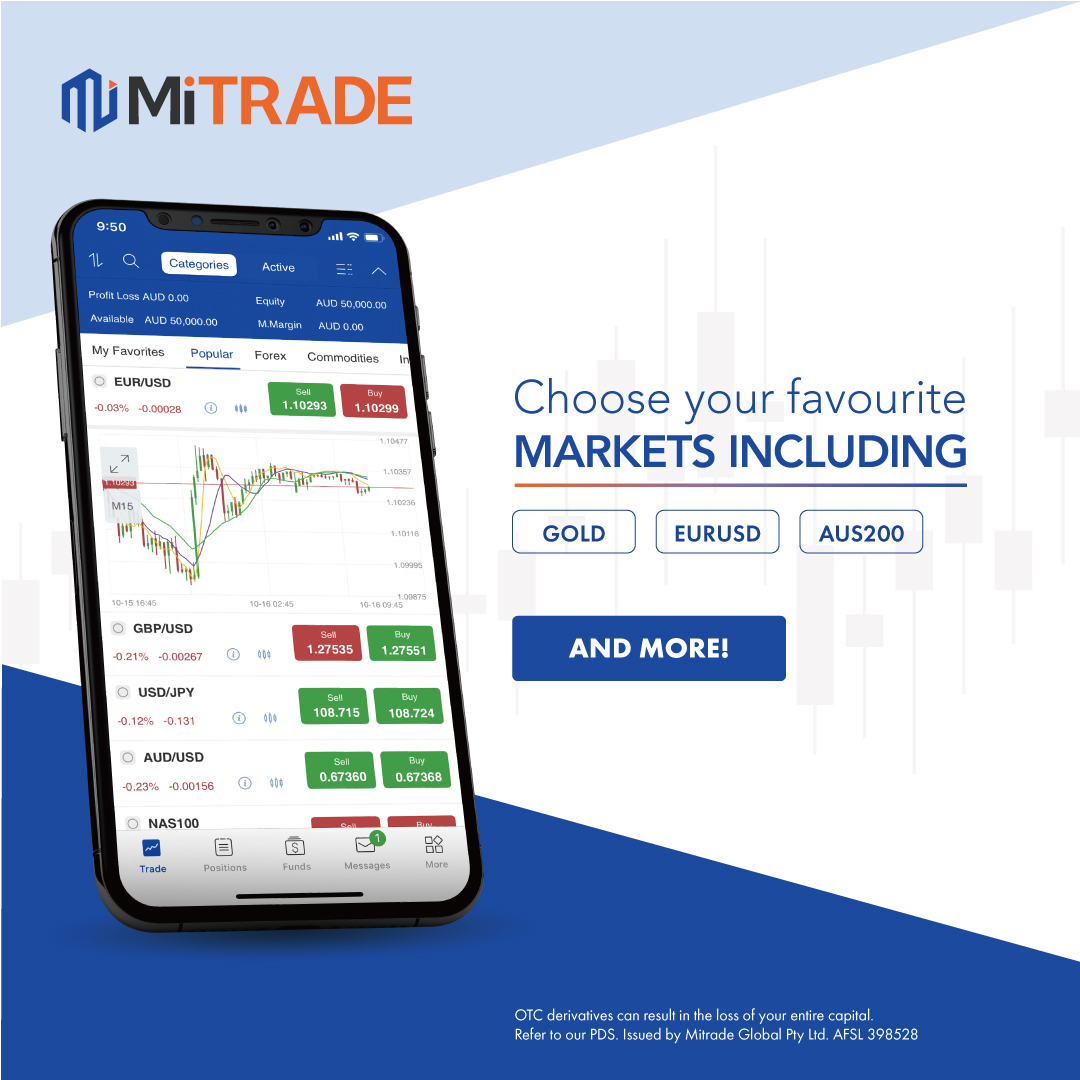 * Trading is risky. Your capital is at risk.
---
The content presented above, whether from a third party or not, is considered as general advice only. This article does not contain and should not be construed as containing investment advice, investment recommendations, an offer of or solicitation for any transactions in financial instruments. Mitrade does not represent that the information provided here is accurate, current or complete. For any information related to leverage or promotions, certain details may outdated so please refer to our trading platform for the latest details. Mitrade is not a financial advisor and all services are provided on an execution only basis. Before making any investment decisions, you should seek advice from independent financial advisors to ensure you understand the risks. *CFD trading carries a high level of risk and is not suitable for all investors. Please read the PDS before choosing to start trading.