With the euphoria of the 2017-2018 bitcoin craze now fully behind us, now is a great time to reflect on this emerging asset class.
Bitcoin and the whole crypto world for that matter, can be a daunting place if you're new to it. But if you happen to be an Aussie investor, looking to get into bitcoin investment, this article can hopefully act as a launchpad for your crypto adventures.

Where To Get Bitcoin Aud Price And News?
Let's start with the basics. Where do you find bitcoin news? And which are the best websites for getting your bitcoin Australia price quotes?
Bitcoin magazine
Started in 2012 this is my personal go-to source for everything about bitcoin.
It's a sleek website, with over 5000 articles of interest. It provides some of the best thought leadership on the web when it comes to bitcoin. And, with email newsletters, podcasts and social channels, every bitcoin trader needs to read it.
Trading View
This is a very trader centric website, covering pretty much the whole trading universe be it stocks, options, futures, FX and yes, bitcoin. We wrote a full article on using Trading view here.
This site has a very social aspect to it, find out what other traders are thinking and doing concerning bitcoin Australia and other markets.
BTC to AUD chart from Tradingview
Coinmarketcap
This site is the most referenced site for crypto assets there is. Its mission is to empower small investors with unbiased, quality information relating to this exciting asset class.
Coinspot
One of the premier bitcoin and altcoin exchanges for Australia, Coinspot comes complete with interactive charting for bitcoin AUD.
Is Bitcoin legal in Australia?
The last thing you want to do is fall foul of the law when purchasing cryptocurrency. Fortunately, laws in Australia are favourable for Bitcoin and the crypto market.
In Dec 2013, the governor of the Reserve Bank of Australia (RBA) was quoted:
"There would be nothing to stop people in this country deciding to transact in some other currency in a shop if they wanted to. There's no law against that, so we do have competing currencies."
Granted, this statement was a few years ago mindue, and since then new concerns have arisen. The main being the purchase of illegal goods or services online; and the potential for bitcoin to be used in money laundering.
But to date bitcoin in Australia is still very legal. In fact, Austrac, the financial regulator now has the power to regulate crypto exchanges and all cryptocurrencies must now be signed up to a special currency register.
AUSTRAC CEO Nicole Rose PSM said the new laws will strengthen the agency's compliance and intelligence capabilities to help DCEs implement systems and controls that can minimise the risk of criminals using them for money laundering, terrorism financing and cybercrime.
Effective immediately, DCEs with a business operation located in Australia must now register with AUSTRAC and meet the Government's AML/CTF compliance and reporting obligations. There is a transition period until 14 May 2018 to allow current DCE businesses time to register.
This news was well received from the exchanges themselves. The more legitimacy that comes to the sector, the more faith the public and business community alike will have.
This can only be a positive for the industry and the price of crypto assets going forward.
How Is Cryptocurrency Taxed?
The ATO classes bitcoin and other cryptos as property, therefore any windfall profits made will be taxed at the standard capital gains tax rate.
When filling in a return with the taxman most investors fall under this category. Below is a list of activities deemed to be 'one-off' capital gains.
● Bitcoin mining on a casual basis
● Casually trading bitcoin
● Buying bitcoin as an investment
● Trading bitcoin for other crypto assets
● Using it for the purchase of goods or services
If you hold your bitcoins for more than a year before selling, you may even be allowed a 50% CGT discount.
And of course, if you lose on your purchase, the losses can be offset against other capital gains in the same, or future years..
Taxed as income
If you consider your bitcoin profits as part of a full-time business you can be charged at a personal or business income rate. For operations such as:
● Commercial Bitcoin mining
● Professional bitcoin trading
● Operation of a bitcoin-related business
To get this rate of tax, you'll need to prove you are in fact operating as a legitimate business and must demonstrate how, including having a viable business plan and other relevant documentation.
How to Buy and Sell Bitcoin in Australia?
The process of buying and selling bitcoin can be confusing for the non-initiated. So, let's start with the funding of your purchase itself first.
⭐ Credit card purchases
Most crypto platforms will allow you to purchase or fund your account with a credit card. But charges can be steep, usually between 1.5% and 3%.
Also concerning is that many banks don't approve of credit when purchasing crypto assets – and there have been occasions when transactions were blocked.
Debit cards can also be used, but the adoption rate by trading platforms and exchanges is lower than credit cards.
⭐ Buying Bitcoin with other cryptocurrencies
Another way to buy bitcoin is if you've other crypto assets stored in a digital wallet or already on an exchange. Obviously, if this is the case, you'll already have at least a little experience of trading crypto.
⭐ Bitcoin ATM
This is becoming a popular option in Australia, and some believe it is a much better way to buy (if you are close to one). There are currently over 50 bitcoin ATMs throughout the country.
⭐ Cash deposit
'Blueshyft' is a payment gateway used for digital services. It will provide you with a QR code, that you can present at over 1000 newsagents throughout Australia, where you can pay cash for bitcoin..
⭐ Buying bitcoin on an Australian exchange
A crypto exchange is just like a stock exchange. It's a place where traders come together to buy or sell their assets.
Through an order matching system the exchange pairs buyers up with sellers, and acts as a central clearing counterparty for all trades. It also acts as the custodian for deposited money and digital wallets containing bitcoin and other cryptos.
Leading crypto exchanges in Australia include:
1. Coinspot
2. Independent Reserve Exchange
3. EasyCrypto Aus
4. Swyftx
5. Coinjar
⭐ Selling bitcoin for Australian dollar
When you sell bitcoin for Australian dollars the process is straight forward enough.
1. Locate an exchange that offers BTC/AUD (or another fiat currency)
2. Deposit your Bitcoin into the account from your digital wallet
3. Sell your Bitcoin holdings
4. Withdraw your profit in AUD
⭐ Selling bitcoin for another cryptocurrency
The process is slightly more complex. You are not transferring money into AUD, instead you are exchanging it for a different coin. If it's one of the main altcoins there shouldn't be much of a problem.
If it's a lesser well-known coin, finding a suitable exchange could take time.
1. Locate an exchange that offers bitcoin trading vs your favoured cryptocurrency
2. Deposit your Bitcoins into the account from your wallet
3. Sell your Bitcoin for new digital currency
4. Transfer your new digital currency into your crypto wallet.
Is Bitcoin Trading Right For You?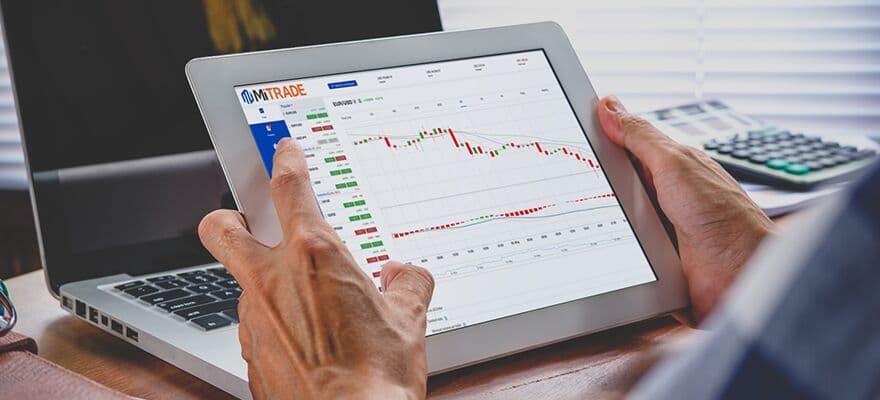 Bitcoin trading, be it through an exchange or through a market maker such as Mitrade, can be highly profitable - if you know what you are doing.
Learning to trade takes time, and you need to have chart reading skills to time your decisions with precision.
These are some factors to think about before embarking on a bitcoin trading career
High volatility
Bitcoin moves quickly, which is one of the reasons why it's a favourite for the trading community.
Traders live or die by market volatility. And to date, I've found no market anywhere close to the volatility of cryptocurrencies.
But…. volatility is not for all.
If you're a traditional buy and hold investor, there's a chance that such rapid up (and down) moves can cause you stress.
This can lead to erratic and emotional trading decisions, which is always the downfall of a trader. There's nothing wrong with sticking to more mainstream investments.
Cryptocurrencies are not for everyone.
Flexibility in going long or short
Right now, bitcoin is in a transition or consolidation phase. There's already been one bubble phase and spectacular collapse.
Now, everyone is aware of bitcoin. Few though, are aware of just how this market's going to play out.
Some believe its future is assured, while others are sceptical of the fundamentals.
As a bitcoin trader, you can play both sides.
If you think bitcoin will rise you can buy or go long.
Or, if you are sure that the whole bitcoin mania is coming to a sad end you can go short.
Trade at the time that suits you
Depending on the exchange, cryptocurrency markets can trade 24 hours seven days a week. This is just the sort of thing some traders want..
As with Forex trading, there are three time zones. While in FX, the main markets only come alive during the London and New York sessions, in crypto many of the large moves taking place can be from events in Japan, South Korea or even China.
Knowing this, if you live in Australia, it can be more convenient trading an Asian session rather than European or US one.
Trading on leverage
Leading digital asset exchanges, alongside bitcoin CFD providers offer leverage. As a small- capped trader, this can be advantageous.
After all, not everyone has a ready lump sum to put down on the purchase of even 1 physical bitcoin.
Remember though, that leverage not only amplifies trading profits, it also amplifies losses. This is why you should have strict money management systems in place before even venturing into the market.
>> Bitcoin Trading Australia Platform-Mitrade
Mitrade is an online forex and CFD trading broker based in Melbourne Australia, regulated by ASIC (AFSL 398528).
Steps to Trade Bitcoin CFD on Mitrade:
➤ Register for an account with Mitrade ( Demo or Live)
➤ Verify your account ( Live account)
➤ Deposit AUD into your account
➤ Search for "Bitcoin" and click on "Buy" or " Sell"
➤ Review the details
➤ Confirm the trade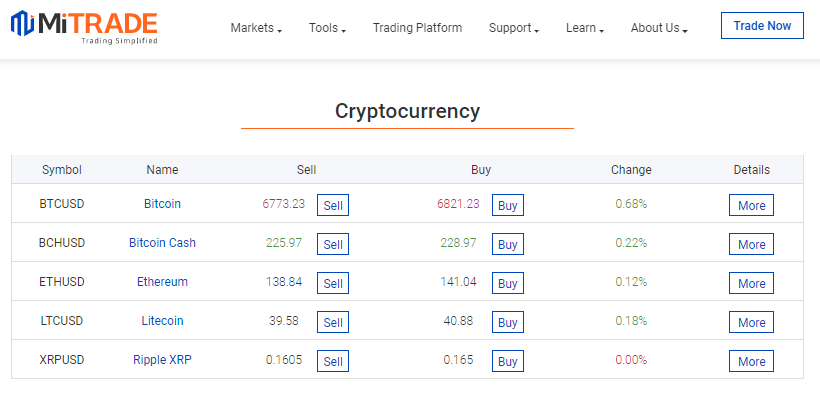 No Demo Account yet?
Will Bitcoin Rise or Fall?
The bullish case
√ Limited supply
√ Media sentiment
√ High liquidity compared to altcoins
√ Institutional interest
√ Improved bitcoin technology
The bearish case
√ Slow transactions times and high fees
√ Bitcoin mining concerns
√ Competition with other coins
√ Regulation
√ Media sentiment
√ Slow business adoption
Making predictions where any market will be in the future, let alone a highly volatile one such as bitcoin is fraught with danger and difficulty.
There are several pricing models predicting bitcoin will rise into the stratosphere…$100,000 (USD) being a commonly touted figure.
Such predictions may come to pass, but don't help the individual investor. All too often, these predictions leave the investor with a severe fear of missing out, which leads to highly emotional trading decisions.
Considering the take-up rate for bitcoin transactions is low, there seems to be little chance of $100k anytime soon (in this author's opinion).
Most demand for bitcoin is currently speculative, and there simply has to be fundamentally driven price drivers to support the price at much higher levels than here..
Of course, if we get second bubble mania – or if price, can close about the previous bull high – anything is possible.
Rather than making Nostradamus like price predictions though, I think it's better to take a look at the changing perception of crypto assets among institutions such as hedge funds.
None other than Paul Tudor Jones recently had this to say about bitcoin
"The best profit-maximizing strategy is to own the fastest horse,"... "If I am forced to forecast, my bet is it will be bitcoin."
Much of his thesis is centred on a great monetary inflation, where the value of paper money loses against assets such as gold, other commodities and …bitcoin.
Only time will tell, but bitcoin most definitely has the potential to be an outperforming monetary asset in the future.
Conclusion
One of the first countries to take to bitcoin in a big way was Australia. And while trading volume is low compared to other countries it is very encouraging that regulators are keeping an eye on the sector.
It's also encouraging how relatively simple buying bitcoin in Australia is. For the Aussie investor, who believes that much of the future is wrapped up in advanced tech, putting a small core position in bitcoin can offer portfolio diversification, with the chance of rapid gains.
---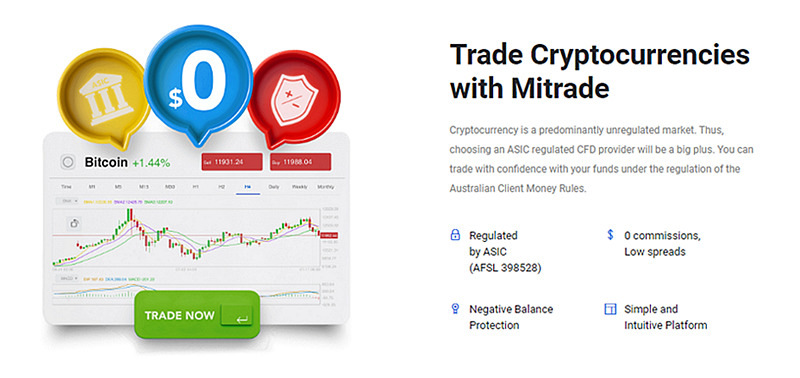 ---
The content presented above, whether from a third party or not, is considered as general advice only. This article does not contain and should not be construed as containing investment advice, investment recommendations, an offer of or solicitation for any transactions in financial instruments. Mitrade does not represent that the information provided here is accurate, current or complete. For any information related to leverage or promotions, certain details may outdated so please refer to our trading platform for the latest details. Mitrade is not a financial advisor and all services are provided on an execution only basis. Before making any investment decisions, you should seek advice from independent financial advisors to ensure you understand the risks. *CFD trading carries a high level of risk and is not suitable for all investors. Please read the PDS before choosing to start trading.