Abstract: Recently, the commodity market has been very hot, with non-ferrous metals bracing for a surge, among which copper became one of the leading commodities. What does the sharp rise in the price of copper, the market's barometer of economic turns, mean? Can the rise in commodity prices last?
Commodity prices have been climbing on rising inflation expectations, driven by rising vaccination rates, and rising U.S. Treasury yields on the back of a continuing economic recovery and a massive economic stimulus. Crude oil, for example, has risen by nearly 25% in the U.S. since 2021. Copper's recent rise from a low in March 2020 to more than $9,000 a tonne, a 48% jump, has caught the market's attention. The "Dr Copper", an important reference to economic health, is being talked about again. Does the soaring price of copper signal a turning point in a weak economy? And what is the cause of the price surge?
What is Dr. Copper?
The market demand for copper, an essential raw material in the entire manufacturing and production supply chain, is often seen as an important indicator of the economy. "Dr Copper" refers to copper's ability to predict economic turning points as well as other indicators. If the economic recovery picks up speed, there will be more demand for copper, which will lead to higher copper prices. At the same time, the gradual rise in copper prices also indicates that the economy is gradually improving. So the recent rise in copper prices may reflect that the global economic recovery is on track. But Dr Copper has been controversial. While copper's rise and fall can be a predictor of the economy, the price of copper as a commodity remains largely determined by supply and demand. For example, copper prices collapsed during the global subprime crisis of 2008-09, but copper mines around the world were overproduced. So copper's decline is not necessarily due to the economic downturn, but rather to supply and demand.
What led to the copper price surge?
1. Quantitative easing prevailing globally was an important factor driving copper prices up. Treasury yields have surged recently as central banks have embraced quantitative easing and encouraged inflation. As a result, investors dumped their bonds and moved into risk assets. As liquidity flooded into the market, the dollar depreciated and commodities priced in dollars rose. This was illustrated by comparing the copper price with the U.S. Dollar Index, as shown below: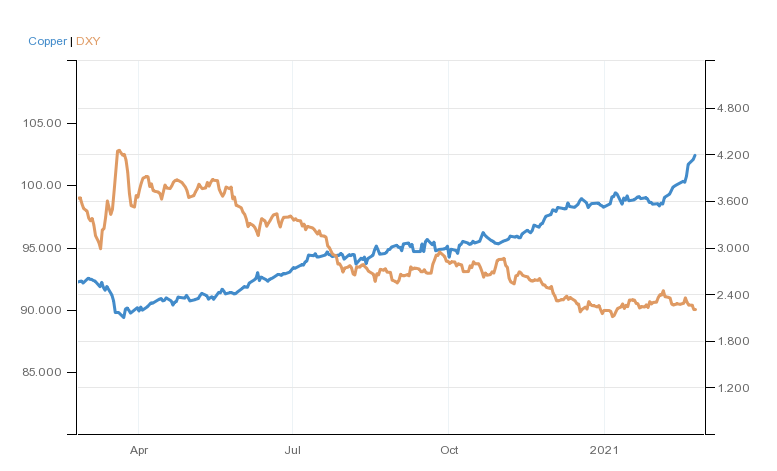 Source from: tradingeconomy.com
2. Reflation provided support to commodity prices. There has been much talk of "reflation" these days. Reflation is seen as the first stage of the boom, which corresponded to a bull market in commodities. Goldman Sachs believed that commodities are currently in a supercycle, in which the price of basic materials remained high due to changes in structural demand. In addition, U.S. President Joe Biden's advocacy of faster infrastructure construction will lead to strong demand for commodities. And policies aimed at promoting clean energy are also driving up the demand and consequently pushing prices higher. Therefore, the current political and economic environment provides a good macro environment for the price rise of copper and other basic materials.
3. Accelerated vaccination and economic recovery supported higher commodity prices. Wider vaccination is key to supporting the global economic recovery, and as vaccine capacity rises, the number of people vaccinated in countries such as Europe and the United States increases, laying an important foundation for economic recovery. At the same time, the waning of the COVID-19, which could lead to a burst of pent-up consumer demand, will also be an important factor in higher commodity prices.
4. The economic recovery has increased the demand for copper, but the market is undersupplied. As COVID-19 expanded around the world in 2020, working from home has become the mainstream working mode worldwide, leading to a surge in demand for electronic products, of which copper is an important material. Meanwhile, copper mines in big copper-producing countries such as Chile and Peru have been forced to close because of the deterioration of the virus. As a result, the shortage of copper resources prompted copper prices to rise sharply.

Apart from the rise in copper prices, what is happening in other commodity markets?
Gold has underperformed as a safe haven asset compared to copper and oil. The precious metal, which had been full of expectations on the back of massive quantitative easing by central banks, unexpectedly fell out of favor as U.S. Treasury yields rose on President Joe Biden's impending large-scale economic stimulus, as shown below: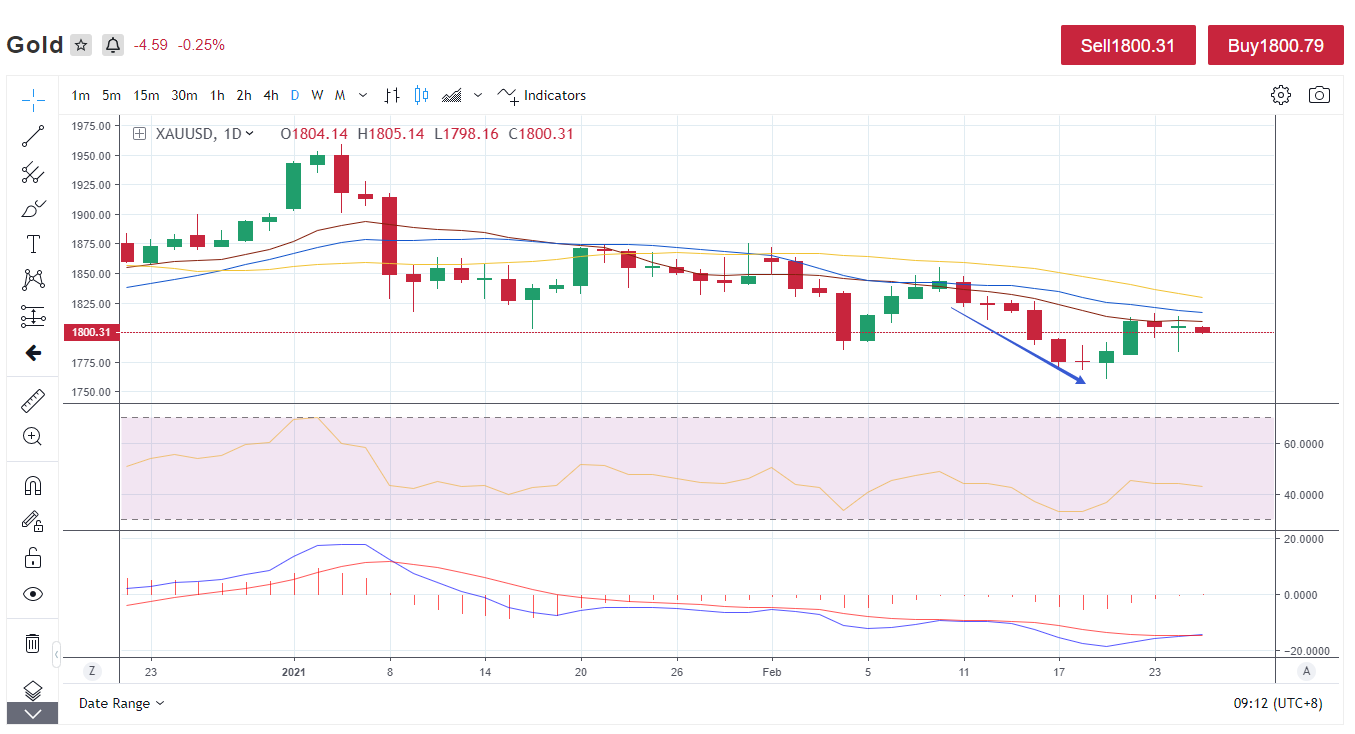 Source from: Mitrade
On a six-day losing streak, gold briefly fell below $1,770 an ounce, but rallied around $1,760 as the inflation expectations strengthened. Still and all, gold has respectively fallen below the 50-day, 100-day and 200-day moving average, and gold bulls are still in a weak position. Moreover, the inflation will undoubtedly lead to a continued increase in the risk-on sentiment, so the long-term trend of gold may be not optimistic.
2. Crude oil supply has been sharply reduced, and crude oil prices have risen violently. Refineries in the central United States have been forced to shut down due to blizzard conditions. Even if the bad weather ends, it could take some time for U.S. crude production to recover, adding to prices that are already at one-year highs, as shown below: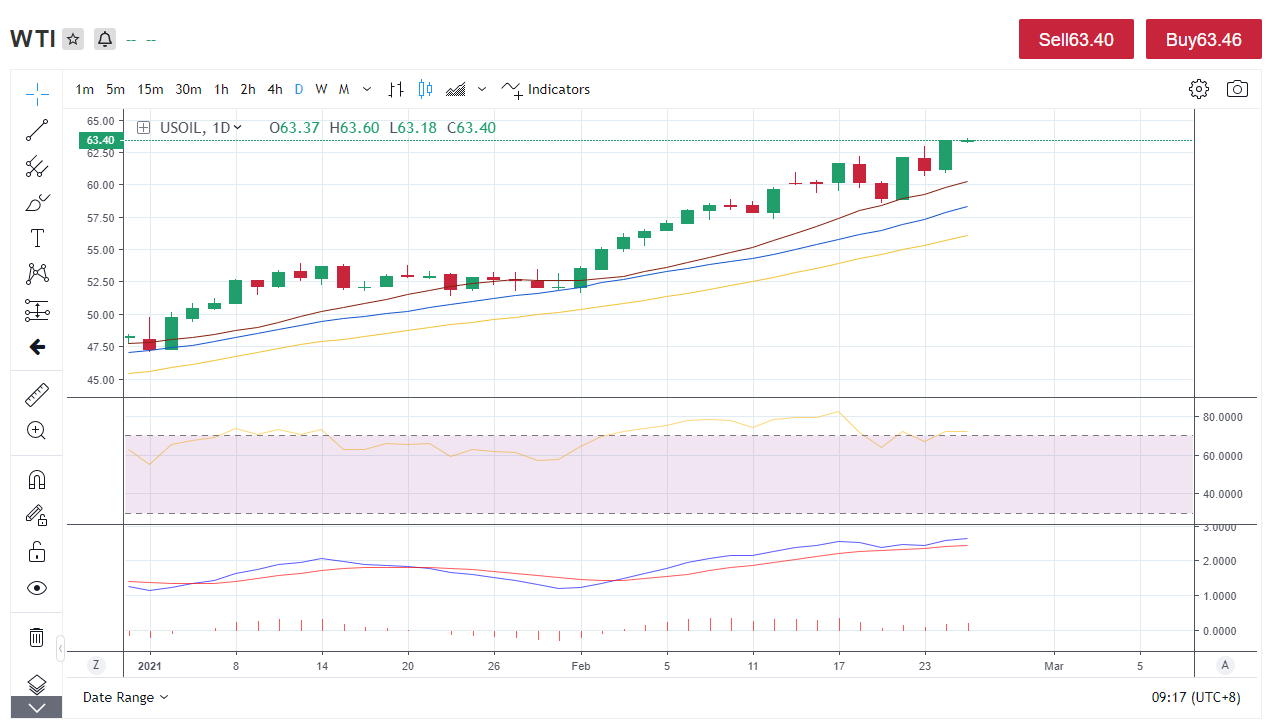 Source from: Mitrade
In technical analysis, U.S. crude prices retreated near the $62/BBL mark. It's due to concerns about an OPEC+ supply increase, and a relatively healthy technical correction triggered by continued high oil prices. Going forward, oil prices are likely to be supported by risk sentiment and the aforementioned macroeconomic factors, but it remains to be seen whether the oil market is overbought and whether OPEC+ members are taking advantage of the surge in oil prices to ease production cuts.
Taken together, the surge in prices of basic commodities such as copper may be an optimistic sign of a steady global recovery. The accelerated vaccination and stronger inflation expectations pushed commodity prices higher and continued to fuel market risk sentiment, but commodity prices seem to have outstripped fundamental reality in the short term. Hence, the euphoria associated with current prices may be a cause for alarm.
Using Mitrade to get more instant news and obtain buy/sell signals in time >>Trade Now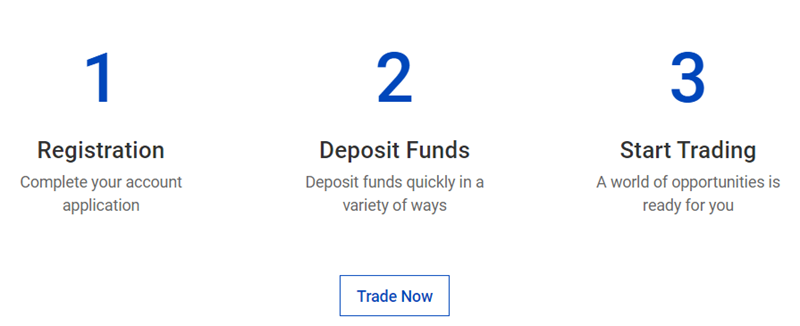 ---
The content presented above, whether from a third party or not, is considered as general advice only. This article does not contain and should not be construed as containing investment advice, investment recommendations, an offer of or solicitation for any transactions in financial instruments. Mitrade does not represent that the information provided here is accurate, current or complete. For any information related to leverage or promotions, certain details may outdated so please refer to our trading platform for the latest details. Mitrade is not a financial advisor and all services are provided on an execution only basis. Before making any investment decisions, you should seek advice from independent financial advisors to ensure you understand the risks. *CFD trading carries a high level of risk and is not suitable for all investors. Please read the PDS before choosing to start trading.